This Map Shows How Affordable Your State Really Is
National Low Income Housing Coalition
People who live in New York have generally accepted that they'll have to settle for a "charming micro-studio" if they want to find an affordable apartment in the city. From that point of view, it's hard to remember that reasonably priced two-bedroom apartments actually exist in other parts of this country.
Turns out they do exist -- just not in New York. A new study by the National Low Income Housing Coalition has looked at all 50 states (plus DC and Puerto Rico!), revealing the average hourly wage required to afford modest two-bedroom housing without spending more than 30% of an individual's income. You know, actually affordable housing.
The result? The most affordable state isn't actually a state at all: it's Puerto Rico, whose $10.53/hr housing wage beat out also-rans Arkansas ($12.95/hr) and Kentucky ($13.14) for the top spot. Meanwhile, Hawaii predictably steals the crown (lei?) for the most expensive state in the union, clocking in at $31.61/hr and proving that if you wanna live on an island where you can spend US dollars, Puerto Rico's unbeatable for the price.
Check out the full map below, or hit up the interactive version on the NLIHC website.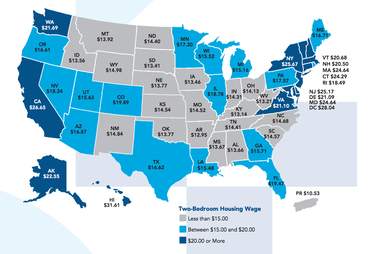 National Low Income Housing Coalition
Gianni Jaccoma is a staff writer for Thrillist, and he's seriously wondering why he doesn't live in Puerto Rico. Follow his migration on Twitter @gjaccoma