The Most Annoying Question to Ask People From Each State
It's happened to everyone. You're in an airport. Or a bar. Or a really crowded trampoline park in another state, and someone inevitably asks you, "Where you from?" And once you tell them, it's only a matter of time before you get the inevitable terrible follow-up question, the stereotypical, obvious kind that irks you to the core and makes you question why you've decided to visit a foreign trampoline park on a Wednesday night.
So, in an attempt to inform people of all states about the annoying questions they're posing, Matt and I have put forth this handsome list of questions people from every state are tired of. Memorize this list and avoid these questions and you'll immediately become better friends with everyone you've ever met. Or, if you've got other state-based questions that annoy you to no end, leave them in the comments section and we will collect them and shout them at unsuspecting people walking outside of our office. To wit:
Alabama
*Clears throat*
[Long pause]
Soooo... is everybody there racist or what?
If you've been paying attention to... anything lately, you may've noticed that no one state has a monopoly on the racism thing.
Alaska
Is it, like, super cold there?
Yes (mostly), and the cold is wonderful. It's the glacier-melting warmth that's a problem. Maybe some of the Lower 48 folk could try walking once in a while when they're headed out to sample Taco Bell's latest cheese-filled innovation?
Arizona
Where did you retire from?
Even if you're an Arizona State coed cocktail waitressing at Zuma Grill so you can afford to live in whatever party apartment complex replaced The VUE, there's still, like, a 50% chance you're actually just a retired person named Norm from a nice suburb of Bakersfield.
Arkansas
What do you think about the Clintons?
The Clintons are barely even there anymore, OK? But if you must know, recent polls suggest the answer is:
48% -- Nope
37% -- Yep
15% -- Maybe slept with Bill?
California
Do you ever get the sense that, in exchange for your favorable climate and bountiful avocados and fancy beaches and suntanned fit people who somehow still own Rollerblades and pretty bridges and super burritos and fish tacos and adorable tendency to use the word "hella," you are basically a ticking time bomb that's one shift of a tectonic plate away from a near-certain impending doom?
Sigh.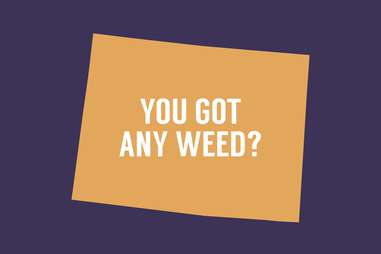 Colorado
You got any weed?
Look, just because Colorado blazed (yeah, yeah we know) the trail for fully legal marijuana in this country does not mean every Coloradan you encounter is invariably carrying an eighth at any given moment, so why don't you stop with your offhand assumptions and -- oh, what's that? You want edibles? Oh, OK, yeah everyone has those.
Connecticut
At what point during prep school did you memorize your obnoxiously wealthy but ultimately self-loathing stepfather's credit card number?
If you said any time after sophomore year at [Brunswick/Cheshire/Choate Rosemary Hall/Hopkins/Hotchkiss/Kent/Loomis/Miss Porter's/Avon Old Farms/Salisbury/Taft/Westminster], you're a liar. Transfer to Deerfield.
Delaware
Wait, people are actually FROM there?!
On the one hand, people's derisive responses when it comes to the First State can grow tiresome. On the other hand, at least they didn't reenact that scene from Wayne's World. Whoops. Spoke too soon. There they go.
Florida
Did you hear about the Florida man who… [insert daily incident in which a Florida man does something so ridiculous and outlandish and insane that you start to question the basic premise of baseline human intelligence and get sad]?
Yes, yes of course we did.
Georgia
Peaches. Peaches! Peaches?
Actually, South Carolina has more. Don't bring it up.
Hawaii
*Silently pantomimes hula dancing expecting some sort of bemused response*
Well fine, aloha to you (and yes, we know it means hello and goodbye, and in this particular context, it definitely means goodbye).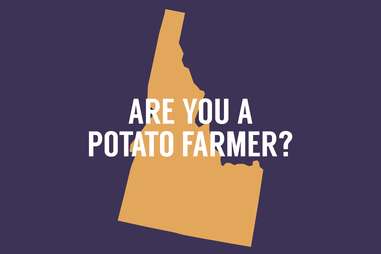 Idaho
Are you a potato farmer?
PRO TIP: studies show that not eating a raw potato like an apple will decrease the likelihood you'll get this question by up to 7%.
Illinois
Daaaaa Bears!
It's not a question, strictly speaking, but people trot it out as a kind of shorthand query to imply more specific asks such as, "Do you have one of those accents?", "Do you subsist solely on a diet of Polish sausage and cheese fries?", and "Do you wish Jay Cutler would vaccinate his kids?" And yeah, this even happens to people from Carbondale. Even though they're just heartbroken Rams fans.
Indiana
The fuck is a Hoosier, anyway?
The origins are murky and complicated, OK?! Now please stop talking, we're almost to the part in the film where Gene Hackman forcefully tongue-kisses Barbara Hershey and everyone in the room gets super uncomfortable.
Iowa
But didn't Indiana invent the pork tenderloin sandwich?
Wrong! So wrong! You want to bet one of Carver-Hawkeye Arena's oddly popular soft-serve ice cream cones on it? Of course not, because you can't prove anything. Now please, let me enjoy this crumbly loose-meat sandwich in peace, Iowa JV wrestling is on.
Kansas
You're not in Kansas anymore. Are you. Are you?!
A Kansan could travel to Nepal and still be forced to suffer ham-fisted references to a movie that came out in 1939. Please don't do this. Maybe just start singing "Carry on My Wayward Son"? Actually nope -- don't do that either.
Kentucky
Can my eight buddies and I crash with you when we head down for the Derby?
Well actually it might be 10 of us, depending on whether or not Big Tony and Little Tony can make it (Little Tony might have a public urination court date but he's thinking about just settling). And you know how Big Tony is.
So... cool?
Louisiana
Do the alligators ever get in your homes?
Gators love beignets and crawfish etouffee, according to what I know from the old TMNT animated series.
Maine
Have you ever been to Eventide Oyster Co.?
MAINE IS 35K SQUARE MILES WITH 23 INCORPORATED CITIES, WHY WOULD YOU JUST ASSUME I'VE BEEN TO THIS ONE HIP OYSTER BAR IN PORTLAND?!?!
*In lower voice*
But yes, oh my God, there's this ridiculously delicious pickled ginger ice they serve with the oysters.
Maryland
How true is that scene in The Wire in which [RELAYS BACK FAVORITE SCENE FROM THE WIRE, USUALLY THE ONE WITH OMAR MEETING UP WITH BROTHER MOUZONE]?
And this is when people aren't quoting back to you the Bradley Cooper line from Wedding Crashers about crab cakes and football.
Massachusetts
Do you park your car in Harvard Yard?
"You can't even park a car in Harvard Yard," says my co-author Matt Lynch, Harvard Class of '03, as he ruefully laughs and adjusts his tie in the Porcellian Club bathroom, before being asked to leave because he's not a member of the Porcellian Club and no one can figure out how he got in.
Michigan
Do you know Michael Moore?
What? No, who's he? (Watches Roger & Me) ... Wait, you mean to tell me Michigan's manufacturing base has declined severely with drastic repercussions statewide... I had no idea!
Minnesota
Why are you so nice all the time?
It's actually really complicated, but fix yourself some hot dish, read this, and you'll understand much, much better.
Mississippi
Have you checked the national obesity rates recently?
*Spills sweet tea all over laptop*
Missouri
What was it like growing up in the South?
Missouri is most definitely the Midwest. Though you could be forgiven for being confused if you're in the Ozarks.
Montana
Do you know Joe Montana? Wait... do you know HANNAH Montana?
Oddly, people with the last name "Montana" are not terribly common in Montana. However, Joe Mantegna does visit on occasion. Particularly during huckleberry season.
Nebraska
Can you do something about this?
*Takes out a bag of unhusked corn and stares pointedly, slowly raising eyebrows while backing away deliberately*
Nevada
How often do things that happen in Vegas actually end up circulating in other parts of the state, despite the local Draconian laws prohibiting those things?
We can imagine that being an issue, especially if people commute to work there, you know?
New Hampshire
So you really like NASCAR, right?
Upon further inspection, this seems like a pretty fair question.
New Jersey
Is it just like Jersey Shore?
A friend of mine had fond childhood memories of purchasing shirts at the Seaside shop where Snooki and the gang "worked" during their tenure on MTV's unholy experiment in tanning bed abuse and forgettable catchphrase creation. Those memories are now ruined. Even the Jersey natives who should have BEEN on Jersey Shore hate it at this point. Please stop mentioning it.
Talking about The Sopranos is fine.
New Mexico
How close do you live to Walter White's house?
Too close. Everywhere is too close.
New York
What should I do in New York?
You could start by looking at this and then never asking me that question again ever.
North Carolina
Did you go to Duke?
No one from Duke is from North Carolina or stays in North Carolina after graduation, unless they get signed by the Hornets.
North Dakota
Is that the one with Mount Rushmore?
No.
Ohio
Cleveland's river didn't really catch on fire, did it?
THAT WAS 1969, PLEASE STOP BRINGING IT UP.
*Checks to make sure Cuyahoga is currently not on fire*
Oklahoma
Did you know that Kevin Durant is not playing basketball for Oklahoma City anymore? And has in fact joined the Golden State Warriors, a team Oklahoma nearly beat in the playoffs last year?
I'm not sure if you guys heard…
Oregon
So you're like a hipster, huh?
NOT EVERYWHERE IN THE STATE IS PORTLAND, OK?
*Quickly removes woolen knit cap, un-waxes mustache, and hides unicycle under reclaimed-wood stage used for pop-up gender-neutral marionette performances*
Pennsylvania
Remember when you guys threw batteries at Santa?
It doesn't matter that you live 200 miles away from Philly. Or that it was snowballs. Philly will find a way to get its public urine-stained stories of anger and irrationality all over your strong Quaker traditions.
Rhode Island
Awwww, but you guys are so wittle. How does a wittle state like dat end up being so cute?!?! [ALL SAID IN A BABY VOICE, OBVIOUSLY]
You have permission to hit this person in the face with a Del's Frozen Lemonade (assuming you've already eaten as much as you want of that delicious one-of-a-kind treat).
South Carolina
Did you just call it "the War of Northern Aggression"?
Let's please not have this conversation, I'm trying to put my name in at The Ordinary.
South Dakota
Is that the one with Mount Rushmore?
No. (Yes.)
Tennessee
I'm going on a bachelor[ette] party to Nashville in three months. What should I do?
You already know, you're just going to eat hot chicken, go to a honky tonk, ironically purchase cowboy boots, and engage in public heavy petting with another out-of-towner who is in Nashville for a bachelor[ette] party. WHY ARE YOU EVEN ASKING?!!?
Texas
*Looks down suggestively*
Is it true that everything is bigger in Texas?
STOP LOOKING AT MY GIANT BELT BUCKLE SHAPED LIKE SAM HOUSTON LASSOING A FOOTBALL THROWN BY ROGER STAUBACH STANDING ON A PLATE OF BRISKET!
Utah
Do you have any sister wives?
Whether the response is "yes" or "no," this conversation isn't going to go well.
Vermont
What type of cheddar cheese do you most enjoy eating while listening to jam bands?
Yeah, we also agree that String Cheese Incident would be a little too on the nose.
Virginia
Are you from DC Virginia or normal Virginia?
It's more that this question is needless, since you can always tell by whether they're glued to their phone and about to engage you in a conversation about ethanol subsidies.
Washington
*Just sings a bunch of Nirvana songs, though at least one of them is actually a Soundgarden song mistaken for a Nirvana song, but ends final lyric in an upward manner to make it seem like it's actually a question*
I was more of a Pearl Jam fan anyway.
West Virginia
*Struggles for question that doesn't reference coal mines while eating pepperoni roll*
[Silence, save for chewing]
*Gives up, finishes delicious pepperoni roll*
Do canaries really die first in coal mines?
*Coughs*
Wisconsin
Why do you have so many cheese curds in your pockets?
Why is this even a question? It could snow. A hungry wanderer could appear in desperate need of dairy-rich sustenance. A deep fryer and a bowl of batter could appear out of nowhere. Point is, NOT carrying around a reasonable supply of cheese curds at all times is reckless and irresponsible, and we will thank you not to comment on the matter any further. Good day, sir.
Wyoming
Are you worried about living on top of a giant supervolcano?
Hey, when that thing blows you're probably screwed too.
Sign up here for our daily Thrillist email, and get your fix of the best in food/drink/fun.
Matt Lynch is Thrillist's executive editor and encourages you to shout "Da Bearrssss" at him via FaceTime, or failing that, @MLynchChi.