Shutterstock
Shutterstock
Paid Content For
Havaianas
The Most Beautiful Beaches in Brazil
Paid Content For
Havaianas
Baía dos Porcos, Fernando de Noronha
Unrelated to the failed Cuban invasion of the same name, the Baía dos Porcos is a unique shore where tide pools form among volcanic rocks. The combination of small swimming pools, black rocks, and beating sun create, essentially, a series of natural hot tubs. It's the ideal place for relaxation, a few drinks, and perhaps some military strategizing of your own.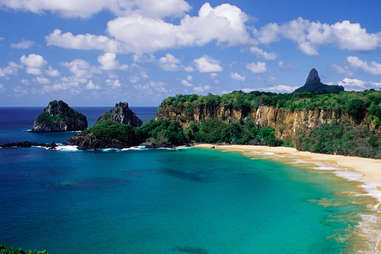 Baía do Sancho, Fernando de Noronha
Since you're going to Fernando de Noronha anyway, you'd better stop by Baía do Sancho as well (it's right next to Baía dos Porcos). The beach is surrounded by cliffs on all sides, so it looks a bit like the end of Planet of the Apes, but with better views. Like all of the Fernando de Noronha, you can experience unbelievable snorkeling and diving along the beach. Typical over-achieving Brazil.

Jericoacoara
If you've ever watched a video of someone kite boarding during a hurricane and thought "I could do that!" then head to Jericoacoara. The town is a favorite for kite boarding, windsurfing, and sand boarding down the massive dunes by the shore. The town has been transformed into a touristy destination in recent years, but weird local laws still dictate small-town features, like sandy roads and no street lighting, giving the place a downtempo vibe.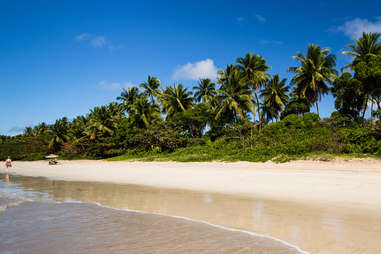 Quarta Praia
Morro de Sao Paulo is a laid-back island town with a mix of newer upscale hotels and old-school taverns, making it ideal for getting away from the busier areas of Brazil. Tons of beaches surround the area, but residents agree that the Quarta Praia (literally just "the fourth beach" along the shoreline) on the eastern coastline is the best, with long sandbars and palm trees. Basically, this place looks like exactly what comes up if you just google "paradise".
Havaianas embodies the fun, vibrant, and spontaneous way of Brazilian life. As the original flip-flops created in 1962, Havaianas have been bringing the Brazilian spirit all around the world with high quality rubber and bright, joyful designs. They're as Brazilian as caipirinhas, beautiful beaches, and the bossa nova. Not since the tire has rubber done so much to get people moving.
Conceição Beach, Fernando de Noronha
Conçeicão is a surfer's paradise, with a massive curved shoreline that serves up perfect waves to carve. For the rest of us balance-challenged masses, Conçeicão is so much more, with incredible vistas of volcanic rock formations that look like something straight out of Game of Thrones (minus the blood).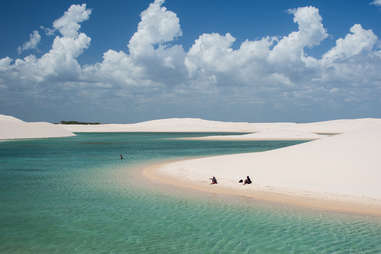 Lençóis Maranhenses, Maranhão
Lençóis Maranhenses is easily one of the coolest-looking places on earth. Formed by desert sand dunes that collect water during the rainy season, the park is filled with crisp blue lagoons surrounded by white sands. Effectively, this creates hundreds of pools, some with fish or vegetation, all with different shorelines and water and dunes. This makes Lençóis Maranhenses the tapas bar of beaches: hundreds of tiny coasts for you to explore, each one a little bit different.
Galés Beach, Maragogi
If you're an eco-tourist trying to see coral reefs while you can, the galés of Maragogi are unparalleled. Warm water coming off the Atlantic washes up on shallow beaches, creating accessible coral reefs that you can walk among. Just be careful -- corals are delicate, and Brazil takes their ecosystems seriously.
Lopes Mendes, Ilha Grande
West of Rio de Janeiro, along the coast, lie Restinga da Marambaia and Ilha Grande. The former is a peninsula so luxurious it's used as a leisure ground for the Brazilian military, while the latter is a lush undeveloped island with tucked-away beaches fit for a general. If you get bored of the white sands on the Ilha, take a trip inland. The interior of the island is a state park containing some of the last Atlantic rainforests in the world.
Ipanema, Zona Sul, Rio
All these other beaches are quieter, tucked-away affairs where you can get some peace. Not Ipanema. If people watching is a hobby of yours, definitely stop by the Ipanema beach while in Rio. The water can get crowded, but there's plenty to do on the shore, with people playing volleyball and beer & cachaça vendors everywhere you look. And while you may not see THE Girl From Ipanema, you'll see many other beautiful people, as the beach was named the sexiest beach in the world by the Travel Channel in 2013.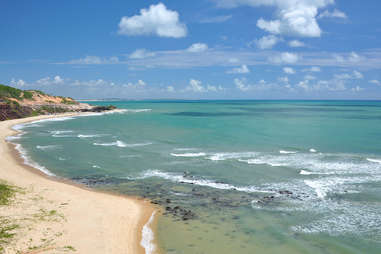 Praia do Forno, Buzios
Once Ipanema and Rio have you craving a more secluded spot, you should head over to Buzios. The peninsula has been transformed into a tourist destination over the years, but is speckled with so many beaches that it's still possible to find a quiet area of your own. Praia do Forno is a favorite for its shallow water and red sands, plus you can climb up to the nearby cliffs for that sweet Instagram travel shot.