The Hidden Gems That Make Mexico One of the Most Beautiful Countries on Earth
If you've caught a sunset off the coast of Puerto Vallarta, snorkeled in Cozumel, or cruised around the Arch of Los Cabos, then congrats. You have seen some fantastically beautiful things in Mexico. But don't stop there -- you've barely scratched the surface. Mexico is home to more than 38 UNESCO World Heritage Sites, has some of the deepest canyons and highest mountains in the world, rocks crystal-clear lakes, and contains ruins that far exceed Tulum's. So before you start bragging that you've been to Riviera Maya and therefore have "seen" Mexico, we urge you to take a look at this list and strongly reconsider.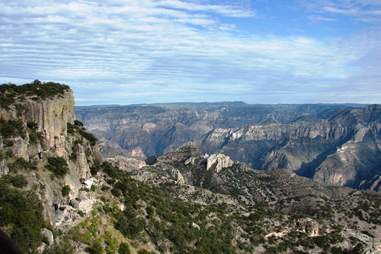 Fiona Young-Brown/shutterstock
Barrancas del Cobre
Our Grand Canyon is, in fact, pretty grand. But what if we told you that there's an even GRANDER canyon just on the other side of the Rio Grande? In Mexico's northern state of Chihuahua (the place, not the mascot for Taco Bell, which, also, is not super Mexican) is Barrancas del Cobre, or Copper Canyon. This natural phenomenon spans more than 25,000 square miles and is made up of six canyons in the Sierra Madre Occidental mountains. It's a prime spot for adventure travel, from hiking and biking to driving and horseback riding, and the most popular way to cruise the canyon is by train, aboard the Chihuahua al Pacifico, or "El Chepe."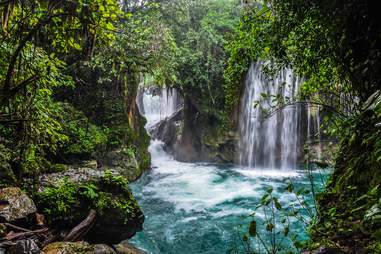 Hugo Brizard - YouGoPhoto/shutterstock
Tamul Falls
Mexico's eastern state of San Luis Potosi is known for its many aquatic delights, namely in the form of waterfalls. The falls of San Luis Potosi, all near Ciudad Valles, are top destinations for natural beauty. But the Tamul Falls are the highest and most spectacular, which tumble more than 340ft. Twenty-five miles downriver you can frolic among pre-Columbian ruins at the site of Tamtoc. Other falls to check out are the nearby Tamasopo Falls and the Micos Falls.
Opachevsky Irina/shutterstock
Bacalar
Perhaps the farthest south you've been (or heard of) is Tulum. And that's cool. Tulum is great. But if you can hang on for just a few more hours you'll find yourself in a place even more magical -- Bacalar. LITERALLY a Magic Town of Mexico, Bacalar is named for the lake on which it sits, the Lake of Seven Colors. This painted natural masterpiece draws on seven different shades of blue that shift with the light as the sun moves across the sky. On the lake you can kayak, sail, sunbathe, frolic among the mangroves, or give yourself a natural mud bath with the limestone sediment at the bottom. But most of all, just marvel at all those #nofilter photos.
Vadim Petrakov/shutterstock
Canon del Sumidero
You don't have to go all the way to New Zealand to chase Lord of the Rings-type majesty. You just have to go to Mexico's southern state of Chiapas on the border of Guatemala. Here you'll find Canon del Sumidero. This deep, narrow canyon cut by the Grijalva River has vertical walls that climb as high as 3,200ft. In the surrounding 53,000-acre Sumidero Canyon National Park, you'll find small caves, the most notable of which is the Cueva de Colores, named for the magnesium, potassium, and other minerals that paint the walls of the cave. Bring your own hobbits, ring, and massively imposing stone statues of old dudes with beards.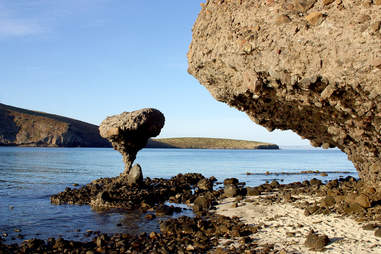 la paz

| csp/shutterstock
La Paz
While all of your friends are doing electric-colored shots at Cabo Wabo and waking up in a stench of sweat and shame, you're getting the real taste of Baja California over in La Paz. Two hours north from Cabo San Lucas is this small beach resort community, known less for its mega-resorts and more for its desert-meets-sea beauty.
Cenotes of Cuzama
If you've stayed in Cancun or along the Riviera Maya, you've probably visited a cenote before, or at least seen a billboard for them. What is a cenote, you ask? It's a natural sinkhole in limestone bedrock that gives way to a series of underground rivers filled with crystal-clear water. Mexico's Yucatan Peninsula is known for its cenotes, but some of the most spectacular are the cenotes of Cuzama near Merida. These sinkholes were thought to be sacred by the ancient Mayans.
calakmul

| Gillian Holliday/shutterstock
Calakmul
Chichen Itza? Been there, done that. Tulum? Yawn. If you want untapped and impressive Mayan history, head toward Campeche, the state that borders Quintana Roo. Here you'll find a massive jungle reserve that covers about 15% of Campeche's territory. Within this sprawling 1.8 million-acre jungle are some of the Mayan civilization's most staggering archaeological sites, including Calakmul. Only a small part of Calakmul has been uncovered and restored, but it's been determined that the site was occupied for about 1,400 years and was the main rival to the Tikal city in nearby Guatemala. You'll find burial crypts, as well as excavated buildings and tons of wildlife.
Pico de Orizaba
Yes, Mexico has AMAZING beaches. But for those of you who think Mexico is all sun and sand, it might interest you to know that 75% of Mexico's altitude is above 3,300ft. That's very far from the shore. This makes Mexico one of the best destinations in the world for mountaineering. Should you wish to try your luck, take a crack at Pico de Orizaba, Mexico's highest mountain. This lofty peak caps off at an impressive 18,491ft above sea level (in the United States, only Denali reaches higher) and its glaciated summits are known for mountaineering and climbing. Most travelers climbing these mountains will make their base in Puebla.
<a href="http://www.shutterstock.com/gallery-4161952p1.html?cr=00&pl=edit-00">Fabio Imhoff</a> / shutterstock
Cholula
That glorious red nectar you drench everything in? It's actually named after a place -- a place you must visit immediately. This city in the state of Puebla is known for its Great Pyramid, a massive Aztec complex that is known as one of the largest archaeological sites in North America. Atop the complex is a beautiful sanctuary, Nuestra Señora de los Remedios, which makes for a great photo op with the looming -- and still active -- Popocatepetl volcano in the background.
Barna Tanko/shutterstock
Mineral de Pozos
Fun fact: Mexico is one of the world's leading producers of silver, and has been throughout history. Today it's possible to visit one of the largest, though now abandoned, mining towns. In the state of Guanajuato, visit Mineral de Pozos. You won't find a lot of action in this ghost town, but it's an eerie, cool glimpse into the past with its shells of buildings and the occasional tumbleweed. Inhabitants are slowly coming back to open things like boutique hotels and shops, so the time to go is now, lest it turn into an Epcot-ized version of its former self.
Sign up here for our daily Thrillist email, and get your fix of the best in food/drink/fun.
Meagan is a travel writer living and breathing in NYC. But if you give her a plane ticket today, she will be somewhere else tomorrow. She like tacos, music, and making lists. But travel is her life.