The Flat-Out Sexiest US Cities for a Weekend Getaway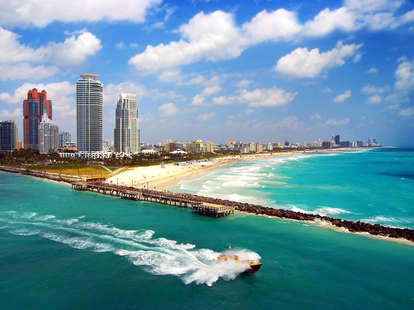 Miami, Florida

| Roman Stetsyk/Shutterstock
Miami, Florida

| Roman Stetsyk/Shutterstock
Love may be a many-splendored thing, but however you cut it, "splendor" is the operative word. Beaches, sunsets, mountains! Art, architecture, and gothic-ass Spanish moss dripping off of huge live oaks! Cities that bring the beauty almost always crank up the heat, which is why there's no mistaking a romantic city when you encounter it. We've compiled this rundown of US cities where the scenery doubles as an aphrodisiac, for use as you and boo see fit.
Charleston, South Carolina
Most romantic restaurant/bar: 82 Queen
Don't leave without: Taking a side trip to Folly Beach or grabbing a picnic beneath the famous Angel Oak on John's Island
From the historic mansions that line the Battery promenade near the waterside and the Fort Sumter-facing White Point Garden to the cobblestone streets and gas-lit alleys of the French Quarter (yes, Charleston has its own), you can't escape the romance packed into the heart of this elegantly walkable city. While a carriage ride is a popular way to see the sights, a simple stroll through Broad St's Federal period homes or King St's bar/restaurant scene while snapping pics of historic churches packs in more than enough romance for one afternoon.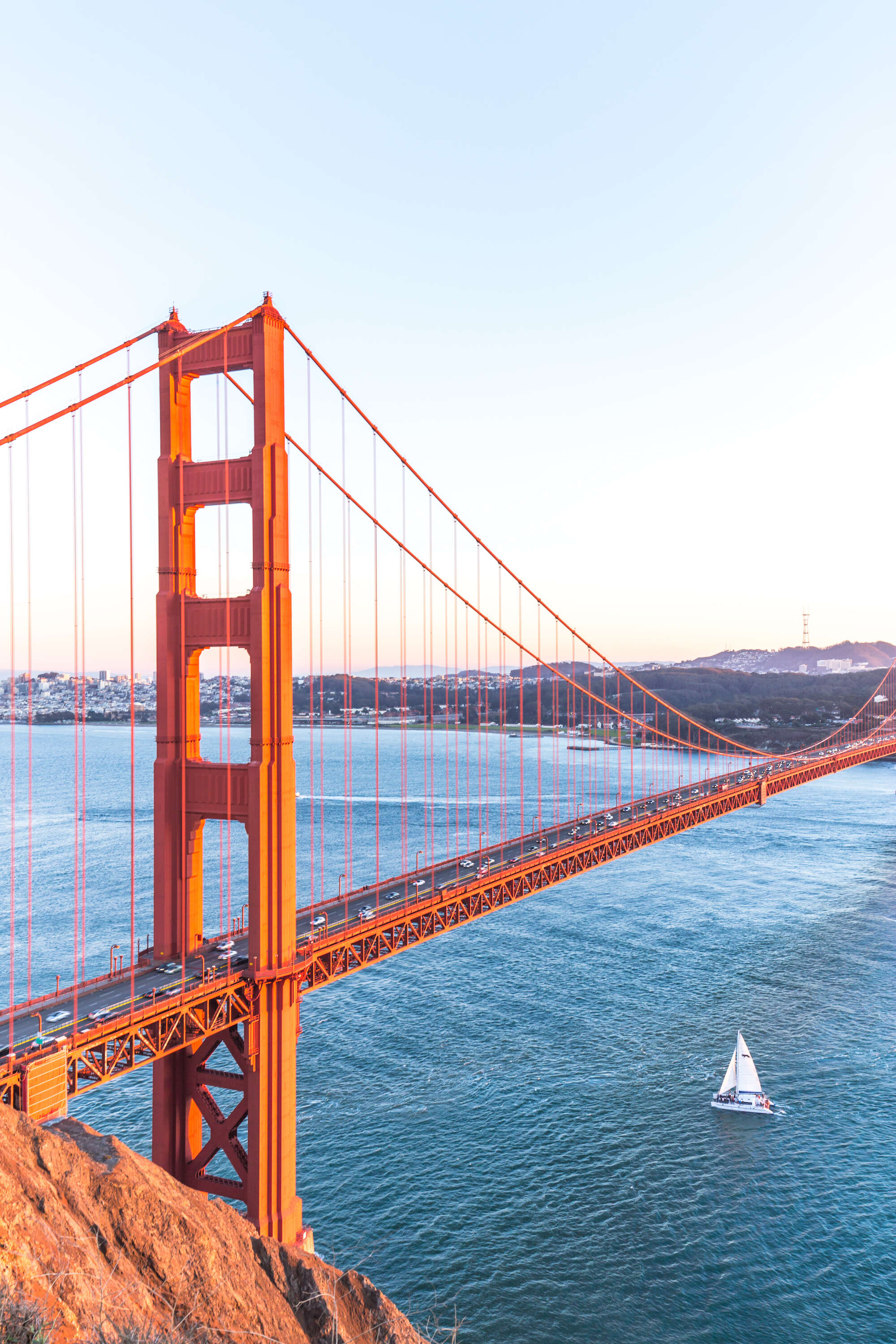 San Francisco, California
Most romantic restaurant/bar: Foreign Cinema
Don't leave without: Taking a scenic ferry ride to Sausalito, then renting a (tandem?) bike to explore its picturesque hillsides
From riding the trolley and strolling Dolores Park to hiking Lands End and taking a boat ride though Stow Lake, San Francisco oozes romance everywhere you look. You pretty much can't escape it. Funky neighborhoods like the Haight and Mission continue to delight with their colorfully seductive charms and, hell, even the ballpark is romantic. There's also a surprisingly deep roster of nude beaches which, scratch that, probably aren't quite as romantic as you think. The city also spends more on Valentine's Day than any other city -- but that's probably because it's so oppressively expensive.
New Orleans, Louisiana
Most romantic restaurant/bar: Cafe Amelie
Don't leave without: Seeing live music somewhere, possibly at Frenchmen St's cozy Snug Harbor
Romance may not be the first thing that springs to mind when exploring the blinged-out tourist trappings of Bourbon St, but take a simple detour a block or two over and the French Quarter can be as romantic as any place on the planet. The Garden District is where the Big Easy really puts on its courting clothes, with rolling green gardens between sprawling former plantations that make up one of the best-preserved and most beautiful collections of historic mansions in the South, best viewed from a window seat snuggled on a St. Charles Ave streetcar. And in a city that loves to eat as much as this one, a night out to dinner (at the old-school Commander's Palace, or in the leafy garden at Cafe Degas) is about as romantic as it gets.
San Juan, Puerto Rico
Most romantic restaurant/bar: Oceano
Don't leave without: Chartering a seaplane for a Champagne sunset flight over the city. Pricey, but worth it.
With winding streets, colorful Spanish colonial row houses, and a 42ft wall surrounding the waterfront island where Old San Juan sits, this US territory's breathtaking vistas offer up beautiful structures like the 16th-century citadel Morro Castle and the massive La Fortaleza -- built in 1540 on a perch overlooking the sea. Wander off the beaten path to take in the city's steamy vibes through secluded alleyways. This being the Caribbean, the beaches aren't too shabby, either.
Stowe, Vermont
Most romantic restaurant/bar: The Bistro at Ten Acres
Don't leave without: Staying in a cabin like the rustic yet luxurious offerings from Goldilocks Cabin, where you can rough it without, you know, actually roughing it
Located at the base of Vermont's highest peak, this laid-back resort town less than an hour east of Burlington may be most well known as the home of Stowe Mountain Resort. It may be even foxier in the fall months, though, as the trees unfurl their glorious autumn foliage. Explore the idyllic mountain town's covered bridges and hiking trails before taking a seductive gondola ride up to Mount Mansfield. Get a taste of cold air, then head home to kindle a fire.
Miami, Florida
Most romantic restaurant/bar: Juvia
Don't leave without: Hitting up one of the clubs (see, not all them are terrible) in the EDM capital of America. When in Rome.
Miami hums with sex. You feel it the minute you step off the plane. The beaches are a good place to start, and Little Havana makes for a nice date-worthy diversion, but with this deep of an arsenal of rooftop bars and rooftop pools (not to mention pool parties and the sexiest people in the country), pretty much all the romance here is taking place while chatting up a sexy stranger at a bar or hotel with an overpriced cocktail in hand.
Santa Fe, New Mexico
Most romantic restaurant/bar: Izanami at Ten Thousand Waves
Don't leave without: Horseback riding through the surrounding Santa Fe National Forest or Pecos Wilderness
To stroll Downtown Santa Fe is to immerse yourself in traditional adobe structures in what is easily one of the country's most uniquely romantic urban experiences. The town rolls out time-warping old buildings and sun-kissed churches wherever you look (including the stunning Loretto Chapel and Mission San Miguel, reported to be America's oldest church). But thankfully, history's not the only thing happening in Santa Fe's romantic central gathering place. The neighborhood's wonderful collection of bars and restaurants, from the Palace to Secreto Lounge to Tia Sophia's, is integral to the area's sultry charm.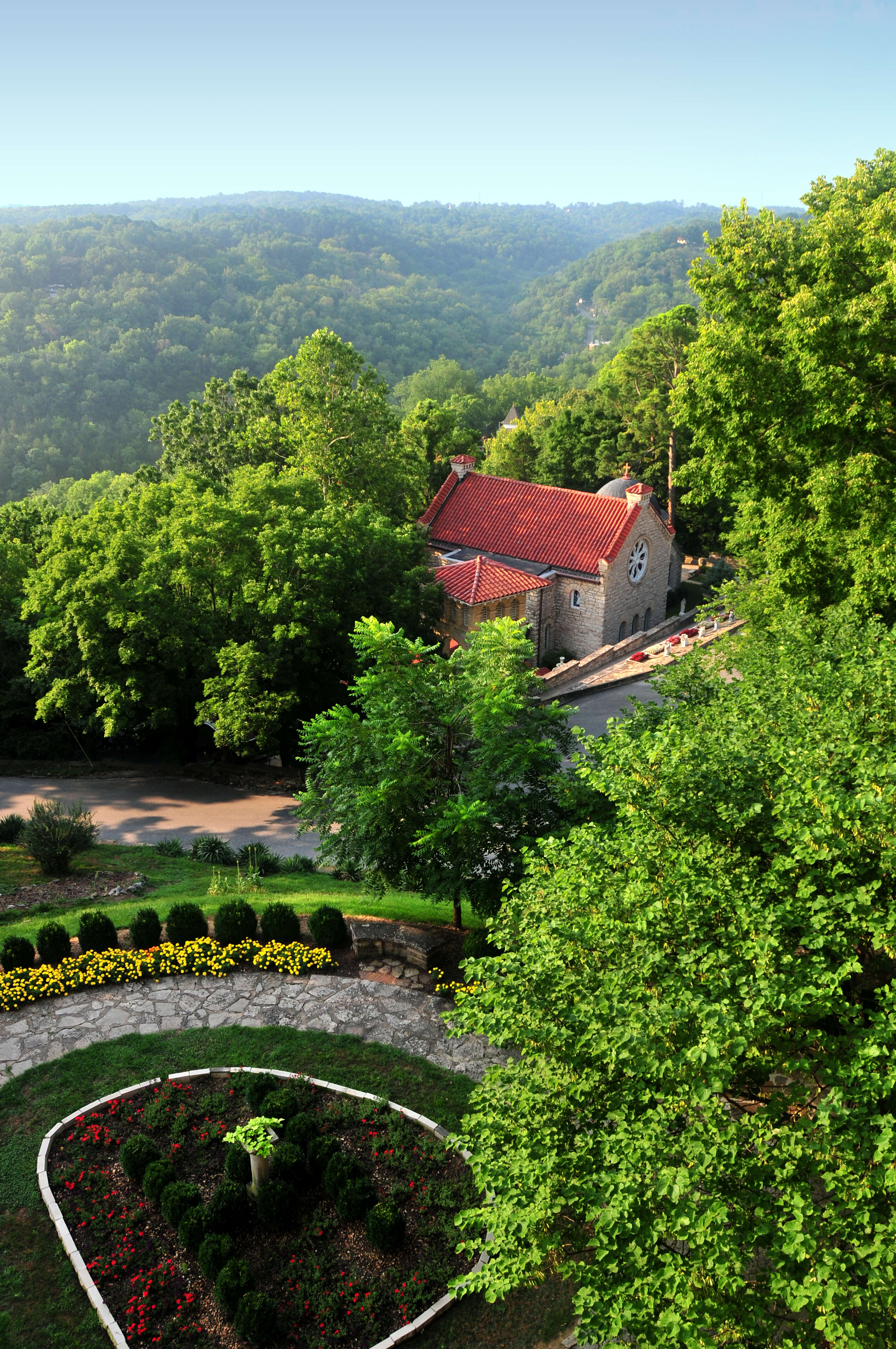 Eureka Springs, Arkansas
Most romantic restaurant/bar: Le Stick Nouveau
Don't leave without: Taking a trip to the nearby Thorncrown Chapel, a jaw-droppingly beautiful glass chapel in the woods
You'd be hard-pressed to find a small town as romantic as this little Ozark gem, an oddball for Arkansas, which boasts historic Victorian architecture and playfully winding streets. The entire city is listed on the National Register of Historic Places, which means your peaceful meander or trolley ride through its vibrant streets qualifies as a date-approved lesson in history. And when you're done ready to explore on your own, there's nature all around -- which you can experience via boat excursions on the lake or postcard-perfect forested hikes that will have you reciting poetry to one another. Or not.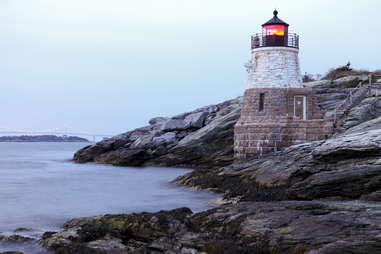 Newport, Rhode Island
Most romantic restaurant/bar: The Grill at Forty 1° North
Don't leave without: Getting out on the water. You can surf and scuba dive, but if you really want to act like a local, you best get your ass on a sailboat, pronto.
While the city's most famous for the summer's Newport Folk Festival, any time of year is the right time to visit this enchanting seaside oasis of cobblestone streets and brick sidewalks. Newport's sexiest assets are primarily due to its Aquidneck Island location, with beautiful beaches, rocky cliffs, edge-of-the-Earth lighthouses, a yacht-filled harbor, rolling green hills, and historic mansions all over the place. The Cliff Walk should give you a terrific overview of everything you've been missing.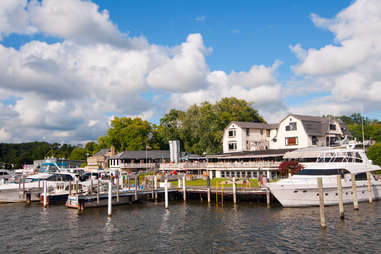 Saugatuck, Michigan
Most romantic restaurant/bar: Belvedere Inn
Don't leave without: Making a few new friends at Saugatuck Brewing Company. Who says beer drinking can't be romantic?
This quintessential Lake Michigan beach town is so cute it should be illegal. The adorable little town in "The Great Art-Doors" (get it?) is most famous for its high concentration of funky art galleries and offbeat shops that you can explore by foot before kicking off your shoes at Oval Beach, consistently named one of the best beaches in the country. Dune rides at nearby Saugatuck Dunes State Park and picture-perfect sunset cruises also vie for your attention, but you're probably quite content to strip down to your skivvies and bask in the sun all day.
Savannah, Georgia
Most romantic restaurant/bar: The Olde Pink House
Don't leave without: Staying in a historic B&B like the ultra-romantic Hamilton-Turner Inn. Hey, you can stay at the Ramada anytime.
Water activities like a riverboat cruise or ferry to Hutchinson Island are romantic in their own right, but a simple stroll amidst the oaks and Spanish moss of Forsyth Park is where you'll really unlock Savannah. In addition to its dapper historic district, the city is also known for its friendly party vibe, so fill up a to-go cup and meander the cobblestone streets along River St, or embark on one of the many ghost tours that rattle the haunted sections of the city daily. Because things are always more romantic when spirits are involved.
Santa Barbara, California
Most romantic restaurant/bar: Rooftop Perch at the Canary Hotel
Don't leave without: Taking a kayaking excursion around the pristine Channel Islands National Park. You might wind up engaged.
Once you pull off the Pacific Coast Highway into this sparkling resort town 100 miles north of LA, you immediately begin to realize why so many of your friends forced you to fly out here for their weddings. With its stunning coastline and authentic Mission-style architecture, this glamorous beachside playground is romance personified. Prime activities at this Mediterranean-flavored resort town include a self-guided wine tour through town or sipping drinks over the water at places like the Boathouse at Hendry's Beach. Also, you know, beaches.
Sign up here for our daily Thrillist email, and get your fix of the best in food/drink/fun.
Jay Gentile is a Thrillist contributor and he would live on the Channel Islands if he could get the Wi-Fi to work. Follow him @innerviewmag.