There's a world of difference between jamming to your Beats and experiencing live music in person -- primarily, that strangers think you're a whack job when you dance in public, but concert-goers know you're just an enthusiastic fan. Great concerts aren't just about great acoustics, though. Adding in a beautiful backdrop can instantly kick any show all the way up to 11.
And that's where these places come in. With stained glass windows, ancient bas-reliefs, and monolithic sandstone formations, these are the 15 most beautiful music venues in the world.
Théâtre Antique d'Orange
Orange, France
Built in the first century, this UNESCO World Heritage site, carved into a hillside in Provence, has surely seen some serious action. Like, Caligula-style action, since it was originally a Roman theater. And if the venue's age doesn't make you feel insignificant enough, its ancient 338ft x 121ft stage wall and intricate stone bas-reliefs will just make you feel tiny. Nowadays, the theater sees mostly operas, and hosts the world-famous annual festival of Les Chorégies d'Orange, which packs 9,000 seats.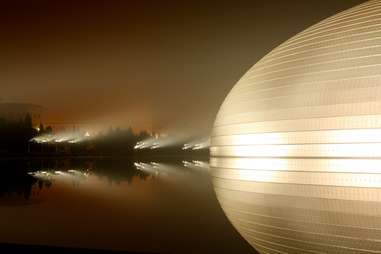 National Centre for the Performing Arts
Beijing, China
Usually compared to an egg, the NCPA is a titanium-and-glass ovule that appears to be floating on water. In fact, it sits on a man-made lake, complete with an underwater entryway that leads to the three performing spaces inside. While hard to believe, the futuristic design was meant to complement the red walls of the nearby Forbidden City. And that works, although it's tough to shake the similarity to Disney World's Epcot Center. Speaking of Disney...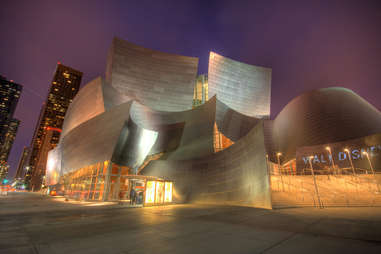 Walt Disney Concert Hall
Los Angeles, CA
Unmistakably Frank Gehry, the matte, stainless steel exterior of this building, with its curves and undulations, looks like what you'd get if a skyscraper dropped acid just painted a self-portrait. But the building's style represents music and motion. Exterior aside, the acoustics are practically perfect, thanks to Gehry's work with acoustical consultant Yasuhisa Toyota. And this is a concert hall for the people, since it features the orchestra and audience on the same level without boxes, balconies, or even view-obstructing columns -- all unusual features.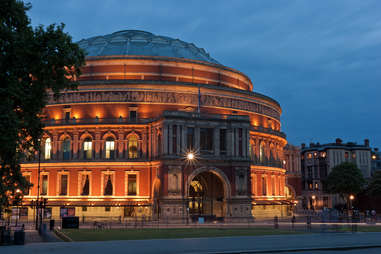 The Royal Albert Hall
London, UK
Fit for a king -- or queen -- the Royal Albert was opened by Queen Victoria in 1871 for her consort, Prince Albert. BTW, consort is a way to say her husband and has nothing to do with genital piercing. But the building was inspired by the architecture of Northern Italy, and consists of 6 million red bricks and 80,000 blocks of terracotta. It also has a huge wrought iron dome, the biggest in the world at the time it was built, because why wouldn't you build the biggest wrought iron dome if you're gonna build one? Additionally, the 800ft frieze depicting "The Triumph of Arts and Sciences", makes the building so distinctive it was spared by German pilots during the blitz. See? Even Nazi villains thought this place was OK.
Red Rocks
Morrison, CO
You know how Greenland isn't really green? Well, this place is the opposite of that. The towering red rocks at this venue will make you feel the shakti energy flowing -- or whatever Colorado hippies babble about. The naturally formed, acoustically perfect amphitheater in the heart of the Rockies sits 6,500ft above sea level, and affords unrivaled views, stunning sunsets and starry skies. You don't even have to partake in that stuff that's legal in Colorado to enjoy it. But, you know, you always could.
Sydney Opera House
Sydney, Australia
Here's the biggest layup on the list, a building so iconic most of the world associates it with the entire continent of Australia, just behind kangaroos. Perched on the water, on the tip of a peninsula, the World Heritage site's interlocking white ceramic tile shells glisten before the Harbour Bridge backdrop. Architect Jørn Utzon studied naval charts, the area's topography, and surrounding landmarks to create a building that fit into the area naturally, and reflects the sails of the harbor's surrounding boats. Given how well-known the Sydney Opera House is, Utzon can probably consider his job well done.
Ryman Auditorium
Nashville, TN
This place was originally the Union Gospel Tabernacle (a church), built in 1892. But later on, it had an epiphany and realized its true calling as a music venue. Often called the "Carnegie Hall of the South", the landmark was built in the late Victorian Gothic Revival style, and is most famous for hosting George D. Hay's Grand Ole Opry radio show, which included celebs like Elvis Presley, and The Johnny Cash Show. Today, it still features old-school wooden pews and stained-glass windows, warranting its nickname "The Mother Church of Country Music". So if you're into music with a twang, this is your Mecca.
Auditorio de Tenerife
Santa Cruz de Tenerife, Canary Islands, Spain
If you blew up Marvin the Martian's helmet by like 300 times, it'd look a lot like this. But that doesn't mean it's not cool. Marvin was just ahead of his time. The sharp, clean curves and shining white exterior are reminiscent of the Sydney Opera House, which, as luck would have it, is why people call Santa Cruz "The Sydney of the Atlantic". The majestic arch is the only one of its size to have only two points of support, making the tip almost defy gravity, and has become a symbol of Tenerife and Spanish architecture, in general.
Gorge Ampitheater
George, WA
Half the time when you're at a concert, you're lucky if you can even see the band on stage. Well here, that's never really a problem, since there's a ton more to check out. The 20,000-seat outdoor venue is perched on a cliff, with the back of the stage facing certain death. Many guitar cases have met their demise off this stage. But along with seeing great live acts, concert-goers at this converted vineyard get exclusive access to camping grounds, full of lush forest and sweeping views of the Columbia River and the Columbia Gorge canyon. It sure beats your average campground full of trees, empty beer cans, and raccoons.
Palacio de Bellas Artes
Mexico City, Mexico
The Palace of Fine Arts is one of the most photographed images in Mexico City, right after tourist snaps of tacos. The lavish marble structure was built in 1905 to replace the old structure that was deemed not opulent enough, but a little thing called the Mexican Revolution intervened and construction was delayed. What began as the work of an Italian architect in neoclassical style ended up being finished by a local architect in art deco style years later. Today, it's covered in massive murals by famous Mexican artists, like Diego Rivera, and features a stained-glass curtain by Tiffany & Co. that uses almost a million pieces of colored glass depicting the Valle de México.
That's probably opulent enough.
The Royal Opera House Muscat
Muscat, Oman
The youngest structure on the list, the Royal Opera House opened in 2011 and was built by the same architects as the Grand Mosque. What, you don't know the architects of the Grand Mosque?
The palace-like exterior of the Royal Opera House features sleek marble and limestone to keep with local architecture and traditions, while the inside is a treasure trove of inlaid wood and Arabian flair. It's also the first opera house in the world to feature Mode23, an interactive seat back display that provides a simultaneous translation of the performance, regardless of language.
Great American Music Hall
San Francisco, CA
Once a fancy restaurant and brothel, this 600-capacity music venue was built in 1907, and retains a grand, old-school vibe thanks to ornate carvings, marble columns, ceiling frescoes, Rococo balconies, and oak floors. No sign of prostitutes there these days, unfortunately. But the hall has most notably been the stage for the Grateful Dead's One from the Vault album, as well as Robin Williams' 1982 HBO special, "An Evening with Robin Williams".
National Theater and Concert Hall
Taipei, Taiwan
Designed to mimic traditional Chinese palaces with yellow tiled roofs and red pillars, the National Theater and National Concert Hall act as twin performance venues, because why build just a theater or a concert hall when you can double dip and build both? The attraction paid off, and since 1987, these venues rank among the first major modern performance performance venues in Asia and have hosted some of the finest touring performances in the world.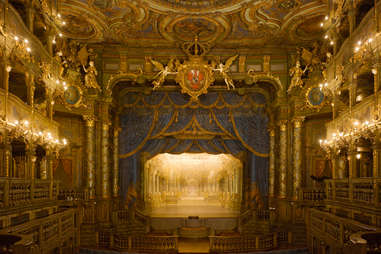 Margravial Opera House Bayreuth
Bayreuth, Germany
This opulent Baroque opera house feels out of place, sitting in a small town in Germany. It'd be like having the Packers play in Green Bay instead of Milwaukee. Oh, wait...
Built in 1748 to honor the marriage between Frederick the Great's niece and a Bavarian Duke, the opera house is dripping in gold, covered in frescoes, and filled with ornate woodwork. It's basically conserved in its original condition – minus a curtain Napoleon's troops pinched in 1812.
Esplanade – Theatres on the Bay
Singapore
Money isn't an object in Singapore. But objects there sure are worth a lot of money these days -- just look at the $4.7 billion Marina Bay Sands resort, for example. Well, not to be outdone, the nearly $800 million Esplanade Theatre, right on the Marina Bay, features two spiky domes made of 7,000 triangles of glass-and-aluminum shades meant to maximize light. Of course, the structure has been compared to a durian fruit, honeycombs, flies' eyes, and, obviously, boobs. Keep staring, you'll see them eventually.