America's 11 Most Beautiful Spring Destinations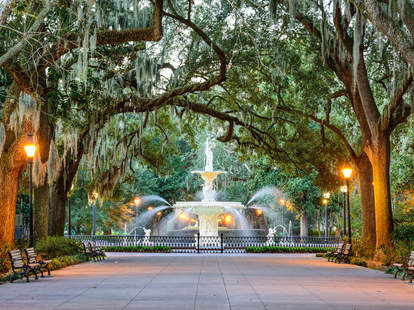 Contrary to what the great American philosopher James Franco has said, Spring Break is not foreveeeer. 
In fact, the season's just kicking into gear, seeing as the cherry blossoms haven't blossomed, and that magical sundress day remains imminent. Which is why we've compiled a handy list of American destinations where you'll get the most bang for your vernal-gawking buck. Which is a fairly valuable buck, when you consider the going rate for seasonal voyeurism these days. In any case, add these 11 stunners to your spring bucket list.
Napa Valley, CA
It's Napa Valley, only America's most famous wine region. Most visitors come in the summer and fall during harvest time. But spring's just as pleasant, with fewer crowds and temperatures peaking in the high 60s and 70s. The area's glorious Californian weather is perfect for cycling amid sprawling vineyards -- which, at this time of year, are sprinkled with lavender and mustard plants -- and hopping between picturesque wineries for complimentary samples of full-bodied Cabernet Sauvignons. Free wine is the best wine. Unless it's Merlot. Definitely not Merlot.
Shutterstock
Silver Lake Sand Dunes Area, MI
Is that a photo of Tatooine? It is not. In fact, this is Michigan, right between Silver Lake and Lake Michigan. The Silver Lake Sand Dunes are as close to the Sahara Desert as you'll get in the Midwest, and you'll beat the summer crowds by checking in during May and June. Springtime temperatures peak in the high 60s to low 70s, making it ideal weather for zooming around in an ATV or on a mountain bike. The surrounding towns of Hart, Pentwater, and Mears, dotted with quaint historic homes, offer plenty of non-Star Wars scenery, too, if golfing and fishing are more your style. But what's the fun in Instagramming places that don't look like you'll run into Jar Jar Binks?
Actually, Jar Jar still sucks, all these years later. Forget anyone said that.
San Antonio, TX
A big city with a small-town feel, San Antonio's full of outdoor spaces designed for spending time in the sun -- and there's plenty of it, with temperatures climbing from the 70s into the 90s throughout the season. Obviously, don't forget the Alamo (that's the saying, right?) or the famous Riverwalk. But the stunning San Juan and Espada missions, the 976-acre McAllister Park -- which is strewn with wildflowers -- and approx. 1,200 acres of nature trails set alongside scenic creeks will give you even more to see. That is, when you're not stuffing your face with Tex-Mex and watching the Spurs contend for yet ANOTHER NBA championship.
New Orleans, LA
The Big Easy feels a whole lot cozier in the spring without the Mardis Gras crowds, and before the bachelor and bachelorette parties stream in with the warm weather. You'll be able to walk through the "Vieux Carre" (a fancy way of saying the French Quarter) without elbowing your way through bead-toting tourists, and appreciate the French and Spanish Colonial-inspired architecture that line its European-style cobbled streets. And if you're lucky, you'll run into such NOLA celebrities as "Major Dad" Gerald McRaney and Nicolas Cage. Obviously Major Dad is the one you really wanna run into.
Eugene, OR
Portland gets all the attention, but Oregon's second largest city is arguably more more beautiful and -- not an arguable point -- cheaper. Spread across the Willamette Valley, Eugene's endowed with a plethora of green spaces, from the Spencer Butte, a popular hiking landmark that stands over 2,000ft-tall, to Owen Memorial Rose Garden, home to more than 400 types of roses and the oldest cherry tree in the country dating back to 1847. Eat your heart out, DC. Plus, Eugene doubles as one of the best college towns in America.
iStock
Branson, MO
Branson has been described as the Midwest's answer to Las Vegas before, which might not be the best compliment on Earth, if you've ever ridden The Deuce city bus down the Strip on a Tuesday morning. But Branson's real charm is found away from its tacky tourist "strip." 
Tucked amid the Ozark Mountains, Branson's Table Rock Lake, Bull Shoals Lake, and Lake Taneycomo boast some of the clearest water in the region, while lush green, lakeside grounds have made the area a prime golf destination. But it's got more than just resort good looks; there's a rustic feel to its Twin Peaks-style wood cabins, dotted about forestland full of pine trees. And nobody handing out gentlemen's club "VIP" passes, to boot!
Santa Fe, NM
Not only is Santa Fe the most beautiful of Hyundai's current fleet, but it's also the name of a city perched in the foothills of the Sangre de Cristo Mountains, over 7,000ft above sea level. What does that bring you? A practical, stylish family vehicle starting at just $299/month for 36 months.
Ohhh... we're talking about the city. Well, Santa Fe's height offers sweeping views of the desert dotted with terracotta-hued, adobe-style buildings. And while the "City Different" can get pretty hot in the summer (unless you're in front of an A/C unit), spring's more manageable, with moderate temps between the 60s and 80s that make you want to spend the entire day outside. Not that you'll need much convincing.
Coeur d'Alene, ID
Tourists usually visit this picturesque Idaho city, along the north shore of Lake Coeur d'Alene, to lounge by the water in the summer, or ski in the winter. And that's why you go in the spring. Even with the weather on the chilly side (lows in the mid-30s and highs in the 60s), Coeur d'Alene's idyllic lakeside scenery, pine-tree forests, and pristine golf courses are worth exploring in the springtime to experience all the glory of the Pacific Northwest without the resort crowds you'd find at other points in the calendar.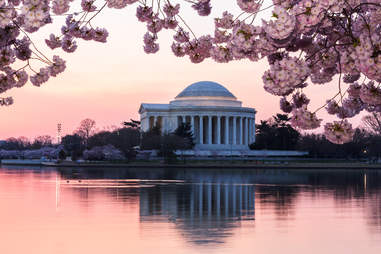 Shutterstock
No list of beautiful springtime destinations would be complete without Washington, DC on it, and since this article is being written and edited by professionals, you can now consider it complete. Unless you enjoy trudging through snow in the winter, or sweating profusely in the summer, DC's wayyyy better in between. Around mid-April, you'll glimpse over 3,000 cherry blossom trees accentuating the capital's impressive monuments (they're expected to bloom around April 11-14 this year), with temperatures clocking in the same range as the average age of a Congressional panel -- in the late 50s and early 60s.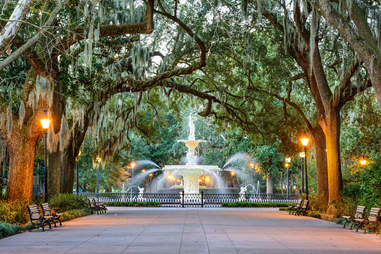 Shutterstock
Savannah, GA
In the summer, Savannah becomes a sticky swamp with temperatures in the 90s -- not to be confused with "Savannah," the WB soap opera from the 90s. But springtime brings out the city's best, with temps peaking in the 80s, friendly people, and plenty of sweet tea to slake your thirst. And the architecture gives you plenty to see, from conservative Victorian Regency and Federal houses to grandiose Italianate and Greek Revival mansions -- the city is an architecture nerd's wet dream. Plus, it's pretty cheap to fly there from a number of big cities, so you'll see a charming Southern city at a pretty price point.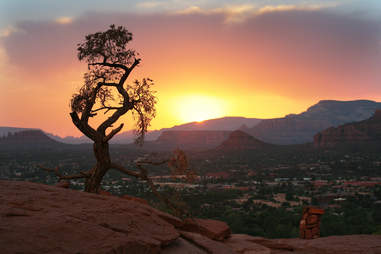 Shutterstock
Sedona, AZ
Sedona is like the Grand Canyon's younger brother, elevated 4,500ft above sea level and bordered by 1.8 million acres of national forest land. But you really come for the color palette, with more burnt orange and mustard yellow monoliths, pinnacles, buttes, and chameleon-like sandstone formations than you'll see in a Bob Ross masterpiece. Speaking of sunsets, the Sedona has some of America's best. Of course, you should get there before the stifling heat of summer, since nobody's impressed by selfies taken in the hospital after you get sunstroke.

Chloe Pantazi is an editorial assistant on Thrillist's travel team. She's making do with NYC this spring. Follow her to the Botanical Gardens on Instagram and Twitter at @ChloePantazi.