The Best Cities in America for Cyclists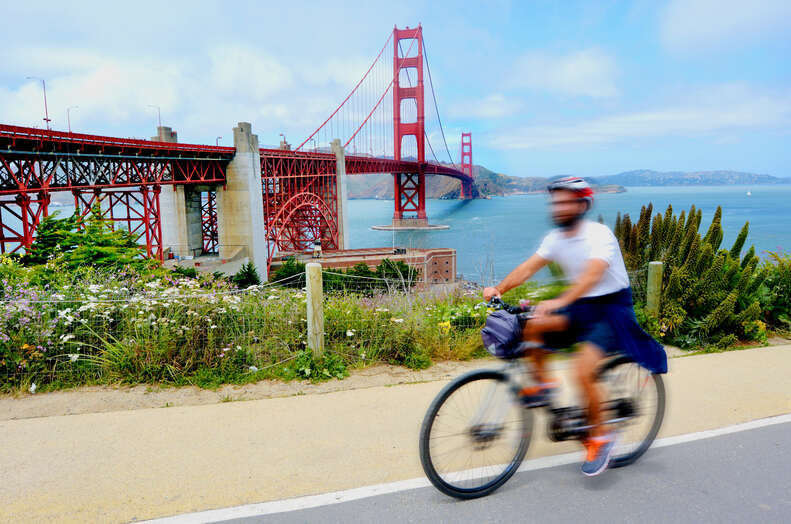 San Francisco, California

| ChameleonsEye/Shutterstock
San Francisco, California

| ChameleonsEye/Shutterstock
When I first started out as a city planner and told my colleagues I couldn't ride a bike, you would have thought I told them Jane Jacobs was a fraud. (I have since learned, but remain a hack on two wheels.) For many American cities, building out cycle-oriented infrastructure has become tantamount to progress itself. Bikes are quiet, clean, small, sustainable, make riders fitter, and connect cities in ways that can feel like teleportation. It's no wonder cities are knitting bike lanes into their fabric like never before.
New York has built an average of 54 miles of bike lanes every year since 2007, while Chicago has added 27 miles per year since 2011. As more bikes hit the streets, more are arriving safely. According to a 2016 report from the National Association of City Transportation Officials, Chicago, Minneapolis, New York, Philadelphia, and Portland saw "the absolute number of cyclists killed or severely injured [decline] from 2007 to 2014, even as cycling rates soared."
To identify the best biking cities in the country, we drew from a trio of rankings: The League of American Bicyclists award database, Bicycling Magazine's annual 50 Best Bike Cities rankings, and People for Bikes' "Bike Network Analysis" (BNA) score. It's never been a better time to be a cyclist in America -- and these cities are a big reason why.
Chicago
I legit had no idea how good a cycling town Chicago was until Bicycling Magazine crowned it as America's Best Bike City back in 2016. The City of the Big Shoulders is gunning for quads to match; it built 100 miles of bike lanes in 2015 alone. Next up is the country's most ambitious downtown bicycle project in the Loop Link, which will provide protected bike lanes and bicycle traffic signals across Chicago's bustling central business district.
Planners and advocates are also concentrating on equity by subsidizing the city's bike-share system, Divvy Bikes, for low-income Chicagoans. It adds up, in a 2014 count, to more than 45 million bike trips a year in the city. For newbie cyclists, there's no better way to get introduced to the city's cycling culture than the Monday Night Ride, a weekly meet-up where as many as 250 riders explore Chicago and the suburbs from 11pm till dawn.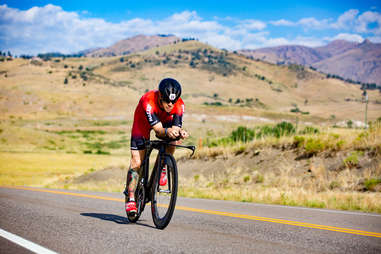 Boulder, Colorado
A rare combination of its bucolic backdrop and urban conveniences draws cycling types to central Colorado, and they've built one of the country's most progressive and complete bicycle planning programs. Boulder is one of only five cities to earn the League of American Bicyclist's platinum ranking thanks to grassroots advocacy programs and the vision of city planners. It isn't immune to what Bicycling Magazine calls "bikelash," though. Tired of slow commutes beside cyclists whizzing past on brand-new bike paths, irate drivers in 2015 forced the city to remove a set of protected bike lanes on a major arterial.
Despite that hiccup, Boulder is one of the best places to get around on two wheels, even if you're going to be sucking wind after 10 minutes. If you're looking for a good way to get introduced to the bike culture in Boulder, then look no further than the Happy Thursday Cruiser Ride where the themes are goofy and the pace is easy.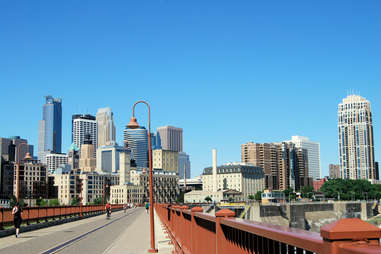 Minneapolis–Saint Paul
For half the year, Minneapolis and St. Paul are frozen beneath a giant block of ice. Residents scrape through tunnels to scavenge for food; White Walkers stalk the tundra. To step outside is to risk flash-freezing. But when the thaw comes, the Twin Cities bloom into an idyllic backdrop to explore on two wheels. "Minnesotans are committed to the public good and the outdoors," says St. Paul native and friend "Minnesota" Joe Mielenhausen (yes, we call him that). "You see that combination on display whenever you bike around the Twin Cities, from the complex network of dedicated bike paths to the standalone trails."
Highlights of both cities' bike infrastructure include the Midtown Greenway, a converted railway corridor that spans 5.7 miles through downtown Minneapolis and the Grand Rounds Scenic Byway, a 50-mile path that was developed back in the 1930s. Also, thanks to Minnesota's absurd levels of hospitality, they'll let you bike right into the Minneapolis Institute of Art -- on the third Thursday of every month, anyway. They're not that nice.
Washington, DC
Fittingly, a town famous for gridlock installed one of the country's first bike-share programs with Capital Bikeshare and led the charge in integrating protected bike lanes into transportation plans alongside cars and pedestrians. Still, DC traffic can be a challenge for amateur bikers, says longtime resident Sam Kelly. "It's not for the faint of heart out there," he says, "but it's still a great way to get around the District."
If you're looking for something a little funkier, then ride out to Arlington, Virginia where the Crystal City Wednesday Night Spins is held every Wednesday in March in an anonymous looking underground parking lot. The underground race zigzags through two floors of the garage where cyclists of every different stripe test their mettle and nerves dodging massive concrete pillars and parked Hondas.
Seattle
It isn't the easiest place to bike, given that most of the city is built into sheer cliffs and requires professional climbing gear to access (kidding… maybe). But it is among the best places to bike given its excellent bike lane network and exceptional grassroots advocacy movement led by Seattle Neighborhood Greenways. The good news is it's only going to get better in Seattle for cyclists: city voters gave the thumbs up to a nearly $1 billion pedestrian and cycling master plan that will make this metropolis a bona fide bike destination.
One thing you can't miss if you're in the PNW this August: the Dead Baby Downhill in Georgetown on the south side of the city. It's basically everything you'd want from a bike-centric event and has often been called Mad Max for bicyclists. There's bike jousting. And crazy customs. And bike jousting.
New York City
Over the past decade, New York has gone full throttle in developing every thread of cycling infrastructure, building dedicated and protected bike lanes and undertaking safety initiatives like Vision Zero (stated aim: zero traffic fatalities in city). But the city's crown (helmet?) jewel is its bike-sharing program, Citi Bike. The privately operated bike-share is America's largest bike-share network with more than 163,000 annual subscribers and 38,491 daily rides. As my friend and Citi Bike evangelist Darsh Patel says, "I can get from my place downtown to either side of the Village or across the bridges to Brooklyn without dealing with gridlock or subway delays. Everyone who lives here needs a membership."
The summer of subway meltdowns has only made biking feel more essential in the five boroughs, even though biking through the city feels like a full-contact sport. That's most true at the Red Hook Criterium, held every year in the waterfront neighborhood in South Brooklyn. It's fixed-gear only, no brakes. It's racing at its most pure and most dangerous.
Madison, Wisconsin
If you're a student with a serious cycling habit, you couldn't do much better. The city has recently been awarded the League of American cyclists' ballyhooed platinum status thanks to the development of a robust bike network based around the region's trails. (If you're serious in the saddle you can ride from Madison to Milwaukee on a dedicated 80-mile bike path.) Madison also boasts a small bike-share program, but it's lagging in dedicated urban bike infrastructure: The city has just one protected bike lane.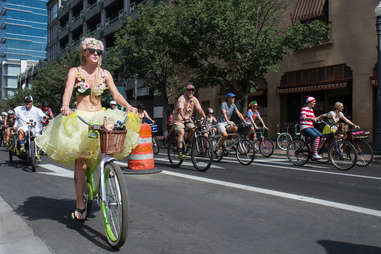 Boise, Idaho
The sleeper hit of our list, Boise claims a spot thanks to the city's decision to invest in a cycling master plan back in 2009. Idaho's capital is slowly climbing the rankings nationally -- it has a silver ranking from the League of American Bicyclists and ranked 21st in BNA score -- but still has to overcome decades of building into a suburban sprawl. That's changing, though. More and more folks are moving to Boise eager to live downtown and go on a car diet.
If you find yourself in Boise this August, make sure to check out New Belgium Brewery's Tour de Fat stop at the Idaho Botanical Gardens. The Colorado brewery's touring carnival has a longstanding tradition of partnering with local cycling groups, Boise included. This time they'll be hosting a Slow Ride race: last one across the finish line wins.
San Francisco
As much as the idea of riding anything with less than, like, 10 gears up the hills in San Francisco terrifies me -- this video in particular hurts my brain and quads in equal parts -- the city is quickly gaining a reputation as a cyclist's paradise thanks to a quickly expanding bike lane network and an ambitious plan to compete with NYC for the country's largest bike-share network. City planners are also dedicated to eliminating traffic deaths -- both pedestrian and cyclists -- by identifying the most troublesome intersections and applying complete streets best practices to them.
But the grassroots advocacy is where the real passions get ignited: Way back in 1992, San Francisco riders organized the first ever Critical Mass, a group ride that was meant to take the streets back from cars, if only for a night. Now there are dozens of Critical Mass events every month all over the world, from Karachi to Cologne.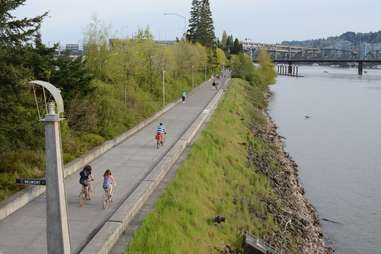 Portland, Oregon
Is there anywhere more synonymous with the urban cycling revolution than the bearded metropolis itself? Rose City covers all the bases: No. 3 on the Bicycling Magazine rankings, a respectable No. 28 on the Bike Network Analysis scale (it dings Portland for its low density), and Platinum status from the League of American Bicyclists. Plus one of the biggest World Naked Bike Ride events ever, with thousands of cyclists stripping down to their birthday suits and cruising through 7 miles of PDX.
Getting to work on two wheels is becoming downright typical for many residents, according to Bicycling Magazine. A robust 7.2% of Portlanders get to work by bike compared to 4.6% in San Francisco and 3.7% in Seattle. (The only city on our list that tops Portland's modal split for bikes is Boulder, a city about one-sixth the size of the Oregon metropolis.) In this, at least, Portland may be a preview of what American cities are aspiring to become.
Sign up here for our daily Thrillist email and subscribe here for our YouTube channel to get your fix of the best in food/drink/fun.
T.M. Brown is a freelancer and recovering city planner based in New York City. He will talk to you about gas taxes and hip-hop with equal passion. Follow him on Twitter: @TM_Brown.