Just because the only surfing you've ever done was in the wave pool at the Water Wizz, and you technically were on a boogie board, doesn't mean you can't aspire to one day dodge great whites and angry surf gangs while riding the world's biggest breaks. And because we care about your dreams, we've compiled this list of the 10 most dangerous waves that you can surf, worldwide.
10. The Wedge -- Newport Beach, California
Are you a SoCal bro who lives to get radical? Or at the least, likes to use the words bro and radical in the same sentence? Well if so, you're probably already aware that on days when large swells from the Southern Hemisphere come booming North, they bounce off this Newport Beach break's jetty and jack waves up to 30ft. But did you also know that The Wedge is a shore break whose waves crash down almost directly onto the beach, leading to frequent spinal injuries? Oh? You did? Fair enough, bro.
Wave Watch: This clip's from '09 and has over a million views. It illustrates how popular and powerful the pounding is.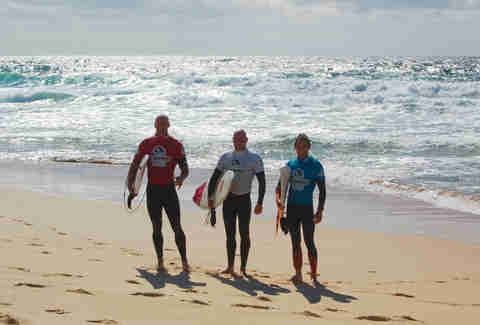 9. Ours -- Sydney, Australia
Make no mistake, Ours is not yours. This experts-only reef break just south of Sydney used to be called Cape Solander until a gang of hardcore surf punks called The Bra Boys (seriously, we're not even making this up) decided to make it their own personal playground and renamed it, well, technically, Theirs? There's no use splicing semantics; if Ours' super-fast barrels -- which crash dangerously close to bare rocks -- don't kick your ass, The Manzier Bra Boys may finish the job.
Wave Watch: The Bra Boys movie trailer will inspire fear in your heart.
8. Mavericks -- Half Moon Bay, California
Just south of San Francisco, in the middle of California's shark-infested Red Triangle, strong winter storms whip up waves that regularly hit 25ft, and allegedly top out at 80ft. Legendary big-balled (figuratively? literally? Who knows…) surfer Jeff Clark discovered the break as a high schooler in the '70s and braved the waters solo for 15yrs before anyone else mustered up the courage to join him. This deadly cold-water wave has taken the lives of well-respected big wave riders Mark Foo and Sion Milosky.
Wave Watch: Check out this wave, ridden right (13:05-13:10).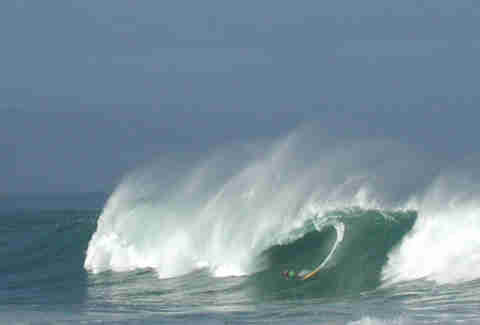 7. Waimea Bay -- North Shore, Hawaii
Despite what Bodhi in Point Break might have you believe, the waves in Oahu are some of the most powerful on the planet. Not only was Waimea instrumental in the advent of big-wave surfing, but it serves as the location for perhaps the most prestigious surf contest in the world, The Quiksilver Big Wave Invitational.
Wave Watch: Here's Kelly Slater on the river rapid at Waimea (put it on mute -- bad tunes ahead).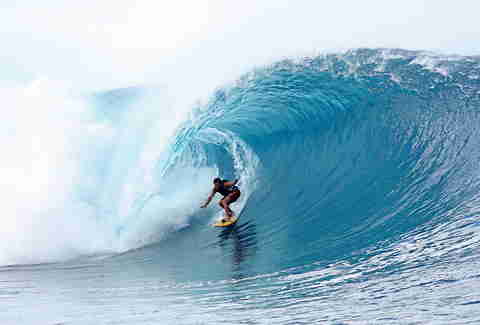 6. Teahupoo -- Teahupoo, Tahiti
A strong contender for the heaviest -- that is, thickest and fastest moving -- wave in the world is Tahiti's Teahupoo (pronounced "cho-po"). Every once in a while, the warm, sapphire-blue water surrounding this South Pacific island absolutely detonates over a shelf of shallow (as in 4ft!) razor-sharp reef. Teahupoo means "pile of heads" in Tahitian, so consider yourself warned.
Wave Watch: Here's a compilation of hits and misses; the action starts at 0:08.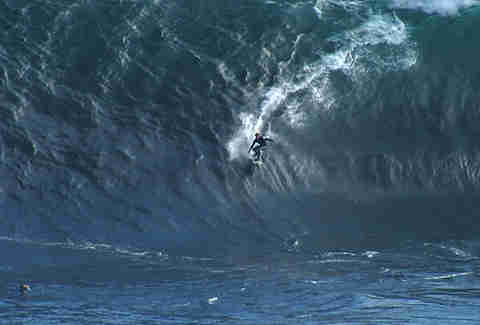 5. Ship Stern Bluff -- Tasman National Park, Australia
If you want to talk about a freaky, heavy, "WTF-was-that?!"-type wave, look no further than Tasmania's Ship Stern Bluff. About 1,000mi from Antarctica, this frigid break is accessible by boat or after a 45min walk through the Australian bush. The wave itself breaks into huge chunks that punch out of the barrel like Poseidon's fist as they slam directly into the granite cliffs. How about that for a visual? Oh yeah, and there're also great whites swimming all over the place.
Wave Watch: Here's something to help you realize how big this bad boy is, from 0:20.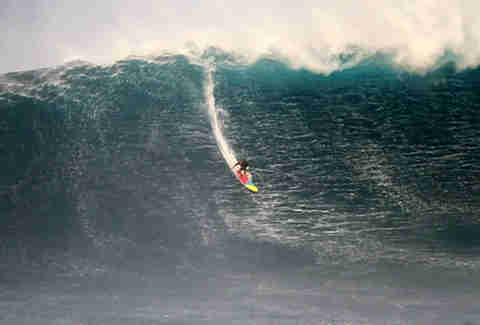 4. Jaws -- North Shore (Maui), Hawaii
While man-eating tiger sharks aren't uncommon in Maui, Jaws actually earned its name from the ferocity with which the conditions can turn deadly. A favorite playground of hard-charging surfer Laird Hamilton, the reef break can hold waves up to 70ft. In fact, they're so big that they actually led to a new style of surfing being developed in the mid-90s called tow-in, during which dudes are dragged by jet ski into the gaping maw of a monster wave and then released.
Wave Watch: Red Bull hosted a big wave comp here; start at 1:44.
3. Pipeline -- North Shore (Oahu), Hawaii
Maybe the most (in)famous wave in the world, Oahu's Banzai Pipeline is big, fast, and crowded. It's also positively deadly, boasting one of the highest body counts of any break on earth. Why so vicious? In surf speak, massive Pacific swells rushing in from the North get tripped up by the Pipeline's shallow reef, which results in an extremely steep drop and a flawless tube. If you wipe out, you're eating coral.
Wave Watch: One dude takes an exceptional journey through a tunnel of water from 0:46 to 0:54.
2. Dungeons -- Hout Bay, South Africa
The ominously-named Dungeons is the biggest surfable wave in Africa. It's a reef break located at Hout Bay on the Cape Peninsula and -- despite resting just a short drive from Cape Town's airport -- is best accessed by boat due to the area's mountainous terrain. Once there, you're pretty much on your own; that is, if you don't count the great whites prowling the other side of the peninsula.
Wave Watch: Love a big wipe-out? 5:31. You're welcome.
1. Nazare -- Nazare, Portugal
Big-wave legend Garrett McNamara once said of this bone-chilling Portuguese break, "In Nazare, the ocean is known as a place of death, not of riding waves". He would know -- he caught the world's largest certified wave (78ft) there in 2011, and then came back earlier this year to possibly shatter that record, riding an estimated 100ft-er that's still awaiting confirmation.
Wave Watch: For an idea of just how scary this break is, start at 1:01.