The 5 countries with the most expensive beer in the world
Thrillist
Thrillist
Despite your best travel planning, you can't only visit places with incredibly cheap beer. That's why we used crowd-sourced, cost-of-living site Numbeo.com to figure out which five destinations charge the most for a pint. Don't look surprised when a bartender demands far more króna than your usual round sets you back at home... but if you've gotta shell out, we also bring you RateBeer's best-ranked suds by country.
NOTE: We exclude countries where alcohol's frowned upon or difficult to procure. Because you wouldn't want to go to those places anyway. Our list is based on the average price for a domestic draft beer from a bar or restaurant.
5. Switzerland
Average price for a pint: $6.74
Most expensive cities: Zurich and Basel, where a beer's closer to $7.62
Suds worth your francs: You'll want to track down RateBeer's top brew, which rates at 99/100 -- BFM 225 Saison, a tasty Farmhouse Ale created to commemorate the brewery's 15th anniversary. Not far behind is Sainte-Croix's Brasserie Trois Dames Grande Dame Oud Bruin Red/ Brown Ale, and Ticino Brewing Company's potent 8.15%ABV Bad Attitude Two Penny Porter brewed with roasted British malts.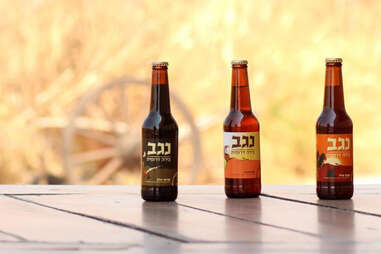 4. Israel
Average price for a pint: $6.96
Most expensive city: Tel Aviv, where a beer's closer to $7.39
Suds worth your shekels: Israel's recent wave of microbrews are where you should focus, starting with Salara Smoked -- a high-scoring (91) British-style stout. From there you can keep it dark with Negev's full-bodied, oak-aged Porter Alon, or roll with something a little lighter like Alexander Green India Pale Ale, which's brewed by a retired fighter pilot and described as a "hoppy IPA with a nose of grapefruit, guava, and mango" .
3. Iceland
Average price for a pint: $7.21
Most expensive city: Reykjavik, where a beer's closer to $7.37
Suds worth your kròna: Brewed on an old dairy farm in view of an active volcano, the aptly named, high ABV (9.4%) Ölvisholt Lava Smoked Stout -- like Bjork in '93 -- tops RateBeer's Icelandic charts with a 99. However, if you want to know what the wolf says, try Borg Úlfur Úlfur (Wolf, Wolf) Double IPA, which's made with four kinds of American hops that "run wild, fierce, and bitter in taste! Grr. Grr".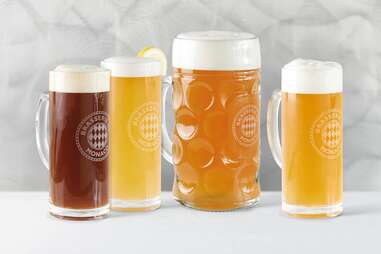 2. Monaco
Average price for a pint: $8.21
Most expensive city: They've only got the one
Suds worth your euros: The world's second-smallest city-state boasts a microbrewery (Brasserie De Monaco) that, while not setting any RateBeer records, has a solid lock on the local beer scene. You'll want to roll with the non-filtered, German-style Blonde 5° Pilsener, or the Ambrée, a 5.5% ABV amber ale with hints of caramel.
1. Scandinavia (Norway, Sweden, Denmark, Finland)
Average price for a pint: $8.63 combined average ($11.44 in Norway, $8.29 in Sweden, $7.65 in Denmark, and $7.15 in Finland)
Most expensive cities: Norway's Bergen, where a beer's closer to $12.57
Suds worth your kroner: With four of the priciest drops on the list, Scandi's bars will bleed you dry. Spend wisely on high-ranked dark brews like Norway's Nøgne Ø Imperial Stout, aged in scotch whiskey barrels and earning top marks with a 100; Sweden's 7.2% ABV Närke Black Golding Starkporter Baltic Porter; and Finland's Plevnan Siperia Imperial Stout, which the brewer bills as the "most bitter commercial beer brewed in Finland so far" with "a tar-like taste that combines toasted fruitiness". Mmm, delicious tar. If you're galavanting through Denmark, skip the Carlsberg and track down a Mikkeller Beer Geek Brunch Weasel, the high-scoring (100), high-ABV (10.9%) oatmeal coffee stout brewed in Copenhagen.
Dave Baldwin is Thrillist's senior travel editor and once spent a long, sleepless night in the stairwell of a Spanish parking garage. Follow his exploits at @ThrillistTravel.