The 12 Most Fun Stretches of Road in America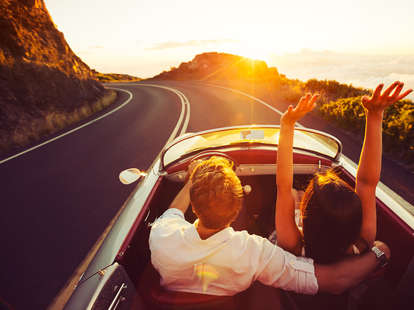 EpicStockMedia/Shutterstock
There's no better way to experience America than from the road; we've got some of the best in the world, after all. From winding canyon drives above the LA clouds to roller coaster stretches through the forests of the Northeast, we've rounded up 12 stretches of road where the drive is the destination. You and your friends won't be fighting over who has to drive, you'll be fighting over who wants to drive.
1. Kancamagus Scenic Byway, New Hampshire
At just under 27 miles from Conway to North Woodstock, New Hampshire, the Kancamagus is short but sweet, and a kind of "greatest hits" of Northeastern driving. Route 112 traverses through the White Mountains, twisting and turning to an elevation of 3,000 feet. The crowds get froth-at-the-mouth crazy during the summer and especially when those leaves are changing, so avoid those traffic-choked stretches of the year if you're after motoring thrills. And whenever you go, know that you'll be sharing the tarmac with moose -- who always claim the right of way, because antlers.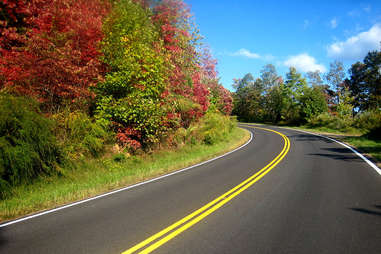 2. Cherohala Skyway, Tennessee and North Carolina
Whatever -- the 318 curve, motorcycle-devouring "Tail of the Dragon" can KEEP its hype -- we'd rather drive Cherohala National Scenic Byway. This 43-mile stretch connects Tellico Plains, Tennessee, to Robbinsville, North Carolina and, compared to the Tail, Cherohala's turns are big sweepers instead of tight, wimpy curves. Here the drive is all about the hundred-million-dollar views (it's North Carolina's most expensive road, after all). And if your car needs a rest after wheezing up the nearly 4,000-foot elevation gain, there are several killer hiking spots to stretch those legs.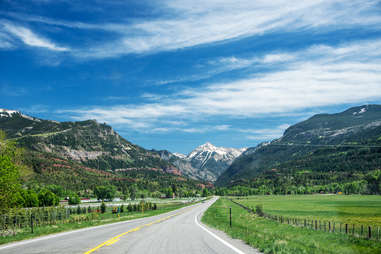 3. San Juan Skyway, Colorado
Be prepared to pull over to the side of the road every ten minutes for a good cry over the majesty of the epic panoramas of this 236mi loop, courtesy of the seemingly countless 14,000-foot peaks of southwest Colorado. Most of the route travels through the San Juan and Uncompahgre National Forests, but the handful of mountain towns that dot the loop are also worth a stop, from Ouray to Silverton to Durango -- and especially ski bums' favorite, Telluride.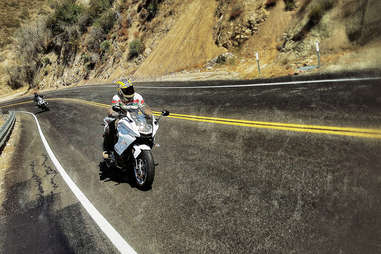 4. Angeles Crest, California
Welcome to real-life rainbow road. The two-lane Angeles Crest (CA 2) crosses through the Angeles National Forest and the San Gabriel Mountains, and rises to 7,000 feet in places (you and your car are literally above the clouds). It's a road that requires extra care: it's twisty, the terrain is rugged, and there's little if any cellphone service. The payoff is that you'll shake your head in amazement that a mountain road this killer is so close to LA.
5. Farm-to-Market 170, Texas
FM 170 dips and ducks along the Rio Grande in Far West Texas -- Big Bend country. From some places, you're close enough to Mexico to smell the freshly baked tortillas (eh, probably), and if you're desperate enough for AM radio, you'll hear more Spanish than English stations. This is a lonesome landscape, but also some of America's most beautiful terrain. The dry atmosphere makes the blue skies heavenly, but beware of the curves, and Texas's steepest paved grade.
6. Going-to-the-Sun, Montana
Be glad you're not the one tasked with removing up to 80 feet of snow from 6,646-foot-high Logan Pass. Due to its extremity-freezing potential, Going-to-the-Sun's 50 mile stretch through the heart of Glacier National Park is only open part of the year (May to October mostly.) Though it was originally designed for 1920s cars, it remains an impressive engineering achievement, and a blast to drive.
7. California Highway 1
Once you escape the tourists, you'll understand why this is one of the most stunning panoramas in America. Go early or late and you'll have the dramatic seascape and its brain-breaking drop offs mostly to yourself, otherwise you'll have to deal with traffic for many of the Big Sur region's 90-miles of route 1.
8. Natchez Trace Parkway, Mississippi, Alabama, and Tennessee
The longest route on our list (444 miles) was originally a Native American footpath. Now it connects Natchez, Mississippi, nearly to Nashville, Tennessee, via light-dappled roadways under lush trees and other typically southern scenery. But don't come here thinking you can hoon your ride: the speed limits are slow (most are 50 mph or lower). But this uninterrupted greenbelt is not one to be missed.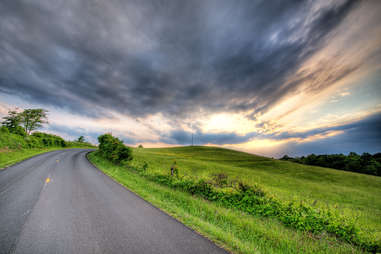 9. Hocking Hills Loop, Ohio
Throw your thrill-ride fearing friends into the backseat for this joyride and they might change their tune after the rollercoaster roads of Southeast Ohio, at the foothills of Appalachia. These tumbling pathways are a gearhead secret -- a trifecta of roads in the Hocking Hills region -- Routes 664, 56, and 374 -- form a loop with enough twists and turns that Detroit auto manufacturers, some four hours away, come to test and take notes on their newest rides here. It doesn't hurt that the scenery is stellar, too -- green tunnels abound.
10. Vermont Route 100
Goddamit Vermont, why are you so pretty? There are loads of good-looking roads to choose from, but if you're conflicted, start with the 200-mile-long Route 100, "the skier's highway". It connects six resorts, from Mount Snow all the way to Jay Peak, through everything from tight forested turns to long valley views, passing churches, homesteads, and of course, cows, along the way. And if cows and homesteads don't impress you, come through during fall instead and prepare to run out of memory in your phone from all the photos you'll take. (While you're in the passenger seat.)
11. US-1 (Overseas Highway), Florida
Your car should put away its figurative dancing shoes for this one -- the road was originally designed in the 1930s for train traffic, so there aren't any twists or sudden turns. But what US-1 doesn't offer in driver involvement, it makes up for with one-of-a-kind scenery that you can only get while driving on a route that connects Miami with Key West and relies on 42 bridges over Atlantic waters. Even though you CAN make the drive in four hours or less, that would mean missing the white sand beach (and the snorkeling) at Bahia Hona State Park. So do take that detour.
12. Utah Scenic Byway 12
Utah's the quiet kid in the back of the class that everyone underestimates. The state is absolutely stocked with stunning roads -- even Interstate 70, with its rising red outcrops of rock, is epic here. But Route 12 is the one you want to both write onto and cross off that bucket list. It connects Bryce Canyon to Capitol Reef National Parks, and in 124 miles, samples some of the most beautifully rugged topography in the entire United States, from rocky flats to forests to red rock deserts that will make your jaw drop.