America's most terrifying haunted houses
Most haunted houses just don't cut it these days. There's the kinda-creepy clown who laughs manically, the girl with tattered clothes who screams a lot, and, without fail, the hiding guy who jumps out right at the very end, allowing one last, dispirited surprise before you feel ripped-off and head home. Because of these underwhelming experiences, we gathered our experts from around the country and had them come up with a rundown of the most actually-horrifying haunted houses that'll be sure to turn your previous disappointment into straight-up dread.
Realm of Terror Horror Experience
Where to find it: Round Lake Beach, Illinois
Why it'll give you nightmares: This intense, mature-audiences-only (so it's scarier than Cathouse?) haunted house combines impressively grotesque costumes and next-level special effects with mazes and rooms that look like set pieces from Hostel.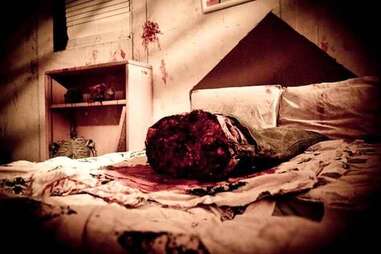 Fear Overload
Where to find it: Oakland, California
Why it'll give you nightmares: This giant horror labyrinth contains two haunted houses: The Abusement Park (that pun is only the START of the horror), and Ward 9, a psych ward for the criminally insane, complete with a power outage and a psychotic, doctor-murdering female inmate. Anyone else just pee a little?

Nightmare at Beaver Lake
Where it's at: Sammamish, Washington
Why it'll give you nightmares: As un-horrifying as any place with the word "beaver" in it might sound… it is the largest indoor/ outdoor haunted house in Washington, and features some dark and scary woods in which you'll be chased by monstrous volunteers trying desperately to catch you/ raise money for charity.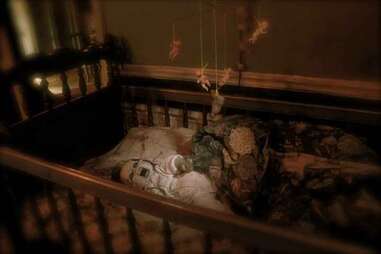 The Bates Motel & Haunted Hayride
Where it's at: Glen Mills, Pennsylvania
Why it'll give you nightmares: The venerable Glen Mills' Arasapha Farm boasts a nationally-acclaimed 25min haunted hayride featuring huge, detailed sets, like a 100ft-long, 40ft-tall drive-through insane asylum; a full-scale mock up of a New England church; a 200ft-long cave; and "more pyrotechnics than a KISS concert", so it'll probably seem like it goes on Forever.

Blackout Haunted House
Where to find it: New York, New York
Why it'll give you nightmares: Blackout doesn't release many details in advance, but based on their reputation, they aren't going to hold back. One year they straight-up waterboarded people, so yeah... be prepared for anything.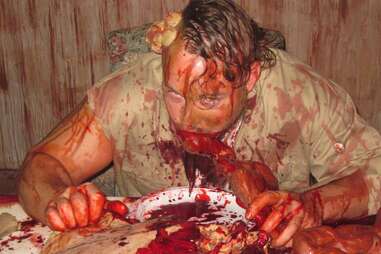 Enigma Haunt
Where it's at: Boca Raton, Florida
Why it'll give you nightmares: Before bug spray and air conditioning, the only people who lived in this state were running from something so bad they were willing to endure endless humidity, mosquito bites, and the kind of stuff you'll find in this 13,000sqft tribute to Old-Florida horror, where 40 live performers try to scare you back to wherever your soft, A/C-loving ass came from.

Rob Zombie's Great American Nightmare
Where to find it: Pomona, California
Why it'll give you nightmares: The compound features three separate mazes, two of which are based on Zombie's movies (with pretty ridiculous effects, including shotgun blasts to the head and scare-people on bungee cords), but the topper's "The Lords Of Salem": a pitch-black maze where you'll be required to walk with a hood over your head (hint: watch out for the electrified walls. Seriously.).

The Asylum Haunted House
Where it's at: Park Hill, Denver
Why it'll give you nightmares: If the drive out to the boondocks isn't enough to scare you, maybe the fact this place's set up in a tent in the parking lot will? Bonus: This was voted one the scariest haunted houses in America by the Travel Channel.

Field of Screams: Scream City
Where it's at: Olney, Maryland
Why it'll give you nightmares: More than 126 people have asked to be removed from the haunted trail this year alone. In addition to the 35min leisurely stroll through the forest (where a farmer was totally-normally SKINNED ALIVE), there's a side attraction in the field called Zombie Paintball Apocalypse.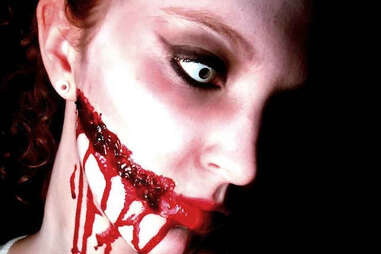 Dollz
Where it's at: Dallas, Texas
Why it'll give you nightmares: Um. It's an entire abandoned factory full of living dolls made from rotting corpses. You've seen Chucky, right? Combine that with Night of the Living Dead.

Freakling Bros: The Trilogy of Terror
Where it's at: Las Vegas, Nevada
Why it'll give you nightmares: Three haunted houses in one location, the third of which -- the Gates of Hell -- will only admit those who are at least 17, and is billed as the only "Rated R" haunted attraction in Las Vegas. It's full-contact, vulgar, and requires a waiver to enter.