South Dakota is Quite Possibly the Most Haunted State in America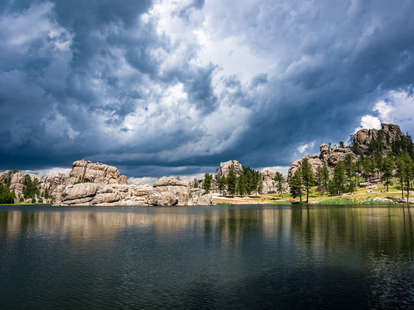 It's the spookiest time of the year

| Jim Pottkotter/Shutterstock
It's the spookiest time of the year

| Jim Pottkotter/Shutterstock
Many places will put on airs to become spooky come October, but the real ones don't have to try. South Dakota has more to work with than most -- haunted hotels, eerie opera houses, and paranormal-tinged woods abound. People report seeing the ghosts of everyone from Wild West icons like Calamity Jane to nameless souls who perished in the Spanish influenza pandemic. For the believers among you who wish to spend your October on ghost tours, wandering dark forests and haunted saloons, these are the 10 sites for you. Go forth and be spooked.
Deadwood
You know their names. Calamity Jane. Wild Bill Hickok. All those guys who kept dropping F-bombs on HBO. Legends of the Wild West lived and died here, and naturally rumors of hauntings and paranormal sightings abound. You can find Calamity Jane's and Wild Bill's graves in Mount Moriah Cemetery, where they were buried side by side. You can visit Saloon Number 10, where Wild Bill was assassinated. On October evenings, the historic Adams House offers hourly paranormal investigation tours ("Participate in a real paranormal investigation with professional paranormal researchers"; $35). After owner W.E. Adams had a stroke on the premises, his wife was so disturbed by the sounds of his ghost still walking around, rocking the rocking chairs and so forth, that she moved and left the house untouched, exactly as it was when he died. On October 25-26, Deadwood is the host of Deadweird, the town's beloved Halloween tradition of live music, costume contest, and general spookiness. Deadwood is also the location of …
Deadwood
The Historic Bullock Hotel belonged to Seth Bullock, Deadwood's first sheriff. He arrived the day before Wild Bill was shot in 1876 (which prompted a greater public interest in law enforcement), built the Hotel Bullock after his hardware store burned down in 1894, and died of colon cancer in 1919, which has apparently not stopped his spirit from lingering around his former property. Folks also say the hotel houses the ghosts of children who died of cholera, and perhaps someone who died by suicide in room 211. The hotel offers paranormal tours on Friday and Saturday nights, complete with Deadwood reenactors. There's a casino now, too.
Deadwood
Deadwood is also where you'll find the historic Fairmont Hotel, which has variously been not just a hotel, but also a brothel and a saloon. Murders, suicides, accidental self-inflicted gunshot deaths... there is a ghost for every occasion at the Fairmont. Today, the building has been converted into a restaurant. Can you get a ghost tour there, in addition to a hot meal and the chance to join karaoke night? You can. Nightly tours are available for $20, and last around an hour and a half.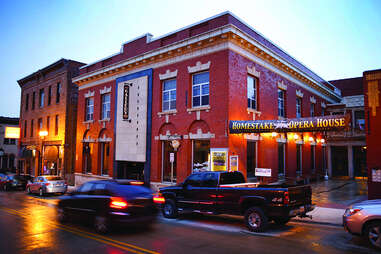 Lead
The Homestake Opera House is rumored to be absolutely full of ghosties, with visitors claiming to hear disembodied voices echo through the halls and even see a lone ghostly figure wandering around the stage. Dressing-room furniture is found jumbled around without explanation. The historic building sits in the small town of Lead (pronounced "Leed"), and its paranormal influences are attributed to the Spanish flu pandemic a century ago. Scores of the sick were moved into the opera house after the hospital reached capacity, some of whom died on the premises -- you see where this is going.
Garretson
Devil's Gulch is a chasm,18 feet wide and 60 feet deep located in the small South Dakota town of Garretson. It is the site of a theoretically impossible jump made by the outlaw Jesse James as he was fleeing an armed posse on horseback, following his infamous robbery of a bank in Northfield, Minnesota. Landing clear on the other side, he rode to freedom, leaving his pursuers dumbfounded behind him. It's not the ghost of Jesse James you're looking for here, though. The gulch is said to be haunted by the ghosts of two lovers who died here after the woman was kidnapped and her fiance came to her rescue; neither survived their wounds, and died in each other's arms.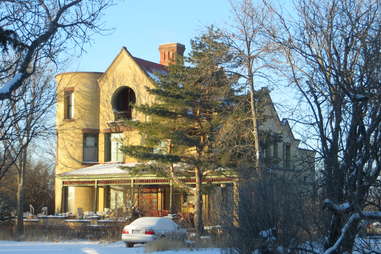 Aberdeen
This Victorian mansion in Aberdeen dates back to 1888 -- the year author L. Frank Baum moved into town and started to accumulate inspiration for what would one day be The Wizard of Oz. There are theories that the big castle on the hill sparked the idea for much of Oz itself -- the exterior, after all, was done in yellow brick. The castle's owners threw a lot of parties, and Baum was a regular guest. His neice, Leslie Gage -- widely cited as the inspiration for the character of Dorothy -- worked as a housekeeper there. By the mid 20th Century, the Eastons had died and their son, a recluse, lived in the castle alone. It fell into eerie disrepair, sparking reports of hauntings by the ghosts of the Eastons and of Leslie Gage and of partygoers from the castle's heyday. Easton's current custodians have opened a campground on the premises where guests can set up tents in the woods, the castle looming overhead, deer and owls wandering through during the night. They throw the occasional campfire party, too.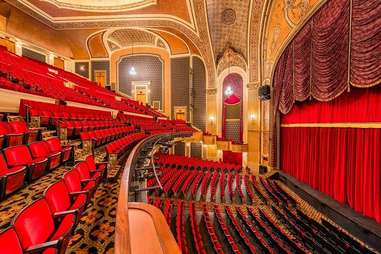 Sioux Falls
The Orpheum Theater in Sioux Falls has, over the years, been the site of too many ghostly reports to count. Built in 1913, the 1,000-seat theater was a prestige venue for vaudeville performances before becoming a movie theater in the late 1920s. These days, it's owned by the city, and is also home to a ghost named Larry. Visitors have found him beckoning to them from the balcony, where, many years ago, the theater manager was said to be murdered in the fallout of a tragic love triangle. That's one version, anyway. It remains unclear exactly how or when or why the ghost acquired the name "Larry."
Rapid City
Downtown Rapid City -- incidentally one of our top places to travel to this October -- is home to Hotel Alex Johnson, a historic inn long said to be very, very haunted. Built in 1927, the luxury hotel has hosted no fewer than six US presidents, plus Alfred Hitchcock and Cary Grant during the filming of North By Northwest. The ghost of founder Alex Johnson's daughter, who died of polio inside the hotel, is rumored to haunt the halls. And the eighth floor is where believers can wait for the Lady in White -- a bride who supposedly took her own life (details vary) while staying in room 812 and now spends her nights opening various windows and drawers of enterprising eighth-floor guests.
Does this mean the hotel attracts, particularly around this time of year, a clientele specifically looking to stay not just in any hotel, but in the hotel they believe to be one of the most haunted anywhere in America? It does, which is why Hotel Alex Johnson offers a Ghost Adventure package: a stay in a "reported paranormal room" and a ghost-detecting K2 meter, along with other amenities like $25 dining credit and free access to their Sky Bar. The package costs $70 plus room rate -- those K2 find-a-ghost thingies appear to retail for around $60, so this seems like a fairly honest deal. If you're on the fence, you can book a non-reported paranormal room and ask about upgrading at check-in.
Sisseton
Sica -- pronounced "SHEE-chah" -- is the Dakota word for 'evil'. Iron deposits make the streams running through the ground here tinted red, which can look very much like blood, especially at night, especially around Halloween. According to Dakota legend, one winter long ago a stranger named Hand came into the Hollow. He showed no respect for the land and for the traditions of the tribe, who decided that once spring arrived they would banish him. Hand did not go quietly, and was ultimately destroyed by Thunderer, the messenger of the Great Spirit, whom the tribe had called upon for help. Though defeated in death, Hand's evil lingers in the Hollow. Visitors to what is today a South Dakota state park report odd glowing lights in the darkness, and echoes of moans and screams from the water. Head for the Trail of Spirits, where dark forces are said to be the strongest.
Custer
For those of you looking for spooky Halloween fun in South Dakota without necessarily wanting to risk a vengeful sprite screaming at you as you enrage it with a K2 meter, Custer State Park will offer a Halloween Night Hike on October 26 -- a mile-and-a-half trail through the Black Hills spookily lit by Jack-O-Lanterns and tiki torches. We can't promise you there won't be ghosts along this trail, but at least they probably won't be named Larry.