America's 12 Most Magnificent State Capitols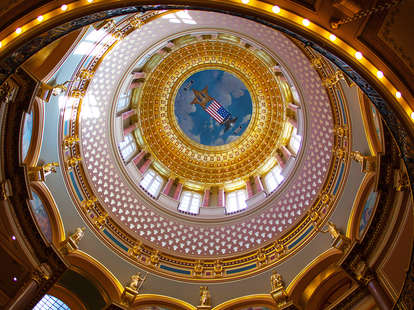 <a href="http://| https://www.flickr.com/photos/tabor-roeder/16636421615" rel="nofollow" target="_blank">Phil Roeder/Flickr</a>
When it comes down to it, all state capitols are worthy of staring at for hours on end, most because they're freaking stupendous, some because we know that at any moment they're going to lift off from the ground and rocket into the stratosphere (looking at you, New Mexico). That, of course, made winnowing down from 50 to a dozen painfully difficult. To do it, we focused on the best in class from particular styles (one can handle only so many exquisite gold leaf domes), notable features, unique inspirations, and mesmerizing histories. From Art Deco masterpieces to Classical joints to high-rises, here are our 12 standouts.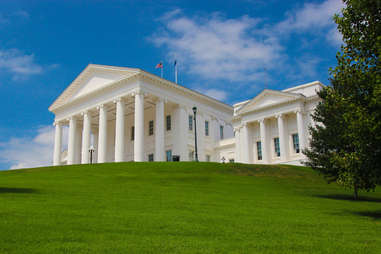 Virginia
Richmond
Architects: Thomas Jefferson, Charles Louis-Clérisseau
Opened: 1785
When Jefferson wanted to show the recently departed British exactly what he thought of them, he figured there was no clearer message than a Palladian-themed building for Virginia's seat of government (his burns took planning). In a break from centuries of Georgian -- as in the King of England -- architecture, Jefferson commissioned French architect Louis-Clérisseau to design a near replica of the Maison Carrée, a 16BC Roman temple in Southern France.
Be your own tour guide: Clérisseau's original plaster scale model remains on display inside. "What is this, a capitol for ants?" jokes are always welcome.
Iowa
Des Moines
Architects: Alfred H. Piquenard, John C. Cochrane, Edward Clark
Opened: 1886
While Iowa's 275-foot, 23-karat gold leaf dome and four smaller domes are not to be sniffed at, it's the interior that's truly unmatchable. The focal point is the grand marble staircase between the second and third floors, but the corridors and chambers are highly decorated throughout, with 29 types of imported and domestic marble, and a variety of native Iowan wood.
Be your own tour guide: Be sure to check out the four-story, atrium-topped Law Library. It's so nice that you'll actually want to return books there, and it's open to the public on weekdays.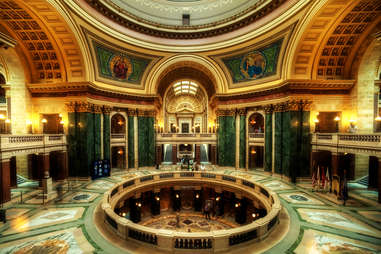 Wisconsin
Madison
Architect: George B. Post
Opened: 1906
Wisconsin's capitol rises 265 feet between Lake Monona and Lake Mendota, and is the only one in the nation to be constructed on an isthmus. Its granite dome -- the only one in the US -- is topped by Daniel Chester French's gilded bronze "Wisconsin" headdress statue, making it just three feet short of the nation's capitol. It features 43 different types of stone from eight US states and six countries, all of which you'll want to say "cheese" in front of.
Be your own tour guide: That frame around Edwin Blashfield's mural, "Resources of Wisconsin" on the rotunda ceiling? It's actually a balcony, in case you're feeling daring.
New York
Albany
Architects: Thomas Fuller, Leopold Eidlitz, Henry Hobson Richardson, Isaac G. Perry
Opened: 1899
New York's capitol was built over 25 years under the direction of four architects and painter William Morris Hunt, who supposedly haunts the Assembly chamber (conceal a man's murals at your own peril, mortals). The result is regarded as one of the finest examples of Romanesque Revival (ground floor) and Neo-Renaissance architecture (legislative chambers, fourth floor, and roof) in existence.
Be your own tour guide: The planned dome and tower were never completed, as it was discovered that the weight of the building was already causing stress fractures and even causing the building to slide imperceptibly down State Street. The solution? The 166-foot, Gatsby-esque front staircase.
West Virginia
Charleston
Architect: Cass Gilbert
Opened: 1925
As the only state born of the Civil War, West Virginia had much to prove with its state capitol. And, as any realtor will tell you, it all starts with location, location, location. The building rises 293 feet above the banks of the Kanahwa River, and its gold-leafed dome -- which is larger than the US Capitol's -- is framed by the state tree, the Sugar Maple. Inside, there are nine different types of marble, Italian Alabaster lampshades, and the original 1932 black-walnut legislative desks.
Be your own tour guide: The dome's chandelier weighs 4,000 pounds and omits the equivalent light of 15,000 candles. It is lowered for dusting every four years (there's a fun job), just before the governor's inauguration.
Louisiana
Baton Rouge
Architect: Leon C. Weiss
Opened: 1932
Louisiana's Art Deco-style state capitol is the tallest in the country (450 feet and 34 floors) and, arguably, the most divisive. While some pine for the previous, Gothic Revival-style capitol, which still stands nearby, its replacement certainly wins on the view: The 27th floor Observation Deck overlooks Baton Rouge at a height of 350 feet.
Be your own tour guide: The building was the brainchild of then-Governor Huey P. Long, and also the site of his assassination on September 8, 1935. He is buried on the grounds.
Vermont
Montpelier
Primary Architect: Thomas Silloway
Opened: 1859
Vermont is one of several domed, Greek Revival-style capitols in the country (see: most of them), built to reflect the national prototype -- in the hopes of fostering similar levels of esteem for state government. But it is arguably the fairest of them all despite being the smallest, thanks in no small part to its backdrop of wooded hills. It is one of only ten capitols to be topped with real gold leaf, and also sports a statue of Ceres, the Roman goddess of grain.
Be your own tour guide: The current capitol is the third in Vermont and the second on this site. Its predecessor, by Ammi B. Young (who was often cursed with the return greeting "I don't know, are you?"), burned to the ground while they were pre-heating it for a legislative session.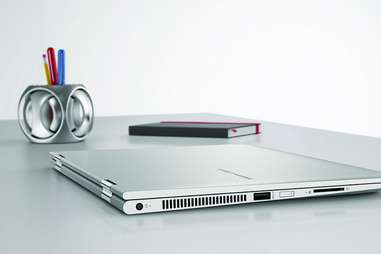 A Laptop Leader
If you're doing business in one of these majestic capitals, don't ask some shady legislator for an adapter for your laptop -- who knows what sort of kickback they'll expect in return? Avoid compromising yourself with the supremely versatile MicrosoftSpectre x360, which comes standard with up to 12.5 hours of battery life. Forget Super PACs, all you need is this Super PC. Find out more here
Oregon
Salem
Architect: Trowbridge & Livingston
Opened: 1938
Oregon's stripped-down, Art Deco-style capitol is a clean break from Classical design tenets, but this wasn't the state's first go around: Its Krumbein and Gilbert-designed Italian Renaissance predecessor burned down in 1935, as did the building before that (seriously people?). The current building was built with assistance from the PWA at the height of the Great Depression. However, they still sprung for a sheath of white Vermont marble and a gilded-bronze statue of a pioneer that raises the building's height to 168 feet.
Be your own tour guide: The rotunda's gilded statue, "The Pioneer," was created in New Jersey, and transported to Oregon via the Panama Canal, a railcar, and a flatbed truck.
Pennsylvania
Harrisburg
Architect: Joseph Miller Huston
Opened: 1906
At its dedication, President Theodore Roosevelt declared Pennsylvania's state capitol "The handsomest building I ever saw." Beyond its American Renaissance exterior, the building is famed for its stained glass, Classical paintings and furnishings, and general swank factor.
Be your own tour guide: The 272-foot-high, 52 million-pound dome was modeled on Michelangelo's St. Peter's Basilica in Rome. That's ambition right there.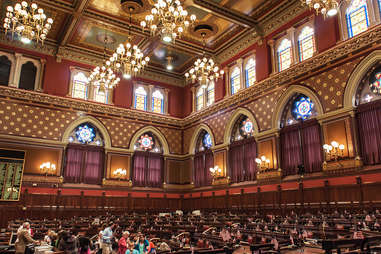 Connecticut
Hartford
Architect: Richard M. Upjohn
Opened: 1878
Connecticut's capitol is regarded as one of the most consistent in design, partly due to the absence of devastating fire (finally, a state that can put out a cigarette), and renowned decorator William McPherson's interior scheme, which seamlessly incorporates Victorian, Middle Eastern, and Japanese influences.
Be your own tour guide: A plaster replica of the statue, "The Genius of Connecticut," by Randolph Rogers is exhibited on the main floor. The original, which was mounted on the dome, was removed following a 1938 hurricane and later melted down to make munitions.
Hawaii
Honolulu
Architects: Bert, Lemon & Lo/ John Carl Warnecke
Opened: 1969
Who needs a dome or even a roof when you've got Hawaii outside? This relatively new state capitol's open-air courtyard, Palm-inspired columns, and reflecting pool dispense with just about every civic design norm, to the point that you'd be forgiven for inquiring into surfboard rental there.
Be your own tour guide: The building's volcano-shaped legislative chambers represent the formation of Hawaii.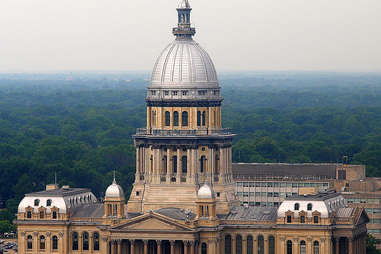 Illinois
Springfield
Architect: Alfred H. Piquenard
Opened: 1868
At 361 feet, Illinois' Renaissance Revival-style capitol is the tallest of the non-skyscraper variety, and remains the highest building in the county -- by statute. (The Springfield Hilton Hotel is taller, but on lower ground.) Unusually for a government building, it is in the shape of a Latin cross, on axis with the major compass points.
Be your own tour guide: The current capitol is the sixth in state history, counting the original, which was located along the Mississippi River in Kaskaskia. Abraham Lincoln argued cases in the fifth iteration, and it was his idea to relocate it to Springfield. Weirdly this is not the triumph he is most remembered for.