America's 13 Most Misunderstood Cities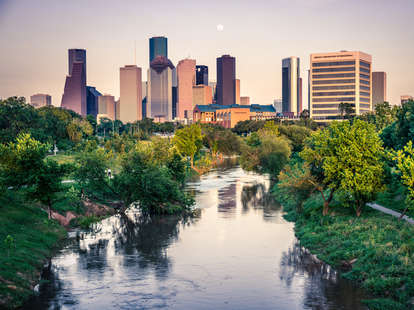 Downtown Houston viewed from Bayou Park

| Flickr/johnchandler
Downtown Houston viewed from Bayou Park

| Flickr/johnchandler
There are certain cities whose names are inherent punchlines. Like, "Yeah, that's about as exciting as a trip to Sacramento," or "There are good colleges in Worcester -- except they're in Worcester." The thing most of these cities have in common? Those of us making said jokes have probably never been there, and base all our cute little quips on stereotypes we've seen on TV shows.
But most of these cities also have an intense civic pride, and for good reason. Sure, they may have their flaws, but spend some time in the cities and you'll see you've probably got them all wrong. So here are 13 cities that are way cooler than anyone gives them credit for. Make a visit and it may just change your mind forever.
Albuquerque, New Mexico
ABQ is the perfect place to start your meth empire if you're a science teacher. But as great as Breaking Bad was, Albuquerque has a lot more to offer than what you saw in the show.
Locals know it as a hub for craft beer in New Mexico -- its brewery district claims to have a higher concentration of breweries (per capita) than even Portland -- with dozens of breweries like Bosque, La Cumbre, Marble, and newcomers Red Door. It's also home to B2B2, the best beer bar in the state.
Far from being an urban wasteland surrounded by unforgiving desert, there are actually plenty of fantastic outdoor activities. The Sandia Peak Tramway can take you to skiing in the winter, biking in the summer, and spectacular views year-round only 20 minutes from that B2B2 beer bar. You can even kayak the city via the Rio Grande, which is especially nice to do during the Albuquerque International Balloon Fiesta, when approximately 100 billion hot air balloons float above the city every year in October. Or you can always put the sunscreen away and gamble all day at a Vegas-style casino/resort.
The food scene also has plenty to offer -- Los Poblanos Farm has a tiny restaurant/inn worth snagging a scarce reservation, along with 25 supremely acres of land worth visiting on their own. You'd also be remiss not to eat some green chile while you're in town, and El Pinto's enormous-but-always-full restaurant (get the red chile ribs and one of the strong margaritas) does the trick. And for an evening in extremes, eat dinner at the upscale, seasonal NM-cuisine spot Farm & Table before slumming it at one of the nation's best dive bars Burt's Tiki Lounge, which is open nightly, but will soon relocate nearby so it can add a Hawaiian BBQ restaurant. -Lee Breslouer, National Food and Drink Writer

Baltimore, Maryland
Look, when you think about Baltimore, chances are, you think about The Wire. We're not blaming you; yes, it really is a phenomenally well-crafted show, the harbinger of the golden age of television, yadda yadda. And the truth is, Baltimore has pretty high crime (more murders than Detroit last year!), but there's so much more to the city than all that. Baltimore manages to maintain this tricky, sweet-and-spicy balancing act of high/low culture that gives it a flavor stronger than Old Bay, and makes it unique in the US.
The American Visionary Art Museum, dedicated to outsider art and self-taught artists, is among the finest in the world, and has earned a lot of critical praise for its profoundly innovative shows that connect with just about anyone, from museum curmudgeons to regular gallery hoppers. Plus, they host the annual Kinetic Sculpture Race, which is... a sight to behold, to say the least.
There are reasons that John Waters keeps apartments in far-flung cities, but primarily resides here: this place is full of gritty glamour. Food carts serve up crabcakes on the street here the way other cities sling hot dogs. The football team is named after a goddamn poem, and still wins Super Bowls. Baltimore's neighborhoods each have their own distinct character -- as well as their own allelotype of rats -- from Pigtown (excuse me, "Washington Village") to Hampden. The artists haven't gotten priced out yet, so the city's creativity is still fomenting.
Bear with me for a moment: if the cities of the mid-atlantic seaboard were high school classmates, DC is the high-strung, overachieving, type-A dean's list student, while Baltimore is the smart, irreverent kid doodling in the back of the room, the one who their teacher secretly likes more and thinks will be more interesting later in life.
And the food, guys. Seriously, the food. People seem to think that Baltimore's only food idea is to "put some Old Bay on it," but when it comes to high-end dining, the city can compete with anyone. Restaurants like Woodberry Kitchen are consistently recognized as worthwhile destination dining, and locals all know that if you want cheap, delicious, steamed seafood, all you need to do is visit Cross Street Market. And you have to try the beers here: Stillwater's saisons are insane, and brews by local brew heroes like Union, DuClaw, and Heavy Seas are making waves nationally.
See also: Dangerously Delicious Pies. And countless genuine dives. The dive bars here are the real kind. - Jess Novak, Cities Editor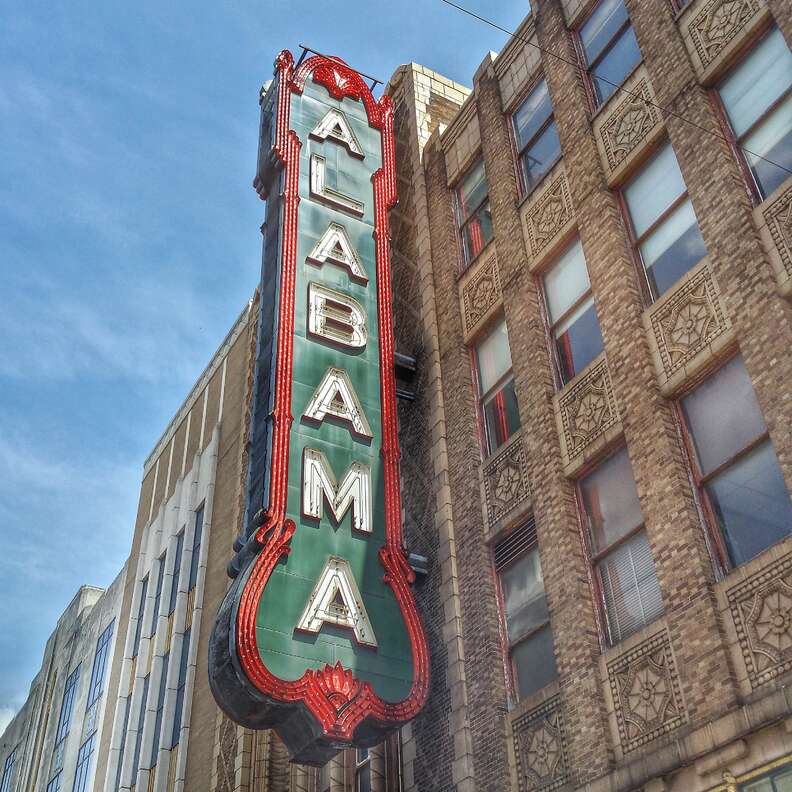 Birmingham, Alabama
Most people I've encountered from outside the Southeast can't even fathom the idea of the state of Alabama having actual "cities." They assume Alabama is more or less some mix of Forrest Gump and My Cousin Vinny, with a beach at the end. And those that actually have heard of the state's largest city typically as the contentious epicenter of the Civil Rights Movement. But contrary to popular belief, our biggest exports today are actually not racial strife and episodes of The First 48. Birmingham has a metro population of over 1.1 million which is roughly equivalent to pro sports towns like Salt Lake City, Buffalo, and New Orleans. Which basically means it's big enough to go out and experience depravity, without running into the same people every night. Though "clubbing" will never be synonymous with Birmingham, it does have incredibly sneaky great options for restaurants, bars, and outdoor activities.
Yeah, we've got great barbecue, namely Dreamland and Saw's. But we also have nationally recognized chefs: Frank Stitt's restaurant Highlands Bar and Grill has been a finalist for the James Beard Foundation's Most Outstanding Restaurant in the Country for eight years in a row. Hot & Hot Fish Club's Chris Hastings also won the 2012 James Beard's "Best Chef in the South" and beat Bobby Flay on an episode of Iron Chef.
As Alabama was dragged kicking and screaming into the 21st century, we passed legislation relaxing permissible alcohol content, which has opened the way for craft beer to take hold, with local favorites Good People Brewing, TrimTab, and Avondale.
But Birmingham is still a Southern city, so you may as well take advantage of warm weather and beautiful country. Without even leaving town you can canoe, kayak, or tube down the Cahaba River, which flows through the city. The Cahaba, believe it or not, contains more species of fish than all freshwater bodies of water in California... COMBINED. On land, you can hike the rails at Oak Mountain State Park, hop on a zip line at Red Mountain Park, or even stick around Downtown and take a jog along the green space of Railroad Park. -Jeff Zanotti, Contributing Writer
Cleveland, Ohio
Yes, Cleveland has a river that once caught on fire, and its professional sports teams have caused the city a disproportionate amount of heartbreak over the years. Don't worry, residents have heard every joke in the book about these things. But viewing Cleveland as the Charlie Brown of cities isn't just tired -- it's downright incorrect.
First, consider the amount of world-class culture. The Cleveland Museum of Art boasts Warhols, Picassos and a stunning new atrium -- as well as an art annex, Transformer Station, located in a converted substation that once powered streetcars. And the Museum of Contemporary Art just opened the first retrospective of work from Devo's Mark Mothersbaugh.
Cleveland boasts a gigantic Downtown library and a bevy of independent movie theaters, such as the Cinematheque, which prides itself on edgy, smart programming. Touring productions of Broadway musicals enjoy long runs, and for music, there's something to do every night of the week.
If that wasn't impressive enough, Cleveland's restaurant scene allows diners to enjoy impeccable meals at a fraction of the cost of larger cities --and craft beer here is taking off. Stagnancy in in Cleveland food is verboten: inventive food-preneurs are opening joints dedicated to poutine and sausage (Banter), intricately crafted cocktails (The Spotted Owl) and tasty, old-fashioned barbecue (Michael Symon's new Mabel's BBQ). Plus, thanks to Ohio's abundance of farm country, restaurants have easy access to fresh ingredients. In other words, farm-to-table isn't just a buzzword, it's a way of life for beloved restaurants such as the Greenhouse Tavern, Spice Kitchen + Bar, and the Flying Fig.
While Cleveland is admittedly not a pleasant place to be in the winter months, during the spring and summer it's gorgeous. The Cleveland Metroparks boasts 23,000 acres of lush greenery with 300 miles of hiking and biking trails, while the newly refurbished Public Square Downtown has more green space. And there's nothing quite like hanging out in Edgewater Park and watching the sun set over Lake Erie.
Most important of all, Clevelanders can actually afford to enjoy all of this culture and beauty thanks to the city's reasonable cost-of-living and real estate prices. Sure, maybe Cleveland's not going to win the Super Bowl anytime soon, but the city's undeniable perks and strengths more than make up for it. - Annie Zaleski, Contributing Writer
Detroit, Michigan
People tend to think Detroit is either a Rust Belt wasteland full of The Walking Dead slowly destroying each other and everyone around them. Or that it's a Rust Belt wasteland filled with Brooklyn transplants turning this city into a slightly better wasteland. But Detroit doesn't get enough credit for having a rich history and never having given up on cultural institutions that have kept existing residents here, and brought new people in.
For one, Detroit has a strong history of immigration -- or, in one larger case, migration -- that continues today. In the early 20th century, nearly every European country was represented; look no further than places like the Dakota Inn Rathskeller (German), the Cadieux Cafe (Belgian) or the Polish Village Cafe or Krakus (Polish) for proof of its lingering effects. We've also got the largest Middle Eastern population outside the Middle East, which means you can get your fill of shawarma and kibbe almost anywhere in Southeast Michigan.
Thanks to the Southern Migration, the African-American influence is also strong, and because of that, I'd still wager we're the best music town in America. Detroit can lay claim to not just Motown, but our output of techno, gospel, garage rock, and hip-hop. (And it's more than just Eminem! You can't throw a rock around here without hitting a rapper jumping on a plane for a show overseas.)
More than just food and music, Detroit has some of the most interesting architecture around the country; you can literally find almost any style of house you're looking for. Our food scene is not quite NYC-level (then again, do we want it to be?), but we've made great strides in recent years thanks to all these chefs turning empty spaces into experimental kitchens. Above all, we're just really, unusually friendly around here, no matter what you may think of our violent rep. We're a Midwestern city with Southern influence -- which means we're sometimes overly polite and proper. But we're still Detroit, so don't fuck with us on the wrong day. - Aaron Foley, Contributing Writer

Houston, Texas
Houston has been called "boring," "sweltering," and "ugly." It has been appointed the "Worst Designed City" in all of America. It's even been dubbed a "cruel, crazy town on a filthy river in East Texas with no zoning laws and a culture of sex, money and violence." While we kind of like the sound of that last one (thanks, Hunter S. Thompson), in all actuality, every one of those descriptions gets it wrong.
Ugly, say you? There are some less than attractive streets, but it's not until you live in said streets that you start to appreciate America's fourth largest city for its crazy cool, misfit nature. We took that filthy river, aka the bayou, and built a $55-plus million, 160 acre park around it. It has winding hike and bike trails, a bat colony turned tourist attraction, kayak launches, a secret underground cistern, and a chandelier-lit treehouse restaurant where you can enjoy charcuterie in your gym clothes. And we've got a neighborhood with 19 world-class museums. NINETEEN! Oh, and that whole space center thing too. Take that, Dallas!
Locals know Houston has just enough city, just enough coast, and just enough country to keep things interesting. It's a place where you can eat your weight in buttery Vietnamese crawfish at Crawfish & Noodles, or any of our other Asian-Cajun spots (yes, that's a thing). Or gorge ourselves on handmade tortillas stuffed with barbacoa and salsa verde at Ninfa's on Navigation, birthplace of the fajita.
Houston is a truly livable, diverse, and culturally-rich mecca where you can find a formerly dilapidated warehouse district blossoming into a pretty sick mixed-use community (sometimes those no zoning laws work in our favor).
So no, Houston's not "all sprawl" or "dated" or "totally dull." But it is "livable," and "diverse," and "quirky" and "endlessly fascinating." Just how we like it. - Brooke Viggiano, Contributing Writer

Jacksonville, Florida
Some people from Jacksonville got miffed when I wrote about why Jacksonville doesn't suck as much as you think, as if the rest of the country doesn't think of Jacksonville as the place that had to bring in cruise ships when hosting the Super Bowl, and also produced Fred Durst. But sadly Jacksonville, most of the country DOES get the wrong impression: That you're a sprawling Southern wasteland full of people with rebel flag tattoos who still insist Tim Tebow is an NFL quarterback... but those people are still wrong.
There's no shortage of good beaches in Florida, but what makes Jax beaches special is that they aren't littered with condo high-rises. The further towards Ponte Vedra you go, you'll find undeveloped coastline where you can have an entire stretch of ocean to yourself. But the natural beauty doesn't stop at the sand. Jacksonville is the largest city in the US by landmass (840 square miles), with the largest urban park system in the US at 80,000 acres. Jax has two national parks, seven state parks, and more than 400 city parks.
But it's all chain restaurants and Southern food, right? Actually, Jacksonville has great diversity of restaurants, 90 food trucks, and 15 chefs from America's best chefs list. There are eight breweries on the Jax Ale Trail, with the soon-to-open Wicked Barley Brewing snagging the head brewer from Cigar City).
But it's full of rednecks, right? Well, if rednecks can create one of the top 25 US arts and culture destinations, with a symphony and 20 large art galleries, then sure. If rednecks make it one of the top 50 metro areas with the highest percentage of LGBT residents nationwide -- more than Miami -- then yeah, git er done. But do yourself a favor: before you write off Jacksonville as Appalachia with a beach, spend a few days there and see why it's so much more than you think. - Matt Meltzer, Staff Writer

Jersey City, New Jersey
Between what's typically seen on the news (read: murders, shootings, and stabbings) and the fact that Snooki and JWoww had a place here (more shameful than said murders, shootings, and stabbings), things have been rough for Jersey City's reputation. At best we've been known merely as a passing spot for commuters on their way to the Holland Tunnel into Manhattan. But there's much more to this place. I swear.
A lot sits inside this mixed bag of a metropolis. From the grunge of Downtown's street art, to the elegance of Newport's waterfront restaurants and boardwalk, Jersey City is no longer just a stop on the way to someplace else -- it's a place you actually want to be. Restaurants like Talde (from Top Chef contestant Dale, uh, Talde) and Dullboy personify the diverse culture within the city -- and a growing number of Manhattan-level luxuries you don't need to cross the Hudson River for. The motto of "Make Jersey City Yours" is perhaps the best way to describe Jersey City. It's a place anyone can call home. In the last decade or so, the dining scene stepped up its game, people started taking notice of the neighborhoods, the term "hipster" was introduced, and JC actually started drawing people away from NYC. In fact, more and more New Yorkers are actually considering living in Jersey City -- if they can just somehow hide it from their friends.
But it's no wonder people are moving here -- with a four-minute Path train ride into Manhattan from Exchange Place, a 22-minute ride to midtown, AND Citi Bikes -- Jersey City is becoming the best alternative to over-priced life into the city. My commute into New York is shorter than a lot of people who live in Brooklyn or Queens. And, oh right, it's cheaper than NYC. By far. In every single way. - Kyle Dowling, Cities Editor

Orlando, Florida
Whorelando, Borelando, O-town -- people the world over know us only as a tourist trap full of theme parks, chain restaurants and tacky Florida gift shops. But if you grew up here, you know the beauty of Orlando is the true melting pot of entertainment it has to offer.
There's so much going on outside of Disney... Dwight Howard/Coward brought an early extinction to the basketball scene here, but as evidenced by the Orlando City stickers on EVERY DAMN CAR, soccer has taken over as the most popular local sport. For culture, Enzian Theater is a quaint, nestled gem that hosts the Florida Film Festival, and has regular showings of independent and foreign films. And Downtown around Church St you can have actually-affordable drinks (looking at YOU, Miami) with young people who've moved here over more expensive cities nearby. (You AGAIN, Miami).
If retreating into the wild is more your style, there are dozens of natural springs that rival even the best Grand Floridian spas. One of the most popular is Rock Springs Run, an all-natural lazy river ride unlike anything Walt could ever have imagined for Typhoon Lagoon. And while everyone has been anticipating Animal Kingdom's bioluminescent river tours, little do they know Mesquite Lagoon already offers a glowing night kayak tour that gets you a fast pass right to the rivers of Pandora.
So, yeah, Orlando DOES have a lot of chain restaurants. And a lot of theme parks. But it's also the fastest growing large city in Florida. And it's not because of the tourist appeal. - Danielle Salerno, Contributing Writer
Reno, Nevada
When Reno became a city in 1871, its economy was based on the gold rush, and later, a silver rush known as The Comstock Lode. With this influx of gold and silver came gambling halls. Today those casinos employ around 27% of Nevada's population, and they generally pay crap. When the 2007 financial crisis hit -- and people stopped traveling and gambling -- Reno was a city prime for a makeover.
In the last eight years Reno has seen an explosion of food and culture alike, with restaurants like Campo, Old Granite Street Eatery, and Centro Tapas Bar, (just to name a few) emerging alongside craft breweries, cocktail lounges, and sophisticated wine bars. Reno now has a food scene that can stand against cities twice its size. So why are these places opening up now when they weren't 10 years ago?
Companies like Tesla, Microsoft, and Amazon have come to Reno and opened enormous operations in and around the city. Tesla alone is hiring 6,000 people at its new "giga factory." And those six thousand people, along with the rest of Reno, will enjoy a median home price of under $300k, a quick 30-mile drive to Lake Tahoe, 160 miles to Napa, and 190 miles to Downtown San Francisco.
A majority of this renaissance had been in private hands with the City of Reno dragging its feet -- until now. Just recently the city unveiled a $1.2 billion redevelopment project said to dramatically reshape the character of Downtown. But... this plan is projected to take no less than 20-something years to materialize. In the meantime, local business owners will continue to pick up the slack. Entrepreneurs have gambled on Reno's future having very little to do with gambling at all, instead wagering on a Reno based more in culture and development. - Jon Shown, Contributing Writer
Sacramento, California
Sacramento has always taken a backseat to the San Francisco Bay area -- but paying $3,000 a month to live in someone's closet is insane, so Sacramento has also always had an influx of creative, intelligent, affluent Bay Area residents who wanted, like, actual space. And what's popped up to support them? SF-level restaurants like The Waterboy, Biba, and Ella, plus the best pizza I've ever had at OneSpeed. And nightlife that runs the gamut from actually divey dive bars like Chargin's and Club 2 Me, to legitimate clubs at Mix and The Park, with a smattering of great cocktail bars in between.
Sacramento can get hot in the summer, but it rarely ever rains. Which is good, because between boating on the American and Sacramento Rivers, biking through the El Dorado Foothills, or hitting the underrated wine country in Amador County, you'll have plenty of chances to enjoy all that sunshine.
The sports fans in Sacramento are the best in California, not only because the River Cats have some of the largest attendance numbers in AAA, but because until recently the Kings sold out EVERY GAME. The Kings! The team that's a Dan Snyder away from being the worst franchise in sports still has a loyal following, and no, it's not for lack of other things to do.
Sacramento is a pleasant, laid-back California city with all the California stuff people love, like sunshine, wine, and great food, without the staggering prices of most of the state. And in terms of overall quality of life, there may be no better place on the left coast. - Matt Meltzer, Staff Writer

Tacoma, Washington
We've heard all the jokes about the "Aroma of Tacoma" (It's funny 'cause it rhymes! But you know what's not funny? The fact that according to a 2003 study, the nickname contributed to a long-term depression of housing prices in the city). Still, we've kept our mouth shut when you've oh-so-cleverly called it "Tacompton." And suffered through the inevitable backlash when Yelp called Tacoma the "most romantic city in the country" back in 2011. But anyone who's actually spent time in Tacoma knows that despite the exaggerated failings of the past, the town is going through a renaissance.
People from Seattle have sneered at T-Town for... um, ever, but Tacoma has everything Seattle does but with none of the drawbacks. It's got the same (or even more) natural beauty/access to the great outdoors; a burgeoning Downtown that you can actually get around in; a charming waterfront that isn't constantly under construction, and that comes complete with one of 15 American bridges you really should drive over; it's got some great restaurants where you can actually get a table; oh, and you can actually afford to live in Tacoma.
And as for Tacoma's famous "aroma"? First of all, it's improved dramatically in the last 20 years. And second, because of where the tide flats and paper mill (that are supposedly responsible) are located, you can't really smell anything from Tacoma, just from the freeway as you drive past it (ha, the joke's on you!). And besides, it could be worse... it could smell like Everett.
So, next time you're thinking of making a joke about Washington's third largest city, think about making one about Everett instead. Or maybe one about about "Spokompton." Those are hilarious! - Bradley Foster, Contributing Writer

Worcester, Massachusetts
"There are plenty of good colleges in Worcester. But, c'mon -- they're in Worcester." At least, that's the logic you'll hear behind plenty of aspirational higher-education decisions. And it's true Worcester isn't a beautiful place, and it probably wasn't even when the city's manufacturing boom was in full swing (pillars of smoke and steam tend to obscure most beauty anyway). Now, a somewhat ruined aesthetic rules Wormtown (yes, it's affectionately called Wormtown). But look past the glistening ivory of Union Station, abandoned buildings, empty lots, potholes, and the empties of squatting crust punks. Most of the city may look principally like the kind of place things used to happen, but the truth is you can never rule out the people of the Woo.
You don't even need to listen closely to hear the clattering of activity just beneath the brick-and-clapboard surface, from the reverb of guitars in old warehouses to the guttural hollers coming from the Palladium on a Tuesday night. The food in Worcester isn't innately Instagrammable, either, but most Woo natives don't give a shit. They're too busy scarfing hot dogs at George's Coney Island Lunch (founded 1929), shooting Underberg at the somewhat inappropriately named Dive Bar, or tossing peanut shells on the floor at the Vernon. It's not glamorous, but it's still good.
Let's face it -- Worcester isn't a typical New England town. It doesn't look like Dawson's Creek, or that postcard from the Pioneer Valley, or even other big cities like Boston. But what it lacks in shiny skyscrapers and ivy-covered churches, it makes up for in the gritty determination that has characterized it for over a hundred years: the need to work hard and make a lot of noise. So, yeah, it's fine that Boston casts a long shadow. Worcester is cooler for it. - Adam Lapetina, Partnerships Editor
Sign up here for our daily Thrillist email, and get your fix of the best in food/drink/fun.
Matt Meltzer is a Staff Writer with Thrillist who has had the pizza in Italy, too, but still prefers Sacramento. Follow him on Instagram @meltrez1.