It's been an objectively lavish month for travel, what with the chance to abscond to a completely private island in the Exumas or take a month off to visit the world's top casinos, having a generous amount of disposable income and an exorbitant amount of travel options can be quite the dilemma. Keeping in tune with aforementioned lavishness: MOST Mobile Specials and their FUTURIA line of ltd-ed RVs, which provide all the necessities of travel with luxury amenities like a rooftop terrace, garage, and hot tub.
Recommended Video
2019 NBA All-Stars & Migos on Their Favorite Foods & Vacation Spots
The luxury super coach from German custom vehicle manufacturer MOST Mobile Specials is part of a line of 100 trucks and 20 specialty-purposed transport rigs that can be used for everything from road trips and tailgates to music festivals and promotional functions.
Picture yourself on the lake or in the mountains enjoying the great outdoors... or don't and just see yourself in this luxury sports lounge complete with a full kitchen, booth seating, flat panel TVs and...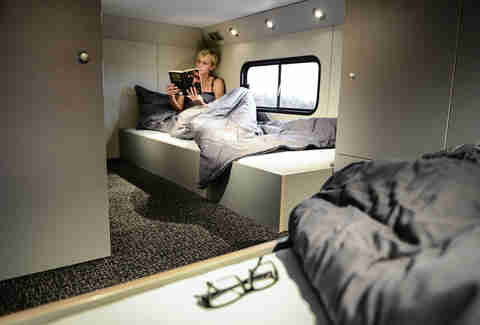 ... a spacious berth that sleeps two.
However, there probably won't be much sleep going on, because if you aren't catching up on your favorite games/reruns of Breaking Bad in the lounge, you're probably unpacking your insanely compact and awesome sports car (not included) from the integrated garage and tearing up the highways.
And if all that isn't enough (when is it ever?!), head to the sun deck for epic relaxation in the rooftop hot tub, which's the only one of its kind in the world (Euro-babe and Champagne also not included, but if you can afford this mobile castle, that really shouldn't be a problem).