When you go to see the world's biggest banana and are sorely disappointed to find it's just a giant banana, that's on you. You knew what you were getting yourself into. It's a tourist trap. By definition, it's designed to "trap" hapless tourists. Seriously, who pays to see this stuff?
In an effort to help you avoid being said hapless tourist, here are 10 overrated US attractions you'd be well-advised to avoid.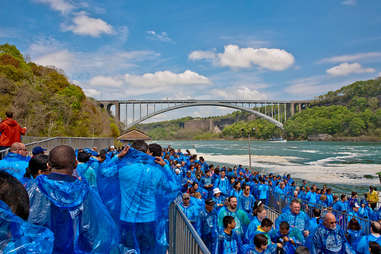 Niagara Falls
Niagara Falls, NY
While it's tough to argue with the beauty of more than six million cubic feet of water barreling over a cliff, it's everything else about Niagara Falls that makes it kinda suck. The sleazy expensive hotels, the kitschy casinos, and the chain restaurants to start; the eight billion poncho-donning, view-obstructing tourists, weird satellite tourist traps like Riley's Believe It or Not Museum, and the gift shops peddling cheap tchotchkes pretty much seal the deal.
Hollywood Walk of Fame
Los Angeles, CA
If getting accosted by meth addicts in Sesame Street costumes and hustled by dudes selling bootleg DVDs is a price you're willing to pay to see Cuba Gooding, Jr.'s footprint in a slab of concrete, then by all means, visit the Hollywood Walk of Fame.
Times Square
New York City, NY
If we were ranking these things, this would be number one. An avoid-at-all-cost section of town for New Yorkers, the glaring lights of Times Square -- like those bug-zapping lamps you hang on the back porch -- attract tourists en masse. Unfortunately, unlike the mosquitos, the people don't get zapped.

Epcot
Buena Vista, FL
With a name that stands for Experimental Prototype Community of Tomorrow, Epcot Center was Walt Disney's futuristic concept for changing the way humans lived. Today, 11.2 million visitors a year come here to marvel at stereotypes of people from 11 different countries, without ever leaving the US.
Seattle Space Needle
Seattle, WA
Seemingly designed to separate tourists from their money, visitors to the Seattle Space Needle pay around $20 dollars for a 41-second ride in a crowded elevator and four-minutes of foggy, rain-obstructed views from 520ft above the city.
Faneuil Hall and Quincy Market
Boston, MA
It's been open since 1742, but the only thing historic that remains in these Boston buildings are day-old cupcakes. Like Times Square in New York, Faneuil Hall's a must-avoid for most locals (excluding the bars on the weekend) -- it's basically your mall's food court, but in a nicer building. And also with "hilarious" street performers, a second outpost of Cheers, and kiosks loaded with cheap Boston shirts and souvenir tchotchkes.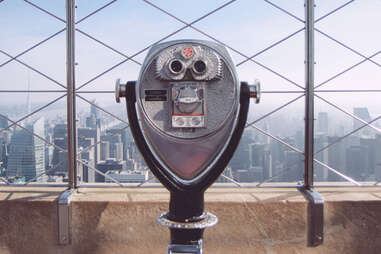 Empire State Building
New York City, NY
Like we said here, sure the ESB is legendary, sure it's beautiful, sure it's on your bucket list. But you will literally spend hours of your life (that you will never, ever get back) slogging through a crowd of Europeans and honeymooners from Western Pennsylvania for a view of the city that you've seen a thousand times on TV. Also, you know what won't be in that once-in-a-lifetime photo of the iconic New York City skyline you post on FB? The Empire State Building!
The Four Corners
Shiprock, NM (and CO, UT, AZ)
The idea of being in four states at once sure does sound cool, even when the "Look at me playing Twister" poses aren't. This attraction off a dirt road in the middle of a sweltering desert is, literally, a granite/brass disk the size of a CD that's stuck to the ground. That's it. To add insult to injury, it's allegedly stuck in the wrong spot, at least 1,800ft from the real deal.
Plymouth Rock
Plymouth, MA
It's a rock.
Roswell
Roswell, NM
You know those weird theme parks you went to as a kid? Where there weren't any rides, just stiff animatronics, layers of dust, and cheap, creepy looking dolls that gave you nightmares? Well, the whole town of Roswell, allegedly the site of an alien crash landing in 1947, is just like that. Anything that can be covered in or shaped like an alien is. It's weird, and creepy, and not worth your time. Even if the X-Files is still your favorite TV show of all time.