The World's Most Gorgeous Off-the-Grid Beaches
There's nothing quite like completely unplugging, kicking back on a tiny stretch of sand in the middle of nowhere, and ignoring the world back home. Except when you go to take a picture of said remoteness and an email from your boss marked "URGENT" somehow pops onto your screen. Yeah, you thought that "remote" beach you're sitting on was isolated from the world, but turns out... it comes with high-speed WiFi!
So, if you really want to get away -- and you aren't just in one of those Southwest Airlines commercials -- to a warm, sandy, and absolutely spectacular place where you can actually feel like a part of nature, these are 12 of the top spots to go.
Cow Wreck Beach
Anegada, British Virgin Islands
Much of the the islands of Tortola, Virgin Gorda, and Jost Van Dyke are made up of tiny coves that cut into towering green mountains. But not little Anegada, the lone flatland of the four largest BVIs, whose topography isn't as attractive to tourists and thus finds itself far less crowded. The most remote beach on this sparsely-populated island is Cow Wreck -- named after a ship full of animal bones that crashed there in the 1800s -- and offers all the white Caribbean sand and turquoise water you're looking for, just without the people. Although there is an open-air bar right off the beach, but that's cool, right?
Hidden Beach
Nayarit, Mexico
Just because you happen to be one of the 25 best beaches in the world, doesn't mean you can't be remote too. When getting there involves a half-hour ferry ride, a treacherous swim under a cave, and timing the tide just right so you don't get stuck, the word "remote" seems applicable. This beach -- which some say was created when the Mexican military used the island as a bombing range -- is flanked by grottoes that you can explore during your government-limited, 20-minute trip. It also sits in Riveira Nayarit, one of the most underrated destinations in Mexico.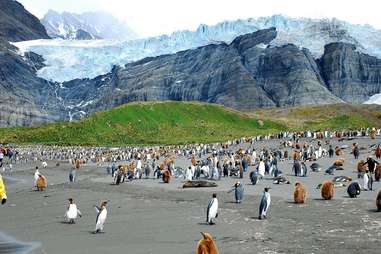 Gold Harbour
South Georgia Islands
This beach in the South Georgia Islands (not be be confused with the Republic of Georgia or that state with all the strip clubs) is completely uninhabited... unless your definition of "inhabitants" includes ADORABLE PENGUINS! Because the islands sit between the southern tip of South America and Antarctica, they're home to all kinds of crazy arctic wildlife. No, this isn't the beach for tanning and catching up on 50 Shades, but if you want to visit one of the world's best breeding grounds for elephant seals, sooty albatross, and, yes, those zany king penguins, it's a tough place to beat.
Pink Beach
Komodo Island, Indonesia
There are only seven pink beaches in the world (including that underrated one in the Bahamas we already told you about), all of them formed when bits of red coral mix with white sand. This one on Komodo Island in Komodo National Park might be the loneliest of the seven, nestled on a far flung stretch in Indonesia and home to nothing but wilderness and those famous dragon.
Anakena Beach
Easter Island, Chile
The rocky coastline of Easter Island and Rapa Nui National Park is not what one would call "calming." The exception being Anakena, a white coral sand beach that was home to the island's first permanent settlement. There's not much here now, save for the giant ahus that were restored in 1954: Ahu Ature Huki and Ahu Nau Nau.
Issyk-Kul Lake
Kyrgyzstan
Located in the Tien Shan Mountains, Issyk-Kur sits a mile above sea level and is the second-largest alpine lake in the world, tenth largest overall. It's also the most popular tourist destination in Kyrgyzstan, which means of course that it's still pretty remote. The surrounding biological preserve is filled with snow leopards and wild boars.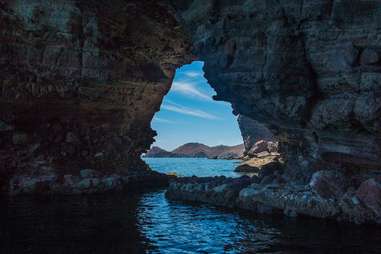 Isla Espíritu Santo
Baja California Sur, Mexico
Even though this two-island chain in the Gulf of California is home to some of the best diving in the western hemisphere -- and a system of caves that sea kayakers will love -- the real attraction here is the beach, which some consider the most beautiful in Mexico. The islands -- Isla Partida and Espiritu Santo -- are completely uninhabited and were designated a UNESCO biosphere preserve in 1995, so visitors should expect to come face to face with sea turtles, dolphins, and even the occasional offshore whale.
Reef Bay
St. John, US Virgin Islands
The word is out about Trunk Bay in Virgin Islands National Park: It's one of the best beaches in the Caribbean. So if you want to experience the same jungle cliffs and white sand but without the tourists, make the short 20-minute walk through old plantation homes and tropical foliage to Reef Bay.

Hushinish Bay
Isle of Harris, Scotland
One might think that going to Scotland for turquoise water and white sand would be kind of like going to the Turks and Caicos for Scotch. But the islands known as the Outer Hebrides actually have some of the most spectacular beachfront scenery in the world. (Although, obviously, we'd recommend going in summer). The ride across the Isle of Harris on the 12-mile road is all rolling green hills capped off by a stretch of sand that'll have you thinking you're in the Caribbean. Right up until that first blast of cold Scottish air.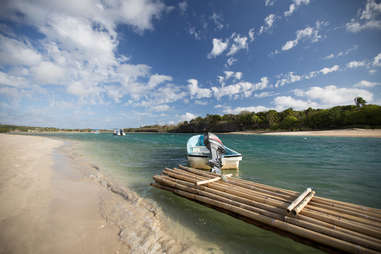 Natadola Beach
Viti Levu, Fiji
The best way to experience the remoteness of Fiji's top beach is by horseback, and any of the fine individuals who greet you in the parking lot will be happy to set you up on a ride. They key is to trot yourself 40 minutes down the beach and away from the main resorts. Here you'll find yourself a world away, in a glorious spot where the white sand meets some of the best surf in the South Pacific.
Chomoni Beach
Grande Comore, Comoros Islands
Never heard of this place? Exactly. It will take you two days -- if you're lucky -- to get to these islands northwest of Madagascar off the coast of Mozambique. But once you're there, not a soul on earth is going to bother you. Grande Comore, the largest island in the archipelago, was once decimated by the active volcano that calls it home and the resulting lava fields make for a landscape you won't see any other place outside of Hawaii.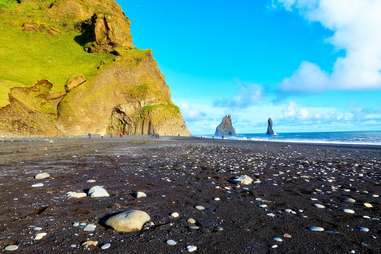 Reynisfjara Beach
Myrdalur, Iceland
Another spot we wouldn't recommend for sun bathing -- but would absolutely insist you visit to appreciate the wonders of Earth -- is this beach on the southern coast of Iceland. Here, the rare black sand leads to two towering basal sea stacks called Reynisdrangar. Their Goonies-eqsue eeriness is only compounded by the folklore of their formation: The stacks are allegedly two trolls who attempted to drag a ship ashore and were frozen by the daylight.
Sign up here for our daily Thrillist email, and get your fix of the best in food/drink/fun.

Matt Meltzer is a staff writer at Thrillist who had perfect WiFi at all of these beaches. See for yourself @Meltrez1.