The 10 Most Remote Places on Earth, if You Want to Get Away From Literally Everything
Humanity's ability to colonize parts of the planet so inhospitable, so isolated, and so dangerously distant from pizza delivery is impressive. Don't believe it? Check this list of utterly remote -- yet still inhabited spots -- from around the globe to see human perseverance at work. The only thing missing is the bottom of the ocean. But we'll show you yet, Poseidon.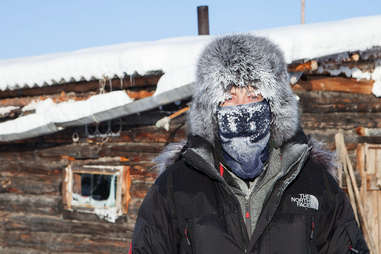 <a href="https://www.flickr.com/photos/takens/9726746348/" rel="nofollow" target="_blank">Maarten Takens/Flickr</a>
1. Oymyakon
A tiny village of 500 nestled in Siberia, Oymyakon is popularly considered the coldest, regularly inhabited place on Earth. They "won" that title when temps of -90 degrees were recorded in February of 1933. For carnivores, this place is kinda heaven. Because it's too cold to plant any kind of crops or reliably transport perishable goods, the Oymyakonese diet consists of mostly meat. Yes, this place is basically Hoth, but you'll be eating reindeer instead of tauntaun.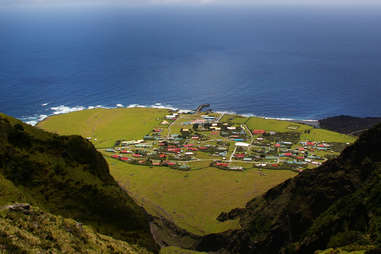 <a href="https://www.flickr.com/photos/ctbto/13288640063/" rel="nofollow" target="_blank">ctbto/Flickr</a>
2. Tristan de Cuhna
To your west, the closest inhabited land is 2,000 miles away. To your east, it's a much more reasonable 1,500 miles before you'd get to another town. The south? That's Antarctica. Oh, but there's some more tiny islands about 2,300 miles north. Welcome to the archipelago of Tristan de Cuhna, home to 300 people. Originally called the "Islands of Refreshment" by the guy who discovered them (and then died on them two years later... not so refreshing!), Tristan de Cuhna is actually administered by the British Government. Hey, look who still has an empire!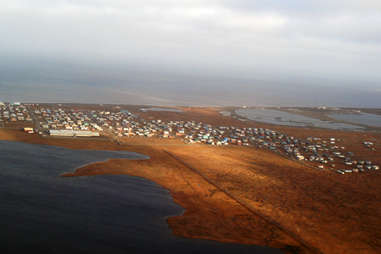 <a href="https://www.flickr.com/photos/smailtronic/1435142699/" rel="nofollow" target="_blank">Mike Smail/Flickr</a>
3. Barrow
You can't talk remote without talking Alaska. Barrow, a not un-large Alaskan town of 4,000, actually sits within the Arctic Circle and is the northernmost population center in the United States. Because of permafrost, no roads connect Barrow with the rest of Alaska or America proper. To get in, you basically have to fly... or be like the greatest hiker guy ever.
Advertisement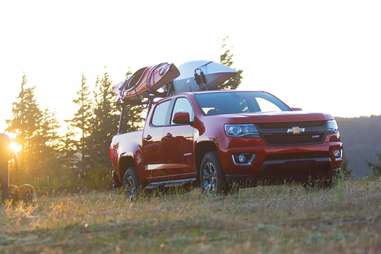 Here's how to get the most out of your vacation days without worrying about your co-workers blowing up your inbox -- get in your Chevy Colorado and drive. When you've reached the most remote pocket of nature with more than enough gas in the tank to spare, be sure to thank the Colorado for its combination of power and efficiency, the best of any midsize truck.
<a href="https://www.flickr.com/photos/38007185@N00/8466341665/" rel="nofollow" target="_blank">ravas51/Flickr</a>
4. Deception Island
Off the South Shetland Islands in the Antarctic Peninsula, Deception is home to a handful of research scientists and bold vacationers at any one time. A home to whalers through the 18th and 19th centuries, it's a beautiful natural port complete with fresh water in the midst of some of the most inhospitable ocean in the world. But Deception Island is, you know, deceiving. Because it's not an island. It's the caldera of a very much active volcano.
Tero Hakala/Shutterstock
5. Easter Island
Despite what you may think, Easter Island is totally inhabited. About 6,000 people call this island in the middle of the Pacific home. And there's no mystery to how the ancient peoples here raised their giant monuments -- islanders used the same traditional methods to fix raise a fallen statue way back in 1955.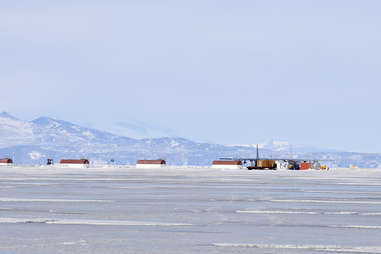 <a href="https://www.flickr.com/photos/us_embassy_newzealand/5244732557/" rel="nofollow" target="_blank">US Embassy/Flickr</a>
6. McMurdo Station
Just 850 miles north of the South Pole, McMurdo has been around in one form or another since the 1950s. Used as a base for science research and a point of resupply for outposts and expeditions thanks to its airstrip, McMurdo is an extremely vital and terrifying base. In case you want to actually watch if Jon Carpenter's The Thing monsters are consuming and replacing scientists at an alarming rate, the United States Arctic Program has a
handy live webcam
!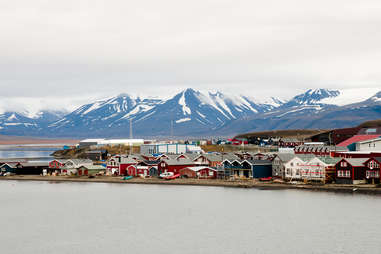 Curioso/Shutterstock
7. Svalbard
Located just between Norway and the North Pole, Svalbard is a series of islands with a population around 2,000. And those lucky folk get to share seven national parks and 23 wildlife preserves. If all those arctic foxes and polar bears can't keep the inhabitants company during winters where the sun barely rises for an hour, locals can sleep happy (or stay away for the summers with 24 hour daylight) knowing they make 25% more than mainland Norwegians.
<a href="https://www.flickr.com/photos/dr-photo/4909828416/" rel="nofollow" target="_blank">David Robertson/Flickr</a>
8. Cape York
Some of the last, truly unspoiled land in the world, Cape York is that big pointy bit of land sticking out of the northeast of Australia. The Cape is home to only about 18,000 people, most of whom are Aborigines spread out over 77,000 square miles of rain forest, savanna, and more biomes than you can shake an earth science textbook at. Presumably, because this is Australia, 76,000 of those square miles likely contain thousands of plants and animals that will kill you.
<a href="https://www.flickr.com/photos/naomit/5810843786/" rel="nofollow" target="_blank">Naomi/Flickr</a>
9. Suwarrow
Put your finger in the absolute no-man's land middle of the Pacific ocean, between every possible large landmass. Congrats, you're probably right around the spot of this mostly one-man coral atoll. Administered by the Cook Islands, a caretaker is assigned to the series of islets every five years, and other than that guy and maybe his family, that's about it for human companionship. Bonus: actual real buried treasure has been found here. So who needs company when you've got doubloons?

10. La Rinconada
Arctic tundras and isolated islands are on this list, but how about living in a place that puts Denver's thin air to shame? Located in the mountains of Peru, La Rinconada sits just shy of
17,000 feet
(Denver is 5,000... yeah) above sea level and is the highest elevated point in the world inhabited by people. So what's it like? Well, you can boil a pot water 30 degrees cooler than you could at sea level. Also there's no plumbing and lots of mercury poisoning from the nearby gold mine... which doesn't have much to do with elevation, but just kinda sucks.