The Most Beautiful Drives in America, According to Long-Haul Truckers
"It feels like the America you see in movies."
Bixby Bridge on California's Big Sur

| Matthew Connolly/Shutterstock
Bixby Bridge on California's Big Sur

| Matthew Connolly/Shutterstock
Anyone who's ever put wheels to the pavement has a favorite drive. Maybe you're a sucker for the soaring panoramas of pastel-green water beneath the Seven Mile Bridge through the Florida Keys. Perhaps you're more of a mountain person who looks forward to downshifting through the Sierra Nevada, waiting for that glimpse of Lake Tahoe. Or maybe you're drawn to lonely, colorful spaces -- in which case the Painted Hills of eastern Oregon are your trippy, Dr. Seussian jam.
But what about the folks who spend their lives traveling America's 4 million-odd highways and byways? No matter how road-weary they get, most still have stretches they look forward to. We put the question to veteran long-haul truckers, many of whom were taking their break at the world's largest truck stop: the I-80 Truck Stop in Walcott, Iowa. They offered their tips for favorite landscapes, from an iconic California coastline to under-the-radar Rocky Mountain roads. Here's where to go the next time you feel like taking the truly scenic route across America.
The California Coast and Alaska
Carl: "I'll give you two. The first is that I'd recommend everyone drive north up California. There's Highway 101, that's an iconic drive. You've seen those views in movies. Also Highway 1 up the Pacific Coast. You'll go by the Golden Gate Bridge, and it's just mile after mile of beauty. Anywhere around Big Sur is especially beautiful.
"Second, you should do the Seward Highway in Alaska. That's another iconic route like the California Coastline in that it feels like the America you see in movies. You go from Anchorage to Seward and the window is just full up with the most beautiful mountains you're ever going to see, and countryside full of animals and beaches. That's a two-and-a-half-hour drive just about, and I'm not bored on a second of that route."
MORE: The 101 through Oregon is pretty spectacular, too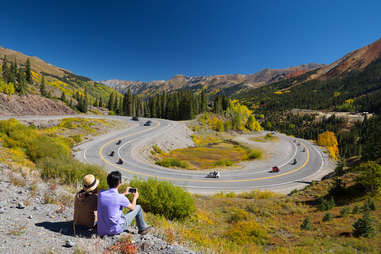 Colorado's San Juan Byway
Mike: "It's not something you'd do as a truck driver usually, but for people who just want a beautiful drive, they need to go to Colorado. The San Juan Byway. It'll take you a day of driving to do it, but you won't get bored, and you won't want to stop. It's the most beautiful landscape in the country. Just the beauty of going from all the green around you, or when the landscape almost looks like a desert, changing to the snow on those peaks -- it's like being in a movie. There's a lot of little mountain towns on the way, and these winding roads so you have to take your time and be careful on part of it, but you won't regret it. I don't think I've seen any place driving a truck that I loved looking at as much as what I saw on that drive."
MORE: Colorado's absolutely packed with gorgeous places
Any westbound route from Montana to Idaho
Brian: "The two-lane routes from Montana to Idaho. That's beautiful. Mountain peaks, meadows, national forests with green that goes on endlessly. Everything goes on forever on that drive. The sky goes on forever, and the sun is beautiful out there. That's the most peaceful 700 miles on the road, I think. Even if you're driving through it, it feels like you're out being a part of nature."
MORE: While you're passing through, be sure to have a cocktail with a mermaid
I-70 through Utah and Colorado in the summertime
Ken: "Coming across I-70 into Utah and into Colorado, you see the most breathtaking high desert and rock formations you won't find anywhere else. Gorgeous. Colorado in the summertime, that's something everyone should drive. But it's about what you're used to, too. I live in the desert in Phoenix and we take a lot for granted. You don't see a lot of farm fields like I'm seeing now, being in Iowa. Then you see the greens they have going across I-90 in South Dakota, heading into the Black Hills, and that's green like you've never seen. It's an awe moment."
MORE: Utah makes a strong case for being our most beautiful state.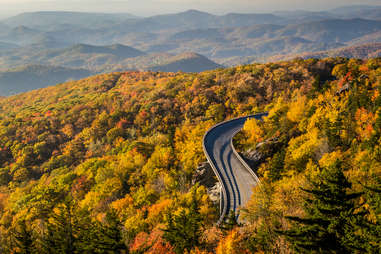 Through Appalachia down to the Gulf of Mexico
Connell: "I was headed to Long Island and got to spend a day laid over just hanging out in Central Park. That was on my bucket list. Three days later, I delivered a rig down to this facility where the edge of the place was a fence, guarding off a beach on the Gulf of Mexico. So in 72 hours, I went from Central Park to swimming in the Gulf.
"If you ever get to drive like that, from a place as different as New York to the Gulf of Mexico, you'll love it. You'll get some dull parts of the road, but it's the change in where you started to where you finished that makes it an experience. That's beautiful and you can do anywhere in the country if you take a weekend to just get in your car."
MORE: Plan your trip in the fall and the Blue Ridge Mountains are a natural kaleidoscope
The landscapes of West Virginia
Heather: "If you're driving on I-64 in West Virginia you get to this mile marker where you're looking down on valleys that look like landscape paintings. I'm from Florida so driving was my first experience with snow, but that might not blow everyone's mind. And Lake Tahoe! In that truck you're driving along down the mountain, you're at eye level with people on the ski lifts -- it's like you're on a roller coaster."
MORE: Morgantown, West Virginia is one of America's most overlooked food cities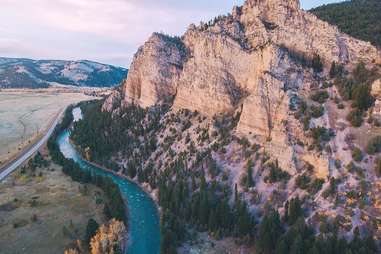 Bozeman to Big Sky, Montana
Nate: "Big Sky's a really pretty area, and (US-191 will) actually take you into Yellowstone Park. Once you're in that area in between Bozeman and Big Sky, it's really (curvy) because it runs along a river. You're in the mountains, and there are plenty of places where, if you're in a car, you can pull off and pull a fishing pole out — there's a lot of fly fishermen out there. And there seem to be a lot of camping spots where you can just pull off and pitch a tent. It's just very raw. If I had a chance and the money, I would love to retire in that area. It's pretty, and if you want the kinda of small city life you can live closer to Bozeman, and if you're not quite the social type you can live further south. It's the perfect area for somebody like me… something that anybody can go in and enjoy if they want to look for a little bit of an adventure."
MORE: Livingston, Montana is a boozy, Big Sky adventure capital
Sign up here for our daily Thrillist email and subscribe here for our YouTube channel to get your fix of the best in food/drink/fun.
Peter Rugg is a freelance writer whose stories have appeared in
Rolling Stone
,
Complex
,
Vice
, and
Popular Mechanics
, among others. Follow his intermittent tweets @petermrugg.