Colorado's Mightiest Peaks Are Also Its Most Gorgeous
Where natural beauty is sky high.
Some states' nicknames are just cute little phrases ("The Show Me State?" C'mon Missouri!). Not Colorado. The Rocky Mountain State is exactly as advertised, and then some. It's home to an astonishing 58 fourteeners scraping the sky at 14,000+ feet. Its wealth of national parks and monuments make even the most towering crag feel diminutive. Everything may be bigger in Texas, but everything in Colorado is assuredly taller.
Seeing Colorado's most spectacular peaks isn't exactly tough, unless you want it to be. To get a glimpse of our favorites is often as simple as looking out the window in any given location. But the closer you get, the more spectacular they become. And the higher you climb, the more is revealed. These are just a few of our favorite peaks in Colorado.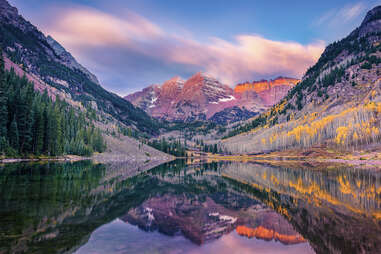 Maroon Bells
Looming over Aspen, the one-two punch of Maroon Peak and North Maroon peak isn't just an iconic sight in Colorado: The side-by-side crags are the most photographed peaks in North America. With their iron-enriched red hue and tendency to reflect off of the mirror-like lakes at their base, the Elk Mountain two fourteeners are also the centerpiece of some of the most beloved hiking trails in the entire state amid the Maroon Bells-Snowmass Wilderness, a 182,000-acre natural area so rich in Alpine beauty you'll be hearing about it again shortly.
Crested Butte
Not only is Crested Butte the moniker of a gorgeous 12,168-foot peak in Gunnison National Forest, it's also the namesake of one of Colorado's coolest towns and top ski resorts. The peak of Crested Butte towers over the famously laid-back, arts-centric town, with the world-class Crested Butte Mountain Resort perched on the north side of the mountain. Admire the ruggedly beautiful peak (part of the Elk Mountains) from hikes throughout town, and take in views of nearby Gothic Mountain for a classic introduction to this buzzworthy community's resplendent scenery.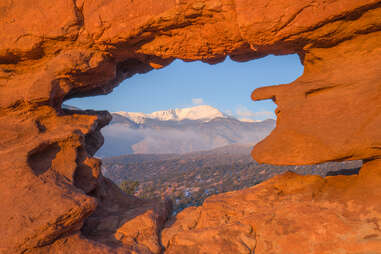 Pikes Peak
Pikes is inarguably one of the most famous mountains in the world, and at 14,115, it's also the highest point in the Colorado Front Range. Three-quarters of a million people make it to the top each year to take in the sights from on high, with the added bonus of some pretty damn spectacular donuts: That's right, one of the world's greatest ascents comes with a taste of the world's highest-elevation breakfast pastries, courtesy of Pikes Peak Summit House. For a view within a view, peep Pike's from Colorado Springs' Garden of the Gods, whose red-rock spires offer up an eye-popping contrast to the towering, snow-covered crag lurking in the distance.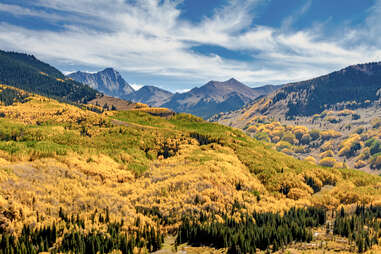 Capitol Peak
Another popular Elk Mountains fourteener inside the Maroon Bells-Snowmass Wilderness Area, climbing Capitol Peak is a strenuous affair that will get you a lifetime-achievement badge for hiking. But hit the 15-mile Capitol Peak Trail and you'll catch the kind of 360-degree view that practically sears itself into your mind: Snowmass Mountain to the south, Maroon Bells to the east, and beyond them the silhouette of the Continental Divide. And if you aren't in the mood to set your calves ablaze to get that view, Capitol Peak looks lovely from afar as well.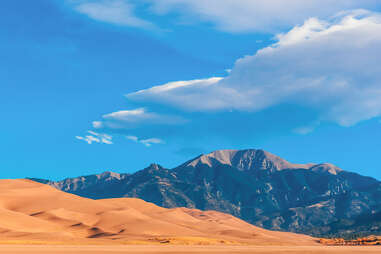 Sangre de Cristo Mountains
This underrated mountain range can be viewed from many locations across southern Colorado, but the best spot to marvel at its magic is from the Centennial State's equally underrated Great Sand Dunes National Park. Nine fourteeners are included in the range, which makes an absolutely marvelous backdrop set against the tallest sand dunes in North America. Pack a camera—and a sandboard if you're feeling particularly adventurous.
Longs Peak
The highest point in Rocky Mountain National Park is an iconic landmark that can be spotted from many locations in and around the gateway town of Estes Park. Longs is also a popular spot for nontechnical climbers, who reach the 14,259-foot summit following a grueling 15-mile ascent when the route is passable in summer. On the drive into Rocky Mountain National Park, pause to admire a windshield filled with towering peaks such as Longs, Mount Meeker, and the majestic trio of Hallett Peak, Flattop Mountain, and Otis Peak as you drive through Estes Park along Route 36.
Pyramid Peak
Pyramid Peak towers over in the Maroon Bells-Snowmass area's Crater Lake and provides some of the most stunning views of the region's wildflowers. For those with technical climbing skills, the Elk Mountain fourteeners are absolute adrenaline factories, where mountain goats provide signs of life on a journey that takes you well into the sky. For those who have to google "crampons," this ascent is probably not for you. But that won't matter when you're catching views reflected in those crystal waters.
San Juan Mountains
Some of Colorado's most stunning mountain towns—including Telluride, Ouray, Durango, Silverton, and the hidden gem of Creede—are all backed by this glorious mineral-heavy mountain range extending from southwestern Colorado into New Mexico. Admire mind-blowing, almost surreal views of these panoramic peaks from iconic scenic drives such as the Million Dollar Highway and San Juan Byway, or just wander around downtown Telluride gawking at the gobsmacking vistas all around you.
The Flatirons
They may not be the biggest mountains in Colorado, but these majestic sloping beauties that backstop the free-spirited town of Boulder are some of the most recognizable images in the state. As the gateway to the Rocky Mountains perched along Colorado's densely populated Front Range, the Flatirons are often the first mountains that new visitors fall in love with. These unique peaks can best be viewed from Boulder's Chautauqua Park, where you'll want to toss around the Frisbee and chill for a while.
Sign up here for our daily Thrillist email and subscribe here for our YouTube channel to get your fix of the best in food/drink/fun.
Jay Gentile is an award-winning freelance journalist specializing in travel, food & drink, culture, events and entertainment stories. In addition to Thrillist, you can find his work in The Washington Post, The Guardian, CNN Travel, Chicago Tribune, Lonely Planet, VICE, Outside Magazine and more. Follow @thejaygentile.