America's Most Underrated Party Towns
Everyone has that one socially awkward friend who at parties, lacking anything better to say, dispenses such pearls of insider wisdom as, "I've heard there's really great pizza in New York," or "You know where they throw some sick pool parties? Miami."
We are not that friend. Last year we tipped you off that HOUSTON, of all places, was the best party city in America. And this year we're taking it a step (or eight) further by revealing the most under-the-radar party destinations in the United States.
Now, who needs another drink? We're going to the kitchen.
St. Augustine, FL
Best time to visit: St. Patrick's Day
Must-hit bar: Scarlett O'Hara's, two 19th-century houses put together that now feature three bars and a restaurant, all of which are said to be haunted
You probably learned in fifth grade that this was the oldest city in America. But what you probably didn't learn was that it's the most underrated party destination in America's favorite party state. While your days in St. Augustine are filled with history and forts, the nights in Old City are the real attraction. The walled section of town has narrow streets lined with bars, cigar lounges, cocktail clubs, and restaurants, and on good nights the party envelops the entire district. Perhaps the best way to catch them all is by taking a haunted bar tour -- at least that way if you don't encounter any of the city's spirits, you can at least drink some.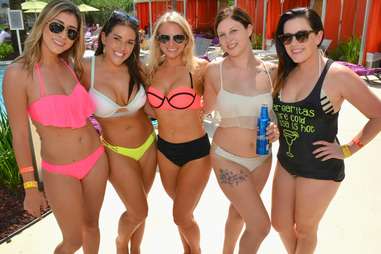 Biloxi, MS
Best time to visit: Mardi Gras
Must-hit bar: Coast Nightclub at the Beau Rivage
What the Redneck Riviera is to Southern beach vacations, Biloxi is to those "whatever happens here stays here" Southern getaways -- at least the ones that don't take place in New Orleans. The Hard Rock and Beau Rivage are world-class gambling destinations and help make Biloxi a Sin City in the heart of the Bible Belt, complete with raging pool parties and epic clubs. It's not exactly Las Vegas on the Gulf, but a night at Beau Rivage's Coast Nightclub or Chill Ultra Lounge at the IP Casino costs a fraction of what it would in the desert.
Should you venture away from the blackjack tables, the local pubs and dive bars are filled with the kinds of colorful Southerners you come to Mississippi to meet. And during the day, you can relax on the Gulf Islands National Seashore or charter a fishing boat to keep the party going on the water.
Sacramento, CA
Best time to visit: August, during the California State Fair
Must-hit bar: Mix Downtown, an indoor/outdoor venue that's perfect for those cool Sacramento summer nights
Bay Area and SoCal refugees in search of affordable housing brought their sophistication and hunger for nightlife to Sacramento; so while the town might not have as many top bars and restaurants as other places, the ones it does have stand up to any in the Golden State. And, as it is California, the people who pack the Downtown hotspots like Mix and The Park are as sexy as you'll find anywhere, they just have loads more money to rage on the weekends since they're not spending it all on rent. Also, money to spend on weekend-long boat parties on the Sacramento River -- yep, those are a regular thing.
Kansas City, MO
Best time to visit: First week of October for the American Royal World Series of Barbecue
Must-hit bar: Boulevard Brewing, which not only offers free tours but has 16 beers on tap in its tasting room
Sure, you might have heard there were some crazy little women there, but there's a lot more to partying in KC than what Fats Domino told you. The Power & Light District is the city's new(ish) nightlife hub, where the two-block stretch of bars and restaurants surrounds a central live-music venue and draws young professionals from as far away as Overland Park and Tulsa. Or, for a more upscale experience, Westport is your move -- full of patio bars, it's a prime spot for outdoor drinking in the summer. KC is also as "sports nuts" as its reputation suggests, and the entire city pretty much turns into a giant tailgate during Chiefs games and Royals playoff runs.
And, of course, there's the barbecue with national institutions like Gates and Joe's, plus the aforementioned American Royal World Series, Missouri's best annual event.
Asbury Park, NJ
Best time to visit: Weekends between Memorial Day and Labor Day
Must-hit bar: Stone Pony, because The Boss started there
In the '70s, this town was a live-music breeding ground like today's Austin or Asheville. But like the cities in every Springsteen song, Asbury Park fell on hard times. Until now. Money has poured in post-Sandy and spots like Asbury Festhalle & Biergarten -- a warehouse-turned-beer hall -- are drawing younger people to this section of the Jersey Shore. Legendary rock clubs like Wonder Bar and Stone Pony are once again springing bands with nationwide appeal. While going to the shore to party is nothing new, Asbury Park isn't about the fist-pumping EDM club scene, but rather a cool, laid-back seaside vibe that harkens back to its rock heyday.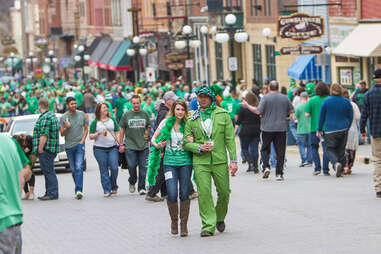 Deadwood, SD
Best time to visit: First two weeks of August, during the nearby Sturgis rally
Must-hit bar: Saloon No. 10, aka the bar where "Wild Bill" Hickok was shot. A serious nod, however, also goes to the Buffalo Bodega, the oldest bar in South Dakota.
The "party" has calmed down just a little since "Wild Bill" was shooting people in the streets, but historic Deadwood is a huge weekend destination for Midwesterners. The town's Wild West past gives the city an aura of lawlessness, and bachelor and bachelorette parties spend summer weekends roaming the main drag, casinos, and historic saloons just looking to make bad decisions. On big holidays like St. Patrick's Day, New Year's, and Mardi Gras, you can even buy a special cup that lets you drink in the streets, giving this South Dakota mountain town a distinctively New Orleans vibe. And finally, August brings overflow bikers from the Sturgis Motorcycle Rally, although the scene here is far calmer than it is down the road.
Denton, TX
Best time to visit: UNT home-game weekends in the fall
Must-hit bar: Oak St. Drafthouse
When you think of college towns in Texas that were fictitiously portrayed in football movies starring Sinbad, only one city comes to mind: Denton. Sure, Austin might be the hip, trendy university home in the Lone Star State, but Denton (home to Texas Women's University AND North Texas) rages just as hard. With two universities of over 35,000 students each within city limits -- each dominating half the city -- Denton is like two college towns in one, boasting double the bars, double the crazy students, and double the debauchery. And while the town hasn't changed a whole lot since the '70s and retains a lot of its old Texas charm, they still do cool stuff like open bars inside of Victorian houses.
Milwaukee, WI
Best time to visit: Summerfest (June 29th through July 10th)
Must-hit bars:All of these
Aside from the Alice Cooper concert in Wayne's World, most people don't know much about the great Milwaukee party scene. It starts with Summerfest, the world's largest outdoor music festival that spans two weeks, brings the biggest names in music, and draws crowds from all over the globe. From there, it's all about the tailgate -- nobody knows how to tailgate like Milwaukeeans, who can turn even a Monday night Brewers game into the biggest parking-lot party in the Midwest. And finally, Milwaukee has three times more bars than grocery stores, uses beer as an actual tourist attraction, and takes pride in doing unspeakable things with Bloody Marys.
Sign up here for our daily Thrillist email, and get your fix of the best in food/drink/fun.
Matt Meltzer is a staff writer at Thrillist who thought Tiesto's set at Summerfest was better than anything he ever did at Ultra. Follow him on Instagram: @meltrez1.