The Most Walkable Cities in America
Ditch the rental car and hit the streets in these gorgeous eco-friendly destinations.
Whenever I go down to God's Waiting Room (i.e. South Florida) to see my father, I'm always struck by the fact that I can't walk anywhere. I can't stroll to the grocery store, can't hoof it to a movie theater, can't amble to—or stumble home from—the bar. It's almost like the entire I-95 corridor from Jacksonville to Miami was designed to favor cars over actual humans. Oh, wait. It was.
New York, though! You can walk to pretty much anything—which is why you don't get cabin fever here as you might in LA or Fort Lauderdale. I spent my formative years in the pedestrian wasteland of Orange County, where the closest grocery store was a two-mile walk through a gated subdivision. People driving by would actually slow down and ask if I was alright if they caught me walking; only a silly person would ever venture out of the house on foot.
Thankfully, sprawl is going out of style stateside. Cities that were once defined by their car-oriented layouts are now focusing on getting denser and more walkable. (I've seen those priorities change firsthand in my past life as a city planner in Boston and New York City.) You want to feel the future now? Get to one of these, the 10 most walkable cities in America selected by combining two exhaustive studies on pedestrian accessibility: Smart Growth America's "Foot Traffic Ahead" and Redfin's annual Walk Score rankings. These are places where you can get around cheaply, boost your health, and steer clear of ozone-depleting emissions—all while seeing the sights from the comfort of your own sneakers.
New York City
Walking creds: It's New York and then everywhere else when it comes to pure walkability. Density contributes, sure, but so does the consistent overlap of commercial and residential space, a mix that has become a veritable blueprint for a successful urban makeup. As city planning legend Jane Jacobs once said of mixed-use development: "Intricate minglings of different uses in cities are not a form of chaos. On the contrary, they represent a complex and highly developed form of order." New York grew organically from the 17th century onward, long before New Yorkers could rely on cars. Partly as a result, it has always been a pedestrian's city. As of 2021, 55% of New York City residents don't have access to a car.
Best neighborhood for a stroll: If we're talking about sheer density of things to eat, drink, and buy, you're not going to beat Greenwich Village. The original borders of the Village run from Broadway on the east to the Hudson River on the west, and south from 14th Street to Houston Street, though I'm sure realtors are plotting ways carve and rebrand the neighborhood as we speak. If you want the real throwback NYC experience, start with a pint at the White Horse Tavern and wind through Washington Square Park before catching a movie at the Angelika Film Center.
San Francisco, California
Walking creds: So maybe "hikable" is a better descriptor, but you'd still be hard-pressed to find another city in California that lets you go car-free without feeling like a pariah. (Though I've definitely gotten some side eye from local friends when I suggest we walk instead of summoning an Uber to travel six blocks.) The densely packed heart of San Francisco running roughly from the Mission in the south to North Beach rivals New York City in its concentrated mix of residences and commercial outposts. I know the tech bros now swarming the city are working to disrupt the legacy institution of "walking," but until then San Francisco is a peripatetic paradise.
Best neighborhood for a stroll: The Mission. I know that makes me the millionth person to tell you "Oh, man, the Mission is awesome." But it truly has everything you'd want in walkable neighborhood. And by "everything," I mean Mexican food. Really, really exceptional Mexican food. Start at La Taqueria and work your way north until you inevitably nap it off in Dolores Park.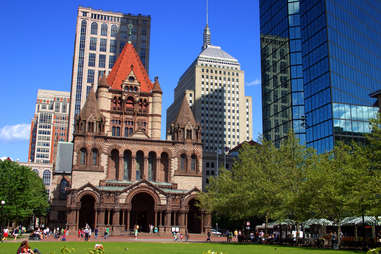 Boston, Massachusetts
Walking creds: I was a student here, so my review of the city's sidewalks are going to be colored by my complete lack of meaningful obligations during that time. That being said, one of the best things about Boston is how compact it is. You can walk from Allston on the west side to Fort Point Channel on the east in a little over an hour and check off a hell of a lot of sightseeing along the way. A lot of other small cities might sacrifice quantity when it comes to entertainment, but Boston is packed with bars and restaurants from end to end.
Best neighborhood for a stroll: It's not the hippest take in the world, but Back Bay is still the quintessential Boston neighborhood. The bougie brownstones that line Beacon Street and Commonwealth Avenue are just so damn pretty that you can't help but stop and stare. Newbury Street, the commercial backbone of the city, has a main stretch bookended by Massachusetts Avenue on the west and the immaculate Boston Public Gardens on the east. Wrap up any stroll through Back Bay with a meal at India Quality, a hidden gem on on an unassuming street that makes the best saag paneer I've ever had.
Washington, DC
Walking creds: The nation's capital ranks as the third most walkable city on Smart Growth America's Foot Traffic Ahead. "There's so much diversity in a walk through the city," says longtime DC resident Felicia Stumpo. "You can walk through Meridian Hill or Georgetown or H Street or hike through Rock Creek Park, and you feel like you're in a different city with each place." DC's shifting topography and generally short stature—only a handful of buildings here exceed 200 feet in height—imbues it with a constant sense of discovery, which is a big part of what makes a city a pleasure to stroll through.
Best neighborhood for a stroll: Hit a pair of adjacent ones: Bohemian Adams Morgan and rapidly gentrifying Columbia Heights. They're both far enough north that you can avoid the poorly dressed phalanx of legislative aides plotting world domination in Dupont Circle without feeling like you're in the 'burbs, and you can also hoof it to both neighborhoods after a day of sightseeing on the Mall.
Chicago, Illinois
Walking creds: Chicago has undergone a walkability renaissance over the past few years thanks to the city's planning department designing streets with pedestrians in mind rather than cars. One visible project is the 606, an elevated park built along abandoned railway tracks and Chicago's answer to New York's wildly successful Highline. The renewed vision is boosted by the pipeline of young, creative folks moving to the Second City from all over the world—and perhaps by an epically cynical selloff that privatized street parking around the city, inadvertently making driving in Chicago feel like getting taken for a ride.
Best neighborhood for a stroll: The 606 connects several of Chicago's trendiest neighborhoods and thus should be avoided at all costs. I'm kidding. The 2.7-mile trail cuts through the hipster digs of Wicker Park and Logan Square and is only a couple blocks south of the bars and restaurants lining West Armitage Avenue. If you're looking to eat your way through the 606, we've got you a good starting point.
Philadelphia, Pennsylvania
Walking creds: As New York real estate prices out young creative types, Philly is there to scoop 'em up. And no wonder: Philly was always a distinct but sibling city to NYC. As a friend of mine once said: "With Philly you get 80% of New York for 50% of the price." That ratio extends to the city's walkability. You can stroll from the rowhouses along the waterfront in Old City to the Victorian mansions surrounding Rittenhouse Square without breaking a sweat and then head northeast to the hipster havens of Fishtown and Northern Liberties for dinner at Wm. Mulherin's Sons or Fette Sau.
Best neighborhood for a stroll: While the twin hoods of Northern Liberties and Fishtown might be the trendiest spots in Philly, they're too spread out to qualify as the most walkable neighborhoods in the city. That designation belongs to the tony stretch of brownstones and parks that line Center City in the heart of Philadelphia's Downtown. Yes, it has all the makings of a tourist center but that's balanced out by genuine landmarks like the Liberty Bell and City Hall, not to mention excellent restaurants like El Vez and the vegan sorcery at Vedge. (Rutabaga fondue. That's all I'll say.)
Seattle, Washington
Walking creds: If Jeff Bezos had his way you'd probably have to traverse the Emerald City by drone, but for now the best way to see Seattle is on foot. (Or, if you're masochistic, by bike.) The city is built atop hills that provide sweeping views of Puget Sound and also means the trek from waterside Belltown up what is basically a sheer cliff to trendy Capitol Hill. (As my Seattleite sister-in-law says, "We all have great glutes from walking those hills.") Verticality is usually a good sign for walking, and Seattle packs a ton of housing and offices into its compact Downtown while also boasting some of the best food anywhere. You'll inevitably need a good digestive walk.
Best neighborhood for a stroll: In my visits to Seattle, I've always felt an affinity for Capitol Hill and always find myself wandering back there no matter how daunting the hike looks from down by the water. It could be the army of hipsters sipping single-origin espresso that reminds me of home, but I like to think it's the web of mixed-use buildings that let you go car-free without hassle.
Long Beach, California
Walking creds: Southern California gets a bad rep when it comes to walkability. Yes, Los Angeles is a dystopian hellscape crisscrossed by rivers of concrete and you'd better pack water, a tent, and a change of clothes if you want to walk to your nearest grocery store. But there are certain cities—Long Beach foremost—where using your feet actually makes sense. Even if the city is best seen from the back of a Snoop DeVille, it has seen a massive influx of people drawn to a surprisingly bustling Downtown. Think of it as Santa Monica without the price tag—and minus the giant mall in the middle of it.
Best neighborhood for a stroll: Long Beach's walker's paradise isn't so much a neighborhood as it is a stretch of Fourth Street that spans Alamitos Beach and Bluff Heights on the south side of the city. Dubbed "Retro Row" because of its funky collection of shops and restaurants, it has become something of a destination for folks in the southland who are tired of the crowds lining Abbot Kinney in Venice Beach. That low-key vibe has been attracting a growing population of folks who are interested in a risky proposition: going car-free in SoCal.
Portland, Oregon
Walking creds: Yes, your friend who moved to Portland to become a parrot therapist is obnoxiously obsessed with his new home, but the throngs who have flocked to the City of Roses do have a point. It's the rare city that lives up to the hype, and that you can explore most of by foot—or, if you want to fit in, by fixie—makes it all the more enticing. Posh neighborhoods like the Pearl have still kept their bohemian character intact, and the Alberta Arts district is a dense thicket of excellent restaurants, bars, and galleries all bunched into a 20-block stretch on the northeast side of the city. Also of note, the weather's mild year-round, especially if you carry a rain shell.
Best neighborhood for a stroll: The Pearl is still Portland's easiest and best neighborhood to explore on foot. Yes, it has given into the center-of-a-black-hole pressure from developers licking their chops over old buildings and construction tax breaks. But it's also bursting with restaurants, bars, breweries, galleries, and residences, a mix of uses that have kept this section of northwest Portland bustling.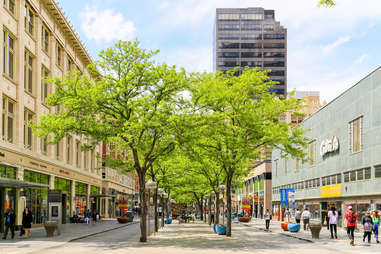 Denver, Colorado
Walking creds: Maybe it's the crisp air rolling down from the Rockies filling your lungs that makes taking a stroll through Denver so invigorating—or maybe it's that unmistakable skunk-like odor wafting from the dispensaries that have sprung up since the state passed Amendment 64. Anyway, you'd be hard-pressed to find a city anywhere in the world with a better backdrop than the Colorado capital, and it's quickly climbing the walkability charts thanks to a wise combination of redevelopment—a mall that once dominated the city's Downtown has been reimagined as a stretch of mixed-use buildings—and a marked policy by City Hall to edge away from the urban sprawl that defined Denver for decades.
Best neighborhood for a stroll: LoDo, aka Lower Downtown. It has transforming since the '80s, when the city council, hoping to spur investment, voted to designate it as a historic district. The classification was a near-immediate success as future Denver mayor and Colorado governor John Hickenlooper opened the Wynkoop Brewery in 1988, setting off a development boom that has continued through the present. The reimagining of the city's oldest neighborhood has created a walker's dream lined with what else: craft beer and weed.
T.M. Brown is a freelancer and recovering city planner based in New York City. He will talk to you about gas taxes and hip-hop with equal passion. Follow him on Twitter: @TM_Brown.