Insane daredevil tears down roller coaster tracks on motorcycle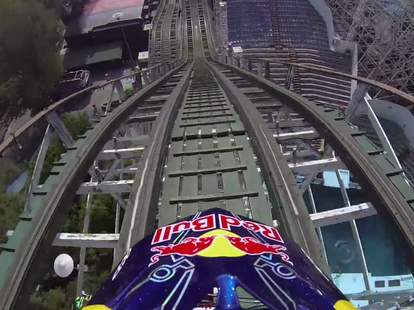 Whipping around wooden roller coaster tracks usually proves enough to leave you battered and rethinking the whole "amusement" part of amusement parks. But for one deranged daredevil, that abuse wasn't enough: he decided to do it on a motorcycle, in Mexico... and he did backflips and wheelies the whole way, just for good measure.
French pro motorcyclist Julien Dupont took his bike to one of the most badass wooden coasters in the world, Mexico City's famed 108ft-tall Montaña Rusa coaster. Once the world's tallest, the 50-year-old ride at La Feria de Chapultepec amusement park was designed for a train propelled by gravity alone. But to add an element of further adrenaline to the ride, Dupont took off on a motorcycle stunt run up and down the coaster's hills, speeding down crazy-steep drops, and performing spine-bending stunts on the ride's notoriously punishing track.
Watch the video below to witness what should definitely be the newest event in next year's X Games.
Chloe Pantazi is an editorial assistant on Thrillist's travel team. Yes, that's a British accent. No, she doesn't watch Doctor Who. Follow her on Twitter at @ChloePantazi.