The World's Most Breathtaking Country Is a Cinch for Americans to Move To
Sam Rozitis and her partner Kevin weren't keen on sticking around central Canada after college. Spending three years building a resume to get an engineering job in Vancouver just didn't sound like happily ever after. The cold. The sparseness of culture. The flat of it all. The plains are so-called for a reason.
Then one day Kevin popped the question: "How would you feel if we moved to New Zealand?" To anyone in North America, it would sound like an extreme leap. The land of sheep and cinematic Lord of the Rings backdrops is more than 6,000 miles from San Diego, and almost 9,000 miles from New York.
But they figured, what the hey? Armed with a working holiday visa -- a generous welcome that's also open to Americans -- the couple packed up and forged ahead to Wellington. Within six months they both found work. Two years later, as they flew back to New Zealand after a trip home for the holidays, they looked at one another and realized they had no intention of ever moving back to the prairies.
These distant islands aren't just a scenic, Middle Earth vacation paradise. As a place to move, they offer a quality of life that expats say can't be topped. People there don't fret too much with the stress of the world (it seems far away, after all). Instead, they focus on recreation, enjoying the unparalleled natural beauty, and living life at the edge of the earth. For an American, there are scads of opportunities to spend at least a year in New Zealand living and working.
The Southern Alps of New Zealand

| Dmitry Pichugin/shutterstock
Are you an American under 30? You can probably move to New Zealand for a year
New Zealand's Working Holiday Visa allows Americans under 30 to work in the country for 12 months, without legal residency. There are catches: You can't accept a permanent job -- this is a one-year gig only. If you have a partner, they have to apply separately, and if you have kids, you can't bring 'em (you can see how this appeals to the twentysomething crowd).
You also need to have at least $4,200 New Zealand dollars (about $3,000 USD) to your name, so if you were planning to bum around and "figure it out," that's gonna be tough. And $3K doesn't go all that far here; the country is expensive enough that you'll need to work. New Zealand minimum wage is $16.50 per hour -- about $10.40 USD. If you reach the end of your working holiday visa and aren't ready to leave, you might be able to file for an extension.
And if you're over 30, there are still plenty of opportunities to move and earn a living
There are lots of other work-related visas you can pursue, like Skilled Migrant Category Resident Visas. While we'll begin here by saying that all labor is skilled labor, this category of visa is based off your experience and qualifications, and lets you stay in the country indefinitely. It's open to applicants no older than 55. Or Essential Skills Visas, aimed at those who have already been offered a New Zealand-based job, whether or not that's the one you end up working when you get there; you can stay up to five years. Or Specific Purpose Work Visas, which are good for moving to New Zealand temporarily for a specific project, like a film shoot.
New Zealand is also in need of engineers and tech workers; a couple of years back the city of Wellington flew people in from around the world to interview for tech jobs. You can explore the full menu of work visa options here.
If you want to run a business, you can apply for an Entrepreneur Work Visa -- but you'll need a capital investment of at least $100,000 New Zealand dollars -- $63,050 USD.
Or you can move to New Zealand to study
If you want to go to New Zealand to study, and are over the age of 18, there are a few different visas you can pursue. A Visitor Visa will let you study for up to three months, and stay in the country up to nine months. You have to have funds to live on, plus a ticket home, by the time you arrive. A Fee Paying Student Visa lets you stay up to four years, and you can work part-time -- up to 20 hours per week. 
Why move? For opportunity, balance, and beauty
For the entrepreneurial-minded, New Zealand has wide-open spaces and blank slates of cities, perfect for creative young people looking to do something new. Look no further than Christchurch, a breathtaking coastal city decimated by earthquakes in 2010 that's slowly crawling its way back. The quakes resulted in nearly 60% of the central business district being demolished. What's rising -- slowly -- is a completely new city, one still blessed with the Southern Alps and Pacific Ocean at its edges.
Scaffolding surrounds many a high-rise in the city. You'll find vacant lots that are quickly filled with creative residential areas, art studios, and cool new retail spaces -- like a temporary mall where the stores and cafes are built out of shipping containers (pictured below). The exposed walls left by the demolition are often covered with murals, brightening up a city marked by overcast skies and the gradual removal of rubble.
Christchurch, New Zealand

| Peter Unger/Lonely Planet Images/Getty Images
"I'm excited about what's coming here, about what Christchurch is going to become," says Dan Thomson, a lifelong resident and entrepreneur in his twenties. "Everything is starting over and new ideas are everywhere. It's going to be an amazing place to be in a few years."
Wellington is deceptively tight-packed, a vertical city of about half a million stuffed onto a seaside plateau crammed against dark green mountains. It has the feel of a metropolis of millions, with curry shops alternating with brew pubs, chocolate factories, and hidden basement restaurants along busy streets. The laid-back alternative to Auckland, Wellington is the smaller city with less showmanship. And it seems to be the leading choice for expats seeking low-hassle city life.
Paraglider in Queenstown

| Martin Maun/Shutterstock
Even your boss wants to get outdoors
Working in Wellington -- or almost anywhere in New Zealand -- is as breezy as the winds whipping in off Wellington's harbor. Rozitis talks of friends in San Diego and Vancouver who work 60- and 80-hour weeks as engineers. In New Zealand, working on weekends or after hours is unheard of.
"Your boss wants to get out and enjoy the outdoors and the nature, just like you do," she says. "You get four weeks off here, and you take four weeks. Your boss might take all four to spend traveling around the country with his kids, which tells everyone else they're expected to do that too."
Part of why Kiwis value getting out so much is because they don't have much fear -- of getting behind, of losing their job, or of anything else. They invented bungee jumping. New Zealand has no culture of fear; there's nobody here telling you to be afraid of anything, be it street crime, terrorism, or falling out of an airplane. Which not only makes for a refreshingly liberating change, it also makes for a culture of adventure and exploration rather than paralyzing paranoia.
"I don't know if it's because things are a little bit behind here, or because it's segregated from the rest of the world, but a lot of kiwis just don't really care," says Matt Brock, a former Floridian who's now the head chef at Kika, a busy modern bistro in the South Island ski town of Wanaka. "They're not worried of what's going on outside the country -- but in a good way. They're not going to stress themselves over stuff that doesn't affect them."
Nowhere is this more evident than Queenstown, the self-proclaimed "Adventure Capital of the World," where the hum of jet boats screaming across Lake Wakatipu towards mansion-sized boulders is drowned out by college kids handing out brochures for hang-gliding and skydiving tours. The bars and clubs here stay open late; partying is as much a part of the draw as the white-knuckle adventure. And enjoying a cold McCashin's beer on the rooftop at Sundek will have you chatting with, surprisingly, far more Kiwis in town for the weekend than tourists.
Emerald Lakes, Tongariro National Park, New Zealand

| Dmitry Pichugin/Shutterstock
No adventure in New Zealand is too far away
Americans say they love New Zealand's ease of travel. Not only because flights from city to city rarely last more than an hour. Rather, flying itself is a snap. Domestic flights don't have security checkpoints, for example. Like at an old-school bus terminal, you just walk right up to your gate and get on your plane. And Air New Zealand, the country's main domestic carrier, actually has an economy class that prioritizes passenger comfort.
"There's a lot here, a LOT," says Brock. "In 30 minutes, you're in a new area from surf, to mountains to desert. You just get in the car and drive, or hop a short flight, and the geographic diversity is amazing. You never stop snapping pictures."
You could find yourself kayaking off the coast of Abel Tasman National Park, through Caribbean-colored waters, past moss-draped trees and towering evergreens, to an island of seals frolicking on rocks. In the afternoon, you can enjoy lunch with a smokey Sauvignon Blanc at a hilltop winery in Nelson, overlooking the water. Then hop a flight and watch the sun set over desert cliffs near Wanaka, waking up for a boat ride through the fjords of Doubtful Sound the next day.
"It's so easy for an American to move here," Brock says. "You can't be stressed out here. It's a beautiful country, with hunting, fishing, surfing, snowboarding. And you can do all of the above in the same day."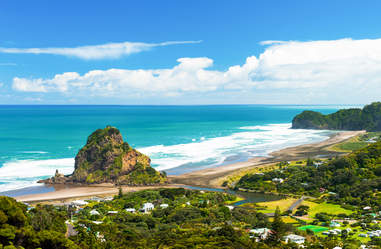 Piha beach

| Filip Fuxa/Shutterstock
People want you to be here
Kiwis want you to love their country as much as they do, and if that means going out of their way to make sure you enjoy your time there, they do it.
I learned this first hand after injuring my knee on a waterfall hike in Wanaka. The proprietor of the Lime Tree Lodge, where I was staying, insisted I go see a doctor and enlisted one of her employees' husbands to drive me there. On a holiday. And to wait while I got examined.
The national government is so intent on foreigners enjoying their time, visitors receive health insurance for any injury they sustain while in New Zealand. My doctor's visit and prescriptions weren't free, but they were cheaper than they would have been without this program.
"I just felt like I was always on vacation when I lived there," says Gribble, who has since returned to Los Angeles. "Every city is within a short flight. You've got mountains, you've got sea, beaches. You have easy day trips that feel like you just got back from a five-day trip when you return. The combination of nature and people, I never felt like I was in some dull, boring, monotonous life. I felt fully stimulated and excited every day."
Sign up here for our daily Thrillist email and subscribe here for our YouTube channel to get your fix of the best in food/drink/fun.

Matt Meltzer is a contributing writer with Thrillist whose knee is fine now, thank you. Follow him on Instagram @meltrez1.