Presented By

How to Ditch Your Life for a Cheap Fairytale Home in Scandinavia
Cheap Nordic Houses is here to make your hygge dreams come true.
Presented By

Along with birding and trying to pawn off sourdough starters, there's another way we've all managed to dissociate from Covid chaos: spending hours browsing real estate listings, daydreaming about what it might be like to pack up and start over somewhere else.
For some people, downsizing to a houseboat or a tiny house in the woods might be just the ticket. For others, it's trading sky-high coastal prices for a quietly cool, affordable city somewhere in the American heartland (for example, Tulsa, Oklahoma, which will literally pay you to move there).
But for a few, that dream might just involve heading abroad. Countless are the times that we've imagined leaving behind America's bedlam for foreign lands blessed with centuries-old villages or vast, idyllic nature….as well as, you know, work-life balance and healthcare that won't bankrupt you.
Lo and behold: sweeping outdoors and affordable living marry on Cheap Nordic Houses, where you can peruse hundreds of beautiful storybook homes across Sweden, Finland, Norway, Denmark, Iceland, and the Faroe Islands—most of them under $150,000.
Launching in 2020 to near-overnight success, the page is the brainchild of friends and co-workers François Pérennès and Lela Amparo—two expats, one French, one American, both social media pros who have spent the past few years in Gothenburg, Sweden, after moving to Scandinavia to be with their respective partners.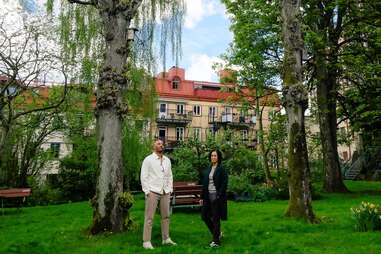 Looking for a fairytale cottage on a grassy hill overlooking a fjord? Or perhaps a two-century-old country cabin that sits at the base of a snow-capped mountain? Join Cheap Nordic Houses' 200k follower-strong Instagram community (or subscribe to their newsletter or Patreon!), and you'll probably find what you're looking for. And if you decide to make your hygge-filled dreams a reality, look no further: Below, François and Lela have your answer to all things Scandinavian real estate and what it's like building a new life abroad.
Thrillist: Lela, François, thanks for chatting with me about Cheap Nordic Houses—one of my favorite pandemic-era discoveries by far. How did the Instagram page get started?
Lela Amparo: It started right when the pandemic really kicked off here in Europe. At that time, our work hours were reduced. And to be honest, I caught Covid myself, so I was trying to take it easy and keep busy while I was recovering, because I was sick and bedridden for about 12 weeks. So I started looking for homes and sharing them with Francois. Then I thought to myself, alright, I'm in social media. I love growth marketing. And I kept going to Francois like, dude, we both love [house hunting]. Why don't we get this on Instagram?
François Pérennès: It went crazy after a few weeks. We were getting 1,500 new followers a day. I don't think we imagined it would become the thing that it has. But I think one thing that was obvious to us was that Scandinavians have incredibly high standards for houses, and great house photography. So both of these things coming together were really, really good, and so dreamy. It was dreamy to us even before moving to Sweden or to Norway.
You can buy his house near Norway's largest national park for under $100,000
How do you find these wild deals? And for somebody living in New York—where $500,000 will barely buy you a fairly-average studio apartment—they are wild.
François: People always ask us, Why are the houses so cheap? How is it even possible? And I think it's because Sweden and Norway, for instance, are quite big countries in terms of territory. But they only have 5-10 million inhabitants—and most of them want to live in Gothenburg and Stockholm, and maybe not by the fjord in northern Norway or near Bergen. That's what makes the houses we post quite affordable, but with incredible scenery. If you look at them, you can picture yourself going out on a hike, or just taking coffee and watching the whales in the fjord.
And [the page is] good for people in Scandinavia, as well. We sometimes get feedback from regional accounts or people who already live in those places. They're quite happy because those small towns aren't getting many new people—and, you know, if some people buy a house, that means one more family [in town] and the school can stay open.
We let go of a lot of norms in 2020: like shaking hands, wearing pants, and (most importantly) working in an office. You're no longer tied to a commute — so why should you be tied to one place? Enter: Landing, the housing startup that's reimagining apartment living. Thanks to its network of fully-furnished (or unfurnished) apartments across the country, you can have the freedom to live (and work) practically anywhere. With perks like a 24/7 concierge service, easy lease transfers, and waived security deposits, you'll have more flexibility than ever before, too.
Who doesn't love a good Danish thatched roof?
What makes certain houses stand out to you?
Lela: It depends on the country, because each place kind of has a signature thing, a nice speciality about their houses. I'm always a sucker for the Danish houses and their thatched roofs. [I see them and] I'm like, this bad boy has got to be built in, like, the 1800s. In Sweden, the old fireplaces—you'll see them in the corners of every room, and they're just so beautiful and intricate. Finding those details really brings these homes to the surface, because you don't want to just find the cheapest home—maybe that one doesn't have a charm to it.
Why do you think the page ended up blowing up so fast?
Lela: Maybe there's a little bit of escapism, a little bit of daydreaming. Coming from the US perspective, the housing market is so expensive. It's so saturated. There are high prices for low quality. So, like Francois said—the combination of great houses, great prices, and quality photos [in Scandinavia] presents this dream of being able to start over and have something new—especially at a time when most of the world was told "you can't leave, you can't travel." That made people even more eager to daydream and envision something different.
In Sweden, you can get a whole island for about $115,000
How is your life in Sweden different from life in the States and France?
Lela: They say after five years of being away from America, you start to lose your American-ness. I'm losing my English, which is bad. But really, it's my work structure. In America, we're taught that you work hard, you clock out at five, minimum 40 hours, two weeks off a year. And here, I'm like, Oh, they only gave me five weeks this year. In America, we're so used to the grind, grind, grind, and in Sweden everything is slow. That's something that I don't know if I could go back to.
François: I used to live in Paris. It's very hectic, and it's the same thing [as in America]: You're grinding all the time. But things have slowed down a lot when it comes to Sweden. And [the grind is] something that you miss sometimes, but the [lack thereof is] something you come to appreciate, as well. Here, you're always close to nature, you're a five minute bike ride away from the sea or a forest. We have incredible parks right in the city, or we can just go to the lake for a barbecue, which we have done a few times after work. That's not something you can really do after work in big cities.
Lofoten, Norway, is a Nordic dream
Is there a particular region you'd consider a dream place to live?
François: There are two areas I really love. One is Lofoten in Northern Norway. I was there for a week not too long ago. It's an incredible place: the islands, the fjords, the lakes. There are mountains everywhere—the islands are basically mountains that [dip down] into the sea. And then I really like the south of Sweden, as well: Skåne, Blekinge, Halland.
Lela: Region-wise, for me, the fjords of Norway—you can't really beat that. There's something super magical about them. You can get the Northern Lights, you have the mountains—it's all right there in places like Lofoten, Tromsø, Bergen. It's beautiful. As far as houses, I always have this weird soft spot for places that look like they'd be in Midsommar. I'm like those Americans in that film, I'd totally buy into it.
Say I bought a Cheap Nordic House right now, dropped everything, and moved to Europe. What advice do you have on adjusting to life in Scandinavia?
Lela: The biggest thing is patience. From the American perspective, we look at Europe and think they have everything figured out. They absolutely don't. And so it's okay to accept that sometimes, things just suck when you move. It's gonna take two months to open up your bank account. It's gonna take two months to get your photo ID. And it's gonna take you five years to get your driver's license. All of that is pretty normal here and it's okay to feel frustrated. But let it grow on you—it takes time. Just take it a day at a time.
François: And don't miss the opening hours of the alcohol shops! Because past Friday at three o'clock, you can't buy alcohol anywhere. Just be aware of that!
Aside from more amazing deals, do you have any future plans for Cheap Nordic Houses?
Lela: [We'd love to] bring in more of the travel aspect, highlighting that not only is Scandinavia a great place to live because the property is cheap and beautiful, but also [sharing] some trails you can go to, or some great restaurants and museums.
Something both François and I've been really fortunate to have that we want to share with people is [local knowledge]. You want to go see the Northern Lights? Don't pay for a package. We'll tell you the place to go where you can see all the reindeer and the Northern Lights for free. Oh, you're in southern Sweden? Here's the perfect beach. Even if you're just coming to visit, we want to give you the most authentic places to go. Because everyone's gonna tell you to go to Stockholm. And I'm gonna tell you right now, don't go to Stockholm.
Tiana Attride
is Thrillist's Associate Travel Editor. She is begging someone to whisk her away to Scandinavia, pretty, pretty please with a cherry on top.