This Insane New Cruise Ship Is Basically South Beach on the Open Ocean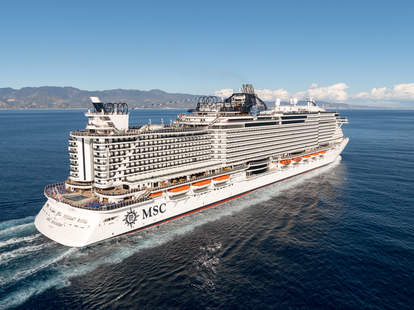 Despite some very questionable state rankings, Florida's a pretty great place. Year-round sunshine. America's best beaches. Weekly stories about alligator-infested meth labs run by high school teachers who sleep with their students. Really, what's not to love?
But, hey, it's not perfect. Sometimes I think it would be cool if someone took the best parts of Florida, redacted the lunacy and criminality, put it in one place, and sold that as a vacation. And maybe make it float. And stop in places like Cozumel. So you can imagine my excitement when a giant billboard advertising something that looked like the Miami skyline on a cruise ship showed up over the MacArthur Causeway. It touted the MSC Seaside, the newest mega-ship from European cargo-magnates-turned-cruise liners MSC. Picture a 20-story-tall behemoth that sets sail from Miami this weekend after a celebrity-filled naming ceremony headlined by Ricky Martin.
I had an opportunity to jump on the tail end of its inaugural transatlantic voyage to South Florida this week and see this high-tech, floating Florida for myself. Turns out MSC captured many of the best parts of my state, left out the people stealing potato chips with machetes and 6-foot boas in the attic, and created possibly the coolest new ship sailing in 2018. Starting with a 300-foot zipline, dueling waterslides, and a way to fight back against face-eating zombies, here's what to expect on the new MSC Seaside.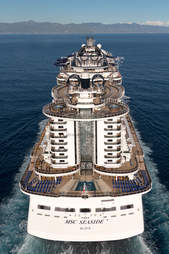 Courtesy of MSC Seaside
Swanky hotel pools abound
Not that
sneaking into
South Beach's narrow, art deco pools is impossible. But it's tough to fully enjoy them while you worry that the towel guy you didn't tip might rat you out. The two pools aboard Seaside feel like laying out by the Delano or hitting the
glamorous pool party
at the SLS, without the nagging feeling you really don't belong there.
On the 16th deck, the Miami Beach pool evokes those along Collins Avenue. It's a long, narrow pool surrounded by posh daybeds and backed by an imposing tower, plus a heliport on one end, and a big screen at the end of the zipline. Take THAT, Fontainebleau! Nine decks down at the South Beach pool, a smaller swimming hole sits just outside the Haven lounge, with sculptures of 1950s bathing beauties guarding the entrance to the water. Much like the pool parties with $50 covers, here cocktails and music combine with chlorine here for an all-day fiesta.
You can also stand up on the 131-foot Bridge of Sighs and look from one pool nine stories down into the other. It's a clear-glass catwalk that'll make you a little queasy even when the ship's not moving.
Courtesy of MSC Seaside
Panoramic glass elevators connect the pool decks
The first time you saw Michelle Pfeiffer riding down that glass elevator at Frank Lopez's house in
Scarface
, you were like "Damn, someday I want to do that. Maybe minus being married to a cocaine kingpin." Wishes come true on Seaside, where panoramic glass elevators connect the 16th and seventh-floor pool decks, allowing you to descend like the diva you are, with a fantastic view of the water out over the back of the ship. Fire up the video camera on your phone for a quick add to your story.
The ship has mashed up waterslides with nightclubs, and it's amazing
Waterparks are a hallmark of the Florida vacation experience, and despite limited space, Seaside has performed waterslide feats I've never seen before. Case in point: the dueling race slides that jut out over the side of the ship, where you'll speed around 525 feet of transparent tubes looking down at the ocean until you're spit out in the middle of a jungle-themed adventure park.
The real waterslide showstopper is the bodyboard slide, where riders jump on boards equipped with electric consoles and plunge through an abyss where colorful lights pulse to the beat of electronic music. It's like being in a South Beach nightclub, except with water shooting into your face instead of some cork-popper's Ace of Spades. The slides also use the same wristband technology Universal uses at Volcano Bay to speed up lines. In five days, I never waited more than two minutes for a slide.
Courtesy of MSC Seaside
There's a jungle with a retractable roof pool
Just off the waterpark sits Seaside's jungle pool, decked out in the tropical fauna. Yes, the kids are squealy, but it's otherwise a calming oasis with comfy lounge chairs set next to ferns, palm trees, and bamboo with a full bar and a couple of hot tubs. The jungle pool turns into a greenhouse pool when its raining, via a big, retractable glass roof that slides over top. You know who else has a retractable roof pool? Trick Daddy. That's not a coincidence.
Two 344-foot ziplines sit over the back half of the ship
Usually, the only way to get a great panoramic view of Florida is to find the top of the nearest freeway onramp, or to date someone with an expensive condo. On the Seaside, you just climb to the 19th deck and strap yourself into one of two ziplines that connect the middle of the ship to the 16th-deck pool. You'll glide over the heliport and wave at all the sunbathers at the Miami Beach Pool below. For your phone's sake, and the safety of everyone under you, please don't take a zipline selfie.
You can drive a Formula One car on a ship
Another great Florida adventure? Our drivers. Much safer is the F1 simulator aboard Seaside, where you'll get into a full-replica race car, strap in, and race around an actual course on the video screen. Having driven an actual race car once, I can attest that the handling and shifting in this thing are remarkably accurate, if not terrifyingly stiff. Of course, crash on a turn here and the worst that happens is your friends laugh at you for being awful behind the wheel. Though if you're from Florida, that's pretty much a given.
Ipamena Dining Room

| Courtesy of MSC Seaside
The restaurants are good, and you won't blow your whole vacation budget on them
Florida has some great restaurants, but dinner at most of them will run you more than a week at the Dania Beach Motel 6. Seaside's specialty restaurants can hold their own with any of them, and cost a lot less. Roy Yamaguchi -- of the Hawaii-based Roy's restaurants -- heads up the Asian selections here with sushi, teppanyaki, and fusion concepts. There's also a steakhouse busting out 21-day dry-aged steaks and an impressive wine list. Ocean Cay, a seafood spot decked out in beach house weathered wood, feels a little like eating in the Keys. All have prix fixe menus available for around $39.
A boardwalk surrounds the whole thing
Our state's preeminent boardwalk is in Hollywood. While nice, it's also full of people who look like they arrived for Spring Break 1986 and forgot to go home. Seaside's boardwalk surrounds the entire ship and meanders through bars, restaurants, and lounge chairs, creating a respectable simulation of a beachfront even sans sand. The most intriguing/stomach-dropping feature is the skywalk, a transparent glass floor along the side of the ship where you can look straight down into the ocean as you take your morning stroll.
Zombies here won't actually eat your face
In a nod to Orlando-style 4-D theme park rides like Universal's
Men in Black
, Seaside's XD theater straps you into a chair, hands you a "gun" that looks a little like a CVS checkout scanner, and sends you on a jolting ride to save the world from zombies.
You can choose one of four scenarios -- the one I did was a zombie invasion -- and then ride through car crashes, falls down stairs, and into the middle of an apocalyptic zombie attack in moving, vibrating seats. Shit gets real in a hurry. If you're slow on the trigger the zombies simulate eating your face and spitting flesh out to the side. (Cue the Google searches for "bath salts.")
Aurea Spa

| Courtesy of MSC Seaside
It looks like a floating condo tower, inside and out
If you've ever had the pleasure of visiting a Miami glass condo tower, you know they have the feel of modern luxury. Sleek furniture in whites and greys sit in front of chrome moldings and mirrored walls. Floor-to-ceiling windows give views out onto turquoise waters. And small halogen lights illuminate the whole thing. Seaside rocks the same aesthetic, with common spaces done up in light colors with big windows, and the only reminder you're actually not somewhere in downtown Miami is the boat's constant motion.
Dope trip to Florida, minus the meth and mosquitoes, right? Well, it still don't come free. A seven-night cruise through the Caribbean starts at $449, with balcony cabins closer to $900. For that price, Seaside will take you the likes of Jamaica, Grand Cayman, and Cozumel on one itinerary, and St. Thomas, Antigua, and Nassau on another. There are of course add-ons like unlimited drinks and specialty dining. That's all up to you, you hedonist.
So maybe the MSC Seaside hasn't COMPLETELY captured the glory of the Sunshine State, but it comes darned close. The design, food, waterslides and theme-park attractions make a surprisingly coherent collection of all the reasons people go on vacation either in Florida -- or at sea, a safe distance away from it.
Sign up here for our daily Thrillist email and subscribe here for our YouTube channel to get your fix of the best in food/drink/fun.
Matt Meltzer is a contributing writer to Thrillist who wrote this from the jungle pool while taking intermittent waterslide breaks. Follow him on Instagram @meltrez1.