Welcome to Thrillist 50, your guide to fun and adventure in 2023. Think of it as your comprehensive roadmap for checking out exciting events and new attractions coming over the next 12 months, going on bucket-list trips, reconnecting with yourself and your community, expanding your mind, and of course, experiencing the flavors we're most excited about this year. There are so many reasons to live like there's no tomorrow. Start here.
A professionally trained Muay Thai fighter who goes by the moniker "Boy" is screaming at me. "Kick! Double kick! Knee! Knee again! Lean back! Kick! Use your hips! Double kick!" I gasp for air, struggling to keep up with Boy's demands. A burst of early confidence (courtesy of a background in high school boxing) has eroded into exhaustion, and I've started to get my wires crossed as Boy calls for a knee after a kick, an elbow after a jab, in quick succession.
"Elbow!" he shouts. I punch. He giggles, delighted by the mistake, but in such an inoffensive and jovial manner that I feel he's laughing with me and at me all at once. "Hehehe," he crows. "Elbow! Elbow!" And so goes my private Muay Thai training session at the Four Seasons Hotel Bangkok at Chao Phraya River—not a triumph, maybe, but certainly an unforgettable experience.
Most hotels don't house a full-size Muay Thai ring, but most hotels aren't the Four Seasons Bangkok. It was through general manager Lubosh Barta's insistence and connections that the hotel came to have the ring, which is located in the property's two-story Urban Wellness Center. The reason? "Muay Thai is at the heart and soul of many fitness, lifestyle and cultural fundamentals all across Thailand," explains the hotel's spa director Ben Carter, "from the smallest of countryside villages, to the fast paced environment of the capital Bangkok."
According to Carter, the Muay Thai ring itself "was a custom build by a Thai family in Chiang Mai." That same family's operation has grown to produce rings for a multitude of professional competitions, and counts Barta, who's spent his career working at luxury hotels in the region, as an early supporter. "They wanted to say thank you to him for supporting them well over 10 years ago when they were just a small local company starting out," says Carter. Thanks in part to Barta, he says, "they have grown to be one of the leading ring manufacturers in Asia and around the world."
Group Muay Thai classes are available on a complimentary basis throughout the week, and guests can also enroll in private sessions, as I did. If you opt for the latter, you may come back to your room the night before your early morning engagement and find that the hotel has provided a monogrammed pair of Muay Thai training trunks for the occasion. There's no backing out now, is there? The trunks will help you look and feel the part (important!), but they won't prevent you from flailing helplessly around the ring (ask me how I know).
The training is designed for people from all walks of life and experience levels, and attracts a wide range of hotel guests. "These sessions are designed to match each guest's abilities, so everyone gets something different from each session, each time," Carter says. Most enrollees are new to the sport and eager to test themselves—both physically and mentally—while enjoying a new experience.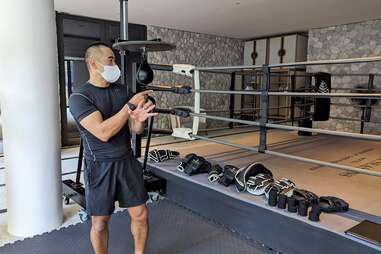 Muay Thai classes and training sessions begin with tutorials about stances and how to throw the full assortment of punches, elbows and kicks. After that, you climb through the ropes and enter the ring for a few rounds with Boy, 2-minute intervals that will leave you pondering how so much physical suffering could possibly be contained within 120 seconds of an activity for which you willingly signed up.
On the bright side, I reflect as I nurse my aches and pains over breakfast pizza and congee from the buffet after my session, getting my ass kicked first thing in the morning means there's nowhere to go today but up.
For those who crave some recovery time post-Muay Thai, relief is nearby. You could limp or roll yourself downstairs and into the spa, or head to the sultry pool deck, where the 9-acre property's rear terrace abuts the river with its constant flow of ferries and long-tail boats. The peaceful, tree-lined space dotted with serviced daybeds feels a world removed the clamor of Bangkok, let alone the perils of that Muay Thai ring.
After all, "Thai boxing is about balance; it's fitness, not fighting," Boy says. "You feel it in your heart." And what better way to balance your exertions than to relax by the pool?
Jake Emen is a freelance travel, food, and drinks journalist, and a contributor for Thrillist. Follow his latest adventures @ManTalkFood.