How to survive Munich's Oktoberfest: a guide
Originally thrown to celebrate the marriage of Prince Ludwig and Princess Therese in 1810, the first Oktoberfest party was so much debaucherous fun that the residents of Munich decided to do it again every autumn. Taking place on a giant field called the Theresienwiese -- or just "Wiesn" to locals -- the city's big blowout runs through the first weekend in October, regularly tapping over 7 million liters of lager over the course of 16, 17, or 18 days. Here's what you need to know to get through it alive (then be sure to check out our Munich Destination Guide, and round-up of the city's eight best bars and coolest restaurants). Prost!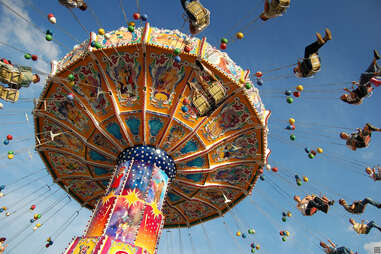 Chill out
The bafflingly huge setting of the Wiesn can be hard to get your head around; in addition to its carnival rides, bicycle race track, puppet theaters, and folk-dance performances, Oktoberfest has 14 gigantic beer tents. The largest -- the Hofbräu-Festzelt -- has enough room for over 10,000 of your closest drinking buddies. In addition, dozens of smaller tents serve other kinds of food and drink. "Don't get hung up on one particular tent", says Michael Thomas of Spyglasstours.com. "Just have fun. The more open you are, the better your experience will be".
Start early
With over six million visitors each year, the Wiesn is often packed, and many tables are reserved way in advance. "The best time to go to the festival is in the morning, especially during the week", says Daniela Kammermeier of Munich's Tourism Office. Most of the tents have free seats until around 3pm, and in addition to more space, you'll find food and drink prices are slightly lower. "If you prefer to go on the weekend, you have to be very early in order to get a table". By "early", Ms. Kammermeier means "before 8am".

Ask for help
If you absolutely have to go on the weekend, and don't want to get out of bed before dawn, find any open tent -- closed doors mean they're full -- and look for the head server, who will be well-dressed and not carrying food or drinks. "Let them know how many in your group and that you want to eat", says Michael Thomas. "They will either help you find a seat or tell you they are full". And if they're booked? A discreet €20 might help.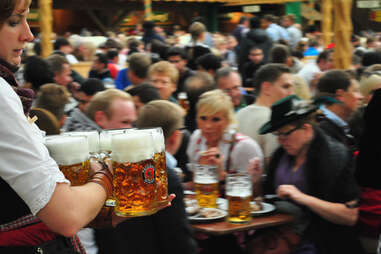 Lower your expectations
Yes, this might be the world's biggest beer festival, but if you're a hophead who pounds IPAs back home, the brews on the Wiesn are probably not going blow your mind. "If you've tried an Oktoberfest beer or Märzen from the US, they have much more character", says Sylvia Kopp, a beer sommelier and writer who runs the Berlin Beer Academy. "Oktoberfest is not at all about good beer. It's just a party". Or as Ryan, a Ratebeer geek, put it after a visit last year: "The beer is decent at best, but the atmosphere spices it up quite a bit".
Don't blow it
Each 1L "Mass" serving of beer holds more than two powerful US pints, which range from 5.8% alcohol (in Hacker-Pschorr beer) to 6.3% (Hofbräu). Pace yourself. Consider ordering a non-alcoholic beer or some water. And eat something -- the gigantic pretzels, roast chicken, and 18in sausages are a big part of what Oktoberfest is all about. And no matter how much fun it might appear, don't get on a roller coaster or any other carnival ride if you've had more than two Mass glasses of beer.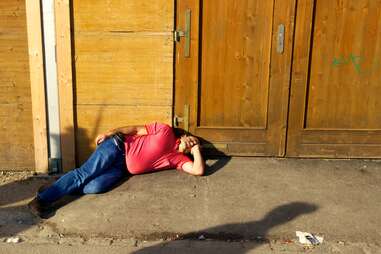 Plan ahead
"If you want to go to Oktoberfest, the hardest part is finding a decent hotel", says Michael Thomas. "The nice hotels are sold out a year in advance". That said, Michael notes that spontaneous visitors can still get lucky -- even right at the buzzer. "If you're a last-minute planner, you can still find some great deals the day before you arrive, as people cancel rooms they had held".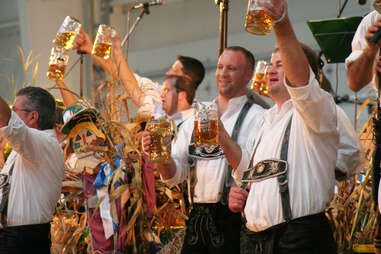 Cheat to win
Chugging to the chants of the crowd is fun, but give yourself a head start: the 1L Mass glasses are huge, and nobody wants to watch you take forever. "Last year, I stood up with an almost-full beer and finished only three-quarters of it before being mercilessly booed", says Mike Saxton of BeerTrips.com. His advice? "If you're going to stand on a table to drink for the crowd, start with just one-third left in the Mass glass and then finish it to get the cheers."