13 Reasons Why Sun Valley, ID Should Be On Your Bucket List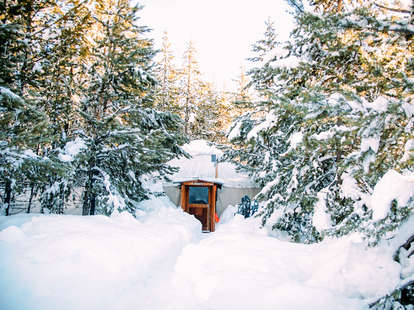 If you've heard of Sun Valley, it's likely thanks to a long history as the country's first destination ski resort, dating back to its early days attracting icons like Ernest Hemingway and Ingrid Bergman. So yes, skiing here should definitely be on your bucket list if you like to hit the slopes. But there's so much more to this small mountain town. From hiking to fly fishing to roughing it in a cozy yurt, Sun Valley is a year-round destination. That's why we've rounded up everything you gotta do once you arrive. In fact, after mapping out all the must-dos, you might find yourself scrambling to include some ski-time in that itinerary. (If that's the case, just book an extra day. It's worth it.)
Take in some local art
Sure, you're here for the great outdoors, but Sun Valley is known for fostering artists, too. (*cough* Hemingway *cough*) There are several galleries to check out if your ski legs get sore. The contemporary Friesen Gallery has been in the heart of Ketchum for more than 30 years, while the Aurobora focuses on prints and fine art presses (it also offers workshops on weekends). Stone features even more untraditional mediums, with it's art centered on semi-precious stones, fossils, and marble. (Plus, it's headed by a local artisan.) If you want to take in some local art while enjoying the fresh mountain air, there's plenty of street art to check out as well, from painted utility boxes on the sidewalks to giant sculptures. And if you want to pay homage to Papa, Sun Valley is the midpoint between his memorial and his grave at nearby Ketchum Cemetery.
Spy celebrities at the Sun Valley Lodge
Shortly after becoming a ski destination, celebs like Clark Gable, Gary Cooper, and Ingrid Bergman started flocking to check out the slopes. They all stayed at one place: the Sun Valley Lodge. Their photos, plus plenty of other visiting (and resident) celebs line the walls. (Arnold Schwarzenegger, Clint Eastwood, Bruce Willis, and Bill Gates all have homes in the area.) While you're keeping an eye out for current stars, enjoy the outdoor skating rink, hot pools, spa, and shopping on site.
Hike to an old pioneer cabin
There are over 400 miles of mountain biking available in Sun Valley, and there's even MORE hiking trail mileage to potentially cover. One of the best-loved day hikes is the one to Pioneer Cabin, which rises 2,400 feet in just four miles. You'll get awesome views of the Pioneer Mountains, and end up at the Pioneer Cabin, which goes all the way back to the '30s. You can call it a night and take shelter there if you have experience camping in spring, or make it a loop by following the Corral Creek trail near the Sun Valley Lodge. (Oh, and make sure to snap a pic of the sign on the cabin roof that says: The Higher You Get, The Higher You Get -- it's practically the town motto.)
Dip in a secluded hot spring
After hitting the slopes, there's nothing like climbing into one of nature's hot tubs, and Sun Valley has plenty of options. The springs you want for a warmer, less-crowded soak are the Sunbeam hot springs in nearby Stanley, ID, part of the Sawtooth National Recreation Area. There alongside the Salmon River lies a stretch of soaking opportunity that's quiet enough to make you fully appreciate the whole "communing with nature" idea.
Cozy up in a yurt
The Galena Lodge is an idyllic winter escape, with Nordic skiing, backcountry skiing, and snowshoeing. Best part? They rent out yurts with wood stoves to keep you nice and toasty on a chilly winter night. They're only accessible by "human power" -- meaning you need to be able to ski or snowshoe your way to them, but the onsite sauna and remote locations are well worth the trek. Coyote Yurt offers similar accommodations, but is situated 8,700 feet high in the Smoky Mountains -- so it's best for the views and more advanced skiers.
Drink like the locals do
One of the best ways to get a feel for a town is to hang out at the local watering holes, and Sun Valley has plenty to keep your itinerary full after a day spent exploring. The guys behind Warfield Distillery & Brewery on the corner of Sun Valley and Main have created an upscale brew pub with its own stillhouse. (Their focus is vodka and gin, but whiskey is in the works.) Ask a local and they'll tell you not to pass up a marg at the Pio (aka the Pioneer Saloon) which has been serving the community since the 1940s. Make sure you nosh on some classic Western fare while you're there, too -- they age their own beef in-house. For the ultimate townie dive bar experience, though, head to The Casino -- allegedly Hemingway had a few here back in its heyday.
And eat like 'em, too
Did you really go on vacation if you leave without a new favorite restaurant to miss? We think not. For casual fare, hit Grumpy's after the slopes to try what locals call the best burger in town, plus schooners of beer and lots of eclectic knick-knacks on the walls for decor. To switch things up, though, you'll need to place an order at Rickshaw, which offers Asian street food -- everything from Korean fried chicken to pho and Vietnamese caramel pork ribs. When you're ready for something a bit more upscale, CK's Real Food is the place to make a reservation. They specialize in local and regional ingredients in New American dishes, like their Lava Lack Rack of Lamb, served with an Idaho cannellini bean and kale ragout. Plus, they get a ton of their produce from their "back alley" farm and even make their own pickles in house. Ecological!
Take a very 'grammable drive to Stanley
In nearby Stanley, Redfish Lake is about an hour's drive into the heart of the Sawtooth Mountains and well worth the mini-road trip. Once there, you'll find a super remote setting with crystal blue waters. While it's closed in winter, the dinner at the Redfish Lake Lodge in the warm seasons is the perfect closer to a day spent exploring. Or head there first thing to rent a pontoon boat for you and 13 of your closest friends. You can hike through the mountains too!
Fly fish in pristine waters
When it's not ski season in Sun Valley, it's one of the most popular fly fishing destinations in the country. That's because the fresh waterways in the area support about 4 million (yes, with an M) wild salmon and steelhead. At the Silver Creek Preserve, you'll find huge brown trout -- plus it's a wildlife refuge, so you'll also get to check out 150 species of birds (including eagles and hawks) while you cast off. Big Wood River flows right through Ketchum, if you're looking to stay local, but Salmon River is where Idaho's salmon and steelhead call home after migrating from the Pacific Ocean.
Watch 1,500 sheep take over the Main Street
Sun Valley is home to dozens of events throughout the year, from its annual Sun Valley Writers' Conference to Nordic skiing weekends, music festivals, and wine auctions. But, one of the most, erm...unique is their Trailing of the Sheep festival. Every October, they shut down the main arteries through town and let 1,500 sheep parade through the heart of Ketchum, as an homage to the town's sheepherding roots. There's plenty of food, sheep dogs(!), and even a "wool fest" that happens throughout the weekend.
Scavenge for vintage ski finds
Remember that episode of It's Always Sunny where "the gang" goes on a full '80s ski trip? There are enough vintage stores in Sun Valley to totally recreate that vibe. Gold Mine Thrift Store is one of the best options, where you and your friends will find Madonna-worthy one pieces to sport down the slopes for $10. Just make sure you avoid a gaper gap (when your ski goggles don't meet your helmet) unless you want to let everyone know you're from out of town. Other outlets include Deja Vu, which offers up vintage clothing, as well as Antique Alley for eclectic knick knacks and other unique finds. Last, at Maude's Coffee & Clothes you can peruse the racks while you sip your morning cappuccino.
Don't forget to warm up...
Once you've enjoyed Maude's, you've got even more coffee options to explore. Whether you're kick starting your day on the slopes or warming up after, Java on Fourth offers speciality coffees and espresso drinks that will do the trick. Go for the "Bowl of Soul" -- a mocha made with a spicy Mexican chocolate, and stay for the baked goods. (Spicy pumpkin bread, anyone?) When you need a cozy place to kick your feet up for a while, though, try Konditorei. It's an Austrian-inspired coffee and breakfast house with a gigantic fireplace and Old World hot cocoa -- meaning it's made with steamed milk and dark chocolate, so it's practically dessert.
..and cool down
Be sure to save room for dessert at a la Mode before you leave. While they also do hot cocoa and other treats, they're the go-to spot for huckleberry everything: ice cream, sundae sauce, you name it -- including a VERY 'grammable huckleberry milkshake. Of course, they face competition from the seasonal Smiley Creek Lodge, so you just may have to drink TWO delicious shakes and compare their worth before you leave. If you're up for that delicious ordeal, let the Great Shake Debate commence...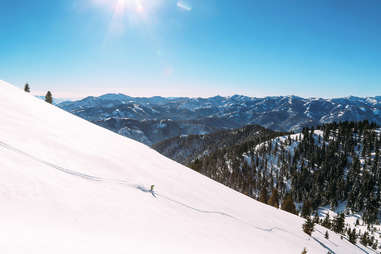 Ski, obviously
Sun Valley is considered "America's First Destination Ski Resort" -- so you better spend some times on the slopes while you're there. You can peep the world's first ever chairlift on Ruud Mountain (sadly defunct now but still an impressive piece of history). If you're a beginner, Dollar Mountain is the place to get your start, because it's practically treeless. (So even if you're clumsy, you'll rock it after a few lessons.) For more advanced skiers, Bald Mountain is an Olympic training site -- so if you're trying to humblebrag to your friends, this is the route to take...assuming you have the skills to tackle it.
Even supremely advanced daredevils will find a challenge at the Sawtooth Mountains, which comprise one of the best spots on earth for backcountry skiing. If you have to look up what it is, you're not ready to do it. In fact, even if you know what it is, you're still probably not ready to do it. Experts only, please.

To take things to another kind of extreme, try helicopter skiing. Skiing from a chopper began here, and Sun Valley Heli Ski runs guided tours through three area mountain ranges. And yes, we fully guarantee you'll feel like James Bond when you drop out of the chopper.