Paid Content For
8 Must-Dos to Own Your Next Cruise Experience
Paid Content For
Dan Evans/Thrillist
Dan Evans/Thrillist
You've got your cruise booked. Well done. Now you need a plan to make sure you maximize your time at sea -- as in, you return home relaxed rather than mad you didn't get to swim with dolphins. Here are eight cruise hacks to make sure you don't miss out on a second of action (or non-action, for all you sunbather/readers out there) once you push off from port.
Leave your arrowhead collection at home
You're not going backpacking through Southeast Asia. You're going on a cruise. It's essentially a floating city. And even if it's a small cruise, you're still making stops among civilizations. Essentially: don't sweat it. Do you really need five shirts if you're living half naked by the pool all the time?
Checklist #1
Pack a carry-on with everything you need to get through day one before your checked bag arrives. If the thought of your electronics dying makes you have a minor panic attack, make sure that includes an extra charging station -- cabins are notoriously short on outlets. You'll also want to check 2 things with your cruise line:
1. Dress codes: as in, any requirements more formal than flip-flops and board shorts.
2. BYOB policies: many cruises let you bring champagne onboard, but your rum in a mouthwash bottle isn't fooling anyone.
Want to ride ATVs and helicopters?
Of course you do. Shore excursions -- like riding ATVs through the jungle, flying in a helicopter over glaciers, or really any other badass thing you could ever dream up -- are best booked in advance. Otherwise you're going to cry tears into your couscous that you didn't get to ride Stan the camel into the sunset.
Checklist #2
Check out all your options online to figure out what you want to do and as soon as you book your cruise, book your activities to guarantee your spot. Same goes for spa treatments and dinner reservations at specialty restaurants.
Don't get left at port
You don't want to be that person who misses their cruise because of a delayed flight that gets in too late or because you hit too much freeway traffic. Arrive long before the ship leaves so you don't have to run, huffing and puffing, up the gangplank as passengers glare at you for delaying their vacation.
Checklist #3
Book your flight or drive to port a day or two early so you don't have to stress about waving at your ship as it pulls out to sea. Without you.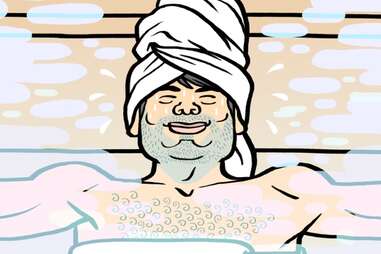 Time your activities
Depending on what kind of cruise you're on, things like elevators can get crowded. Your best bet is to take the stairs and earn that ceviche. Rise and shine early to snag a prime poolside lounger and consider doing any gambling during the day when you'll have free reign of the casino. For spa treatments, see if there are any opening-day offers.
Checklist #4
Just like on dry land, some people reserve tickets, but don't show up (jerks). Get in line early for evening shows and you may be let in once the no-shows, well, don't show. And any live shows may be rebroadcast on your TV if you're really bummed you missed Mamma Mia.
Don't bother using your shower
Depending how many people you're sharing a cabin with, finding a time when the shower is actually open can be a little tricky. Spa passes are usually more affordable than services like massages, but still give you access to facilities like steam rooms, saunas, and showers that may be nicer than the one in your room.
Checklist #5
Pack a robe if you want to make the walk from your room to the spa extra convenient.
Skip port calls
Ok, if you really want to see a particular place, do it. But, if you can live without seeing another port town, and you're a fan of peace and quiet, you may find you've got pools and loungers and sundecks all to yourself.
Checklist #6
If you do go on an excursion -- especially if you go off on your own -- set an alarm so you don't have that panicky moment of, "Is that our ship leaving? Without us?"
Forget the concept of a dining room
When you're on vacation, getting out of bed at a set time is really hard. So don't feel pressured into getting ready for breakfast in time -- you can always order room service (check into additional charges). Additionally, on embarkation day (a.k.a. the day you leave), don't make the mistake of heading straight for the buffet. To avoid the crowds, see what else is open and bring your food haul to your cabin (or really anywhere on board).
Checklist #7
Get menus in advance for specialty dining so you can make reservations for meals that sound good while avoiding dining on nights full of food you're not into.
Avoid Davy Jones' revenge
Hopefully you're not plagued by the sea sickness. But if it hits, don't think you have to sit (or hunch) and suffer, or run around aimlessly looking for a cure. Instead, see if the ship offers seasickness meds for free (most have doctors on board), or have room service bring you some green apples (apparently, people swear by them) and other bland foods to settle your stomach.
Checklist #8
Have a game plan for if the scourge hits your stomach. Pack your own meds just in case (ginger products work wonders), but know you've got backup if they don't work.