Everyone thinks their college is the best college. And while no college is outright BAD, some are certainly better than others. And from there, it reasonably follows that one college -- and the town that makes it what it is -- must be the finest of them all.
Over the course of many tireless months working much harder than actual college students, we'll be conducting our noble Search for America's Best College Town. Now keep in mind, we're not really talking about academics at all, and in some ways, even sports are only a small part of the formula. It's the everything else -- the bars, the burgers, the bars, the buildings, the lovable famous weirdos on the streets, the weather, the bars -- that build a college town's case. Get ready to re-enroll.
Next up: East Lansing, home of Michigan State University. From Magic Johnson and Nate Silver, to late-night Dubs and Burgerama, here are 15 reasons why nobody can stop East Lansing.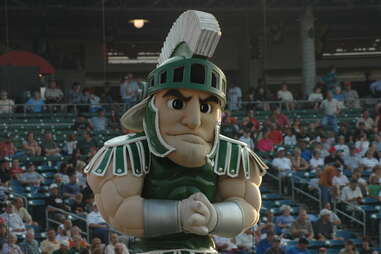 The two Spartys rule
One is a svelte, semi-nude copper statue (formerly a terracotta warrior) in the middle of campus, who is annually fiercely guarded from vandalism attacks by Wolverines. The other is a gigantic, hyper-steroidal, sideline-dwelling badass with a giant chin and biceps that make Schwarzenegger's seem flabby. Suck it, Gerard Butler. These are the real Spartans.

The campus is an aphrodisiac
State's one of the most walkable and beautiful campuses in the country, and pretty much any area is good for a cheap date or a pre-hookup courtship. In the fall, the colors rival New England. In the winter, the Red Cedar looks like a Hallmark card. That's to say nothing about kicking it outside Beaumont Tower, checking out a show at the Wharton, or perusing the horticulture gardens, which include an indoor butterfly house. Seriously. Chicks love butterflies!
Long Islands at the Barrel
A second home for the bleary-eyed journalists at nearby State News (A&C section represent!), the Barrel's kind of the opposite of every other rowdy bar in town, in that you can sit back on the patio, enjoy a great burger, and get one of the best Long Islands you've ever had. Or get two. But no more than two. Because you're not allowed to.

One word: Burgerama
The Riv's weekly Burgerama is like the Thunderdome of bar nights. There's a huge line to get in, all based on cheap beer pitchers and cheaper burgers. You will be crammed like sardines among sweaty, goofy, probably horny people. You will lose your voice from yelling over the music. You will probably smash faces with one of those people, and said face smash will include the exchange of bits of ground beef. You will probably go home with that person's roommate. You will come back next week. This will all be even more awkward -- and kinda creepy -- because you've been out of school for six years.

Popcorn, peanuts, and the Lansing Lugnuts
Few things are more satisfying than watching the terribleness of a minor-league baseball team at Lansing's Cooley Law School stadium. Even better than cheap tickets and laughable baseball? Thirsty Thursday, featuring $2 beers.

Climbing at Grand Ledge
Just down the road from EL is Grand Ledge, which features some of the best rock climbing in mid-Michigan courtesy of exposed sandstone cliffs jutting out over Grand River. We're landlocked, folks, and we take what we can get. Luckily, Grand Ledge makes you feel like you've driven into the UP, if only for a moment.
With its great burgers, karaoke, giant pizzas, and rowdy crowd, Crunchy's would be a perfect bar on its own. But it's also the joint with the one of the area's most diverse tap selections and lineups of craft beer. And lest the idea of sipping a mere pint of a double IPA defeats the reason you're there, they also do beer buckets -- just, instead of a pail of ice and bottles, they stick a mop bucket under the tap and dump a case's worth in that sucker.

Ummm... did somebody say Brody Beach?
The tree-covered shoreline outside the Brody complex -- where students go to shed their parental leash -- is a legendary spot for clandestine parties. It's where many a freshman first learned the hidden meaning of "go green."
St. Patrick's Day
Speaking of "go Green," St. Patrick's Day in East Lansing is like somebody saw what goes down in Chicago and said, "You know what, we can make this even dumber." The streaks of green beer splatter on the snow make the city look like a Dr. Seuss book.

Cedar Village is kinda insane
The slightly-off-campus Cedar Village is ground zero for street parties, riots, and general debauchery. It's like a halfway house between college life and adult living, with all the idiocy and none of the RAs telling you to put pants on. If you finish a year in Cedar Village without knowing what tear gas smells like, it was an off year.
Nobody is better at statistics, or kicking the crap out of people
Who's gonna win Wyoming's three electoral college votes in the 2024 Presidential election? Oh, maybe we should just ask statistician savant and East Lansing native-son, Nate Silver, he'll know. East Lansing High School Debate Rules! Also, although technically from nearby Lansing, it's close enough that we'll claim him: Steven "Protect Ya Neck" Seagal, baby!

Although, let's not forget the alumni
Magic Johnson. He went here. No biggie. He was just a legend that even a horrible disease couldn't keep down. We also have James Caan, Bubba Smith, and Tom Sizemore. Actually, maybe that's not such a thing to be proud of. But Eminem came here… it was just to drop off Hallie, who goes here now. But we'll take it.

Or the man himself... Tom Izzo
MSU's basketball coach is one of the most respected and beloved in the history of the NCAA, and that's based on his sterling win-loss record and community-wide regard as a generally swell guy. Coaching the Spartans was his lifelong goal. He's like Horatio Alger in a suit. Also, Lupe -- his wife -- is a saint.
Late-night Dubs, of course
Basically a giant monstrosity made by mating a burrito, a calzone, a pastry, and whatever is in the fridge, the Original Dub at Menna's Joint isn't billed as "obscenely delicious and wildly addictive" for nothing. Prefer the best/worst 2am pizza ever (plus grinders and Greek snacks)? Well, then, say hello to Bells.

And finally... Best. Ice Cream. Ever.
It's true. Michigan State is a cow college with a prominent dairy school. And with that designation comes some of the best ice cream, cheese, and grilled cheese in the world. And you can get them all on campus at the Dairy Store, where everybody takes their parents to show them what a wholesome college experience they're having.
Andy Kryza is a senior editor on Thrillist's food & drink team, a 2005 alum, a former Emmons resident, and the proud owner of a closet full of MSU hoodies. He cried a lot in college, which means the tear gas was working. Follow him to Wolverine shaming: @apkryza.