The National Parks Are Fashion Now—But Who Benefits?
From Acadia to Yosemite, the parks have become a brand unto themselves. But not all merch is legitimate merch.
If you haven't noticed, national parks are having a moment. Park visitation has soared, camping is cool again, and the National Park Service's X account has gotten downright quippy. There's even a new hit podcast by the Washington Post that explores the complicated history of the parks. And then, of course, there's the merch—lots and lots of it—from "Yosemite" sweatshirts to tees emblazoned with "Arches" and "Zion." Some of these items are official gear sold by the parks themselves, but many of them are not.
Enthusiasts do not have to be anywhere near a pine tree or mountain to see parks pop up on shirts, mugs, and stickers. From national park-centric retailers that donate proceeds to the parks and sustainability efforts (like The Landmark Project and the Parks Project) to a "Montana National Parks Adventure" sweatshirt you can buy at Forever 21, color-blocked sunsets and park names are now a top fashion choice.
This rise in the coolness factor of national parks has left many visitors wondering who their purchases benefit: The parks themselves, or the pockets of private companies. It turns out the answer is complicated. Jeff Stebbins, a public affairs specialist at Grand Canyon National Park, says there are two authorized concessioners for the park (Xanterra and Delaware North) that provide merchandise at park gift shops and other hospitality services with the full support of the National Park Service (NPS). For park stans looking for official collaborations across the country, he directs consumers to check out the NPS's list of authorized concessioners.
Many National Park Service sites utilize third-party vendors in this way, and the relationship between the two can be confusing for shoppers. In Philadelphia, for example, Independence National Historic Park (which is managed by the NPS) has a third party vendor manage merch. Laura Smythe, the communications manager for Visit Philadelphia, explains how various local organizations work together. "The retail store at Independence Visitor Center is managed by a company called Event Network, and that contract is managed by the folks at Philadelphia Visitor Center Corp., a nonprofit." The nonprofit receives a portion of the proceeds of sales, which benefits the park directly.
The NPS also officially partners with some online retailers, like the aforementioned Parks Project, which has been donating proceeds to the parklands in an official capacity since 2016. They've given over $2 million to the parks to date. There are also smaller organizations, such as Asheville's Nature Bound Co., that do not officially partner with the NPS but do donate a portion of their sales to conservation efforts. For each tee purchased, Nature Bound Co. plants a tree through One Tree Planted.
As to why this merch is flooding the market? Author Emily Pennington spent hundreds of hours on the road visiting every national park in 2020, which she chronicles in her memoir Feral: Losing Myself and Finding My Way in America's National Parks. She says the merch trend makes sense to her as someone who has spent years in love with these public lands. "I think it's a complicated combination of millennial trends that are coming to light as this generation firmly enters their 30s, to be honest."
She says that travel itself has become a status symbol for a generation that has been priced out of the real estate market. "The national parks provide a serene—and social media-friendly, in many cases—antithesis to our smart phone-addled city lives, and that seems to be stoked by other economic issues facing younger generations. I think park merchandise is one way of showing pride for something you love."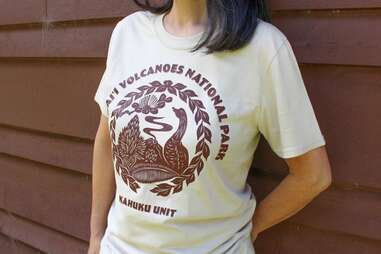 She encourages visitors to do their research and shop responsibly while following this trend, though, ensuring the proceeds of their purchases go to helping the parks. "Some of them give back 10% of profits to trail building initiatives or to the National Park Foundation, which is a great start, but it's a drop in the bucket compared to supporting small businesses in and around the parks themselves."
Pennington's own favorite piece of park merch comes directly from a park gift shop. "When I completed the John Muir Trail in 2021, I finished sore, sweaty, and tired in Yosemite Valley and found a trippy John Muir quotation graphic on a cheap unisex T-shirt in the gift shop." Filthy and worn out, she swapped tops before heading home. "I bought it immediately to mark the occasion and loved the feeling of finally getting to wear a clean T-shirt on the shuttle ride back to my car."
That said, no matter how much you love America's national parks, it's worth getting a complete picture of how and why they exist before shelling out for merch. Karl Jacoby is a professor of American History in the Department of History and Center for the Study of Ethnicity and Race at Columbia University. In his book Crimes Against Nature: Squatters, Poachers, Thieves, and the Hidden History of American Conservation, he takes a deep dive into the complicated history of the National Park Service.
"Despite the popular idea that the national parks protect wilderness, they actually created wilderness through the removal of Indigenous peoples from the landscape," he explains. Jacoby says this does not mean it is wrong to enjoy the parks—or their T-shirts—but wants people to be aware and always learning. "One needs to be alert to the history of the parks, and realize that what you are seeing is not primordial nature but rather a created landscape that came about at considerable cost to Native nations."
Jacoby says that despite their deeply political past, the parks can feel like a neutral good to today's travelers. "National parks play powerful roles in American culture as reservoirs of supposedly pristine nature, places untouched by either humans or history," he says. "As a result for many Americans, the parks are places where they feel most in contact with what we might call the sacred or the divine—with Nature with a capital N. I suspect that this is why the parks are growing in popularity. At a time of political polarization, they seem to offer a retreat from the all-too-human world that surrounds us on a daily basis."