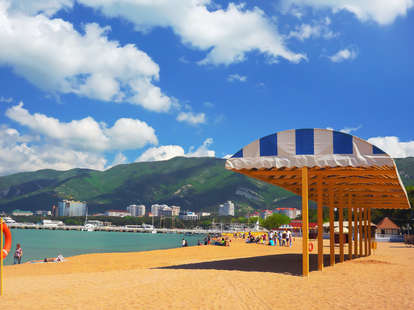 Gelendzhik, Russia

| MOROZ NATALIYA/shutterstock
Gelendzhik, Russia

| MOROZ NATALIYA/shutterstock
13 Incredible Places You Won't Believe Are All in Russia
Many things comes to mind when you think of Russia, aside from it being the subject of many recent CNN alerts. Vodka. Being flipping huge (it's bigger than Pluto!). Anna Kournikova. But the truth is, there's a lot people don't know about our planet's biggest country -- including what most of it looks like. (Siberia isn't all covered in snow. Not even close.)
To help illuminate the country Winston Churchill once called "a riddle wrapped in a mystery inside an enigma," we've compiled a dozen breathtaking places in Russia that don't necessarily even look like they'd be in Russia. But they totally are, and you should visit them -- if you have a few weeks to kill, that is. Seriously, this place is massive.
Autumn Park alley -- St. Petersburg
Not only did Empress Catherine the Great live and die in her own palace, it was actually called the Catherine Palace. (Living the dream, Cath!) Right outside the palace doors is a labyrinth of alleys, pavilions, and sculptures all whimsically covered in gold foliage.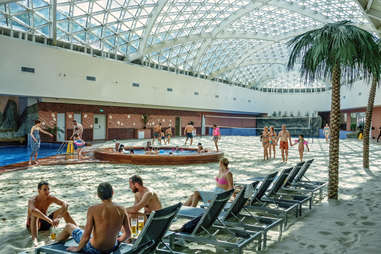 Mountain Beach water park -- Sochi
Brace yourselves: Russia has a crazy water park. This particular one is open year-round and located on an actual ski resort, making it likely the only place on the planet you can ride flumes, splash in a wave pool, play beach volleyball, and hit the slopes in the same day.
The Aymani Kadyrova Mosque in Argun
Known as "The Heart of Chechnya," this is one of the largest mosques in Russia. To give you an idea of just how big, it's been said that tens of thousands of worshipers can pray inside it at one time.
The Bolshoi Theatre
Russia has more than just gigantic mosques! It's damn serious about its ballet; upwards of 200 ballerinas take up residency at this theater, dubbed the biggest ballet company in the world. It's also home to a renowned opera company, and as you can see, illuminated quite well during Moscow's Circle of Light festival.
Valley of Geysers -- Kamchatka
Here's the craziest part about this valley: It's located in a region (namely, Kamchatka) that houses one of the oldest wildlife reserves in Russia, and yet somehow all this spouting water was only discovered in the past 100 years -- from a dogsled. (Starting to sound a little Game of Thrones-esque to anyone else?)
Lake Baikal -- Siberia
The oldest and deepest freshwater lake on the entire planet is not the one that formed in your yard post-aggressive Slip 'N Slide action. It's the crystal-blue waters of Lake Baikal, stretching for a staggering 400 miles through Southeastern Siberia, home to roughly a fifth of the world's unfrozen freshwater.
The Church of Andrew the Apostle on Vuoksi
This tiny wooden church is actually located in the Vuoksi River -- as in it really does appear as if it's protruding from the water. It even nabbed a Guinness World Record as the world's only church built on an itty-bitty island. Plus it's available for weddings. Provided you can arrange transportation.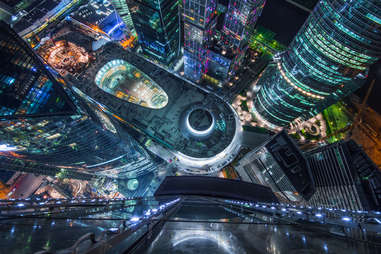 Moscow's Central Core
The midnight view down onto this hotel-shopping-entertainment complex recalls the Hong Kong scenes from The Dark Knight. Away from the Tetris-ready St. Basil's Cathedral, Moscow's glass-and-steel skyline is a reminder that while it straddles the far edge of Europe, its modern aesthetic tilts equally Asian.
Akkurum -- The Mushroom Stones of Altai
No need to bring mushrooms when exploring Russia's Altai region, Akkurum (meaning "white rockslide") grows them for you. These large boulders have been molded by erosion over the years, and the result is a cluster of rocks that resembles fungi edible only to Rock Biter from The NeverEnding Story.
Church of St. John the Baptist at Chesme Palace
First of all, this church looks like an actual wedding cake. And that's not entirely an accident. But perhaps more impressive is that it's maintained its impressive gothic structure since it was built in the 1700s -- even after a pretty aggressive takeover by the Soviet government.
Beach on the Baltic Sea in the Kaliningrad region -- Svetlogorsk
You may not know it, given it's also home to some of the coldest temperatures on Earth, but Russia has a decent beach scene thanks to the coastal towns lining the Baltic Sea. Svetlogorsk is a well-known fishing village, and in the 19th century, was the vacation spot for Germans. Nbd.
Tverskaya Street -- Moscow
If Russia had a Champs-Élysées or Times Square, this would be it. Moscow's culture and history are captured in the architecture, art, and back alleys on this thoroughfare that stretches northwest from Manege Square in the direction of St. Petersburg. Also like the others, expect to stroll this street at exactly 0mph on major holidays like New Year's Eve.
Altai Republic
Crazy stat time: Smack dab in the heart of Asia, this region takes up 25% of Russia. It's also equal distance between the four major oceans: Atlantic, Pacific, Arctic, and Indian, making it the place in the world furthest from salt water. The climate can be either insanely hot or bone-chilling freezing. In other words, if it wasn't for all the various, roaming wildlife -- including camels! -- it could almost be considered another planet.
Sign up here for our daily Thrillist email, and get your fix of the best in food/drink/fun.
Liz Newman is a contributing writer for Thrillist, and hopes that water park has an annual pass. Because she will be going more than once. Follow her on Twitter and Instagram @lizn813.