It's 11:16am on the first Thursday of March Madness, in the Eyecandy Lounge at Mandalay Bay in Las Vegas, and I'm experiencing a dizzying buzz that is due only slightly to the piped-in oxygen and three empty Corona bottles on the floor beside my chair. I have to pee something fierce, but there's no way I'm leaving this spot right now. Flat-screen TVs abound, towering on the wall above us, standing on the tables in front of us, hanging behind the bar, all tuned to first-round games in the NCAA College Basketball Championship Tournament. On the big screen to my right, 3-seed Tennessee is putting a 17-point beatdown on little Wright State; to my left, lowly Penn leads mighty Kansas early, 12-7.
In any other sports bar in the world, all channels would've long been flipped from those snoozers to Oklahoma about to cap a comeback and tie Rhode Island with two free throws as time expires. But this is Vegas (baby!), and I and my fellow revelers are hanging on every dribble in every game. Here, we're not just spectators. We're players.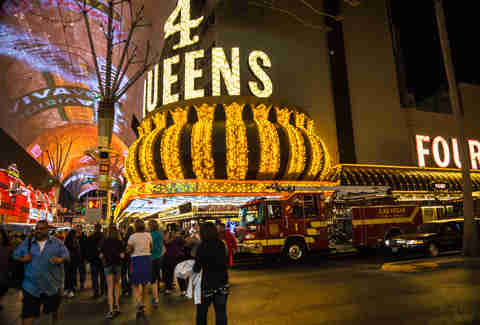 March is pretty much the only time of year when the constant burst of fans cheering drown out the din of beeping slot machines and the clicking of plastic chips. Even in the toniest casinos, collared shirts and cocktail dresses make way for mascot-branded hoodies. During March Madness, the Las Vegas Strip transforms into the world's largest viewing party, with 3.78 million visitors hitting the city that month in 2017 (the third-busiest tourism month in the city's history) and bettors wagering a record $439.5 million on basketball.
Now, I'm not much of a gambler -- I essentially donate a few bucks each year to office bracket pools -- but I was all in when my old college roommate suggested flying to Sin City for the tournament's opening round of 32 games in two days. March Madness is America's greatest sports binge, after all. Where better to watch it than in Vegas, the font of all binges?
Right now, I have my money on three bets: Wright State to beat the 11.5 spread (lose by 11 or less); on Penn to score 15 points before the Jayhawks; and that Oklahoma and Rhode Island will total fewer than 158 points. In succession: disappointment when the Oklahoma player sinks his free throw, tying the game at 69 (138 total points) and sending it to overtime, where they sure enough pass 158; elation when Penn drains a jumper to go up 16-9, winning my bet; and distress again, when Tennessee expands its lead over Wright State into the 20s. Keeping tabs on three games and three separate bets is a rush. Now, it's time to breathe, hit the bathroom, and reflect upon what I've learned in the last few hours.
How to bet March Madness in Vegas? You might want the app.
The first thing we learned upon arrival is that we didn't arrive early enough. We got down to the casino at our hotel, the Luxor, at 7am on Thursday, two hours before the first game tipped, and already the relatively small sports book was packed with sports fans too excited to be hungover -- or maybe still tipsy. The line to place bets at the counter snaked out of the betting parlor and into a nearby bank of slot machines. (Most casinos also offer a VIP area within or near the sports book with all-you-can-eat-and-drink for a cover fee, if you reserve ahead of time.)
We walked next door to Mandalay Bay, where the much larger sports book was also nearly full. Which is why we eventually land in the lounge, but we were still connected to the scene. You can't go 2 feet in the casino without seeing a TV and hearing an elated and/or agonized fan. Here at least the line to the counter was much shorter.
When you finally get to the tellers, you have two options: Place your individual bets, or open an account on that casino's online betting app. It lets you carry a balance, monitor odds as they shift, place bets throughout the day from anywhere in Nevada, and deposit and collect at any book run by that company. (For instance, the playMGM app is good at all MGM Resorts, like Bellagio, Aria, the Mirage, and Luxor).
"Why waste your time in line?" says Mike Marquez, 35, who has made the March trip from El Paso, Texas, for the past several years.
"Because you don't get that personal experience," says Marquez's friend, Mike Derubin, 41. "And you won't get the drink tickets when you tip your teller. If you tip your teller, they'll take care of you."
I chose the app and skipped the lines. I also liked the instant balance sheet and the cap on losses -- my deposit, or in this case, $200. "You have to have a plan," says Noah Hubbs, a Tennessee Volunteers fan who's flown out from Charlotte each of the past five years. The plan should not only include how much you bet, how you bet. "It's usually more fun to bet the contrarian, against the odds, because that's where the action is."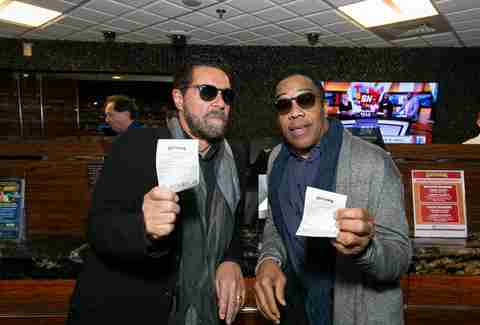 But who are we kidding? There's action absolutely everywhere.
What Hubbs means is that betting on the underdogs bring the better payoff -- more risk, more reward. That's why the first round of the tournament is such a crazy fun time to be in Vegas. There are literally dozens of would-be Cinderellas -- like Loyola and Buffalo and the University of Maryland Baltimore County -- tipping off every half hour for the better part of two days.
Our strategy was to spray our bets among several games. Sometimes we bet the point spreads; other times we took the under/over on total points. We knew we'd lose money; you will, too. It's gambling. That's what every gambler, teller, dealer, and cocktail waitress will tell you. That's what the odds advice website told my friend when he pulled up suggestions for our wagers in the tournament, and that's what my friend told me when he passed those suggestions on to me. Set a limit you feel comfortable losing and assume that you will "spend" it all on a once-in-a-lifetime experience. Any winnings are strictly gravy, plus it's still Vegas -- you're bound to blow your winnings on video poker or roulette before you get back to the airport (where they also have slot machines while you wait).
It all adds up to one hell of a party. You hear the elation of bettors who nailed the ridiculous, such as the eight UMBC alumni who each threw in $100 behind their alma mater against top-ranked Virginia at 20-1 odds and hit paydirt of $16,800 when the Retrievers become the first men's 16-seed to ever beat a No. 1. You witness the stunned silence and empty stares of gamblers who had put the house payment on Virginia or Arizona to go all the way, only to see them flame out in the first round. It's nobody's business who bet how much on whom. The cries of agony and the howls of conquest tell the story, but you can't let someone else's good or bad night ruin yours. "You have to have fun," says Derubin. "A win's a win. Money is money."
You're here to maybe win, and for sure to get your heart broken
By far the most animated and raucous the Mandalay Bay crowd got was on the fun bets, were the prop or side bets, like the first-to-15 points bet I made in the Penn-Kansas game. No. 16 Penn might not have had a chance in hell of beating top-seeded Kansas -- but there were much odds on them jumping out to 16 points before the Jayhawks, which they did, paying almost 2-to-1. Better action, a lightning-quick outcome, almost everyone chasing the high of an underdog triumph. Plus everyone was making the same bet, even a guy in a Jayhawks hat behind us, so it made for an electric communal rooting experience.
Eventually we made our way back to the sports book and found great seats in the back for the evening and Friday games, including our alma mater, the University of Missouri against Florida State. It was a No. 8 vs. No. 9, so the odds were virtually even. I placed my bet on the Tigers to cover the 1.5-point spread. Suffice it that the Seminoles trounced Mizzou 67-54. I was out my cash, and my team was out of the tournament. I left the book to have a cigar, ashing in a tray stuffed with discarded betting slips.
"I used to bet against my team, so I'd at least have a consolation," says Hubbs. "But I've found that nothing consoles me when my team loses." Then Loyola upset his Volunteers on a late shot that danced on the rim before it fell. The only consolation any of us had: at least we weren't Virginia.
Sign up here for our daily Thrillist email and subscribe here for our YouTube channel to get your fix of the best in food/drink/fun.