The world's 9 best neighborhoods for street art
Not long ago, if your idea of art was taking a can of spray paint and writing your name on the nearest wall, you ended up in the back of a squad car or grounded until the next Terminator movie came out. Today? Today, it makes you a celebrated street artist who gets paid seven figures to deface the side of someone's warehouse.
But where exactly is the best place to stumble upon one of those high-profile, art-defaced warehouses? Here are nine neighborhoods around the world with the most impressive collections of street art.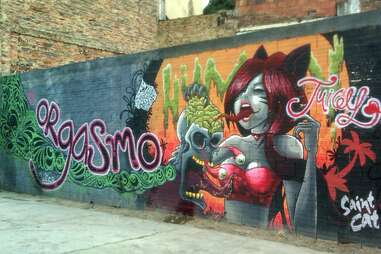 La Candelaria
Bogota, Colombia
While Bansky isn't exactly breaking down the door to paint a mural in Bogota, he should be. This old section of the city is full of houses painted in bright pastels and has become a tourism hub, which you'd think might go against the anti-establishment ethos of street art, but since the big-name artists haven't come in, La Candelaria still holds a gritty, authentic feel. The Spanish colonial cathedrals and government buildings add a distinctive Colombian feel to the streets where walls are covered in murals from local artists both amateur and professional.
Shoreditch
London, England
Some call Shoreditch the "gateway to East London", a place famous for being home to boys who weren't supposed to hang around West End Girls. Also, for street art. East London was the incubator and de facto gallery for some of the best-known street artists to come from the UK like ROA, Stik, and some guy named Bansky. The neighborhood has the largest and best concentration of street art in East London, and what was once a rough inner city area has become a must-visit for art lovers. And even the occasional West End Girl.
Santa Teresa
Rio de Janeiro, Brazil
Street art has breathed new life in this once-glorious home turf of coffee industrialists in the hills above Rio's downtown. While the houses on the cobblestone streets still alternate between revitalized Victorian mansions and something that best resembles a haunted house, the legal-with-permission street art combines architecture and graffiti – a word Brazilians use to differentiate it from vandalous tagging, or pichação. The renewal hasn't spread to the nearby favelas, but their struggle can be understood here with murals by many artists who at one time called the Rio slums home.
Mission District
San Francisco, CA
In the American city best known for unabashed self-expression, you won't find it more readily visible than in the Mission District. Yes, there are parts of the Mission that still make you think, "this city is expensive". But a short walk away you can stroll through Balmy Lane or Clarion Alley and see street art that'll make you forget all about the perpetually foggy skies overhead. The Clarion Alley Murals have been painted by over 100 different acclaimed street artists, including Megan Wilson, Rigo, and Barry McGee.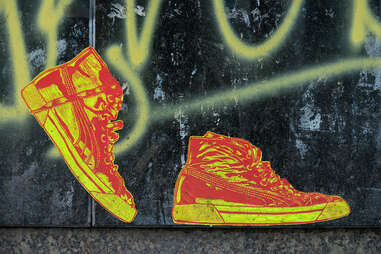 Lavapies
Madrid, Spain
If there's one thing synonymous with street art, it's grit. And Lavapies is teeming with it; it's the most diverse, multicultural district in Madrid where you'll hear Turks, Arabs, Indians, gypsies and others speaking their native languages, all reflected in the diverse art that lines the streets. For the best concentration, head to the Esta Es Una Plaza urban garden that's got murals from known artists like Roa and Blu.
Camden Street
Dublin, Ireland
Since the City Council of Dublin started sponsoring graffiti artists, Dublin has become as renowned for its street art as its bars. Well, almost. You'll find the best concentration of art in the Camden Street neighborhood, where businesses actively seek artists to paint their shutters, so when the work day ends, the art museum pops up. And unlike some other street art hotspots, this one is relatively safe, allowing you to enjoy the art without keeping one hand on your wallet.
Bushwick
Brooklyn, New York
In the borough that has become the poster child for all things urban renewal, Bushwick is the torch bearer for street art in America. The former industrial wasteland has attracted artists with its affordable loft rent, and has fostered a business community open to having street artists tag up its walls. The centerpiece is the Bushwick Collective, where street artists from all over the world (like England's Flegm!) have left their mark on the brick walls and turned this Brooklyn hood from desolate to destination in just a few years.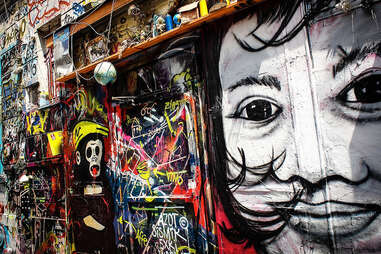 Belleville/Menilmontant
Paris, France
Paris has been synonymous with art ever since someone landed on the banks of the Seine and said, "This would be a great place to chain smoke". And now the city is known as much for its urban graffiti and public murals as it is for what's hanging in the museums, and no 'hood has a better concentration than these two former villages on the east side of town. They're a long way from where you'd probably go as a tourist, but fascinating areas, where you can wind through narrow village streets and see some of the most cutting-edge urban art in France.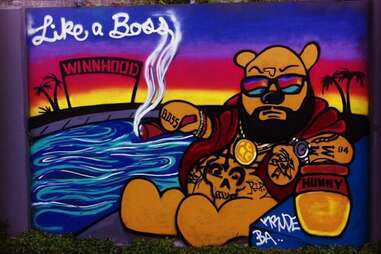 Wywnood
Miami, FL
Though most of the world might find it hard to believe any kind of art can come out of Florida that doesn't involve silicone implants or gator skin, this old warehouse district north of downtown Miami has been transformed into an outdoor museum. And during Art Basel in December, every major street artist in the world descends on South Florida to add his or her touch to Wynwood. Just don't ever tell a Miamian this is "like, your Brooklyn", or you'll immediately become one of Miami's 99 problems.