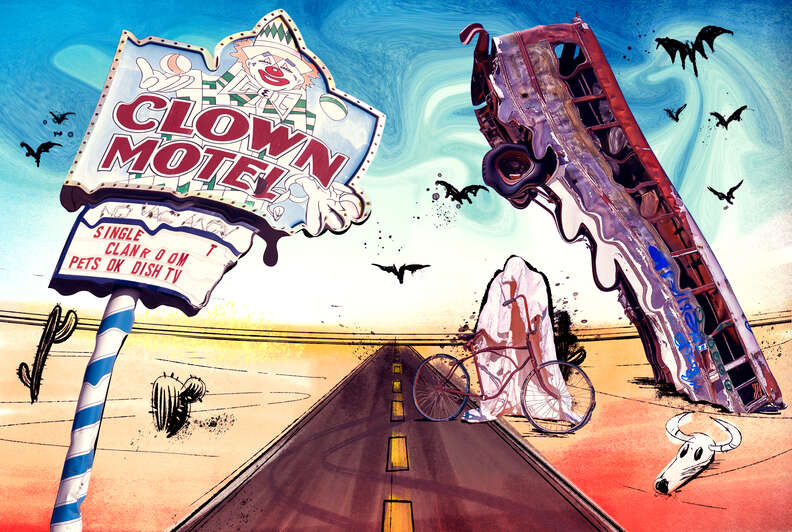 Image by Jason Hoffman for Thrillist
Image by Jason Hoffman for Thrillist
This Bizarro Desert Highway Is One of America's Weirdest Roads
Full of ghosts, aliens, nuclear test sites, and clown motels.
Fasten your seatbelt and adjust your mirrors—this is Rerouting, your one-stop-shop for mapping out the ultimate summer road trip, no matter what gets your engine going. Cruise over to the rest of our coverage for pit stops at offbeat roadside attractions, sweeping desert panoramas, epic mountaintop vistas, oceanfront oyster bars, dynamic public art, and so much more.
Nevada is, by all scientific metrics, very weird. Area 51. Seemingly sentient rocks rolling across the playas. Whatever is happening in approximately 78% of all hotel rooms in Vegas right this second. But in this sprawling, mostly desolate state, there is perhaps no more concentrated a dose of pure Nevadan oddity than the stretch of US-95 that winds northwest from Vegas to Tonopah, heading towards Yosemite.
This peculiar stretch of US-95 has a magnetic draw. (Full disclosure: I have a CD entitled "Come Alive On US-95" in my glove compartment.). The 211-mile route appears to be defined by nothingness, but if you comb through the sagebrush, lonesome clapboard houses, and rusting mine ruins, you'll find an absolute wealth of quirky, awe-inspiring, and sometimes downright befuddling roadside curiosities.
You'll discover old western towns, puzzling art installations, and one of the most WTF motels on the planet. There will be unique characters, local lore, and a whole bunch of ghosts. If the phrase "UFO-themed gas station" piques your interest, you're going to want to book a warp-speed convertible and hit the road immediately.
Peruse a nuclear test site
Mercury
As soon as the neon lights of Vegas are behind you, the desert transforms into a sage-dotted no man's land. Sixty-five miles outside of Sin City on US-95, a sign appears like an ominous beacon: Mercury No Services.
Pull over and you'll find yourself at the gateway to the Nevada Test Site, a nuclear explosives testing area since the 1950s. Gated access and a somewhat threatening sign prevent you from going further, but off in the distance is the Apple 2 test site, an artificial town created by the military to see exactly what happens when you expose a nice family home to an atomic bomb. (Spoiler alert: It isn't pretty.)
If you're dying to get close up, you can book an official tour, which covers approximately 250 miles of apocalyptic desert landscape. The guided trip includes a visit to one of the largest man-made craters in the world (the result of a 1962 thermonuclear explosion), a 152-foot-tall tower above an underground nuclear test site, and the skeletal remains of the aforementioned quaint little town built for the express purpose of being blown up again and again. (Heads up: tours are ominously canceled until further notice.)
Befriend a colony of wild donkeys
Beatty
Located near the small portion of Death Valley National Park that spills over into Nevada from California (referred to as the Nevada Triangle), Beatty is a tiny desert town where friendly wild burros roam free, since they're viewed as beloved town mascots. These real-life Eeyores were brought to the desert in the mid-19th century by settlers looking for gold, and are considered a non-native species. Now contained to just the town, they've converted into true, hard-core desert animals. If you have a beer on the porch of the aptly-named Happy Burro, you just might see them stroll by.
Also, along the way to Beatty, make sure to pull over at the Area 51 Alien Travel Center, where you can stock up on tiny bottles of UFO-themed vodka—a Nevada road trip essential. An adjacent fireworks store promises that you can "shoot them here," because, sure, why not.
See weird desert art and the ghost town of Rhyolite
Rhyolite
So you're driving away from Beatty towards the ghost town of Rhyolite, and suddenly you're like, Wait, is that the Last Supper, but it's ghosts instead of Jesus and the apostles? The desert isn't making you loopy; you're looking at the Goldwell Open Air Museum. Located just 5.9 miles off of US-95 via NV-374, this outdoor art gallery is home to a whole bunch of weird desert installations. Come for the mosaic couch; stay for the Lego-esque sculpture of Venus with pixelated blonde pubic hair.
After you've gotten your fill of art, wander the ghost town of Rhyolite and see the ruins of a bank, red-light district, train depot, and more. Rhyolite came on the scene in 1904 when gold was discovered nearby, and in classic Nevada-mining-town fashion, quickly became a hotbed of booze, revelry, and gunfighting before having its electricity cut off due to financial panic just 12 years later. At least they partied until the end.
Stay in a mine castle
Nevada State Route 267
Just off of US-95 on the way to the famous Scotty's Castle (currently closed due to flood damage) in Death Valley, lies a much lesser-known castle. Unlike Scotty's, which gets its name from a locally-famous prospector/scammer named Walter E. Scott, Hard Luck Mine Castle was simply created by a guy named Randy. Built into the side of a mountain, it was erected when Randy Johnston discovered that he did not need to acquire any permits to build his dream home in a remote location. The resulting 8,000-square-foot structure is comprised of 24,000 bricks and features two 1920s organs, Wizard of Oz-inspired decor, and an observatory.
Call the number listed on the sign outside for a 90-ish-minute tour (available from 10am-3pm for $10 per person). If you fall in love with the castle/are in the market for a place to wait out the zombie apocalypse (or, hey, a pandemic!), you'll be pleased to know that the property is now an airbnb.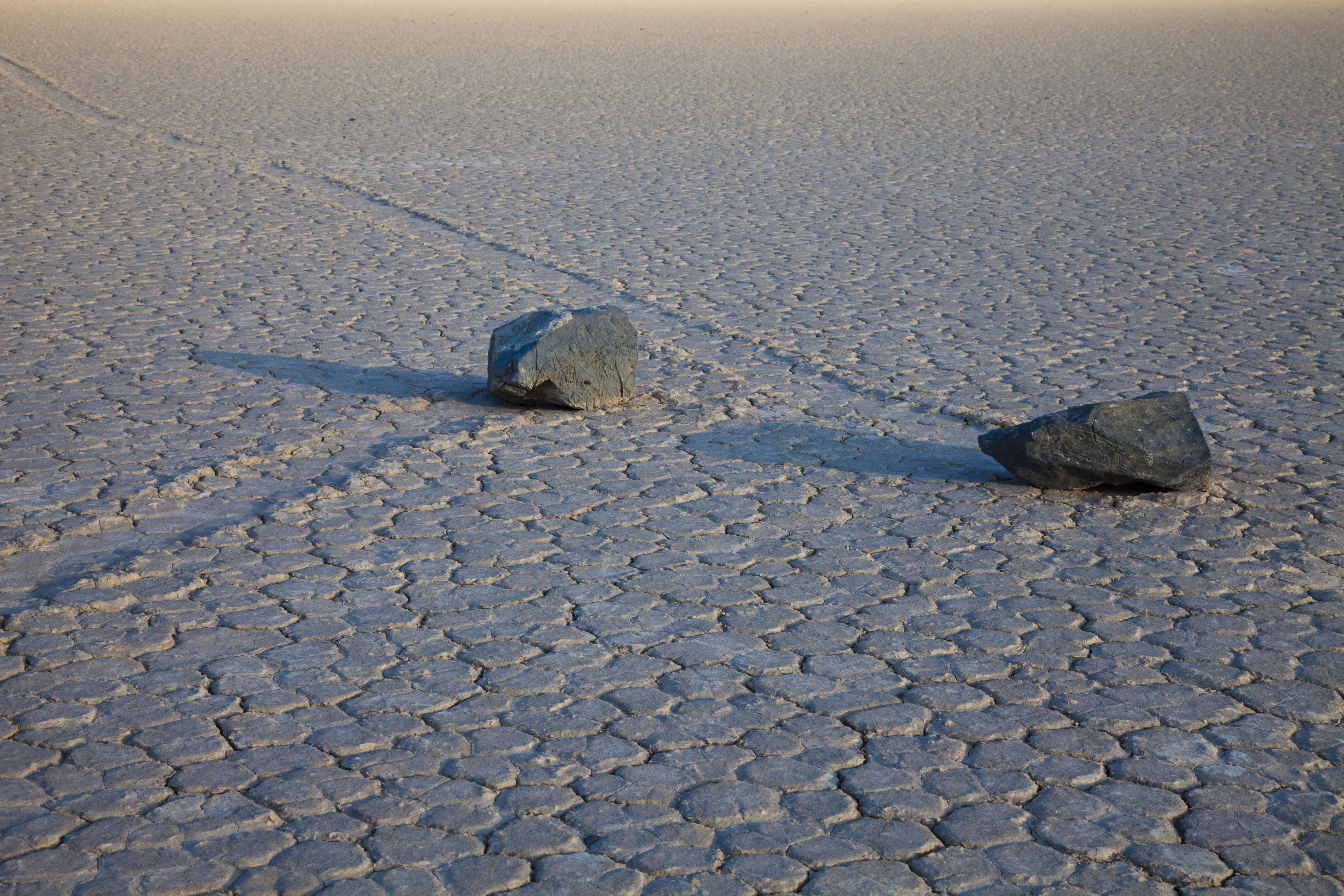 Watch mysteriously rolling rocks
Nevada State Route 267
Desert hipsters roll their eyes when the Racetrack dry lake bed in Death Valley National Park is mentioned. Yeah, sure, the mysterious moving stones that leave spectral paths on the playa are cool and all, but there's a more obscure, under-the-radar dry lake bed in Nevada that features the same phenomenon—and it's way easier to get to.
Located just off of US-95 near the Hard Luck Mine Castle, the Bonnie Claire Dry Lake appears as a pale apparition from the road. Check out the nearby mining ruins and then wander the playa. Look for rocks with trails behind them in the dry mud.
Researchers watched the stones at the Racetrack dry lake bed in Death Valley for decades (one of them called it "the most boring experiment ever") and eventually concluded that rocks move as a result of water freezing and then melting. In true desert fashion, some people still think it's the work of aliens.
Stop by another, homier ghost town in Gold Point
Gold Point
Apparently, buying property in the most isolated reaches of the desert is kind of a thing in Nevada. Travel further north on US-95 and then head down NV-266 for about seven miles. It's here among the open-range cattle, empty skies, barren mountains, and pronghorn antelope that you'll see the turnoff for Gold Point. The town (population 27) was originally called Lime Point due to lime deposits in the area. When gold was found, a much-needed rebranding took place. Long after mine claims dried up and the residents left, a Las Vegas man by the name of Herb Robbins breathed new life into Gold Point by buying it.
If you're so inclined, make a reservation to stay in an old miner's cabin. These ramshackle buildings are perched on the slope of a mountain dotted by weathered Joshua trees. Robbins—who serves as de-facto historian, fire chief, and sheriff—will fix you a family-style meal and tell you about the area.
Ponder the International Car Forest of the Last Church
Goldfield
Keep heading north on US-95 and you'll soon be in Goldfield, a place that's easy to mistake for a ghost town even though art continues to flourish here. Hook a right on Crystal Ave at the start of town (this turnoff is very easy to miss, so drive slowly) and travel about a quarter of a mile down a passable dirt road until you reach a place where painted cars grow out of the desert earth like strange flowers.
This is the International Car Forest of the Last Church, a collection of over 40 sedans, buses, trucks, and other vehicles that have been graffitied and posed in a series of precarious positions. The installation was created by artists Mark Rippie and Chad Sorg and is one of the many reasons why US-95 is sometimes referred to as the Free-Range Art Highway.
Creep through the very-haunted Goldfield Hotel
Goldfield
If you've seen Ghost Adventures, the Goldfield Hotel probably looks familiar to you. The abandoned building was featured in a 2004 episode during which host Zak Bagans (who owns the also-very-scary Haunted Museum in Las Vegas) got spooked by a rogue brick in the basement. It happens.
The imposing four-story structure, which was once a celebration of gold mining-related opulence, has been sitting vacant since at least the 1980s. Allegedly, it's one of the most haunted places in Nevada. Visitors have reported phantom voices, crying, and in Bagans' case, homicidal bricks. You can't go inside, but stopping to peer into the dusty interior from the street is worth it.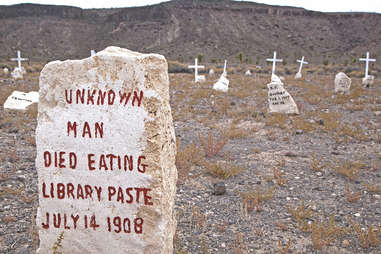 Visit the lonely grave of "Unknown Man Died Eating Library Paste"
Goldfield
What's the absolute most embarrassing way a person could die? Eating library paste has got to be pretty high up there. Stick around Goldfield a little bit longer and explore the town cemetery (a 1.1-mile drive from the Goldfield Hotel), where you can find the weird epitaph in question, which reads, "Unknown Man Died Eating Library Paste, July 14, 1908."
The graveyard is surprisingly massive, but you can find the headstone if you head to the Elk's Rest section in the back (marked with a large sign). Once there, you'll see a dirt road to the left which will bring you to a small metal sign marked "Goldfield Pioneers 1908." Here, near a grave for a man named Martin who perished by "gunshot by deputy sheriff," you'll find our fair paste eater. RIP.
Get chills at the super-spooky Lithium Mine
Silver Peak
Of all the strange places on this road trip—and remember, this is a road trip with a sci-fi brothel and a car forest—this is perhaps the strangest. Literally nothing can prepare you for how unsettling and eerily beautiful Silver Peak is, but let's try.
Located off US-95 via a 24-mile drive down Silver Peak Road (mostly paved with the exception of one well-graded stretch), Silver Peak is home to the country's only operating lithium mine. The otherworldly journey here takes you to a narrow road bordered by teal lakes that glow in the dusty desert light. These are evaporation ponds used to extract lithium from the ground. Drive through this area on a sunny day and they look positively neon. Drive through on a windy day, and you'll find yourself so blanketed by blowing sand that you'll feel like you're on another planet entirely.
Even though it produces a very important resource, most people haven't heard of Silver Peak. In 1999, it made national headlines for getting caught up in Enron's drama (TL;DR: Enron allegedly diverted electricity from California to Silver Peak resulting in a profit of about $7 million). More locally, it made headlines in 2014 when a miner went missing and then was found shot and shoved down a well. If you're feeling bold, visit the local watering hole, Old School.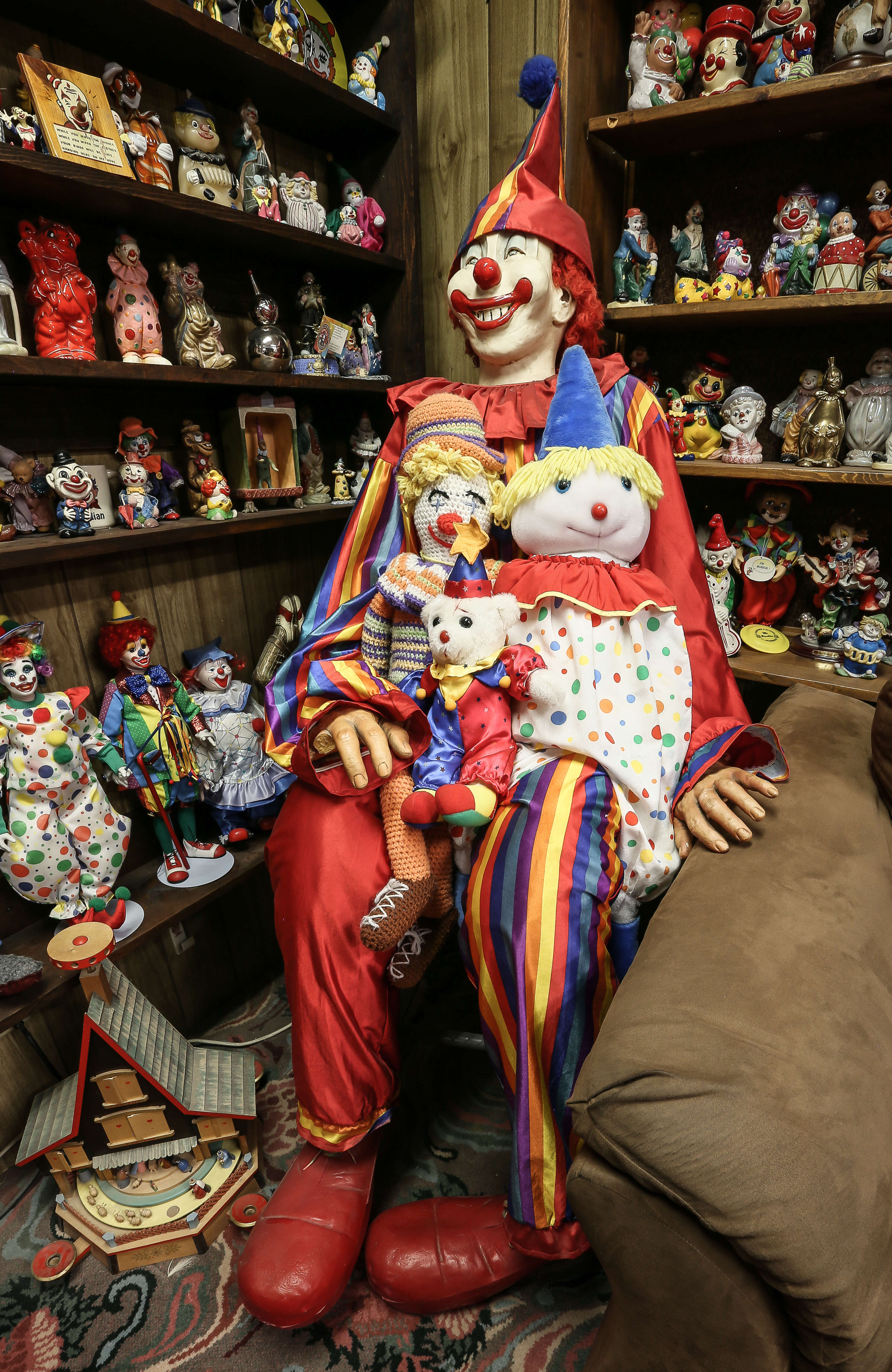 Face your fears at the Clown Motel
Tonopah
After getting a little freaked out by Silver Peak, ease your fears with a comforting stay at a kitten-and-rainbow-themed bed and breakfast in the lovely town of Tonopah. Just kidding, it's a clown-themed motel next to a cemetery.
The Clown Motel—which actually has pretty comfortable rooms, for around $59!—appears on the outskirts of the high-desert town of Tonopah (elevation 6,047) like a real-life Stephen King novel. Nightmare-come-to-life motel aside, Tonopah itself is a fascinating western town. Mining relics decay in the surrounding hills, and the small downtown area is defined by stately old brick buildings, including the historic Mizpah Hotel, which is haunted by a ghost known as the Lady in Red (no relation to the woman from the 1986 soft rock jam).
At the Clown Motel, a neon sign beckons travelers to the motor court-style motel, where a collection of more than 600 clown figurines greets you inside the office. Current owner Hame Anand estimates that at least 100 curious travelers stop by to see the clown collection on a daily basis. Conquer your coulrophobia (that's Fear of Clowns) once and for all, and spend the night. Or just snap a picture and get the hell out of there.
Krista Diamond is a freelance/fiction writer who lives in (and often writes about) Las Vegas. Her writing has been featured in
The New York Times
,
HuffPost
,
Eater
,
Business Insider
,
Fodor's
, and
Desert Companion
.