The Coolest New Attractions Coming to Disney Parks in 2020
Rise of the Resistance leads riders into the heart of a Star Destroyer

| Matt Stroshane/Disney
Rise of the Resistance leads riders into the heart of a Star Destroyer

| Matt Stroshane/Disney
There's a lot going on in 2020. It's a leap year. Most major holidays fall on a weekend. The Olympics are coming to Tokyo, and there's some sort of election your friends and relatives keep talking about in very calm tones. But for Disney fans, it's looking like a banger of a year, which is saying a lot after 2019 brought the arrival of Star Wars: Galaxy's Edge and the chance to finally watch The Computer Wore Tennis Shoes on Disney+, along with the release of Aladdin, Frozen 2, and The Lion King (there was also a new Star Wars movie… whether that was a good or bad thing is a matter of taste).
For the Disney parks set, though, 2020 is cause for extreme excitement. Both California's Disneyland and Florida's Disney World are launching an all-out assault on awesome: rolling out new rides, new eats, and amped-up parades and light shows to keep everyone from princess-watchers to superhero nerds happy. Which is to say, you've been thinking about visiting Disneyland or Disney World, skip buying a BB-8 Instant Pot and spend your money on a Disney park ticket instead.
Here's the best new stuff coming to both theme parks in 2020.
Avengers Campus
Disney California Adventure
Now that Galaxy's Edge is all set up, Disney is turning its attention to its other multibillion dollar franchise, unleashing a whole horde of superheroes, intergalactic thunder gods, Wakandan warriors, and genius billionaire philanthropist playboys with the Avengers Campus at Disney California Adventure. Sprawling out from the current Guardians of the Galaxy ride (formerly the Tower of Terror), the hugely ambitious, fully interactive Marvel-themed section of the park will include chances to get up close and personal with superheroes, see what would happen if Ant-Man's technology was used to shrink or enlarge food at the Pym-Test Kitchen, and fire web-shooters at spider-bots on a Spider-Man ride. No word yet on whether there will be an app to snap half the lines outside those rides out of existence, but hey, if anyone could pull it off, it's Disney.
Mickey and Minnie's Runaway Railroad
Disney World
Opening on March 4 in Disney's Hollywood Studios within the Chinese Theater, this new ride takes guests through a Mickey cartoon where only "Mouse rules apply," essentially immersing riders of the train-themed adventure into a living, breathing cartoon. Believe it or not, but this is the first ride in all the Disney parks to ever feature Mickey Mouse and friends. And while it's aimed squarely at kids, this is Disney World, so it's more or less aimed squarely at everybody.
Rise of the Resistance
Disneyland
Disney finally opened its long-awaited second ride within Galaxy's Edge: Rise of the Resistance this January -- the attractiondebuted in December in Orlando but finally came to that galaxy far, far away known as Southern California on January 17. While you can pilot the fastest hunk of junk in the galaxy on Millennium Falcon: Smugglers Run, on the Rise of the Resistance you'll be dropped into a Star Destroyer to witness a fierce battle between the First Order and the Resistance, complete with droids, stormtroopers, Imperial walkers, and the emo brooding of Kylo Ren. It's one of the longest (nearly 20 minutes) and most technologically advanced rides Disney has ever created. Predictably, the waits for this ride will be long. A few tips: Download the Disney app to get into the virtual queue, get there early, and purchase a Millennium Falcon fry bucket before you leave.
HarmonioUS
Disney World
Replacing the "Epcot Forever" nighttime spectacular in May will be "HarmonioUS," one of the largest shows of its kind for a Disney park. Popular Disney tunes will play as massive floating set pieces, custom-built LED panels, choreographed water fountains, pyrotechnics, lasers, and more will traverse the World Showcase Lagoon.
Asian Street Eats
Disneyland
Disney's known for releasing themed speciality treats throughout the year, but so far the only new kid on the dining block is Asian Street Eats in Downtown Disney from Chef Hung Huynh, the winner of Top Chef season three. True to its name, Asian Street Eats is a quick-service joint in a converted food truck, serving up scallion pancake wraps, potstickers, and a selection of mixed bowls -- a far cry from the Mickey-shaped pretzels, corn dogs, and turkey legs of yore.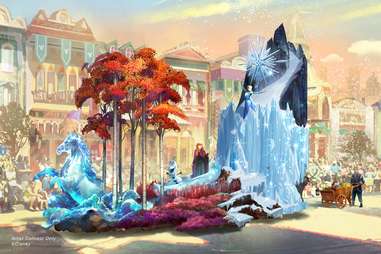 The Magic Happens Parade
Disneyland
One of the highlights of visiting Disneyland is the daily parade, which sees visitors abandon ride queues to line up on the streets of Downtown Disney and catch a procession of acrobats, musicians, and characters. The most magical place on Earth will show off a spanking new daytime parade beginning February 28, complete with a new musical score and song featuring your au courant Disney characters like Moana, Miguel from Coco (swoon), and the cast of Frozen 2. (Samantha?) Of course, Mickey and his OGs will be involved too.
Cirque du Soleil: Drawn to Life
Disney World
Debuting in April is a Cirque du Soleil show, Drawn To Life, created in partnership with Walt Disney Animation Studios and Walt Disney Imagineering. The story will follow a girl who attempts to finish an animation piece left to her by her late father. Her journey (as there is always a journey in every Cirque show) is guided by a "surprising" pencil and brings back her Disney memories from childhood.
Remy's Ratatouille Adventure
Disney World
Ratatouille is arguably Pixar's best film to date, yet it's Cars that got its own dedicated land at California Adventure. But fans can finally feel vindicated with the arrival of Remy's Ratatouille Adventure. Located -- where else?! -- in Epcot's France pavilion, Remy the gourmand rat chef will take visitors along on a ride through Gusteau's restaurant in a trackless vehicles designed to look like mice. Word is it will be very similar to the Ratatouille ride at Disneyland Paris, which, like the movie, imagines a restaurant kitchen as an adventure-filled wonderland more akin to an Indiana Jones set than a place where people make soup, complete with stunning animation and giant kitchen utensils. No word yet on the launch of Up: Carl Fredrickson's Stages of Grief.
New and improved Snow White ride
Disneyland
One of Disney's original attractions when it first opened in 1955 (more on that below), Snow White's Scary Adventures has closed to undergo some major upgrades, including laser projections and a new animation system. No word on when it will reopen this year or what else it will entail, but hopefully before July because...
Disneyland's 65th Anniversary Celebration
Disneyland
Disneyland first opened on July 17, 1955, and while no special party has been announced, expect lots of 65th anniversary merch throughout the parks. This also means that the original opening day attractions -- Autopia, Jungle Cruise, King Arthur Carousel, Mad Tea Party, Toad's Wild Ride, Peter Pan's Flight and Snow White's Scary Adventures -- will get some extra attention in 2020.
New Epcot Films
Disney World
Epcot's undergoing a ton of changes and improvements/construction, a few of which you'll see starting this month in the form of new films. Awesome Planet in The Land pavilion is a 10-minute showcase of the earth's diversity narrated by Modern Family's Ty Burrell. A Beauty and The Beast sing-a-long will debut in the France pavilion, narrated by the original Mrs. Potts, Angela Lansbury. Lastly, Schitt's Creek fans will don their "Ew David" hats and shirts in the Canada pavilion where a new film, Canada Far and Wide, narrated by Moira and Johnny Rose, aka Catherine O'Hara and Eugene Levy.
Mickey Shorts Theater
Disney World
Opening in March and with seats that look like the back of Mickey Mouse's shorts, the Mickey Shorts Theater in Disney's Hollywood Studios will show an original short film, in a similar style to what is shown on the Mickey Mouse series on the Disney Channel.
New Restaurants
Disney World
Eating at Disney parks is a prime attraction for many, and this year sees the launch of four different restaurants: La Crêperie de Paris, located in Epcot's France Pavilion, will table- and quick-service options from celebrity chef Jérôme Bocuse; Regal Eagle Smokehouse is fast-casual BBQ restaurant at American Adventure in Epcot World using buzzkill Muppet Sam Eagle as the mascot; another BBQ joint, Roundup Rodeo BBQ, in Toy Story Land; and Space 220, an Epcot table-service spot where guests will ride up a "space elevator" to a dining room designed to look like it's floating 220 miles above Earth's surface and serving modern American cuisine, craft beers, and over 1,000 bottles of wine.