This Connecticut Town Is an Unexpected Hub of Mid-Century Modern Architecture
World-class architecture dazzles in this otherwise suburban town.
Philip Johnson's Glass House, New Canaan, Connecticut

| Buyenlarge/Contributor/Archive Photos/Getty Images
Philip Johnson's Glass House, New Canaan, Connecticut

| Buyenlarge/Contributor/Archive Photos/Getty Images
On the one hand, New Canaan meets any expectations one might have upon entering the state of Connecticut: the sprawling mansions, the farm-to-table restaurants, the comings and goings of New York City financiers. But hidden beyond those well-kept lawns is an impressive collection of cutting-edge mid-century modern architecture. And unlike McMansions, they're the kind of properties you can shamelessly ogle at, maybe even peek inside of, and—in one case—stop for a cup of tea.
These homes are the legacy of a group of architects known as the Harvard Five, members of the Harvard Graduate School of Design who, energized by postwar optimism, flocked to New Canaan in 1949. John M. Johansen, Marcel Breuer, Landis Gores, Philip Johnson, and Eliot Noyes were all influenced by the head of the Harvard architecture program, Walter Gropius. He founded the Bauhaus, a German school and eventual art movement that combined architecture, sculpture, and painting into one universal vision—In simple terms, all those flat planes, overlapping shapes, and primary colors we tend to associate with modern art.
"There were at one time 120 mid-century modern houses in the relatively small town of New Canaan," says Nancy Geary, executive director of the New Canaan Museum and Historical Society. "Unfortunately, many have been destroyed and only 80+ remain." So taking a drive through this Connecticut town means basking in a seminal slice of art history. But New Canaan continues to generate innovation, with new developments like Grace Farms, the community center designed in collaboration with Tokyo-based architectural firm SANAA in 2015.
If you're wondering why all this architectural wealth descended upon New Cannaan specifically, Geary has answers. "There were a number of reasons," she explains. "Land was cheap. The topography was interesting and conducive to the type of architectural experimentation that was happening. Once the Harvard Five settled, there was a community of like-minded people. Zoning regulations were looser than other towns. And Connecticut did not have the requirement that an architect serve as an apprentice."
Perhaps it was the very conventionality of the town that spurred avant-garde thought. Take Rick Moody's risqué 1994 novel The Ice Storm, for example. The story, set in New Canaan, explores all kinds of bold themes, like open secrets, sexplorations, and reckless escapism. The book was later adapted into a movie directed by Ang Lee, starring Tobey Maguire and Elijah Wood, and even features a mid-century modern home as its backdrop—If you do some research, you can still find it hidden in the woods.
The iconic New Canaan film and its greater architectural landscape demonstrate how an edgy undercurrent ripples through this Levitt-like town. To take a step inside the properties currently occupied by humans, Geary suggests coming to the biennial Modern House Day Tour and Symposium on October 21, 2023, when private homes are available for guided tours. But for now, here are a handful of architectural wonders you can't miss on your next trip to New Canaan.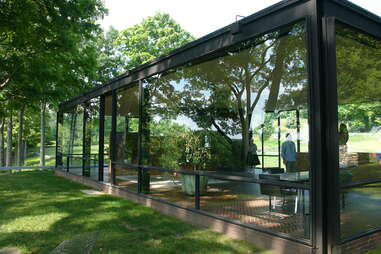 Philip Johnson's Glass House, completed in 1949, is undoubtedly the most famous work of mid-century modern architecture in New Canaan. "It represents the fusion of early European Modernism with post-War American technology," says chief curator Hilary Lewis. "It would attract major creative figures in art, architecture, design and performance to gather, making it a significant ongoing salon during Philip Johnson's lifetime and that of David Whitney." Johnson designed the structure as a pavilion for viewing the surrounding landscape, and in doing so introduced the International Style to residential American architecture, which proposed principles like volume of space, rejection of decoration, and industrial materials. German architect Mies van der Rohe's Barcelona Pavilion served as a major source of inspiration.
The Glass House house sits on a National Trust Historic Site alongside other galleries, installations, and studios—one of which is the Brick House, a solid rectangle that, in Johnson's words, acts as a "repoussoir" to its open-space counterpart. It's a lesson in contrast you need to experience to understand, and luckily, the 49-acre site is open to visitors: Choose from a number of tours, and be sure to check out the foundation's Mark Mennin: Processi, a seasonal exhibition of sculptural works created by the master stone carver.
Another example of the International Style, Eliot Noyes's former family home on Country Club Road is worth a gander. This abode, completed in 1954, is notable for its New England-style stone facades that provide a structural contrast with sleek glass walls. The complex is also unique for showcasing Noyes's rigorous organizational principles, which take hold in the separation of public and private spaces: One section contains bedrooms, while another houses living areas, and the two are separated by an open courtyard. While the home is not currently open to the public, it's been exhibited a number of times in recent years, and if you simply can't wait for the next time it opens up, check out this virtual tour.
What if we told you that Connecticut has its own version of Falling Waters, and it could be yours for the reasonable price of $8 million? Frank Lloyd Wright's Tirranna, currently on the market, gets its name from the Australian Aboriginal word meaning "running waters," which Architectural Digest reports references the Noroton River that the house is built upon. While Wright overlapped with the Harvard Five, his style is of a class all its own—specifically Prairie style, a type of home that's rooted in nature, favors the horizontal over the vertical, and as Wright said, is "married to the ground."
Tirranna, which is an example of Wright's signature hemicycle shape, sits above a waterfall and is surrounded by 15 acres of forested land. The property boasts all kinds of unique features, like a circular pool, interior courtyard, rooftop observatory, and greenhouse, to name a few. Wright lived in the home while working on the Solomon R. Guggenheim Museum in New York City, and even used some of the museum's leftover glass to build Tirranna's greenhouse. While we don't recommend pretending to be a potential buyer and popping in for an open house, it's worth exploring the home's stunning surrounding environment.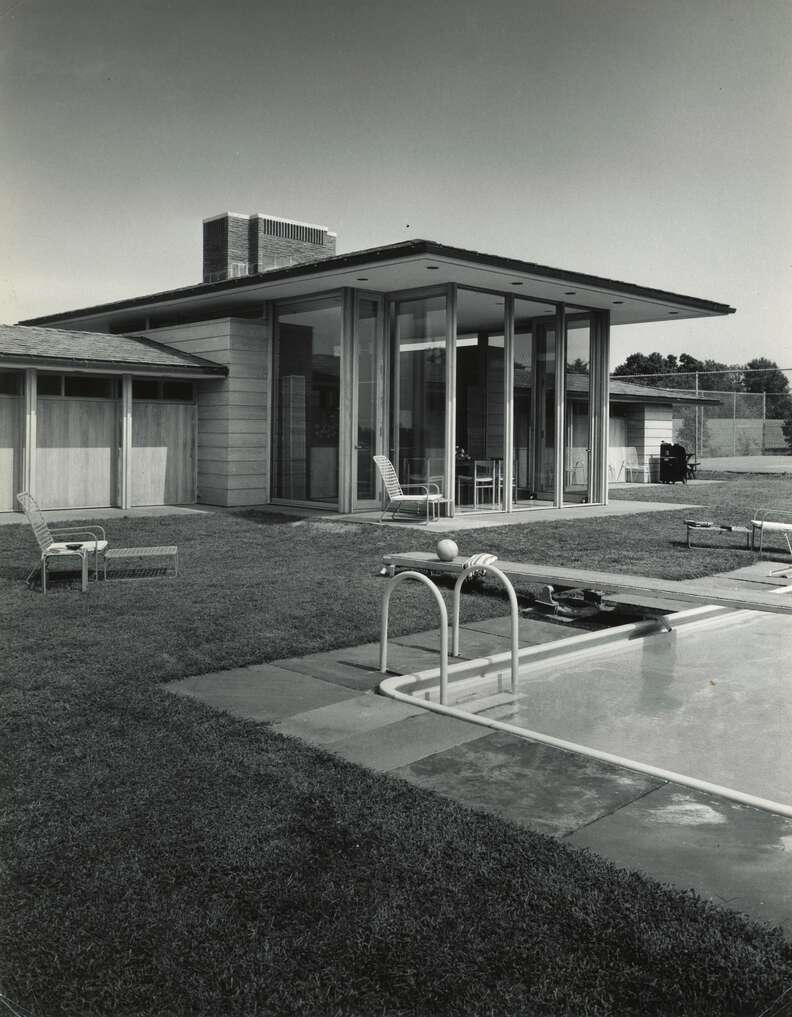 "Landis Gores, Johnson's assistant on the Glass House, designed the Gores Pavilion in Irwin Park," Geary says. "It is the only other mid-century modern building open to the public." Gores built the structure as a winter lodge slash summer pool house for John Irwin and Jane Watson (the daughter of IBM's founder) in 1960. According to the New Canaan Museum & Historical Society, Gores included many nods to Frank Lloyd Wright through horizontal redwood boarding and a Prairie-style fireplace that runs floor to ceiling.
When the Irwin heirs sold the house to the town of New Canaan, the pool was filled and the town planned to demolish the pavilion, but a small group of New Canaanites formed the Friends of the Gores Pavilion and saved it from destruction. Today, you can visit Gores's masterpiece at the Irwin's property, now referred to as Irwin Park, or schedule a tour by appointment. And if you're interested in diving further into Gores's work, you can drive by the Landis Gores House, an experimental fusion of Wrightian and International style, on Cross Ridge Road.
The Grace Farms Foundation communicates its five initiatives—nature, arts, justice, community, and faith—atop a SANAA-designed site spanning 80 acres. The serpentine-shaped River building demonstrates the Japanese firm's proclivity for porous, open architecture that isn't exactly derivative of an existing model. "Structurally, the building of transparent glass, concrete, steel, and wood forms a single, curvilinear long roof, which seems to float above the surface of the ground as it twists and turns across down the natural landscape," says Grace Farms Foundation founder and CEO Sharon Prince. "The River building actually becomes a part of the landscape and with a sense of awe and wonder, you are both drawn out into nature and are also connected to people along the River."
While Grace Farms certainly evokes the high-brow aspirations of the Harvard Five, its difference lies in its accessibility. It's free to explore, open to all, and host to a slew of family-friendly public programming. Exploring the serene landscape is an adventure in its own right, but you're likely to run into a cool event taking place the day you arrive. The summer calendar is filled with everything from community picnics and honey harvesting classes to tea tastings and jazz concerts. And if you're still on an architecture kick, look out for a pop-up talk with Toshihiro Oki, formerly of SANAA, who often moderates conversations between leading architects and academics.