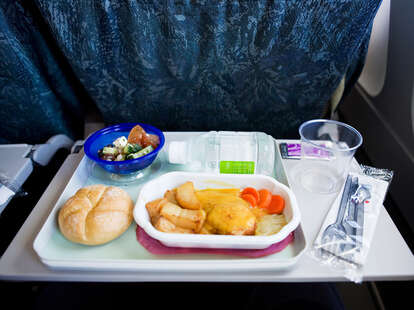 Shutterstock
Shutterstock
Plane food sucks. It's a universal truth. And even if you recognize that it's kinda not entirely the airline's fault (the lack of humidity dries your nose, and cabin pressure numbs most of your taste buds), you also know that, well, it kinda is.
And United Airlines knows it too, which is why they just announced a "multi-million dollar" overhaul of its in-flight dining service in response to complaints from frequent fliers.
Exciting, right? Well, sorta. Turns out, it only applies to business and premium class -- at least until next year.
And, quite frankly, the menu still doesn't sound terribly exciting. Gluten-free soup? A Southwestern salad? It's like a Panera opened on your flight to Denver. Actually, we take that back -- Panera is pretty awesome (even if they do limit WiFi during lunch hours).
In addition to the GF soup, snack boxes will be replaced with freshly prepped meals, and four new salads (the aforementioned Southwestern number, included) will be introduced immediately. As in, you can order those right now. Starting next month, they'll be pouring glasses of Prosecco sparkling wine and rolling out new hot and cold sammies/wraps like an Italian prosciutto on tomato focaccia, and ham and Swiss on a pretzel baguette. Again, though, in premium class only. Whether or not economy passengers will have the option to buy said delicious pretzel sandwich is unknown.
All hope is not lost for those in steerage, though. Economy class will get its overhaul next year (scheduled for mid-2015), when the airline phases in new coach meals on international flights.

Sophie-Claire Hoeller is Thrillist's über-efficient German associate travel editor, and has had frequent flyer status since she was born in a Lufthansa terminal. Follow her @Sohostyle