This Insane New Cruise Ship Will Hit Alaska and Florida Next Year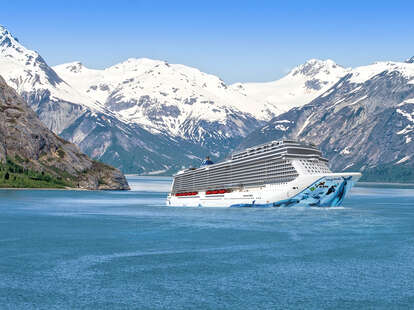 Courtesy of Norwegian Cruise Line
Norwegian Cruise Line just dropped a video teasing its newest ship -- the Norwegian Bliss -- and whale watchers around the world are rejoicing. The 167,800-ton ship will bring the world's most expansive cruise ship observation deck to Alaska's inner passage next summer, providing a 180-degree view without having to go, ya know, outside.
The Bliss is designed specifically for Alaska, providing the optimal way to view all its majestic fjords and glaciers (and maybe a moose or two) without freezing your face off. Its signature feature will be the 20,000sqft observation lounge where passengers will have the same view the captain does from the bridge -- a first for major cruise lines. Decked out in deep wood fittings and a chic gray interior, the lounge will also boast a 360-degree quartz bar in the middle, because why wouldn't it?
For deluxe passengers, the two-story Haven observation lounge will sit atop the ship on decks 17 and 18, providing multi-deck, floor-to-ceiling vistas with a full bar to boot.
The megaship will hold just over 4,000 passengers and measure 1,082ft. As has become NCL's trademark, the exterior will be highlighted by a hull-spanning mural, this one commissioned to marine artist Wyland, noted for his depictions of whales, otters, and other animals that passengers are likely to see in Alaska.
The Bliss is currently under construction in Germany, but it has a trans-Atlantic maiden voyage slated for April 2018. From there, the ship will home port out of Seattle for Alaska cruises that summer, with stops in Ketchikan, Juneau, Skagway, and Victoria, BC. The seven-night itinerary starts at $899.
If cold-weather cruising isn't for you, NCL feels you. The Norwegian Bliss will sail Eastern Caribbean itineraries out of Miami beginning November 2018, hitting St. Thomas, Tortola, and Nassau over seven nights (starting at $649). There will also be a couple of 12- and 14-day Panama Canal cruises – one in the fall going from LA to Miami, the other reversing the route in the spring (beginning at $1,249). A handful of trips to the Mexican Riviera are also on the docket.
More details about onboard amenities, bars, and restaurants will come this year. But if you're jonesing to be the first aboard what will be the most envy-producing ship in Alaska next summer, reservations just opened this month.
Sign up here for our daily Thrillist email, and get your fix of the best in food/drink/fun.