So, you've decided to have your bachelor party in New Orleans. This, as we're sure you're well aware, is a particularly good idea. The Big Easy is historically known for its decadent ways, all-night bars, fantastic food, and ability to always "laissez les bon temps rouler" (or, "let the good times roll" if you don't speak Frog).
While it often feels like you can't walk 10ft in the French Quarter without running into a bachelor (or bachelorette) party, the fact remains that not all New Orleans bachelor parties are created equal. Which is why if you're going to do it up in the Crescent City, you need do it right. And our authoritative guide will show you how.
Recommended Video
Spend the Night in This Suspended Mountainside Glass Pod With the Best Views in Peru
Moderation is not a word often associated with New Orleans, be it pertaining to booze or the weather. It gets nightmarishly hot and humid during the summer months (the word "oppressive" is often employed), particularly June to August. So unless you really love to sweat through several changes of clothes in an afternoon, stick to the more temperate times of year.
Busy times
Mardi Gras: Obviously. Note that Carnival is a "season" in New Orleans, from 12th night through Fat Tuesday, and things tend to get more insane as Mardi Gras Day approaches. Visiting in the middle of Mardi Gras season is a great bet: You'll catch some cool parades and enjoy the revelry without experiencing some of the more unpleasant complications that might detract from your bachelor partying times (epic crowds, traffic, exorbitant hotel rates and flights, etc). The date of Mardi Gras Day changes each year, so make sure to check your calendar.
Jazz Fest: This takes place between the last weekend of April and the first weekend of May, and is pretty awesome, particularly if you're a middle-aged white guy with a propensity for Hawaiian shirts and broad-brimmed hats. If you want to incorporate Jazz Fest into your plans, do so at least six months in advance, probably a year. Flights and hotels book up VERY fast.
Tales of the Cocktail: If you've decided to ignore the above advice against planning your Bachelor Party in July, you'll be happy to learn that the country's biggest meeting of bartenders and booze brands takes place then. It can, however, drive up airfares. 
Other Fests: There is some kind of festival in New Orleans pretty much every weekend, some bigger than others. Essence Fest is a big one, Creole Tomato Fest, less so (though still fun). So check the local calendar before making your plans. If you want to combine a good FREE event with your bachelor party, check out the French Quarter Festival or Bayou Boogaloo, as well as the Running of the Bulls or the Red Dress Run.
The closest neighborhoods to the action that are both walkable and accessible by public transit and cab are the French Quarter or Central Business District. With that in mind:
...if you're looking to drop some dough: The Windsor Court
High-end NOLA hotels don't get much swankier than The Windsor. From the grill room, to the spa, to the always accommodating staff, expect a first-rate stay.
...if you want some old New Orleans class: The Roosevelt Hotel
It's both beautiful and historic, and has the added benefit of hosting not just the Sazerac Bar (where you can, of course, get an original Sazerac), but also the Fountain Lounge and one of NOLA's best Italian spots, Chefs John Besh and Alon Shaya's Domenica.
...if you want more of a casual, local experience: The Frenchmen Hotel
For a place to hang your hat in the hip Marigny and Bywater 'hoods, The Frenchmen Hotel is your move. Not only does it have a loyal following, but there's also a swimming pool. Plus you're smack dab on the Frenchman strip for music club-hopping.
...if you're looking for a budget option, because who cares about the room: Country Inn & Suites
While there are scads of big chain hotels downtown -- and you can easily score a deal if you book in advance -- this spot is the ideal "Goldilocks" mix between impersonal national hotel and genuine local charm. Plus, they offer some great rates, to boot. 
...and you want to get the full "Swamp People" experience: Swamp Tour!
Do your best impression of Burt Reynolds in "Gator" as you head out to the bayous. Tour options abound, but Cajun Encounters is a good place to start.
...and you want to commune with the dead: St. Louis Cemetery #1
Skip the Voodoo Tours you'll find hawked everywhere from the airport to the hotel lobby, and take a walking tour of some of NOLA's historic cemeteries instead. While they're all remarkably beautiful, St. Louis #1 is the final resting place of the Voodoo Queen herself, Marie Laveau.
...and want to see a lot of the city on two wheels: Rent a scooter
Tool around New Orleans on a 50cc motorbike like you haven't a care in the world -- or a Class M driver's license. Because in NOLA, you don't need either to zip around town. Big Easy Scooters can hook you up with a sweet set of wheels.
...and want to do a ton of fun, outdoorsy stuff all in one place: City Park
The 6th largest -- and 7th most-visited -- park in the nation, CP is easily accessed via a cheap and scenic streetcar ride from downtown to Mid-City. Aside from being breathtakingly beautiful (think centuries-old live oak trees draped in Spanish moss), it boasts tennis courts, golf, mini golf, fishing, and of course a Morning Call beignet/coffee stand.
...and you want to get some genuine culture: Walk the French Quarter
The "Vieux Carre" and its environs offer some incredible history and amazing architecture, and all you have to do is just wander around. Keep your eyes peeled for the St. Louis Cathedral and Cabildo House in Jackson Square, The Old US Mint, Preservation Hall, and Pirate's Alley.
...and you want to buy antique guns and swords: Cohen Antiques on Royal Street
There are slew of fine art galleries and antique shops on Royal, but this is where you're headed to add a Spanish cutlass or Civil War-era Spencer rifle to your collection.
...and you want to visit some tourist traps that are actually pretty swell (and yes, we just used the word swell): Head to any of these favorite local spots
...and want to get naked poolside with other naked people: The Country Club
The "clothing optional" pool at this Bywater restaurant is infamous, and less sketchy than you might imagine. Just remember not to stare.
...and want to wander the streets with a frozen daiquiri that won't give you a soul-crushing sugar hangover: St. Lawrence
Known for frozen daiquiris (and icy Pimm's Cups you can take "to go") made with top-shelf liquor and juice from local, seasonal fruits, this restaurant also seconds as a top late-night service industry hangout; the kitchen stays open until 2a.
...and want $.25 martinis: Lunch at Commander's Palace
Yep, martinis here are a mere quarter of a buck, every day at lunch. You won't find a better, or classier, drink special in town, but just so you know -- only three per person.
...and are looking for sophisticated upscale cocktails: SoBou 
While there are too many noteworthy restaurant bars to mention here, start by having bar chef Abigail Gullo at SoBou fix you a drink and sing you a song. (Seriously... order the "Phil Collins" and see what happens. Easy Lover? Sussudio? We're not telling.)
...and want to drink a Pimm's Cup in a building constructed for Napoleon Bonaparte: The Napoleon House
Other than boasting a glorious courtyard filled with the sounds of soothing classical music, you'll find refreshing cocktails and a fantastic muffaletta.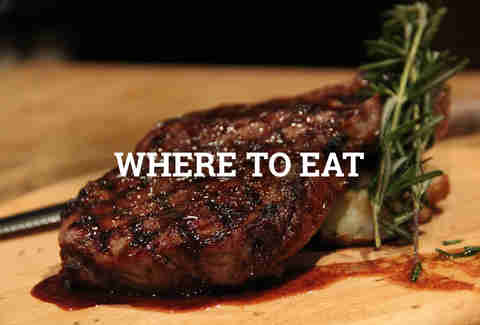 ...for the classy-as-hell New Orleans "Grande Dame" restaurant experience: Galatoire's
It's a NOLA classic, filled with traditional, elegant Creole fare (think crabmeat ravigotte, oysters en brouchette, shrimp remoulade and soufflé potatoes). Just look into reservations well in advance, especially if you're bringing a huge party. Also, plan to dress nice and all. Bring a jacket and a decent pair of shoes, if not a tailored seersucker suit.
...and you're looking for one of the most famous burgers in NOLA (especially late night): Port of Call
There are plenty of hamburgers to get excited about in New Orleans, but this joint has been blowing locals and visitors away for more than half a century. Make sure to load it up with shredded cheddar and mushrooms.
...and you're looking for the best raw oysters: Casamento's
Another historic spot, you may have to wait in line for a spell at Casamento's (although they're closed during the summer months), but it's worth it. Huge, inexpensive, raw Louisiana bivalves, stellar oyster stew, and an oyster loaf served on buttery Texas toast is where you'll want to focus. Tip Mike, their shucker, and he'll toss a raw one into your mouth from across the room.
...and you want meaty sandwiches: Cochon Butcher
The Central Grocery might have invented the muffaletta, but Butcher has perfected it with a hot version loaded full of house-cured meats, melted cheese, and olive salad.  Their pressed Cuban is also well worth your attention.
...and you're looking for BBQ: The Joint
The New Orleans barbecue renaissance is in full swing, and it's near impossible to pick a winner amongst all the sublime swine in town. Go to The Joint for the ribs, stay for the Louisiana Chaurice sausage and a slice of peanut butter pie.
...and you want an inventive take on Gulf cuisine with gobstopping portions: Borgne
Chef Brian Landry, a 504-native, does some amazing things with the fruits of the Gulf; from crawfish, shrimp, and oysters, to blue crabs and soft shells, you name it, he serves it. And all in portions built to satisfy. The shrimp croquettas, deep-fried and packed with a decadent cheese filling, are not to be missed.
...and want some serious steak action: La Boca
There are a ton of steakhouses in New Orleans, but Adolfo Garcia's Argentinian palace of beef is the place to hit for any seriously discerning carnivore.
...and you want fried chicken: Willie Mae's Scotch House
There's a reason this place is synonymous with "New Orleans fried chicken". It really is that good.
...and want to eat at the place your grandfather loved best in New Orleans: Mandina's
From turtle soup to gumbo, fried softshell crabs, po-boys, and a trout amandine or meuniere the size of your head, Mandina's is a fiercely beloved Mid-City restaurant, and has been for generations.  Make sure you go hungry, and pack some Zantac, because you're gonna feel this one.
...and you want the best fried seafood po-boy in town: Domilise's
This is a subject of serious debate amongst New Orleanians, and it isn't subsiding any time soon. That said, a shrimp, oyster, or catfish po-boy at Domilise's -- always hand-battered and fried to order on the spot -- will never disappoint you.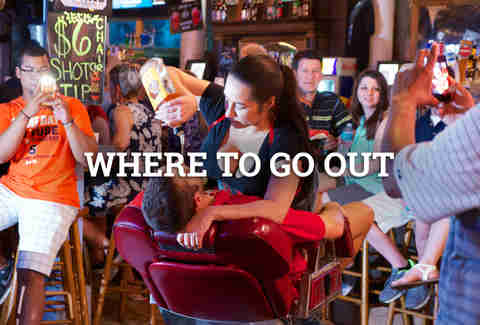 ...if you're going to do Bourbon Street: Uhhh, Bourbon Street
Because you didn't throw your bachelor party in New Orleans to not drink neon-hued plastic yards of sugary booze and HUGE ASS BEERS. Just be sure to take our ranked guide to every bar on Bourbon Street with you. Also, avoid pushy "shot girls" offering you weak, overpriced hooch in test tubes, even if you find their decolletage and/or tattoos alluring -- they're one of the city's biggest rip-offs.
...for the original hurricane cocktail in a courtyard with a fire fountain: Pat O'Brien's
It may not be the place where locals spend every weekend, but even New Orleanians find themselves at "Pat O's", if at the very least for the delightful dual piano bar.
...if you want damn good music: Frenchmen Street
Wander over to the Marigny, it's chock-full of great music venues frequented by talented local bands. Starting at the river end, you can walk up the street and literally spend the entire night listening to band after band, at club after club.
...if you want to gamble legally: Harrah's
There is one casino in NOLA, but it happens to be the largest land-based casino in the... entire world (!!). No joke. Just don't get too sucked into the poker tables and forget to enjoy the rest of the city.
...if you want to drink in the county's oldest structure that's still used as a bar: Lafitte's Blacksmith Shop
Okay, so it may be a strange mash-up and old and new (old stone, wood, and candles alongside video poker machines), but it's historic. Also, they serve a "purple drink" that's about as close as you can get to a "Flaming Moe" in real life.
...if you want "the cheapest drinks in New Orleans" and also to maybe meet Saints defensive coordinator Rob Ryan: The Club Miss Mae's
It's everything -- both wonderful and terrible -- you'd expect from a 24hr dive joint. Just don't pass out at the bar, or the staff will take your photo and hang it on their "wall of shame".
...if you want the velvet rope club experience with that definitive NOLA feel: Republic
Bounce, trance, jungle, you name it, this Warehouse District dance club's got your jam.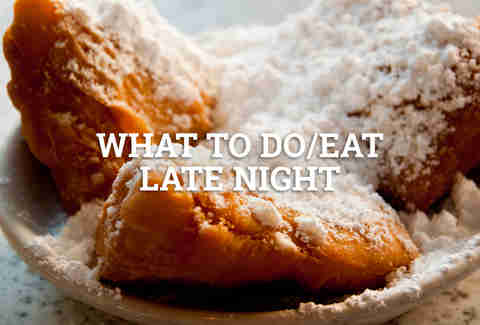 For great Cajun or Creole: Verti Marte
This tiny corner grocery in the Quarter serves tasty jambalaya and a rocking fried shrimp po-boy, regardless of the hour.
For all of your cafe au lait and beignet needs: Cafe du Monde, of course
It's open 24/7, and is an institution for a damned reason. Do NOT leave New Orleans without going here at least once. Just don't.
For greasy comfort fare to sop up the booze: Buffa's Bar
Wings, chili, and red beans and rice are your 4am play on Esplanade Avenue.
For falafel, shawarma and hummus: Cleo's Mediterranean
Admittedly, there's not a ton of fantastic Mediterranean cuisine in the Big Easy, but they do a solid job at Cleo's. And, even better, they're also open 24/7.
When your drunk food of choice involves molecular gastronomy: Root
While most of the high-end restaurants in NOLA are closed by midnight, Chef Philip Lopez's groundbreaking CBD haunt stays open until 2am on Fridays and Saturdays. Cohiba smoked-scallops, foie gras cotton candy with pop rocks, black-lacquered duck, and a stellar charcuterie board (featuring mustard poured from a paint tube) are all hallmarks here.
Short answer: Other tourists. Slightly longer answer: Still other tourists. Or at least not local women, as they can be wary of twenty dudes from Jersey blowing through town for an epic party weekend. Call 'em crazy, but they're on to your tricks. So unless you want to class it up and invest some considerable cash/effort, meeting other visitors who are also throwing caution to the wind is pretty much your best play in the Big Sleazy.
One of the first things you'll see on your drive from the Louis Armstrong New Orleans International Airport is a billboard for a gentlemen's club. And then another. And another still. The "Big Sleazy" has been peddling flesh since its Storyville days, and while things have gotten more legal and slightly more civilized over the years, you should be up on a few things.
...if you're really looking to make it rain: Rick's Cabaret
Top-caliber dancers are a calling card here, but be prepared -- you'll pay for it.  Make the ATM your friend if you plan to settle in.
...with the BIG bachelor crowd: Larry Flynt's Hustler Club
The Hustler honcho himself wouldn't slap his name on the front if it wasn't as oversized as the man's own appetites; everything in this place screams BIG (and we're not just talking about the size of the dancers'... yeah). A 40ft stripper pole, "bachelor packages," an ample balcony, and a gigantic VIP room make LFHC the ideal spot for your crew.
...for the best burlesque show: Irvin Mayfield's Jazz Playhouse
While not actually a strip joint, the free Friday night event showcases some of the country's most classy burlesque girls, performing to live tunes. And that's saying a lot, since burlesque and live music in New Orleans goes back more than a century.
...for the overall best strip club experience: The Penthouse Club
The most telling thing about this joint comes via a salty local who's worked on Bourbon Street for years and knows all of its dirty secrets: "If I were ever to get married again, The Penthouse Club is where I'd have my bachelor party." Simple as that.
AND the place you should avoid at all costs: Dixie's Divas (formerly Artist Cafe)
One insider claims to have seen a pregnant dancer's water break onstage. 'Nuff said.
Want to know even more about the New Orleans strip club scene? Of course, why wouldn't you? Check out our comprehensive NOLA strip club guide.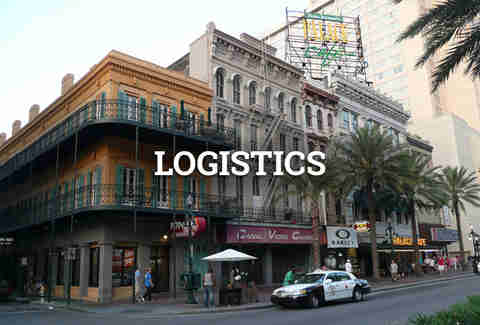 Getting around
If you're staying at a downtown hotel, you can easily move about by foot, streetcar, or cab. The local cabbies are always thirsty for business and are rarely tough to find. If you don't want to get caught hailing a taxi on a crowded street like Frenchmen though, get an Uber or give United Cab Company a call.   
Also, when booking your hotel, don't forget to ask whether they run an airport shuttle to/ from MSY; many of them do. It's not a particularly cheap trip, especially if you have eighteen dudes in tow.
Comportment
Basically, this is all you really need to know to enjoy New Orleans: Don't be a jackass. Or let your friends act like jackasses. Follow that simple rule, and you should be alright. Also, it doesn't hurt to be genuinely friendly, tip well, and NOT be one of these guys (specifically, #12).
Dealing with the 5-0
This is VERY IMPORTANT: If you happen to encounter a uniformed officer of the NOPD for any reason, good or ill, it is "Yes sir/ma'am" or "No sir/ma'am". Resist the urge to, as your Grandma would say, be fresh. And if he or she is on a horse, do not speak to, touch, or otherwise aggravate said animal. Seriously. Orleans Parish Prison does NOT a good bachelor party venue make. Also, you don't want to get kicked in the face by a giant horse.
Expected costs
As in all cities, this depends largely on how much dough you're willing to drop. The difference between a high-roller experience and a more miserly one falls anywhere between $500 and $5k, depending on how much you plan to drop on the room, at the clubs, in the casino, and on other vices. Yea, that's kind of a big range.
You can actually have a pretty sick three-day weekend in NOLA for about $500 per dude if you're cool with sharing hotel rooms. Po-boys and booze are dirt cheap here, and a lot of the music venues charge a minimal, if any, cover. If you take advantage of the deals -- and avoid paying shot-girls $50 for test tubes of watered down Midori -- you should have a memorable weekend.
Drugs
In a city filled with all sorts of delicious vices, there are, of course, plenty of illicit substances to be found. However, scoring them if you're not a local and/or would rather not get stabbed, arrested, or ripped off isn't as easy as it sounds. Pro tip: Even if you don't have a car to park, tip your hotel valet generously for not parking said imaginary car and he should be able to point you in the right direction. These guys are seriously connected.
Prostitution
In most cities, finding sex-for-cash on the street is a bad idea. This is exponentially true in New Orleans, for any number of dangerous and/or profoundly unsanitary reasons. While a well-placed tip with the concierge at a swanky hotel should get you in touch with a reputable escort service, you might be better served by simply checking those same hotel bars for the conspicuously attractive, beguilingly attired young, single lady who's surprisingly into you. She's likely the local pro (just remember to be cool).
Gird your livers, boys, and know that if you treat New Orleans right, she'll take care of you right back. If you don't leave the Crescent City 10lbs overweight but dying to return as soon as possible, you did something wrong. That's okay, though... New Orleans will always be here for you another time. Yeah you rite!