6 Cities Throwing Their First-Ever Pride Celebrations in 2018
Planting Peace
Planting Peace
Almost 50 years after New York's Stonewall riots kicked off the modern queer civil rights movement, American cities are still jumping into the ever-expanding, ever-more-inclusive tent the world knows simply as Pride. This year, a handful of cities in the US (and the world) have pushed through various combinations of rain, religion, and Footloose-esque conservative city politics to pull off their city's first-ever Pride celebration in 2018.
The ones that have already happened this year have been LIT, the ones still to come are getting bigger by the day, and all of them represent a master class in how Pride can bring out the best in a small town. Featuring drama, drag queens, and at least one Mike Pence impersonator, here are the places where LGBTQ organizers and allies have literally put themselves on the map for Pride 2018.
Columbus, Indiana
April 14
Columbus, Indiana, the blistering-red hometown of Vice President Mike Pence! Pence, who suggested the federal government fund conversion therapy. Pence, who suggested the federal government not fund HIV/AIDS treatment unless we could make sure it wouldn't be, like, a gay thing. Pence, who did not make an appearance at his hometown's first-ever Pride parade, but who you wouldn't particularly expect to.
Pence was never going to make an appearance at his hometown's first-ever Pride anyway. Fortunately, the Veep the parade deserved bought a plane ticket from New York the moment he learned it was happening. Pence impersonator Mike Hot-Pence (née Sexy Mike Pence) and more than 2,000 others partied in the rain on April 14. The turnout was past what the organizers had expected. "Halfway through the clouds parted and the sun shone down on the festival," Hot-Pence (government name: Glen Pannell) says. "It was a sign from the heavens."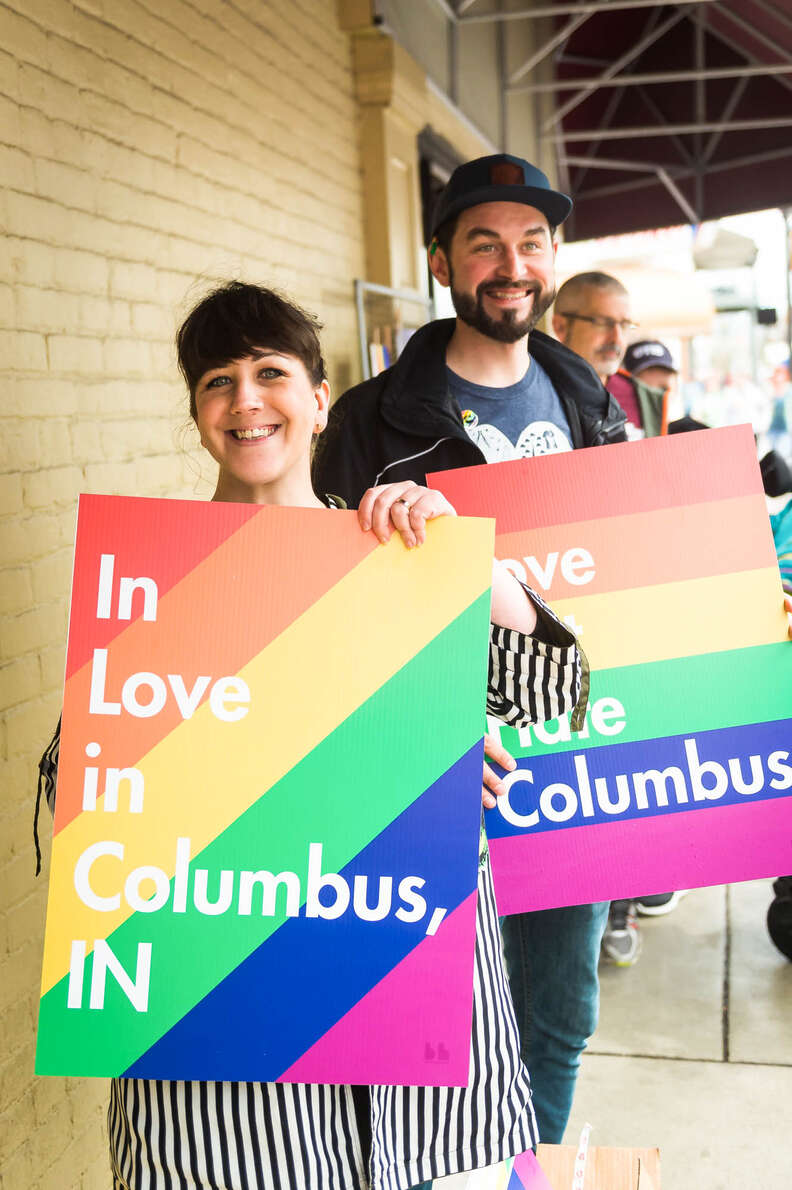 VP Hot-Pence roved around in a rainbow tie and lil' short-shorts with a donation tub reading "MIKE HOT-PENCE cares about LGBTQ YOUTH donate today to INDIANA YOUTH GROUP," an organization he selected because the parade was planned by local high-schooler Erin Bailey.
"Some of the most meaningful interactions I had were with people my own age," says the 53-year-old Hot-Pence, "who told me they'd never expected to see a Pride festival in Columbus in their lifetime. People from there who never thought they'd be walking down Fourth Street seeing rainbow flags and drag queens."
He got a few double-takes, which does happen when you look like Mike Pence But Hot. Any confusion was vastly outweighed by the joy and love and inspiration of seeing a Pride celebration carve out a space for itself in such a red state," Hot-Pence says.
"The values that make America great -- fairness, inclusion, diversity -- those were out and proud at Columbus Pride," he says. "Let the people of Columbus represent Columbus rather than letting Mike Pence represent Columbus."
In response to a request for comment from Thrillist, actual Vice President Mike Not-Hot-Pence stated the following through his press secretary:
"VP Pence commends Erin Bailey for her activism and engagement in the civic process. As a proud Hoosier and Columbus native, he's heartened to see young people from his hometown getting involved in the political process." Hot.
Starkville, Mississippi
March 24
"It was incredible. It really, truly was. We had 3,000 or 4,000 marching with us -- in a very small town -- and it was just a hit," says Meagan O'Nan, one of the Starkville Pride organizers. "People showed up from all over. Tons of families were there... we had high-school LGBT students who had been scared to come, but they came, because they were empowered seeing so many people support it. We had a few protesters, maybe 20 total, but they were just noise in the background."
It was the largest parade in the history of Starkville, home to Mississippi State University and about 24,000 residents in the flat, hot expanses of northeastern Mississippi (possibly the most regressive state for gay rights). College town or no, it still took a heavy lift to get clearance for the parade.
O'Nan got involved with the effort to throw Starkville's first ever Pride parade, around the beginning of February. The plan was for a small parade, and yet organizers still worried that the Board of Aldermen would refuse them a permit. In 2015, the aldermen repealed a resolution that had made Starkville the first town anywhere in Mississippi to denounce LGBTQ discrimination. They'd also repealed a health insurance policy that would've covered city employees' same-sex partners.
The Board hadn't denied a request for a permit in eight years, but it denied this one, despite the objections of O'Nan and maybe a dozen other Pride organizers and supporters present. Two "really, really long" weeks until the next meeting followed, during which O'Nan and her fellow organizers spread the word. It was then that what might have otherwise been a small parade mushroomed into a big one.
"At the second meeting, it was packed. People were standing outside the building, there were hundreds of people, it was just this overwhelming support from the community," O'Nan says. "It was incredible. Local businesses were supporting it, churches were supporting it."
Any big factors besides community support helped secure the parade permit? "That," she says, "and also, we threatened a lawsuit."
Lawrenceburg, Indiana
June 2
"We live in a small town, one of the most conservative towns in Indiana," says Shelly Snyder, founder of the Ohio River Valley Pride Coalition. "It's a very, very red area, so that makes this huge. People are telling us, 'I can't believe you got this to happen.'"
Snyder is the driving force behind Lawrenceburg's parade, which she says will also be one of the first sober parades due to the disproportionate rates of alcohol and drug abuse that affect the LGBTQ community. "Did we lose people and sponsors that won't come? Probably. But we'd rather stick to our morals," Snyder says. "I'm not down on anyone that doesn't have a sober Pride -- I go to all of those too. This is just what we chose to do here."
The parade route will pass several bars for those who still choose to imbibe, and will have several dozen of its own food vendors, plus a drag show. The mayor is providing barricades and a police escort free of charge (often not the case elsewhere with bigger parades) though he denied motor vehicles and a float ("He didn't really say [why], and we weren't going to push our luck at that moment.") Snyder thinks the event could pull in 1,000 people if the weather holds. I mention the turnout at Columbus' rainy-day parade.
"Oh I hope that happens for us, we've been working so hard. The RFRA that Mike Pence passed, it destroyed the LGBT community here," says Snyder, referring to the Religious Freedom Restoration Act of 2015, which allows businesses to refuse service on religious grounds (think bakeries and same-sex weddings). "It shocked us all when it passed. We live in a state where you can be fired for being gay. My trans daughter went to a [Catholic] hospital for something unrelated to trans services, and they turned her away... but we got our momentum back now."
Lawrenceburg's a town of about 5,000 people a half hour west of Cincinnati. For the record, Cincinnati folks: nothing more interesting is happening in your city this weekend. Might as well road-trip it.
Yonkers, New York
June 9
You may be detecting a red-state trend here, but first-time Pride festivals aren't limited to conservative areas. Yonkers is enthusiastically holdings its first Pride the afternoon of June 9. This one won't have an actual parade, since organizers have no idea what the turnout will be, but they're hoping the festival will be successful enough to prepare a parade for next year. In the meantime, you can expect food and drink vendors, live music, workshops, and film screenings.
"Yonkers is an old city, and also the fourth-largest city in the state of New York, so it's surprising that this is the very first time [it's had] an event like this," says Landon Cole, a member of Yonkers Mayor Mike Spano's LGBTQ Advisory Board.
The celebration will be free, with the option of a $3 21-and-up wristband or a $40 VIP ticket -- which you'll want if you plan to meet the headlining drag queens -- Drag Race royalty Alexis Michelle, Cynthia Lee Fontaine, and BeBe Zahara Benet.
"So far we haven't had any opposition," Cole says. "Only a tremendous amount of support from the mayor and support from the community."
Aurora, Illinois
June 17
On Father's Day, Illinois' second-largest city will throw its first-ever Pride parade, and this one did face some opposition. Organizers filled out their permit paperwork back in November, but were held up until early 2018 by a small religious group voicing small religious objections.
"They were using a lot of coded language, I think basically they were afraid it was going to be some sort of debauched bacchanalia," says parade coordinator Gwyn Ciesla, the organizer who applied for the parade permit.
The real tea is that Aurora's celebration is in fact predicated on being "G-rated" -- Ciesla says the organizers want the celebration to center student groups from middle schools and high schools. They also expect about one-sixth of the marchers to come from churches and synagogues. Attendance predictions range from 5,000 to as high as 9,000. In accordance with modern American tradition, they are attempting to cover this via a GoFundMe.
"It'll reflect the Aurora community in that, in addition to being youth-focused, it'll be pretty ethnically and religiously diverse," Ciesla says. "We have a large Latinx population and also a large Muslim population, so it'll be a rainbow in that sense, too."
New Britain, Connecticut
June
"I'm a Republican," says New Britain Pride Chairman and President John Board. "I don't want to say I'm baked into the leadership of the Republican Party -- I consider myself a fiscally conservative, socially liberal individual -- so for me the big thing about starting New Britain Pride, given my political background, is that I didn't want this to be viewed through the lens of politics. It's bipartisan and nonpartisan -- it's very much about the community here."
The City Council recently adopted a resolution declaring June to be Pride month. It passed unanimously, though one of the aldermen -- a pastor and a good friend of Board's -- did note that due to religious conflicts he likely couldn't be very involved. "But that's one of the great things about New Britain, it's such an accepting community," Board says. New Britain Pride won't have a parade this year, but Board is working with the city council to send letters to 10 of the surrounding communities asking them to collaborate on a parade that would take place June 28, 2019 -- the 50th anniversary of the Stonewall riots.
This year, New Britain Pride is hosting a series of events through June that Board says are designed to showcase different facets of gay culture, like collaborations with a local diner and with the New Britain Museum of American Art. On June 22, the New Britain Bees baseball team will play a game where they split the proceeds (tickets are $15) with New Britain Pride. Board says around 250 people have already said they'll attend.
"But it's an open game, people can come without signing up [online]," Board says. "Hell, I would love to have that whole stadium packed, if we could get the community, all 70,000 people, to come down."
INTERNATIONAL
Bonus round! We may be the only country with a Mike Pence, but we are not, of course, the only country with LGBTQ citizens and allies working to pull off their first Pride parades. Up in the Arctic Circle, the Canadian town of Inuvik just held its first Pride parade on April 21. Lugano, Switzerland, just held its first parade on May 28, and Dundee, Scotland, will have its first on September 22. Aberdeen, Scotland is expected to see its first parade this summer as well.
Antarctica
June
Antarctica is governed by the Antarctic Treaty System under the United Nations, meaning that all its laws come from the UN. So since LGBTQ people are protected under the UN's Universal Declaration of Human Rights, that technically makes Antarctica the first and so far only 100% LGBTQ-friendly continent. In this sense, it's about time it had its first Pride Parade.
"I'm ecstatic," says Aaron Jackson, President of the nonprofit Planting Peace. Though not affiliated with the parade itself, Jackson was the first to bring a Pride flag and a Trans flag to the continent when he traveled there in late 2016. Jackson petitioned to plant the flags alongside those of the UN and other nations represented at the South Pole, "but they wouldn't bite on that."
Since Antarctica is protected land, no one attending this parade will be able to leave anything behind, but the symbolism has its own value. "I think it's great," Jackson says. "Bringing Pride to all corners of the world. Celebrating Pride with the Penguins."
Sign up here for our daily Thrillist email and subscribe here for our YouTube channel to get your fix of the best in food/drink/fun.