As a species, we are forever enamored of new things. As we look ahead to what 2019 will bring, we at Thrillist get particularly hyped about what new attractions we can expect. We've scoured the country for the very best things debuting this year -- think museums, hotels, distilleries, restaurants, and theme parks, many of which have been hotly anticipated for years. We're talking record-breaking roller coasters, plus international food halls, indigenous food labs and, of course, Disney's Star Wars-themed park. All these attractions will change the landscape, both literally and figuratively. It is with a great deal of excitement and a teeny bit of FOMO that we present to you 2019's coolest openings around the US.
Recommended Video
This Exhilarating Ride Takes You on a Mountain Adventure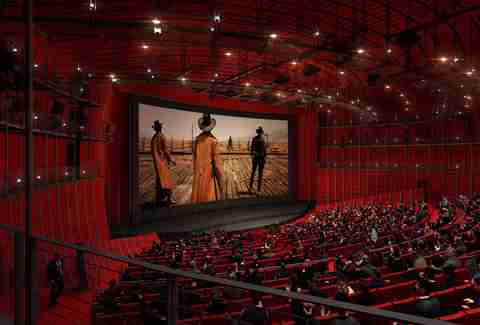 Los Angeles, California
Expected Opening: Winter
The giant Death Star-like structure going up in LA's Mid-Wilshire neighborhood is slated to house a much-needed museum dedicated to the history of cinema. Visitors will have even less reason to waste time on the Walk of Fame once the Academy Museum of Motion Pictures opens in late 2019, offering the chance to peruse H.R. Giger's Alien props or the ruby slippers worn by Judy Garland in The Wizard of Oz.
Exhibits will draw from the Academy of Motion Picture Arts and Sciences' impressive collection -- all 12 million photographs, 190,000 video assets, 80,000 screenplays, 60,000 posters, 20,000 production and costume design drawings, and 100,000 pieces of production art. Museum-goers can experience the spherical 1,000-seat David Geffen Theater, or swing by a glass-domed rooftop terrace with sweeping views of the Hollywood Hills. TV and movie junkies (so, approximately everyone with Netflix) -- rejoice! -- Sean Cooley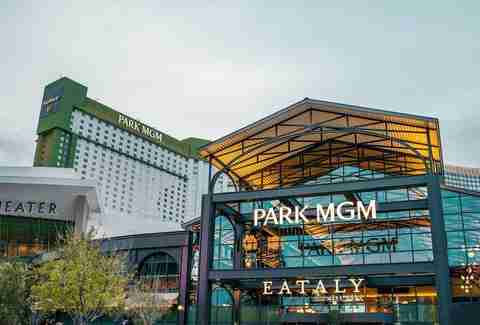 The Park MGM on the Strip
Las Vegas, Nevada
Expected Opening: Now open
From a culinary and nightlife perspective, the new Park MGM hotel in Vegas may be the most forward-thinking opening in years. (Which is saying a lot.) Located in the bones of the old Monte Carlo, the hotel has partnered with brands that just a few years ago would have been unthinkable on the Strip. Roy Choi's Best Friend is doling out spicy Korean food that doesn't go easy on the heat. Eataly is adding a bit of food-hall feel to the formerly fine-dining-only experience. The team behind NoMad are next-leveling hospitality with a hipster mindset, while Lady Gaga's ongoing residency proves that Vegas isn't just for has-beens and artists nurturing their second-stage career.
But the MVP is On The Record, a multifaceted bar from LA's beloved Houston brothers that basically flips the Vegas club rules on their head: There's old-school party music instead of EDM, hidden karaoke rooms instead of VIP nooks, a behind-a-wall-speakeasy with bartenders making great cocktails, and an outdoor patio with a double-decker-bus-turned bar, not to mention ultra-ridiculous surprise performances from breakdancers, cover bands, and other artists throughout any given night. -- Jeff Miller
Anaheim, California and Orlando, Florida
Expected opening: Summer at Disneyland and fall at Disneyworld
The arrival of a Star Wars-themed Disney park has been hotly anticipated for over five years. Now, in 2019, it's finally all happening. Star Wars: Galaxy's Edge will first open in California at Disneyland this summer and then in Florida at Disney World some time in the fall. The new attractions transport you to planet Batuu -- new to everyone but the most diehard of Star Wars fans -- where park actors will interact with guests as residents of the Outer Rim planet. Try your hand at piloting the Millennium Falcon through hyperspace, join the battle between the First Order and the Resistance, and send your kids off to the Jedi Temple for padawan training and much more. -- Kastalia Medrano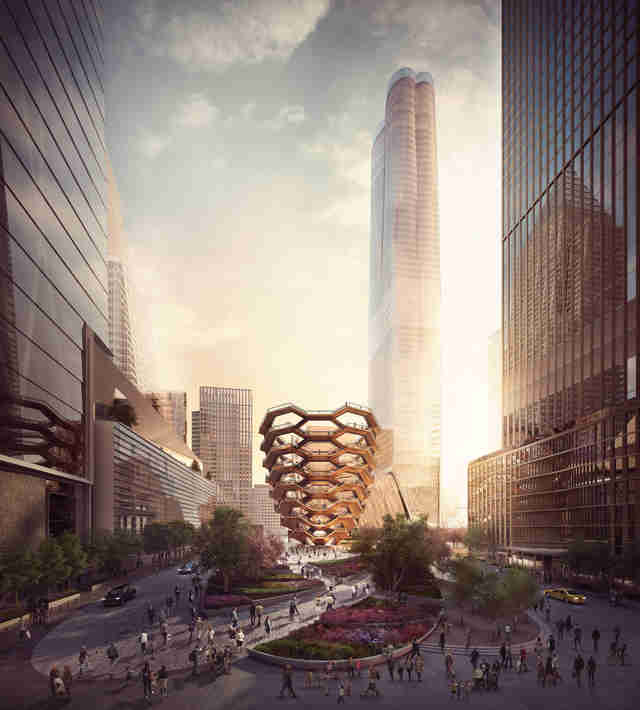 A whole new neighborhood at Hudson Yards
New York City, New York
Expected opening: Spring
There are a lot of reasons to love New York in 2019. Manhattan's skyline gets a facelift this year with the arrival of Hudson Yards, the new high-end neighborhood development on the West Side. It brings a number of luxury condo buildings to New York's already pricey housing market -- along with a collection of new restaurants, bars, cafes and a public plaza. A new beehive-shaped public landmark and interactive monument, The Vessel, opens this spring, where visitors can climb 2,500 steps onto 80 landings, offering new vantage points from which to interact and engage with the city.
Also coming this spring: The Shed, a new multi-disciplinary arts center commissioning and producing everything from performing and visual arts, to pop culture offerings, all housed in a building that can transform to fit the needs of its artists and performers. When it opens, 30 Hudson Yards will be the second tallest office building in New York, with an observation deck on the 100th floor offering killer views. New Yorkers hoping for a deal can think again -- a one-bedroom at the Hudson Yards condo towers averages around $3,475. But for new Amazon executives working in Long Island City who want to live off the 7 train, it might be the perfect fit. -- Jenn Mattson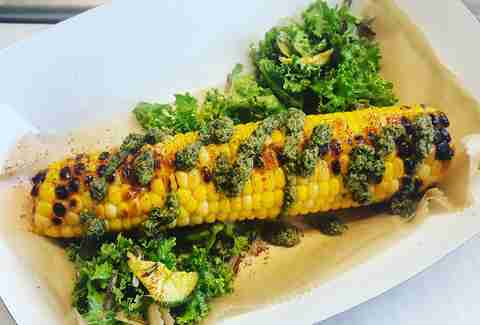 Minneapolis, Minnesota
Expected Opening: Late summer/Early fall
The long-awaited restaurant from chef Sean Sherman, also known as the Sioux Chef, is the first of two projects he'll open before summer 2020. Indigenous Food Lab, part of the non-profit North American Traditional Indigenous Food Systems (NATIFS), will "focus on North American indigenous food," Sherman tells Thrillist. "It's pre-colonial, regional." That means you won't find fry bread here. While the menu isn't set, you can get a sense of what he's after in his James Beard-winning book, The Sioux Chef's Indigenous Kitchen, which features alluring dishes like maple-sage roasted vegetables, wild rice pilaf with wild mushrooms, roasted chestnuts and dried cranberries, and rabbit braised with apples and mint.
The restaurant will also house an education branch "offer(ing) a well-rounded education centered on the food of indigenous people," Sherman says. "We want Indigenous Food Lab to work with the tribes around our particular region to help them develop some kind of indigenous food business for their community. We will offer support and training and education." His wildly popular food truck, Tatanka Truck, may not be roaming the streets of Minneapolis any longer, but knowing where to find his food every day of the year is a worthwhile trade-off. -- Dustin Nelson
Seattle, Washington
Expected Open: March
After years of room crunches and scant options besides the standard corporate spots, Seattle is undergoing an enormous hotel boom. The recession hampered construction for many years, but now the work is finally finishing: the end of 2018 brought the boutique PaliHotel, the massive Hyatt Regency, U-District gem Graduate Seattle, Marriott's trendy new Moxy, the fitness-themed Even, and a Staybridge Suites. In March, The State brings 91 rooms to a historic 1904-era building, spitting distance from Pike Place Market. Heading it up is a world-class team, including award-winning bar manager Abigail Gullo, brought in from New Orleans' famous Compère Lapin. Don't miss its five-story Shepard Fairey mural (you know, the guy who made the iconic Obama "Hope" poster).
Also opening this spring is The Sound hotel, which has unobstructed views of the iconic Space Needle, and The Mark, 189-rooms in a Philippe Starck-designed space. This makes 2019 the year to go check out how the tech boom has transformed Seattle, and skip the Airbnb for once. -- Naomi Tomky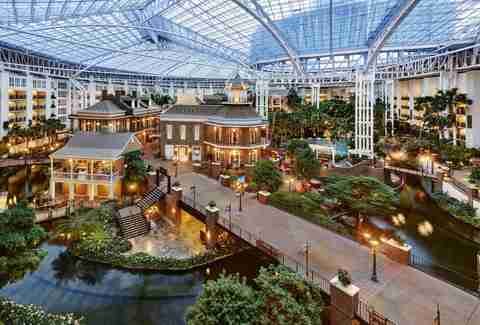 Nashville, Tennessee
Expected Opening: May (Indoor facilities are open now)
As hot as Nashville is as a vacation destination, it's a seven-hour drive to the closest beach. If you're looking for aquatic entertainment, winters are too cold and summers are too oppressively humid to comfortably to hang out poolside. That's all changing with the opening of SoundWaves at the Gaylord Opryland Resort, a property so sprawling you could probably spot it from space. The indoor section is already in operation, but when SoundWaves fully opens this summer, it'll have more than 200,000 square feet of water-based fun. Think water slides and tube flumes lined with LED lights, a 315,000-gallon wave pool, plus a gigantic movie screen and speakers throughout the space. It's not all shrieking kids, either -- there will be designated adults-only areas like bars, lounges, private cabanas, and party rooms perfect for bachelorette parties. Right now it's reserved for resort guests who purchase the special SoundWaves Water Experience Package, which includes two admission wristbands and overnight accommodations starting at $239. You'll pay more for a Saturday night at the Hampton Inn downtown, so that's a pretty good deal for some fun in the sun. -- Chris Chamberlain
Chicago, Illinois
Expected opening: Summer
Food halls are a dime a dozen these days but you don't wanna sleep on this opening. Time Out Group (the parent company of the guidebooks and city-specific magazines of the same name) is opening its Time Out Market by summer, the latest splashy opening in Chicago's already bustling Fulton Market district. The market intends to mimic the wild success of a sister location in Lisbon, which opened its doors in 2014 and served as many as 3 million visitors in 2016 alone. (The project is part of the continued push to expand the food hall brand in other cities like Miami, Boston and Montreal, all on deck to open soon, too.) The modern, airy 50,000-square-foot hall will house 20-plus as-yet-unreleased chef-driven concepts, retail and event space, rooftop deck, demo kitchen, and multiple bars, with about 600 seats throughout -- just in time to serve the flood of guests from the neighborhood's new hotels like the Ace and forthcoming Nobu. -- Joseph Hernandez
New attractions on Whiskey Row
Louisville, Kentucky
Expected Opening: Spring through Fall
With nine distilleries and counting, Louisville's Whiskey Row along West Main Street is aging as well as the casked liquid gold that it trades on. The trend continues, as this year, the city will see a slew of new distillery tourist attractions, two upscale hotels, retail outlets, mixed-use lofts, and a food hall coming its way. The recent wave of newly opened distillers includes Rabbit Hole, Old Forester, and Michter's, whose Main Street venue will serve as a showpiece distillery, cocktail bar, and visitors center in the old Fort Nelson building. Hitting up big-name bourbon tastings or a mint julep crawl has never been easier, and you won't have to leave the heart of the city.
Spring also marks the opening of Logan Street Market, a food hall housing a specialty coffee roastery, craft brewery, art gallery, event kitchen, retail shops, a farmers market and four restaurants. In the fall, look forward to Hotel Distil, which will sport bourbon-themed digs, four restaurants, and a rooftop bar, as well as the debut of Louisville's music festival Hometown Rising, taking over Champions Park and kicking off three consecutive weekends of music festivals, including Bourbon & Beyond and Louder Than Life. -- Sean Cooley
Gurnee, Illinois
Expected opening: Summer
Six Flags Great America is going all-in on 2019, debuting a "triple record-breaking" roller coaster called Maxx Force. What does that mean, exactly? Maxx Force takes you from zero to 78 miles-per-hour in less than 2 seconds, the fastest acceleration of any roller coaster in North America, not to mention the fastest inversion of any roller coaster in the world (a zero-G roll at 60-plus miles per hour), and the highest double-inversion of any roller coaster in the world (175 feet). Individual cars are also modeled after Formula 1 racers, which is a nice touch. The whole thing looks absolutely bonkers -- if this sounds like your speed, catch a ride for the very first time this summer. In the meantime, nothing's stopping you from watching the (artistically rendered) video as many times as you like. -- Kastalia Medrano
San Francisco, California
Expected opening: 2019 date TBD
Forget Hayes Valley and the Mission -- the San Francisco International Airport is well on its way to being one of the hottest dining destinations in town. Travelers are currently able to spend their layovers eating at spinoffs of local favorites like Farmerbrown, Gott's Roadside, Koi Palace, Limon Rotisserie, and Mustard's Grill, but the airport is taking its restaurant game to a new level, and raising the bar for airport food all over the country. The forthcoming 3,200-square-foot Manufactory Food Hall will feature delicious local eats from four of SF's most treasured chefs: Elisabeth Preuitt and Chad Robertson (Tartine), Gabriela Cámara (Cala), and Pim Techamuanvivit (Kin Khao).
The food hall will open near international terminal boarding area A and include three fast-casual dining experiences (with grab-and-go options) comparable to what you'd find at the chefs' main outposts. Expect a seasonal menu, baked goods (including the famous morning buns, of course), and coffee bar similar to what is offered at Tartine Manufactory in the Mission (and soon Los Angeles), affordable tacos and tostadas like those at Tacos Cala in the Civic Center, and Thai rice bowls, noodles, grilled meats, and sweets from Kin Khao in Union Square. The epic food hall will also have a full-service bar and a retail space selling Bay Area products. Suddenly those frequent fog-induced flight delays don't sound so bad. -- Daisy Barringer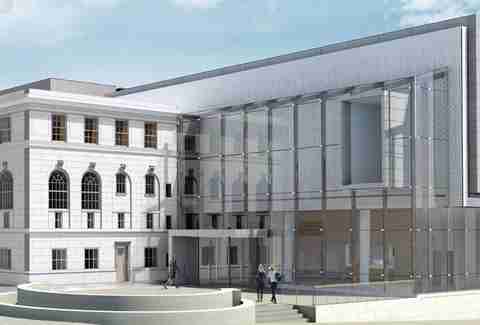 Asheville, North Carolina
Expected opening: Spring
Regular Thrillist readers (and Asheville residents) know that Asheville has in recent years catapulted itself to the forefront of American weekend-escape towns with its booming arts scene. In 2019, the Asheville Art Museum is finally going to catch up. Previously, the museum only had space to display something like 4% of its content at once, but now -- after more than 15 years of discussion and planning -- it's being massively expanded and renovated to reflect the depth of Asheville's arts and culture. Its design is cutting-edge (obviously) with a new light-filled glass facade and environmentally friendly features. The museum 2.0 will be unveiled in a Grand Reopening some time during spring 2019. In case you needed just one last reason to finally visit Asheville this year. -- Kastalia Medrano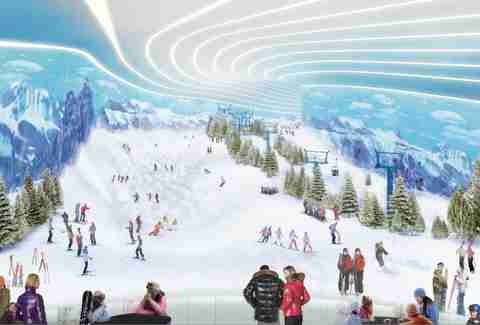 East Rutherford, New Jersey
Expected opening: Spring, 2019, with more openings in future
Don't call it a mall: The American Dream is an experience. A few lifetimes ago -- back in 2002 -- the New Jersey Sports and Exposition Authority sought development proposals for a multi-use entertainment facility to sit on 162 acres of the Meadowlands Sports Complex. Initially dubbed Xanadu, the 4.8-million square-foot complex would include extravagances like an indoor Alpine ski resort, an indoor mini Formula One style raceway, and minor league baseball stadium. However, 17 years later (including three ownership flips, a name change to American Dream Meadowlands, and money issues and lawsuits galore), parts of the mega mall/amusement park/entertainment space are expected to open spring 2019.
Now run by Triple Five, the people behind the Mall Of America (the gigantic Minnesota shopping mall with its own amusement park) the multi-billion dollar space will boast an indoor snow park, an indoor DreamWorks Water Park, Nickelodeon Universe indoor theme park, a massive Ferris wheel offering prime views of New York City, a NHL-sized hockey rink, an aquarium, a fitness center and spa, shopping, and a high-class food hall, with more than 100 options, upwards of a dozen full-service restaurants, a cooking studio, and dedicated Kosher vendors. Located less than an hour outside of New York City and right near MetLife Stadium and offering 33,000 parking spaces and an on-site train station and bus stop, the American Dream is accessible to both city-dwellers via public transit and New Jerseyans alike looking to revel in the robust multi-sensory experience. -- Allie Volpe