One Man Nearly Had an Entire Delta Flight to Himself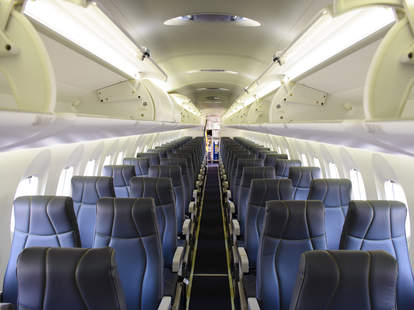 Across the board, planes are getting more crowded by the day. But for a brief moment of glory yesterday, one lucky passenger got an entire commercial flight to himself. And even though the flight ended up with two passengers, the near-solo jaunt gives hope to fliers everywhere.
Chris O'Leary learned via text that his 7.15am flight from Cleveland to New York was delayed and he'd be on a flight two hours later. But that flight was delayed until 1pm, so he decided to wait at his hotel. Well, when O'Leary turned up at Cleveland Hopkins International Airport, he found out that every other passenger was rebooked on earlier flights, and that he'd be the only one aboard the plane.

O'Leary enjoyed a special chat with the plane's captain, had two flight attendants at his beck and call -- not to mention, any of the 76 seats on the plane at his disposal -- and announced all the awesomeness on Twitter.
Just got a personal safety briefing from my two flight attendants.

— Chris O'Leary (@ohhleary) January 12, 2015
But just before the plane shoved off, a second passenger boarded, shattering O'Leary's one-man flight dream.
No, I'm not joking. I'm the only one on this plane. pic.twitter.com/UcZ8BZLop1

— Chris O'Leary (@ohhleary) January 12, 2015
Still, they managed to stay out of each other's way. "He took advantage of the fact the flight was empty and reclined his seat all the way (and slept)," O'Leary told ABC News.
Remember this day the next time you hear about arguments over armrests or flat-out brawls over reclining seats.
Chloe Pantazi is an editorial assistant on Thrillist's travel team, and the best experience she's had on a flight was having the entire row to herself. Follow her on Twitter @ChloePantazi.