Recommended Video
Please Don't Hang Up: The Best Things to See, Eat, and Do in Seattle, WA
Being a tourist in New York City is no easy feat. There's the fear of botching your MetroCard swipe, the constant effort not to incur the wrath of locals, and the insurmountable challenge of budgeting your time so you can see everything in your guide book. Reality No. 1, dear visitor: You will not see everything in your guide book.
Prioritize what's important to you. But please don't waste half your day standing in line for some godforsaken tourist cesspool just because it's on a list of top NYC attractions. A good way to judge if something's worth your time? If a New Yorker would actually want to go with you. Some tourist attractions are popular for good reason; they're truly quintessential parts of the New York experience. Others, New Yorkers detest with the fire of a thousand suns. Allow me to break it down.
14. Times Square
Would a New Yorker go?: Please no, anything but this panic-inducing hell.
Why it's popular: 42nd and Broadway lures tourists into its neon maw like moths caught in a bug-zapper's deadly, beautiful glow. Sure, the giant billboards and chaotic, avalanche-sized crowds are a wild spectacle, especially if you hail from a one-stoplight kind of town. Nearly every train runs there and it's kind of unavoidable if you're seeing a Broadway show.
If you go: Put on your best unimpressed face and head up to the top of the TKTS stairs for the view you've been wanting. Then get the hell out of there. Avoid peak commuting hours (around 9am, and from 5-7pm), as well as when Broadway shows let in and out (1 and 2pm for matinees, 7 and 8pm in the evenings). The least-crowded time? Long afterhours, around midnight. No matter when you go, beware of anyone and everyone approaching you. Do not be tempted into discount tour packages or probably fake Hamilton tickets. Do not think the selfie with Elmo or the Naked Cowboy isn't going to cost you some cash. Do not confirm that yes, you do like comedy! to the hawker trying to drag you into a "free" comedy show (usually only free after you meet a required drink minimum).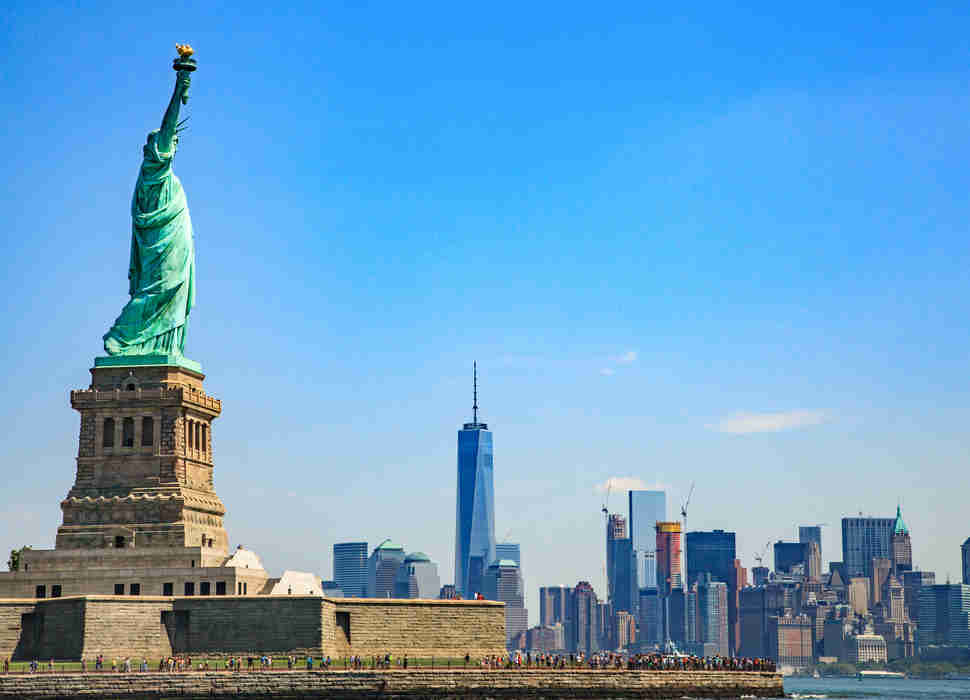 13. The Statue of Liberty & Ellis Island
Would a New Yorker go?: No. At least, not on that $19 boat to Liberty Island just to mill around by her feet. The adjacent Ellis Island -- unless you've got a vested interest -- is boring with a capital B.
Why it's popular: Lady Lib, with her impressive 305-foot stature, looks really great in a selfie. She's also one of the most recognized symbols of America and served as a welcoming beacon for the 12-million-plus immigrants who passed through Ellis Island. But trust us on this: Anyone interested in NYC's immigrant history will be better served at the Tenement Museum on the Lower East Side.
If you go: Go an alternate route. You can get an eye-full of Lady Liberty by standing on the deck of the Staten Island Ferry (which is free to ride), or taking the ferry to Governors Island. Another option is to jump on the IKEA water taxi from Pier 11 to the store's location in Red Hook, Brooklyn (free on weekends, and you'll get major street cred for visiting the low-key-cool Red Hook). Or try a seafood-themed booze cruise with North River Lobster Co. or a brunch or dinner cruise with Hudson's NYC.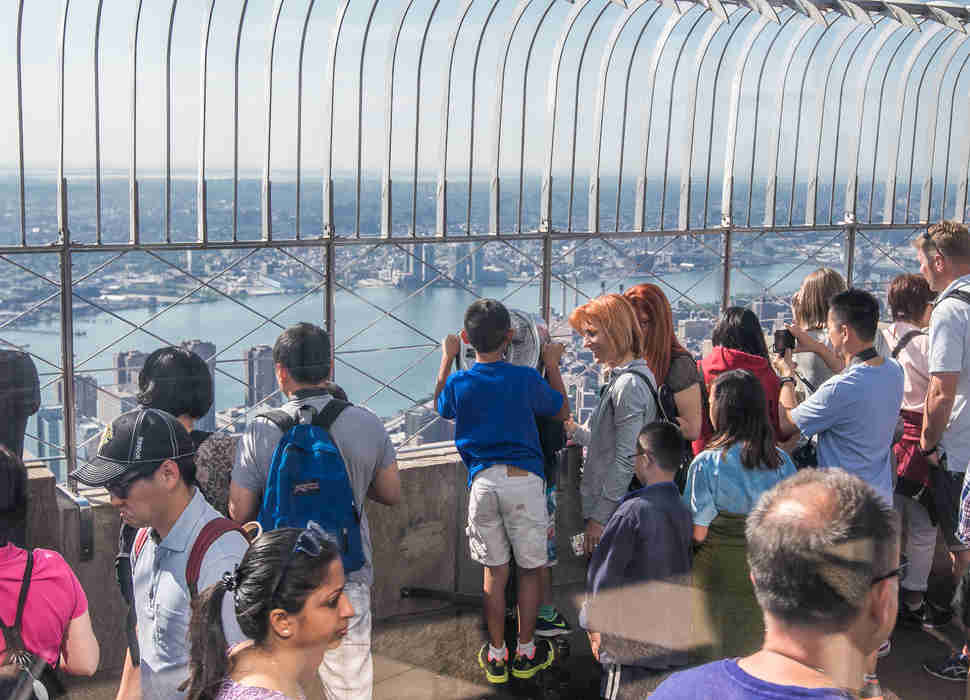 12. The Empire State Building
Would a New Yorker go?: Hell no. You do realize you can't actually see the Empire State Building from the Empire State Building, right?
Why it's popular: The movies want you to believe that the Empire State's Observation Deck is the most epic romantic spot in the city -- nay, the world! Admittedly, the view is nice. But packed to the nines at pretty much any time of day and night, this tourist time-suck is not exactly cheap (the 86th floor is $34, the top deck is $54) and takes a good chunk of time (expect to wait one to two hours during peak times -- i.e., summers, weekends, and sunsets).
If you go: Go early. You'll experience a slightly less-hellish crowd between sunrise and 11am. Or skip the line and buy a $100 sunrise pass or an $80 VIP express pass. If you can't shell out the cash, bring some pre-loaded reading material on your phone to keep you occupied while you suffer the insufferable queue. But honestly, the way better alternative is the observation deck at Rockefeller. Speaking of...
11. Top of the Rock and Rockefeller Center
Would a New Yorker go?: Yes, anything to avoid the Empire State Building.
Why it's popular: The view of NYC from the Top of the Rock is actually awesome and allows you to get the Empire State Building in your photos. Rockefeller Plaza is famous for its Today Show tapings -- often accompanied by free concerts in the summer -- as well as its enormous Christmas tree and skating rink in the colder months. It's also the home of NBC, and while you probably won't see any SNL stars hanging around, you can score free tickets here to a variety of tapings and rehearsals of the network's shows.
If you go: If you don't want to pay for the 70th floor observatory ($37), walk up to the bar at the Rainbow Room's Bar SixtyFive, where a $20 cocktail gets you similar views just five floors below. Plus, this way you get to drink. Buy a ticket ($33) for an NBC studio tour to see the station's headquarters, sound stages, and behind-the-scenes action, all led by a real NBC page.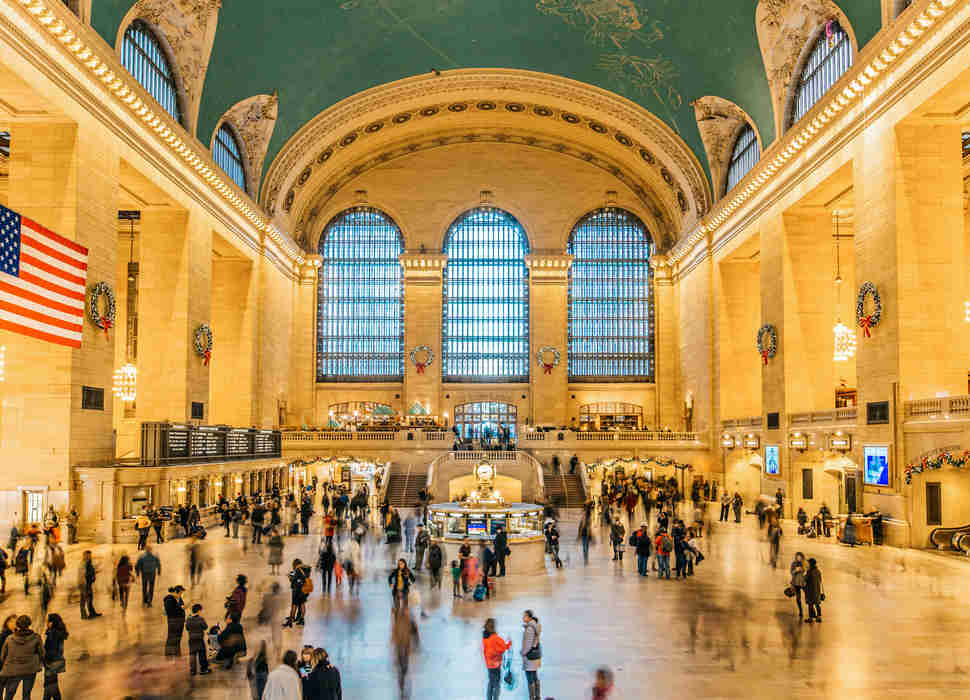 10. Grand Central Terminal
Would a New Yorker go?: Yeah... half-asleep on their way to work.
Why it's popular: While hurrying through GCT is a monotonous daily routine for many a New Yorker, it's arguably the most famous transit hub in the world (OK, second famous, Harry Potter nerds). It's worth a stop-off at your convenience to ogle the famous clock in the Main Concourse. Peer upwards to admire the giant American flag and constellation-painted ceiling (the best views are from the terrace at the Apple store).
If you go: Make it worth your time and head to the recently revamped Campbell Apartment for a martini, or the 100-plus-year-old Grand Central Oyster Bar for happy hour, when freshly shucked oysters start at $1.25.
9. Coney Island
Would a New Yorker go?: If you'll buy 'em a hotdog at Nathan's Famous. Otherwise, we usually trek out to Rockaway Beach (via the A train) or Jacob Riis Park (via the quirky NYC beach bus) for our urban beach excursions.
Why it's popular: Coney Island is the city's OG beach hangout packed with people of all ages and backgrounds, united by a love of questionably sanitary sand, sugary booze-free (bring a flask) frozen piña coladas, and antique roller coasters. Entrance to Coney Island Beach is free, and you can pack your own picnic and beach gear for a cheap day in the sun. If you're short on supplies, everything from bikinis to cheese fries are sold on the boardwalk, making an impromptu beach trip totally doable. Nearby, Luna Park can also keep you occupied with carnival-style games and rides for all ages.
If you go: The D, F, N, and Q trains (all of which you can connect to in Manhattan and Brooklyn) will drop you there. Avoid a huge line to ride the park's most famous attraction, The Coney Island Cyclone, by hitting it as soon as the park opens (11am, most days) or after sunset.
8. The Metropolitan Museum of Art
Would a New Yorker go?: Fine, but we'd rather go to the Frick.
Why it's popular: Skipping the Met on a trip to New York would be akin to skipping the Louvre in Paris. It's crowded and overwhelming but you have to do it, even for a quick hour-long lap around the most popular galleries and the Egyptian Temple of Dendur.
If you go: Go early in the day or near closing (5:30) for a little more elbow room; or, pro tip for the claustrophobic, it's open until 9pm Friday nights. Prioritize the new-ish American Wing, or breeze by the Greatest Hits from your freshman year Art History class: The second floor's European Paintings date from 1250-1800 and span galleries 600-644. If there's no line, head up to the roof to see the summertime exhibition and Central Park views. All admission prices to the Met are "suggested" so pay what you can afford. And hold onto your ticket: Your admission gains you entry into the Met Breuer (the Met's new contemporary museum at 75th and Madison) and The Cloisters (a medieval oasis at the top of Manhattan) for up to a year after purchase.
7. Shopping in SoHo
Would a New Yorker go?: Sure, but the stores get pricey and the weekends get crowded.
Why it's popular: One of the world's best shopping districts, SoHo (which stands for the area South of Houston -- pronounce How-ston) is even better for the people-watching. Veer off from Broadway and you'll spot models, fashionistas, wannabe models, wannabe fashionistas, and occasionally a B- or C-list celebrity worth tweeting about.
If you go: Eschew the J. Crews and H&Ms you can get at your hometown mall in favor of pop-ups and local favorites like McNally Jackson bookstore, Housing Works for second-hand clothing and homewares, and The Evolution Store for oddly intriguing taxidermy and skeletal decor. Head west of Broadway for more upscale boutiques and those chic cobblestone streets you'll recognize from Cadillac commercials.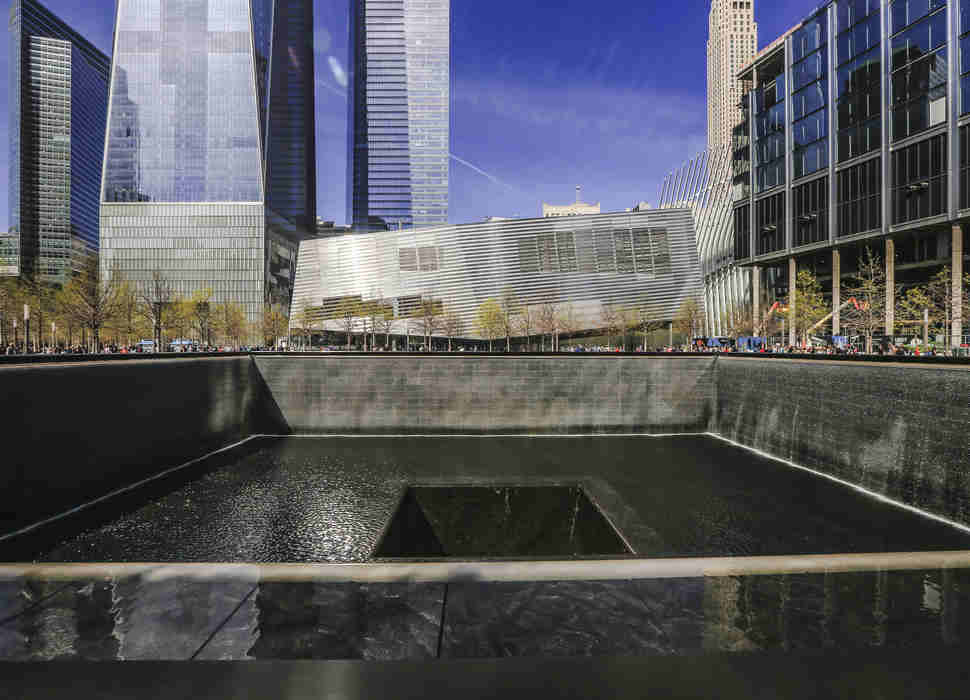 6. One World Trade and the September 11 Memorial & Museum
Would a New Yorker go?: Yes, many go to honor those who were lost and commemorate a time when the city came together.
Why it's popular: A solemn but important stop on any trip to New York, the powerful memorial to the victims of the September 11th attacks is open to the public from 7:30am to 9pm every day, no ticket necessary. However, you will need a ticket to get into the accompanying 9/11 museum. Next to the site of the former Twin Towers stands One World Trade, a gleaming 104-story building -- the tallest in the Western Hemisphere -- offering sweeping 360-degree city views.
If you go: Be respectful. Resist any and all urges to take a selfie or Snapchat at the Memorial. Tickets for the 9/11 museum can be purchased up to 6 months in advance. You're asked to book a specific time slot for entry, but don't stress too much about making it at the exact time you book -- there will be a line no matter what time your ticket says, and you'll be able to get in within a reasonable window of your ticket's timeframe. There's also a $65 early access tour that lets you in the museum at 8am before doors officially open.
As for One World Trade, New Yorkers take in the stunning views of the 64th Floor Sky Lobby by shamelessly asking a friend or friend of a friend who works in the building for a guest pass, which gets you in for free, sans wait. But if you don't have the connections, buy tickets in advance ($34) to the One World Observatory.
5. Chinatown & Little Italy
Would a New Yorker go?: Heck yes, if there's a meal involved. These two neighborhoods are some of the most tourist-infested, but also the tastiest.
Why they're popular: The fooooooood! Sadly, Little Italy no longer boasts a large Italian population, but a walk down Mulberry Street can still satisfy your red sauce and cannoli cravings. New Yorkers load up on Italian-imported cheeses at the hundred-year-old Di Palo's market on Grand Street (a great alternative to Eataly, Mario Batali's Italian food emporium that's pretty much synonymous with long lines and confused tourists).
Chinatown, which extends both east and west below Canal Street, still boasts a large Chinese and Chinese-American population. Steel yourself for the pungent wafts of fish. Wander past steamy windows with hanging Peking ducks, street carts vending drinkable coconuts in the summer, and nearly countless restaurants serving up a variety of delicious Chinese cuisine. Lam Zhou Handmade Noodle has some of the best dumplings you'll ever stuff in your mouth, Spicy Village has its iconic Big Tray Chicken (order with the optional noodles), and Nom Wah Tea Parlor serves everyone's favorite dim sum.
If you go: You'll almost assuredly hear the low-voiced call to purchase "authentic" designer handbags and watches in Chinatown. While it is technically illegal to purchase counterfeits, know that anything you buy is negotiable. Offer a price lower than what you actually expect to pay and haggle back and forth a little until you reach what you think is fair. You may start to walk away to seal the deal or throw in a comment like, "Well, the other shop already offered it for less so I'll go back." Have an accomplice and bring exact change.
4. The Brooklyn Bridge
Would a New Yorker go?: Why not. Crowds are dense on a pretty day and at sunset, but we love those skyline views just as much as the next guy.
Why it's popular: Constructed over a span of 14 years in the late 19th century, this massive suspension bridge was a much-needed alternative to ferrying between Manhattan and Brooklyn (then considered a suburb), and was, at the time, the tallest structure in the Western hemisphere. It's free of the rumbling subway noise that plagues the Manhattan and Williamsburg bridges, plus offers legit walking and biking paths and Instagrammable views of the Manhattan skyline.
If you go: Ideally, walk from Brooklyn to Manhattan so you're facing the skyline. To avoid crowds (and get the best pictures), head across in the early morning hours. Nerd out on engineering trivia and read the plaques detailing the bridge's fascinating history along the way.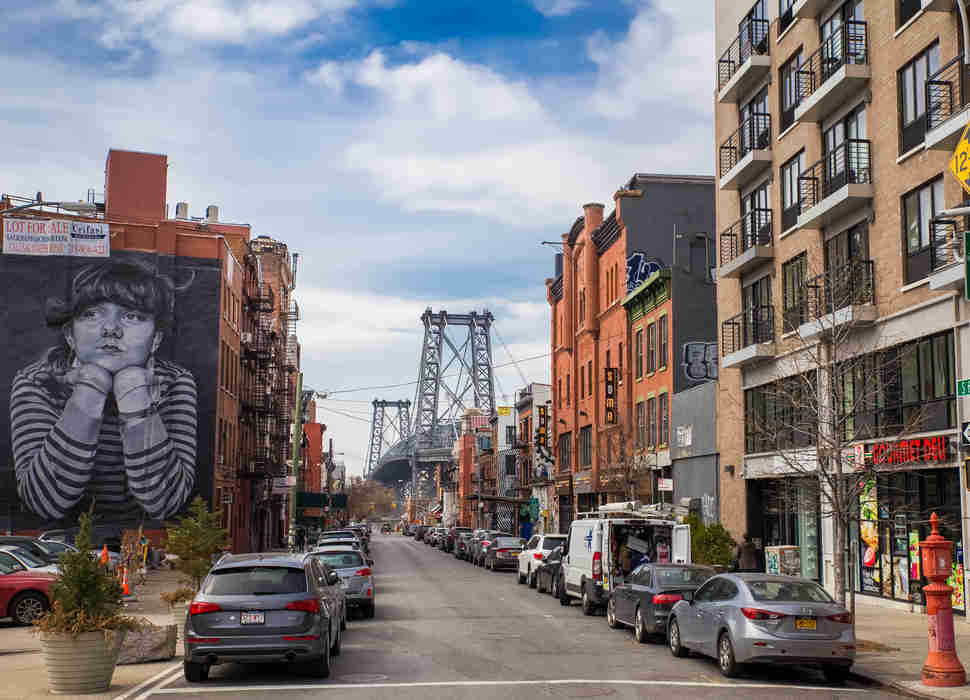 3. Williamsburg, Brooklyn
Would a New Yorker go?: Oh yes. Brooklynites who remember what Williamsburg used to be bitch about the hipsters and prices, but cheer right up after a cold Modelo.
Why it's popular: If you've obsessively watched Girls, Master of None, or any other very cool show that takes place in this very cool neighborhood, then put on your very coolest outfit and hitch your wagon on a Brooklyn-bound L train. Strolling south down the main artery of Bedford Avenue is the easiest way to take it all in -- duck into bars and shops as you see fit -- but less-crowded streets like Berry, Wythe, Metropolitan, and Union will also serve you well. Wandering towards the East River reveals views of the Manhattan skyline, or see it from the Wythe Hotel's crowded-for-good-reason rooftop lounge. Wandering north past McCarren Park and the always enjoyable Spritzenhaus beer hall will dump you into the more-chill neighborhood of Greenpoint.
If you go: Stay between North 10th and South 5th Streets if you want prime Williamsburg (if you've wandered under the Williamsburg bridge you've gone too far). Oh yeah, and eat. North Brooklyn's culinary landscape is delightful yet vast. On Saturdays after 11 head to the free outdoor Smorgasburg market, held rain or shine at the waterfront in East River Park, where you sample foods from 100 tented vendors. Feast until you can feast no more.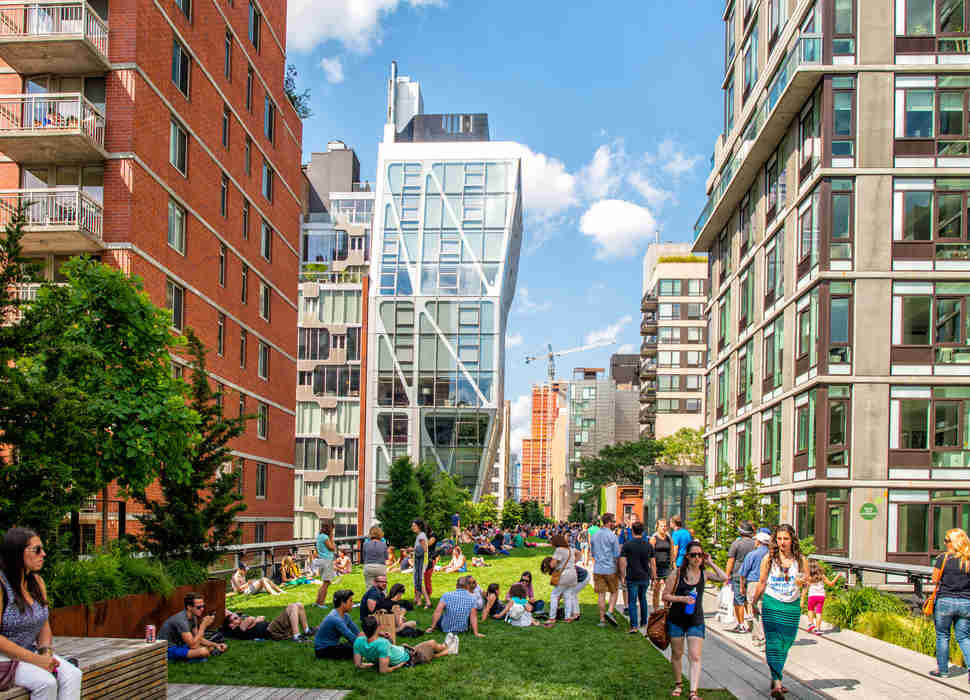 2. The High Line and Chelsea Market
Would a New Yorker go?: Gladly! Meeting up to stroll the High Line and grab a snack at Chelsea Market is a legitimately enjoyable weekend activity.
Why it's popular: The High Line is a narrow elevated park built along 1.45 miles of historic railroad tracks, offering glimpses of New Jersey across the Hudson River, plus unique overhead views of busy two-way streets and the surrounding architecture. You'll find spacious loungers for sunbathing and a plaza where food vendors, musicians, and evening stargazers congregate.
At the southern end of the High Line off 16th Street sits Chelsea Market, the block-long food hall housed in a former Nabisco factory that helped kick off the now-pervasive food hall trend. Inside you'll find upscale sit-down restaurants like Buddakan, Giovanni Rana, and Cull & Pistol. But New Yorkers take advantage of the more affordable food stands like Mokbar, which doles out Korean-style ramen, and The Lobster Place, where you can grab freshly rolled sushi and lobster rolls to eat at the counter. $20 gets you a solid meal, either at one spot or by mixing and matching a few bites from various stands.
If you go: The High Line can turn into a claustrophobic parade of tourists walking two-by-two, so aim for a weekday, early morning, or late afternoon. We recommend starting at the 34th Street entrance and walking south, so you can hit Chelsea Market and The Whitney Museum of American Art when you're done (or do it in reverse). Otherwise, stairways to enter and exit the High Line are located every few blocks at 28th Street, 26th Street, 23rd Street, 20th Street, 18th Street, 16th Street, 14th Street, and Gansevoort Street.
1. Central Park
Would a New Yorker go?: Duh. Central Park is synonymous with NYC.
Why it's popular: The crowd at Central Park serves as New York City's great equalizer, from Park Avenue billionaires to roommates in desperate need of fresh air outside their tenement-style apartments. In pretty much all seasons, this vast expanse of open green space calls out to anyone and everyone eager to spread out a blanket for a picnic, catch a concert or play, hike the Ramble or run laps around the Jackie Onassis Reservoir, or just stroll through the various landscapes for a soul-soothing break from the grid.
If you go: Even lifelong New Yorkers can get lost in Central Park, so visit with a plan and comfortable shoes. If you do get lost, know that the park's 1,600 lampposts have a secret code painted or embossed on their base to help you orient yourself: The first two or three digits tell you the nearest cross street. If the last number is even, it means you're on the East Side (both E's!), odd numbers mean you're on the West Side (which is indeed the quirkier of the two).
You can't really go wrong choosing a park entrance, from bustling Columbus Circle to the much quieter, tree-lined Central Park West or Fifth Avenue. Aim to see some of the architectural highlights, like Bethesda Terrace, Strawberry Fields, the Conservatory Garden, and the Loeb Boathouse. If you want to picnic bring your own food and drink, which can be procured at bodega delis surrounding the park, and find a spot in expansive Sheep's Meadow or the Great Lawn.
Sign up here for our daily Thrillist email and subscribe here for our YouTube channel to get your fix of the best in food/drink/fun.