Behind the Scenes With the Yankees' Traveling Secretary
Jason Hoffman/Thrillist
Jason Hoffman/Thrillist
Every year, from April until October, the 30 baseball teams in the Major Leagues undertake one of the great organizational feats in American sport, playing 2,430 games across North America. Each team plays 162 times, crisscrossing the continent on planes, trains, and buses. And, in New York, the subway.
For this to happen, hotels need to be booked months in advance. Flights have to be scheduled at exact -- yet flexible -- times. Per diem cash has to be at the ready. Players and coaches need to know where and when this is all going to happen. So do their families. So do their entourages. So do their dogs.
Someone, of course, has to be in charge of all of this. That someone on the Yankees, baseball's most visible team, is Ben Tuliebitz. He began his career with the Yankees in 2002, and is now in his 10th year as the team's traveling secretary, a seasoned veteran of sorts in what he calls a dream job.
Last weekend we caught up with Tuliebitz at Yankee Stadium, where the longtime baseball fan offered a glimpse into what it's like to shuttle a professional baseball team around the country for half the year. Like the game itself, the job is rarely predictable.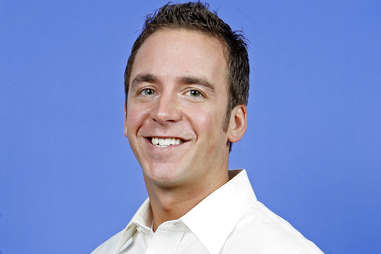 What's your craziest time of year?
Spring training. We've got 70 guys in camp. I do all of the logistics, so we're talking everybody's housing, the schedule for spring training, making sure guys are where they're supposed to be, buses, hotels. And then there's daily routines like tickets, financial stuff, making sure guys have money.
That first week is usually very busy. Plus, at that time too, we always have some sort of immigration issues -- some guy gets stuck in Venezuela, or something.
So the off-season is your season, in a way?
When I do the hotel contracts in the previous October and November, you kind of know ahead of time how things are going to work. So I know that, alright, if we play the Orioles on a weekend in June or July, it's a close trip, kids are probably going to be out of school, guys are probably going to bring their families, so you know you're going to need a few extra rooms. If it's a trip to Cleveland, mid-week in April, chances are no one extra is traveling.
But, of course…
I'm telling you, nothing ever goes according to plan.
(A few weeks ago) Brett Gardner got hurt, so [general manager Brian Cashman] called me at 1:30 in the morning and said, 'Hey, we want Aaron Judge here tomorrow, to start.' Not like, to be here and come off the bench -- to start. So, alright, it's 1 in the morning in Rochester (where Judge was). We contact our guys at Triple-A. There's two flights first thing in the morning from Rochester to New York, but given that there was potential with rain and weather, it was just too concerning. So it worked out really well: Judge's parents were in Rochester, so they all hopped in a car and drove through the night. I got them a hotel somewhere out in New Jersey so they could stop and get a few hours of sleep. It worked out great.
I'll get those calls at 1 o'clock, and we're scrambling and I'm literally at my desk at 2 o'clock in the morning trying to find a hotel that has a vacancy at 2am on a Friday, and trying to coordinate that with his family, but everyone else is gone, but at 9 o'clock in the morning he just shows up.
That's my goal. At the end of the day, I'm a behind-the-scenes guy. You want everything to fall into place, you want from the outside, everything to be, Oh, Judge is here on time, everything worked out according to plan. The only time someone talks about the operations guy, the logistics guy, is when something goes wrong.
A few weeks ago you had no plane -- what happened?
Our plane had to come down from Boston. Boston to LaGuardia or Kennedy, and the plane actually, I mean it's silly, but the plane was literally stuck behind a giant international flight, like a big Triple Seven, and it couldn't move. It couldn't move because of where it was parked. We had to wait for this big plane to move.
Does the team's flight get preference to leave before others?
We are very fortunate and have really good relationships. Situations like that, we can call certain people. You could be flying out of LaGuardia and you could be 15th, 16th, 20th in line to take off and sometimes that's not avoidable. But there are times when certainly we've called in some favors and were able to pull some strings.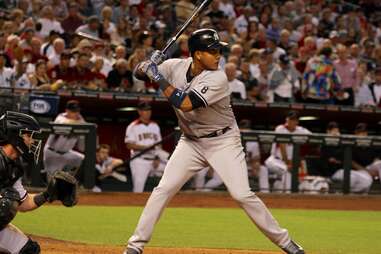 The Yankees, by name, are famous. How does that change things?
In Anaheim, Billy Eppler [the Angels' general manager] was describing what I do to a few people and was saying it's like the tour manager for the Rolling Stones, taking care of this rock band, but instead of having concerts every night, we're having baseball games.
We've had a number of high-profile players who have had suites (written) into their contracts. I'd like to think that the Yankees have always done things differently, a little better than the other clubs. There are 30 teams, I would say 26 or 27 stay in the same hotel in certain cities. I'm the kind of guy who says, Let's break the mold, let's find a way to do things better. I want players to come play for the Yankees and say -- at least the things I can control -- the Yankees do things first-class.
So we probably spend a little more on our hotel budget than some other teams, but we also have more security concerns than other teams. Where some teams may stay at a big-box hotel, a big Westin in Chicago, for us, that could be a problem because we have fans staying there trying to knock on players' doors. We had that issue before. So we try to stay in smaller properties, which ultimately, if you take up more of their room inventory, you're going to be paying a little bit more. But I think for the most part if you surveyed our guys, they'd say we stay in pretty nice hotels.
I've had dozens of players who have left here, or who from the outside say they miss being with the Yankees because, I think, we do things better.
So you're not really pinching pennies here?
People automatically assume it's the Yankees and I can fly by the seat of my pants, but no, we have budgets and I sit down with our financial people and ownership approves all of our budgets. In the fall we have our budget meetings in November and December. We go through what we're spending and why we spend things a certain way, and I think it's in my best interest to do things first-class, but also to do things wisely.
There's a way to do things well and do them efficiently. You may say, well, we go to Toronto three times a year, and there's a really fantastic five-star hotel down the street, but if the hotel we're staying at is perfectly sufficient, does a great job, service is there, the quality is there, why spend the extra money?
You seem to have most of this down. What challenges remain?
We've had a number of big names come through here and with the big names comes an entourage. Sometimes the hardest thing is managing personalities -- you can't treat one guy the same way you treat another. Some guy may need his ego stroked a little bit, may need to be put in a nicer suite.
A guy like Mark Teixeira is very laid-back and easygoing, but Mark is very organized. He is the kind of person who knows what he wants ahead of time. He'll tell me a month in advance, 'Hey, I've got family flying in, will you set this up ahead of time?' And I'll have another guy, who literally will be at the hotel and say, 'Hey, I forgot to tell you, my dad's here.'
That's probably the hardest part. Managing those expectations, knowing that not everyone is going to handle things the same way.
Do players ever get upset about their hotel rooms?
I've heard it all. We've been very fortunate because we've had a really good group of guys, generally speaking. We've had a few guys who are a little more high-maintenance than others. I've had guys who said their rooms are too small. Have had guys tell me their TVs weren't big enough. I had one player who, as soon as we landed, said, 'Bro, are you serious with this TV?' I didn't know what he was trying to do. I think he was trying to hook his PlayStation up, and it was too small.
Are you keeping certain guys away from others?
I have heard horror stories from other guys around the league. I mean, it's like anything else, you put 25 guys in a room, 25 different personalities, not everybody's going to get along. But we've had professionals, had guys that are able to handle things professionally. If a guy doesn't like somebody, it doesn't mean they have to be best friends, but they remain calm.
Sounds like you like this job
I've been so fortunate -- all of us, we have to step back and say how great it is. If you were to tell me 20 years ago that I'd have this job, I'd be very happy. This is, in a lot of ways, a dream job. It's not for everybody. It's certainly a lifestyle. My phone's always on.
Sign up here for our daily Thrillist email, and get your fix of the best in food/drink/fun.