Niagara Falls Is Frozen and Looks Incredible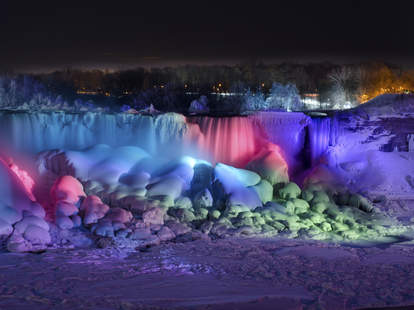 Sure, Niagara Falls is the deadliest landmark in America. But much like the comic book character Elektra, this killer can be really hot. Wait, the opposite of that. Because Niagara Falls is frozen right now, thanks to knuckle-numbing temperatures. Whatever, you get the allusion.
The national treasure has become one giant ice luge this week, with behemoth clumps of ice damming up around the waterfall during -13 degree Fahrenheit temperatures in New York state.
As Inquistr notes, the mist that floats above Niagara Falls has become so chilly that everything it touches turns to ice. It's like that Foreigner song, come to life. And though the sub-zero climate hasn't totally choked the waterfall -- as you can see on the falls' live webcam -- it does add a further level of majesty to the cascade.
See for yourself in the stunning photos below, showing an ice-covered Niagara Falls by day and night...