If you haven't already cashed in on a cheap trip to Europe this year, now's the time to do it. And not just because the dollar's going strong.
Here's a better reason: Oslo-based budget airline Norwegian Air is currently offering insanely cheap round-trip flights from Las Vegas to Stockholm, Sweden, starting from $438.10, and to Copenhagen, Denmark, starting from $552.10. See? It's not just people in New York getting the offers.
The flight deal, which celebrates the launch of Norwegian's transatlantic flight service from McCarran International Airport to both European cities later this year, is applicable on select dates from November through February for trips to Stockholm, and November through March to Copenhagen.
Here are the dates you'll need to search for: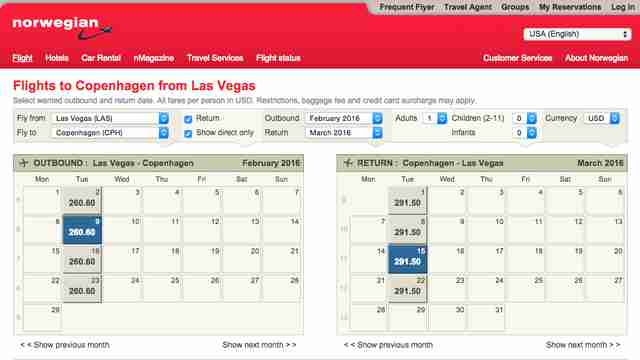 Copenhagen
Outbound flights are priced at $260.60 on Nov. 10, 17, 24; Dec. 1, 8, 15, 22; Jan. 19, 26; and Feb. 2, 9, 16, 23. Inbound flights cost $291. 50 on Nov. 17, 24; Dec. 1, 8; Jan. 5, 12, 19, 26; Feb. 2, 9, 16, 23; and Mar. 1, 8, 15, and 22.
Stockholm
Outbound flights cost either $208 or $238 on Nov. 7, 14, 21, 28; Dec. 5, 12, 19; Jan. 16, 23, 30; and Feb. 6, 13, 20, 27. Inbound flights are either $230.10 or $260.10 on Nov. 14, 21, 28, Dec. 5, 12, Jan. 2, 9, 16, 23, 30; and Feb. 27.
 
Of course, as with any low-cost airline, you'll end up paying a fair bit more at the checkout once you tag on food and drink (if you want it), luggage, and seat allocation fees. But hey, you're flying halfway across the world; not only are these flights cheaper, but the Swedish capital's 24% cheaper for Americans this year than it was in 2014. You can afford to splurge a little.
Get on the deal now before tickets sell out, and start dreaming of Swedish massages, Swedish Fish(?), and the Swedish Bikini Team. Even though that last one's not really Swedish.

Chloe Pantazi is an editorial assistant for Thrillist Travel and she is counting down the (29) days until her European vacation. Follow her adventures on Instagram and Twitter @ChloePantazi.