The World's Newest Cruise Ship Also Has the Sickest Rides Onboard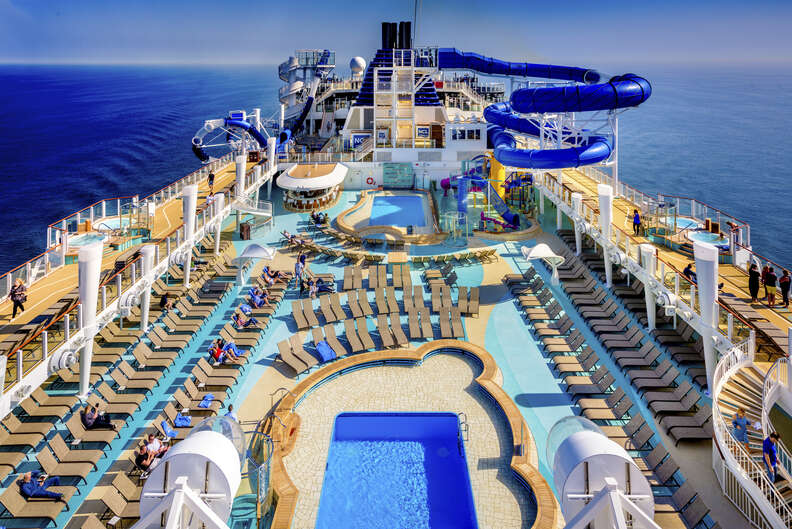 Andrea Sugranes/Norwegian Bliss
This must be what pirates felt like right before they were hanged.
That's about all I could think as I stood on a trapdoor, high above the top deck of a ship sailing through the Caribbean. The sun beat through what felt like a see-through coffin, a plastic chamber surrounding the trap door just big enough for me and my deep-friend nerves. Looking out, all I saw was clear blue sky and turquoise water, knowing those would be my last sights before I dropped into an abyss.
Out of nowhere, a chorus of "Hallelujah!" came blasting into my little coffin, a musical take on the classic warning "may God have mercy on your soul." As the last Hallelujah finished, the door snapped open, and I hurdled straight down a watery path faster than any waterslide on land, or at sea.
The next few seconds are a blur of sunlight shining through water as it skids over my body. I down, I go up, I hit 50 mph sliding out over the ocean below. It's about 15 seconds of adrenaline, ending with a grand stop on the pool deck of the Norwegian Bliss right in front of a bar. Much nicer way to end than a condemned pirate.
The waterslide -- dubbed Ocean Loops -- is one of many heart-pounding attractions aboard the ironically named Norwegian Bliss. The latest offering from Norwegian Cruise Lines is a nearly 1,000-foot behemoth of a ship that houses over 5,700 people, 20 restaurants, 13 bars, three live shows, two waterslides, and an infinite amount of intensity. After taking a spin on it during one of its inaugural sailings out of Miami, I've got some highlights for you.
It's got the fastest, scariest waterslide at sea
I was lucky enough to make it through Ocean Loops. Every passenger in line weighing less than 160 pounds was not. But the "will I or won't I make it" trepidation is all part of the excitement. The slide takes you down a two-story drop before shooting you up another tube, out over the water, straight down again, then up another incline before a big final drop into the finish.
Physics are a cruel master, and more than a few ladies who went ahead of me found themselves failing to reach the top of the loops. They slid back down, then up again, repeating the process before momentum ran out and they came to rest near an escape hatch. I was told the experience was just as humorously terrifying as the speedy full-finish.
The other slide, Aqua River, is much more pleasant, an innertube ride around soft curves with colorful lights. It's perfect for couples and families and people who aren't so keen on being dropped to their death like a failed mutineer.
You'll go-kart over the ocean
There's nothing quite like strapping on a helmet, creeping up a ramp on your suped-up go-kart, and emerging out into the sunshine to a sprawling view of the water. This is what you'll experience to start your eight-lap ride through the world's largest onboard go-kart track. It has 15 turns on two levels in cars that can reach 30 mph, though they always feel faster. And it's all done on the top deck of a cruise ship against faceless fellow passengers.
The feeling of driving at high speed on the high seas is a rush that has passengers taking off their helmets with unified, wide-eyed excitement. As I creeped out of my kart and removed my headgear, I realized the guy I'd been bumping while trying to pass was Miami-Dade County Mayor Carlos Gimenez. He seemed equally as disoriented when I walked up and asked him for a selfie. Although maybe he was just trying to ignore me.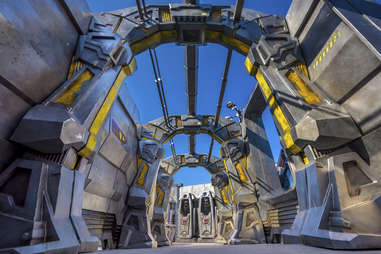 Top-deck laser tag is like an outdoor version of Aliens
Laser tag at sea is nothing new, and in terms of size, the arena fashioned to look like an intergalactic bunker atop the Bliss isn't the biggest. But because it's outdoors what it lacks in darkness and size it makes up for in sun-soaked fun. You'll creep behind a wall and see a shadow peeking out from another wall, alerting you where to run away from or where to make a sneak attack. It also allows passengers to experience the thrill of laser tag without having to miss any valuable sun time, and feels almost like playing in a big park made up to look like the interior of a spaceship. Just seeing the fortress set atop the ship like a futuristic citadel is invitation enough to give it a try. Do it once, though, and don't be surprised if it becomes your main activity.
View glaciers and islands in 180 degrees
The front of the ship is home to the 180-degree Observation Lounge, which on Caribbean voyages gives a calming panorama of the open sea. In Alaska, however, it'll offer the opportunity to gawk at glaciers, mountains, soaring eagles, and plodding bears without having to stand out in misty, 58-degree "liquid sunshine." The 3,500-square-foot, two-story lounge has interactive screens with labels for every mountain, glacier, and Caribbean beach, so you won't have to bother the already-harried bartender. It's yet another way Bliss is upping the excitement on the ship, giving passengers the chance to take in dramatic scenery without being exposed to the elements.
There's a full mock-up of the bar that launched the Beatles
You don't even need to be a Beatles fan to appreciate the detail put into the Cavern Club, an onboard replica of the famous Liverpool venue where the Beatles started out. Of course, while a trip to the real Cavern Club will have you standing ass-to-elbows with sweaty English people and (at one time) inhaling all of their cigarette smoke, this onboard version is far cleaner and more comfortable. It's got a pretty solid Beatles tribute band playing nightly too, which might not be the same as the original. But after a few drinks it makes little difference. And really, who knows how good the Fab Four sounded during the Pete Best era anyway.
The local touches are a slice of authenticity aboard a mass-market cruise ship
Though the Bliss has 20 restaurants onboard, ranging from grand main dining rooms to Mexican food to a steakhouse to barbecue, the real standout is Food Republic. The creation of Miami's Pubbelly Boys -- the creators of some of Miami's best restaurants -- Food Republic's menu is a taste of what one might find dining out in South Florida. Its small-plate concept has cuisine from central Europe, the Mediterranean, Asia, and Latin America, all fused together at long, open tables.
Continuing the local touches, Bliss also features a full mojito bar if you didn't fill up on them during your Caribbean port calls. Plus the District Brew House, where 24 taps feature craft beers typically only found in the ship's home ports. So even if you find yourself with only a night in Miami before your cruise, you can still sample beers from Funky Buddha, Wynwood Brewing, and Cigar City while onboard. Seattle is the summer homeport, which means the Alaska selections should be even better.
The live shows keep the excitement going
Once upon a time cruise ship entertainment was kind of a punchline for aspiring actors and comedians. Like if a dancer was late her choreographer would say "keep that up and you'll be working on cruise ships!" But no more. Bliss has upped the cruise ship entertainment ante with a live version of Jersey Boys that's as sing-alongable and uplifting as any touring production. It's trimmed for cruise audiences and still runs a little long, but the talent level and production value don't disappoint. Even if you walk in a little fatigued from a long day of drinking and watersliding, after an hour of Frankie Valli you'll be ready to take on the night.
The other big production is Havana!, a sort of Cuban cabaret created by Tony Award winner Warren Carlyle. The dance numbers are pure sex and excitement, and the theater almost feels more humid as the performance salsas on. The intricate sets and elaborate costumes are the creation of famed Cuban-American design duo Ruben and Isabel Toledo, and their attention to detail makes this show seem as close to spending a night in Cuba as you'll get in the Alaska inner passage.
The boat will hit Seattle and Alaska in June, and Miami and the Caribbean this fall
Those Alaska cruises start June 16 from Seattle on seven-day itineraries, hitting Ketchikan, Skagway, Juneau, and Victoria. They start at $1,049 for inside cabins, running until late-September. This fall, it's on to Miami for seven-day Eastern Caribbean trips through St. Thomas, Tortola, and Nassau, starting at $709. Those will run from mid-November until the end of March.
Either way, prepare for an all-out assault on your synapses during your stay on the Norwegian Bliss. Though it's not quite the biggest ship on the water, or the fanciest, it's not far from being both. And it offers the most onboard excitement you'll find packed into such a small space. Just make sure to hit the buffet before you try to make it down that looping slide.
Sign up here for our daily Thrillist email and subscribe here for our YouTube channel to get your fix of the best in food/drink/fun.
Matt Meltzer is a contributing writer to Thrillist who apologizes to the mayor for bumping him on the track. Follow him on Instagram @meltrez1.